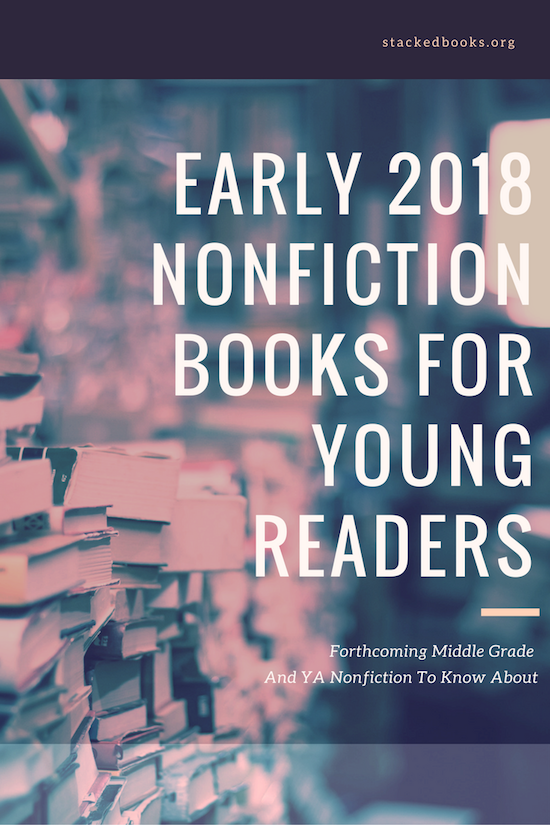 It's that time of year again to begin thinking a bit about the books that'll be hitting shelves when the calendar officially flips over. Last year and the year prior, I put together a couple of lists highlighting the nonfiction for young readers and I thought it would be worthwhile to pull one together again. Like last year and years prior, it's still a category of books which is chronically under read, particularly by YA readers who tend to fall outside the teen years. It's unfortunate, since there are so many excellent nonfiction titles out there and each year, it seems like there are more and more.
I've focused again on the vague description of "nonfiction for young readers," as it can be tough to distinguish between middle school nonfiction and high school nonfiction. Many books fall into the 10-14 age range, if they're not specifically geared for 14 and up, meaning that these nonfiction titles are good for either group of readers. This is far from a complete list of nonfiction for next year, and certainly, it only hits on what I could find in a basic search through the major publishing catalogs. If you know of other nonfiction for young readers — ages 10 and up, specifically, from a traditional publisher — I'd love to hear those titles in the comments.
All descriptions are from Goodreads, and I'll revisit this list mid-way through 2018 to add the titles overlooked in this post, as well as the titles that'll hit shelves later in the year. Not all of the books below have covers and release dates may be subject to change.
January
Chasing King's Killer: The Hunt For Martin Luther King Jr's Assassin by
James L. Swanson (1/2)
In his meteoric, thirteen-year rise to fame, Dr. Martin Luther King Jr. led a mass movement for Civil Rights — with his relentless peaceful, non-violent protests, public demonstrations, and eloquent speeches. But as violent threats cast a dark shadow over Dr. King's life, Swanson hones in on James Earl Ray, a bizarre, racist, prison escapee who tragically ends King's life.
As he did in his bestselling Scholastic MG/YA books Chasing LIncoln's Killer and "THE PRESIDENT HAS BEEN SHOT!", Swanson transports readers back to one of the most shocking, sad, and terrifying events in American history.
With an introduction by Congressman John Lewis, and over 80 photographs, captions, bibliography, various source notes, and index included
A Few Red Drops: The Chicago Race Riot of 1919 by Claire Hartfield (1/2)
On a hot day in July 1919, five black youths went swimming in Lake Michigan, unintentionally floating close to the "white" beach. An angry white man began throwing stones at the boys, striking and killing one. Racial conflict on the beach erupted into days of urban violence that shook the city of Chicago to its foundations. This mesmerizing narrative draws on contemporary accounts as it traces the roots of the explosion that had been building for decades in race relations, politics, business, and clashes of culture. Archival photos and prints, source notes, bibliography, index.
The Middle Passage: White Ships / Black Cargo by Tom Feelings (1/2)
Alex Haley's Roots awakened many Americans to the cruelty of slavery. The Middle Passage focuses attention on the torturous journey which brought slaves from Africa to the Americas, allowing readers to bear witness to the sufferings of an entire people.
Rookie on Love edited by Tavi Gevinson (1/2)
A single-subject anthology about the heart's most powerful emotion, edited by Tavi Gevinson. Featuring exclusive, never-before-seen essays, poems, comics, and interviews from contributors like Jenny Zhang, Emma Straub, Hilton Als, Janet Mock, John Green, Rainbow Rowell, Gabourey Sidibe, Mitski, Alessia Cara, Etgar Keret, Margo Jefferson, Sarah Manguso, Durga Chew-Bose, and many more!
Roses and Radicals: The Epic Story of How American Women Won the Right to Vote by Susan Zimet (1/16)
The United States of America is almost 250 years old, but American women won the right to vote less than a hundred years ago. 
And when the controversial nineteenth ammendment to the U.S. Constituion-the one granting suffrage to women-was finally ratified in 1920, it passed by a mere one-vote margin.
The ammendment only succeeded because a courageous group of women had been relentlessly demanding the right to vote for more than seventy years. The leaders of the suffrage movement are heroes who were fearless in the face of ridicule, arrest, imprisonment, and even torture. Many of them devoted themselves to the cause knowing they wouldn't live to cast a ballot.
The story of women's suffrage is epic, frustrating, and as complex as the women who fought for it. Illustrated with portraits, period cartoons, and other images, Roses and Radicals celebrates this captivating yet overlooked piece of American history and the women who made it happen
Very, Very, Very Dreadful: The Influenza Pandemic of 1918 by Albert Marrin (1/9)
In spring of 1918, World War I was underway, and troops at Fort Riley, Kansas, found themselves felled by influenza. By the summer of 1918, the second wave struck as a highly contagious and lethal epidemic and within weeks exploded into a pandemic, an illness that travels rapidly from one continent to another. It would impact the course of the war, and kill many millions more soldiers than warfare itself.
Of all diseases, the 1918 flu was by far the worst that has ever afflicted humankind; not even the Black Death of the Middle Ages comes close in terms of the number of lives it took. No war, no natural disaster, no famine has claimed so many. In the space of eighteen months in 1918-1919, about 500 million people–one-third of the global population at the time–came down with influenza. The exact total of lives lost will never be known, but the best estimate is between 50 and 100 million.
In this powerful book, filled with black and white photographs, nonfiction master Albert Marrin examines the history, science, and impact of this great scourge–and the possibility for another worldwide pandemic today.
Hope Nation: YA Authors Share Personal Moments of Inspiration edited by Rose Brock (1/30)
"The hope of a secure and livable world lies with disciplined nonconformists who are dedicated to justice, peace and brotherhood."–Rev. Martin Luther King, Jr.
We all experience moments when we struggle to understand the state of the world, when we feel powerless and–in some cases–even hopeless. The teens of today are the caretakers of tomorrow, and yet it's difficult for many to find joy or comfort in such a turbulent society. But in trying times, words are power.
Some of today's most influential young adult authors come together in this highly personal nonfiction collection of essays, poems, and letters, each a first-hand account that ultimately strives to inspire hope.
Like a modern day Chicken Soup for the Teenage Soul or Don't Sweat the Small Stuff for Teens, Hope Nation acknowledges the pain and shines a light on what comes after.
February
Americanized: Rebel Without a Green Card by Sara Saedi (2/6)
At thirteen, bright-eyed, straight-A student Sara Saedi uncovered a terrible family secret: she was breaking the law simply by living in the United States. Only two years old when her parents fled Iran, she didn't learn of her undocumented status until her older sister wanted to apply for an after-school job, but couldn't because she didn't have a Social Security number.
Fear of deportation kept Sara up at night, but it didn't keep her from being a teenager. She desperately wanted a green card, along with clear skin, her own car, and a boyfriend.
Americanized follows Sara's progress toward getting her green card, but that's only a portion of her experiences as an Iranian-"American" teenager. From discovering that her parents secretly divorced to facilitate her mother's green card application to learning how to tame her unibrow, Sara pivots gracefully from the terrifying prospect that she might be kicked out of the country at any time to the almost-as-terrifying possibility that she might be the only one of her friends without a date to the prom. This moving, often hilarious story is for anyone who has ever shared either fear.
Fly Girls: The Daring American Women Pilots Who Helped Win WWII by P. O'Connell Pearson (2/6)
In the tradition of Hidden Figures, debut author Patricia Pearson offers a beautifully written account of the remarkable but often forgotten group of female fighter pilots who answered their country's call in its time of need during World War II.
At the height of World War II, the US Army Airforce faced a desperate need for skilled pilots—but only men were allowed in military airplanes, even if the expert pilots who were training them to fly were women. Through grit and pure determination, 1,100 of these female pilots—who had to prove their worth time and time again—were finally allowed to ferry planes from factories to bases, to tow targets for live ammunition artillery training, to test repaired planes and new equipment, and more.
Though the WASPs lived on military bases, trained as military pilots, wore uniforms, marched in review, and sometimes died violently in the line of duty, they were civilian employees and received less pay than men doing the same jobs and no military benefits, not even for burials.
Their story is one of patriotism, the power of positive attitudes, the love of flying, and the willingness to do good with no concern for personal gain.
Still Here by
Rowan Blanchard (2/20)
Hollywood rising star and passionate humanitarian Rowan Blanchard shares her beloved personal scrapbook with the world.
Featuring art and writing from her favorite photographers, poets, and friends alongside her own journal entries and snapshots, STILL HERE is an unedited look at Rowan Blanchard's inner life–and a poignant representation of teen life in general. Alongside Rowan's own raw diary entries, poems, and personal photos are taped in letters, photos, and poems from her friends who inspire her, like the poet rupi kaur, photographer Gia Coppola, and writer Jenny Zhang, among others. The result is an intimate portrayal of modern girlhood and a thoughtful reflection on what it means to be a teenager in today's world.
Votes for Women!: American Suffragists and the Battle for the Ballot by Winifred Conkling (2/13)
On August 18, 1920, American women finally won the right to vote. Ratification of the 19th Amendment was the culmination of an almost eighty-year fight in which some of the fiercest, most passionate women in history marched, protested, and sometimes broke the law in to achieve this huge leap toward equal rights.
In this expansive yet personal volume, author Winifred Conkling covers not only the suffragists' achievements and politics but also the private journeys that fueled their passion and led them to become women's champions. From Susan B. Anthony and Elizabeth Cady Stanton, who founded the suffrage movement at the 1848 Seneca Falls convention; to Victoria Woodhull, the first female candidate for president; to Sojourner Truth and her famous speech, "Ain't I a Woman?"; to Alice Paul, who was arrested and force-fed in prison, Conkling combines thorough research with page-turning storytelling to bring the battle for the right to vote to vivid life. Votes for Women! also explores the movement's often powerful, sometimes difficult relationship with the temperance and abolition movements, and takes unflinching look at some of the uglier moments in the fight for the women's vote.

March
Ginger Kid: Mostly True Tales from a Former Nerd by Steve Hofstetter (3/20)
In Ginger Kid, popular comedian Steve Hofstetter grapples with life after seventh grade . . . when his world fell apart. Formatted as a series of personal essays, Steve walks his readers through awkward early dating, family turbulence, and the revenge of the bullied nerds. This YA nonfiction is sure to be the beloved next volume for the first generation of Wimpy Kid fans who are all grown up and ready for a new misfit hero.
I Have the Right To: A High School Survivor's Story of Sexual Assault, Justice, and Hope by Chessy Prout (3/6)
The numbers are staggering: nearly one in five girls ages fourteen to seventeen have been the victim of a sexual assault or attempted sexual assault. This is the true story of one of those girls.
In 2014, Chessy Prout was a freshman at St. Paul's school, a prestigious boarding school in New Hampshire when a senior boy sexually assaulted her as part of a ritualized game of conquest. Chessy bravely reported her assault to the police and testified against her attacker in court. Then, in the face of unfathomable backlash from her once trusted school community, she shed her anonymity to help other survivors find their voice.
This memoir is more than an account of a horrific event; it takes a magnifying glass to the institutions that turn a blind eye to such behavior and a society that blames victims rather than attackers, while offering real, powerful solutions to upending rape culture as we know it today.
My Shot: Balancing It All and Standing Tall by Elena Delle Donne (3/13)
Elena Delle Donne has always forged her own path. During her first year of college, she walked away from a scholarship and chance to play for Geno Aurriema at UConn—the most prestigious women's college basketball program—so she could stay in her home state of Delaware and be close to her older sister, Lizzie, who has several disabilities and can only communicate through hand-over-hand signing.
Burned out and questioning her passion for basketball, she attended the University of Delaware and took up volleyball for a year. Eventually she found her way back to her first love, playing basketball for the Blue Hens, ultimately leading them, a mid-major team, to the Sweet Sixteen. She went on to become the second overall selection during the 2013 WNBA draft and the WNBA's 2015 MVP.
59 Hours by Johnny Kovatch (3/20)
On Sunday, August 6, 2000, fifteen-year-old Nick Markowitz was grabbed off the street on the orders of a local drug dealer named Jesse James Hollywood. Nick was taken as collateral because his brother Ben owed Jesse money. He was an innocent victim who became a pawn in an increasingly high-stakes feud between the two that ended with Nick's brutal murder.
A dozen or more people saw Nick over the course of the next fifty-nine hours, but no one stepped forward to say anything. No one thought to report the crime to the police. Some of them were scared of Hollywood, while others simply didn't want to get involved.
When the news of Nick's murder finally broke, they all had to confront what they'd done—or hadn't done. As for Hollywood, he ordered the hit, but he wasn't actually there when the murder took place. And once the story came to light, he immediately disappeared and remained a fugitive on the FBI's Most Wanted List for nearly six years before his eventual capture.


Voices from the Second World War: Stories of War as Told to Children of Today by Candlewick Press (3/20)
The Second World War was the most devastating war in history. Up to eighty million people died, and the map of the world was redrawn. More than seventy years after peace was declared, children interviewed family and community members to learn about the war from people who were there, to record their memories before they were lost forever. Now, in a unique collection, RAF pilots, evacuees, resistance fighters, Land Girls, U.S. Navy sailors, and survivors of the Holocaust and the Hiroshima bombing all tell their stories, passing on the lessons learned to a new generation. Featuring many vintage photographs, this moving volume also offers an index of contributors and a glossary.
April


Boots On The Ground: America's War in Vietnam by Elizabeth Partridge (4/1)
In March 1965 President Lyndon B. Johnson sent troops into Vietnam. 57,939 American soldiers would be killed and seventeen years would pass before this controversial chapter of American history concluded with the dedication of the Vietnam Veterans Memorial in 1982.
The history of this era is complex; the cultural impact extraordinary. But it's the personal stories of eight people–six American soldiers, one American nurse, and one Vietnamese refugee–that form the heartbeat of Boots on the Ground. From dense jungles and terrifying firefights to chaotic medic rescues and evacuations, each individual's story reveals a different facet of the war and moves us forward in time. Alternating with these chapters are profiles of key American leaders and events, reminding us what was happening at home, including Kent State, Woodstock, and Watergate. This show-stopping book, featuring more than one hundred black and white photographs, is National Book Award Finalist and Printz Honor winner Elizabeth Partridge at her finest.
Crash: The Rise and Fall of America in the 1930s by Marc Favreau (4/10)
Crash tells the story of the Great Depression, from the sweeping fallout of the market collapse to the more personal stories of those caught up in the aftermath. Packed with photographs, primary documents, and firsthand accounts, Crash shines a spotlight on pivotal moments and figures across ethnic, gender, racial, social, and geographic divides, reflecting many different experiences of one of the most turbulent decades in American history. Marc Favreau's meticulous research, vivid prose, and extensive back matter paints a thorough picture of how the country we live in today was built in response to the widespread poverty, insecurity, and fear of the 1930s.
The Disappearing Spoon: And Other True Tales of Rivalry, Adventure, and the History of the World from the Periodic Table of the Elements (Young Readers Edition) by Sam Kean (4/3)
Why did Gandhi hate iodine (I, 53)? How did radium (Ra, 88) nearly ruin Marie Curie's reputation? And why did tellurium (Te, 52) lead to the most bizarre gold rush in history?
The periodic table is a crowning scientific achievement, but it's also a treasure trove of adventure, greed, betrayal, and obsession. The fascinating tales in The Disappearing Spoon follow elements on the table as they play out their parts in human history, finance, mythology, conflict, the arts, medicine, and the lives of the (frequently) mad scientists who discovered them.
Adapted for a middle grade audience, the young readers edition of The Disappearing Spoon offers the material in a simple, easy-to-follow format, with approximately 20 line drawings and sidebars throughout. Students, teachers, and burgeoning science buffs will love learning about the history behind the chemistry.
For Every One by Jason Reynolds (4/10)
Originally performed at the Kennedy Center for the unveiling of the Martin Luther King Jr. Memorial, and later as a tribute to Walter Dean Myers, this stirring and inspirational poem is New York Times bestselling author and National Book Award finalist Jason Reynolds's rallying cry to the dreamers of the world.
Jump Anyway is for kids who dream. Kids who dream of being better than they are. Kids who dream of doing more than they almost dare to dream. Kids who are like Jason, a self-professed dreamer. In it, Jason does not claim to know how to make dreams come true; he has, in fact, been fighting on the front line of his own battle to make his own dreams a reality. He expected to make it when he was sixteen. He inched that number up to eighteen, then twenty-five years old…Now, some of those expectations have been realized. But others, the most important ones, lay ahead, and a lot of them involve kids, how to inspire them. All the kids who are scared to dream, or don't know how to dream, or don't dare to dream because they've NEVER seen a dream come true. Jason wants kids to know that dreams take time. They involve countless struggles. But no matter how many times a dreamer gets beat down, the drive and the passion and the hope never fully extinguish—because just having the dream is the start you need, or you won't get anywhere anyway, and that is when you have to take a leap of faith and…jump anyway.
Life Inside My Mind: 31 Authors Share Their Personal Struggles edited by Jessica Burkhart (4/10)
Have you ever felt like you just couldn't get out of bed? Not the occasional morning, but every single day? Do you find yourself listening to a voice in your head that says "you're not good enough," "not good-looking enough," "not thin enough," or "not smart enough?" Have you ever found yourself unable to do homework or pay attention in class unless everything is "just so" on your desk? Everyone has had days like that, but what if you have them every day?
You're not alone. Millions of people are going through similar things. And many of them are people you know—you know them because they write the books that you're reading.
May


Deep Dark Blue: A Memoir of Survival by Polo Tate (5/1)
A YA memoir of surviving sexual abuse in the Air Force academy. This is a story that needs to be told and refuses to go away.
I want to be in the Air Force someday.
These are the words Polo Tate engraves on her junior dog tags at age eleven. An unpopular dream for most young girls, but her hard work pays off and at age eighteen, Polo finds herself in Basic Training at the United States Air Force Academy.
She does everything right, except fly under the radar. No one prepares her for what comes next. Physical, sexual, and emotional abuse at the hands of her superior. Betrayal at the highest levels of authority. Harassment from her peers, who refuse to believe her story.
Deep Dark Blue by Polo Tate is more than a memoir about sexual assault. It's about breaking boundaries but also setting them. It's about learning to trust your instincts. It's a story of survival, resilience, and finally, finding your joy.
How I Resist: Activism and Hope For A New Generation edited by Tim Federle and Maureen Johnson (5/1)
Now, more than ever, young people are motivated to make a difference in a world they're bound to inherit. They're ready to stand up and be heard – but with much to shout about, where they do they begin? What can I do? How can I help?
How I Resist is the response, and a way to start the conversation. To show readers that they are not helpless, and that anyone can be the change. A collection of essays, songs, illustrations, and interviews about activism and hope, How I Resist features an all-star group of contributors, including, John Paul Brammer, Libba Bray, Lauren Duca, Modern Family's Jesse Tyler Ferguson and his husband Justin Mikita, Alex Gino, Hebh Jamal, Malinda Lo, Dylan Marron, Hamilton star Javier Muñoz, Rosie O'Donnell, Junauda Petrus, Jodi Picoult, Jason Reynolds, Karuna Riazi, Maya Rupert, Dana Schwartz, Dan Sinker, Ali Stroker, Jonny Sun (aka @jonnysun), Sabaa Tahir, Daniel Watts, Jennifer Weiner, Jacqueline Woodson, and more, all edited and compiled by New York Times bestselling author Maureen Johnson and Lambda-winning novelist Tim Federle.
How To Deal: Tarot for Everyday Life by Sami Main (5/1)
Buzzfeed writer Sami Main's debut is an approachable and entertaining introduction to tarot readings—perfect for beginners, sleepovers, and fans of journaling and self-care!
Whatever your familiarity with tarot, don't worry—you're about to become an expert at channeling the entire cosmos. Can't figure out what you should do about that messy friend situation? Wanna know how your crush feels about you? Can't seem to make your parents actually listen? The cards are here to give you the answers you've been looking for.
Debut author Sami Main tells you everything you need to know to get the universe to answer back. She takes you through all the stages of the minor arcana and the four suits in the minor arcana, with full-page, four-color illustrations of each card and an accompanying description of what that card means. She breaks down how the cards relate to one another, explaining spreads for future readings, questions to ask the cards or provoke deeper understanding of them, and more. As Sami will teach you: The cards are here to guide you through life's ups and downs—you just have to understand what they're trying to say.
It's Your Universe: You Have the Power to Make It Happen by Ashley Eckstein (5/8)
Ashley Eckstein grew up inspired by all things Disney. She launched Her Universe, an apparel company catering to fan girls, which has become a preferred partner for Disney and their girl power initiative.
In IT'S YOUR UNIVERSE, Ashley shares her own life lessons, as well as lessons from iconic Disney characters, as a way to inspire girls to create big dreams and work to make them a reality.
Ashley tells her story of being a little girl dreaming of being on a Disney stage, voicing the first female Jedi, Ahsoka Tano, and starting Her Universe, a blockbuster clothing line and community for fangirls.
With space for readers to make journal entries and quotes from iconic Disney characters, Ashley shows how princesses, Jedis, and super heroes were great role models for choosing her own path.
Thrilling Thieves
: Liars, Cheats, and Double-Crossers Who Changed History by Brianna DuMont (5/1)
What do Mother Theresa, Honest Abe, and Mahatma Gandhi have in common? They're all too good for this book, that's what.
In this exciting third book in Brianna DuMont's Changed History series, it's the thieves, pirates, and rogues who alter history. Sure, there are a few familiar faces like Queen Elizabeth I and Thomas Edison, but even behind their angelic smiles are cunning con artists who stole their way to gold and greatness. Inside you'll find fascinating stories about:
The Venetians
Francisco Pizarro
Queen Elizabeth I
Catherine the Great
Napoleon
Madame Chang
Robert Fortune
Robert Smalls
Boss Tweed
Thomas Edison
Vincenzo Perugia
Klaus Fuchs
Follow the trail of these twelve troublemakers to uncover the dishonest origins of the Louvre museum in Paris, the modernization of New York City, and the creation of Hollywood. Find out why the Mona Lisa is the most iconic painting in the world and who propelled her to fame. (Hint: It's not her creator, Leonardo da Vinci.) Watch empires rise and fall with the theft of a simple tea plant. Enjoy learning about how much our world owes to miscreants through the tales of these thrilling thieves!
June
House of Dreams: The Life of L. M. Montgomery  by Liz Rosenberg (6/12)
Once upon a time, there was a girl named Maud who adored stories. When she was fourteen years old, Maud wrote in her journal, "I love books. I hope when I grow up to be able to have lots of them." Not only did Maud grow up to own lots of books, she wrote twenty-four of them herself as L. M. Montgomery, the world-renowned author of Anne of Green Gables. For many years, not a great deal was known about Maud's personal life. Her childhood was spent with strict, undemonstrative grandparents, and her reflections on writing, her lifelong struggles with anxiety and depression, her "year of mad passion," and her difficult married life remained locked away, buried deep within her unpublished personal journals. Through this revealing and deeply moving biography, kindred spirits of all ages who, like Maud, never gave up "the substance of things hoped for" will be captivated anew by the words of this remarkable woman.