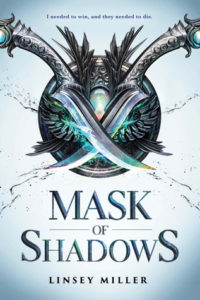 Mask of Shadows by Linsey Miller
This was really fun! Sal is a thief who decides to try out for a position as part of the queen's "left hand," a group of soldier-assassins who protect the queen and carry out her wishes (mainly orders to kill enemies of the state). Each person is named for a ring the queen wears, and the past Opal has just died, which means there's an opening. Tryouts are brutal: candidates are given free reign to kill each other, provided they don't get caught, and they're put to additional tests as well, like avoiding poisons in their meals. Sal tries out for Opal in order to escape a (likely brief) life as a thief, but also to enable them to take revenge upon the people who destroyed their home and family a few years ago.
Sal is gender-fluid, and to them (Sal's preferred pronoun according to the author), this means some days they feel more female, and some days they feel more male. Sal directs the other characters to address them as "he" when wearing typically male clothing and "she" when wearing typically female clothing (gender roles are a thing in Sal's world). Sal's gender fluidity is an important part of the story, but it doesn't dominate it, and Sal experiences acceptance as well as pushback (but no outright violence) by various characters when it comes to their gender identity. The story itself is exciting, fast-paced, and bloody. There are a few really fun ancillary characters, like Sal's assigned maidservant, and a sweet romance between Sal and a noble girl. Sal's world has an interesting (albeit not the most original) history, which I hope is expanded upon in the sequel (this is the first book in a duology). Recommended for fans of action-heavy fantasy and those seeking a window or a mirror to a person we don't see represented much in fiction.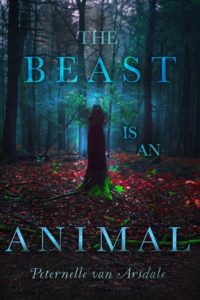 The Beast is an Animal by Peternelle Van Arsdale
I've been wanting to read a good horror novel lately (YA horror provides just about the right amount of scares for me), and this one – about two soul eaters and the teenage girl who must fight them off, even as she feels pulled to become one of them – seemed like a good prospect. When the soul eaters kill all the adults in Alys' town, she's taken to the town of Dafeid, where the Beast (which the townspeople believe is connected to the soul eaters) is an ominous, unseen presence. The people of Dafeid have reacted to the news of the soul eaters in the town over by embracing a strict religion, where people are frequently killed as witches and neighbor spies on neighbor. The setting is fictional, but it resembles a vaguely historical Wales, which is not something we see in YA very often.
The writing is often lovely, but I found the plot dragged a bit. Much of Alys' struggles are internal, and while that works for some stories, it was just never as compelling as it could have been here. The ending was a foregone conclusion, which means I never felt the urge to continue reading – that need to turn the next page to see what would happen next. Still, the atmospheric writing will appeal to some teens, and the idea of the soul eaters is intriguing. Their introduction in the beginning of the book is especially creepy. (Also that cover is beautiful.)