I've been on a huge adult thriller kick lately, likely stemming from my love of The Girl on the Train, which I read last year. Nothing I've read since (including Paula Hawkins' follow-up) has quite lived up to that experience, but there have been a lot of entertaining books nonetheless. Here are a few recent ones.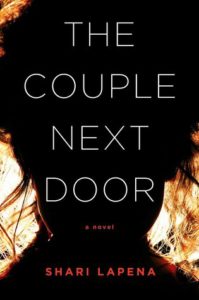 The Couple Next Door by Shari Lapena
Anne and Marco are attending a party at their next door neighbors' house, and they've left their six month old baby daughter at home because the neighbors have requested no children. Marco says it will be fine – they'll have the baby monitor on them, and they'll take turns going to check on her every half hour. Except when Anne goes to check on her just after midnight, she's disappeared. What ensues is a twisty page-turner where everyone has secrets – Anne and Marco, Anne's parents, their next door neighbors, and others – and the truth behind who took the baby is just the tip of the iceberg. This isn't the most sophisticated thriller out there – you'll probably guess at least a few of the twists before they happen, but don't worry, there are more to follow – but it's supremely entertaining. I look forward to seeing what Lapena writes next.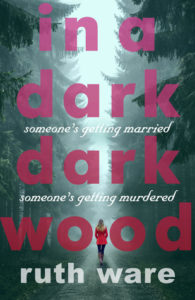 In a Dark, Dark Wood by Ruth Ware
Ruth Ware is really, really good at writing thrilling mysteries. Of the authors I've read in my pursuit to match The Girl on the Train, she comes closest. In a Dark, Dark Wood is her first book, and it's a total winner. Nora has decided to accept Clare's invitation to attend her hen night (think bachelorette party for Brits), despite the fact that she hasn't seen Clare in ten years and they parted badly. The party is in a remote cabin in the woods with no cell service (of course), and right away, strange things start happening, the first being that Nora discovers Clare is marrying Nora's high school boyfriend, James. Ware has created a cast of interesting, dynamic characters, some of which you'll like and some of which you won't, and her plotting is top-notch, plus the atmosphere can't be beat. It's pure joy to see the way everything comes together – you won't be able to quit turning the pages. This is a true marriage of mystery and thriller, just the way I like it.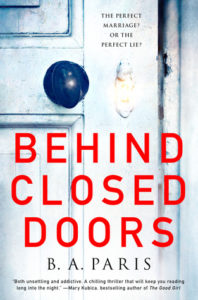 Behind Closed Doors by B. A. Paris
Grace thinks she's found the perfect man for her. Jack is handsome, kind, charming, and adores her teenage sister, who has Down syndrome and will need to live with them once she turns 18 and is no longer able to stay at her special school. Once they marry, though, everything changes (as you knew it would). Jack isn't at all who he pretended to be, and he has plans for Grace and her sister that will make your skin crawl. At times, Jack is so completely evil that it's difficult to suspend disbelief while reading, but this also makes the ending doubly satisfying. Paris tells her story in two parts – before, when Jack is wooing Grace and they are first married, and after, when the new dynamic is completely established and Grace is a total prisoner in her own home, trying anything she can think of to save her and her sister. It's a difficult read at times, but it's also impossible to put down, and you can be comforted by the fact that in stories such as these, the villain always gets his comeuppance. While the other two books I review in this post are mysteries as well as thrillers, there's no real mystery aspect to this one.