Hello, fair Stacked readers! I bring you this special Thursday post as part of the Choose a Side: Renegades Blog Tour for Marissa Meyer's new book Renegades, which publishes November 7. I don't do a whole lot of blog tours (I mostly find them boring), but I make an exception for an author whose books I really love, and Marissa Meyer's Lunar Chronicles fall into that category. (You can read my very enthusiastic review of Cinder from 2012 over here. Possibly the cheesiest line from this review is the one that gets quoted on the paperback copies.)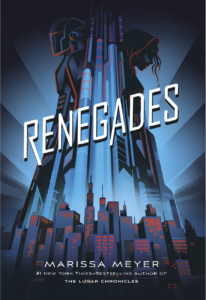 In Renegades, the first of two books (at least so far), Meyer leaves fairy tales behind and shifts gears to superheroes. These aren't terribly different topics, really – my favorite fairy tale characters are mostly superheroes in some way anyway. In Gatlon City, a special group of prodigies (humans with superpowers) called Renegades protect everyone – or they're supposed to. When Nova, a prodigy herself, was a small child, the Renegades didn't show up when it mattered most, and people she loved died. Now that Nova is almost an adult, she's determined to infiltrate the Renegades and take revenge. Nova is one of the Anarchists, the supervillains of Gatlon City and the foil to the Renegades. The story alternates in third person between Nova and Adrian, a true Renegade who has secrets of his own.
I love a good revenge story, and Meyer does a great job here, even though I wasn't entirely sold on Nova's motivation at the beginning. Her own superpower – the ability to induce sleep – is an interesting one, and the way the Anarchists have helped her hone it and actually put it to practical use is clever. Meyer is very good at multiple points of view (she introduced a new character in each of her four Lunar Chronicles books and managed to keep each POV different and interesting), and Nova and Adrian are no exception. They both have rich backstories, well-developed voices, and distinct personalities.
The story itself is interesting, as is the world in which Meyer has placed her characters. While the easy thing is to label the Renegades the good guys and the Anarchists the bad guys, that's not the story Meyer is trying to tell. Instead, she explores the gray areas between the good and the bad – and the ways in which the good and bad coexist within a single group and a single person. The plot is suspenseful throughout and there's a whopper of a twist ending (I'm such a sucker for those).
Part of the conceit for this blog tour was that we were supposed to choose a side: Renegade or Anarchist? Without having read the novel, I picked the Renegades, which is actually off-brand for me (I've been embracing my Slytherin side lately). But I figured the Renegades were probably the winners, and I like winning too. (Hello yes, I am a Slytherin.) After reading the book…well, I'll let you read and decide which side you would choose.
Fans of the Lunar Chronicles will definitely eat this up, as will those who can't get enough of the superhero tie-in novels being published lately. There's a lot of tropey superhero goodness that Meyer pulls from, but she also throws in her own touches, and it feels fully like a Marissa Meyer book. It's really solid and a ton of fun.
Review copy provided by the publisher.