Happy Halloween week, friends. Let's take today as an opportunity to round up some of the creepy and delicious YA book covers featuring graveyards and headstones. I find these covers to be the perfect blend of creepy and evocative, even when some of them become a little repetitive. Imagine a book display of just books with these covers!
Descriptions all from Goodreads.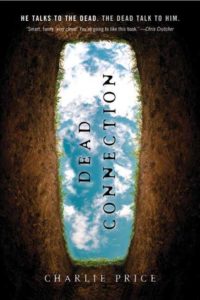 Dead Connection by Charlie Price
Murray, a loner who communes with the dead in the town cemetery, hears the voice of a murdered cheerleader and tries to convince the adults that he knows what happened to her. But who believes him? He's a loser. Can he even believe in himself? Also comes Pearl, the daughter of the cemetery caretaker, who befriends Murray and tries to enter his world. Together they may prove the astonishing possibility that Nikki is closer than anyone thinks.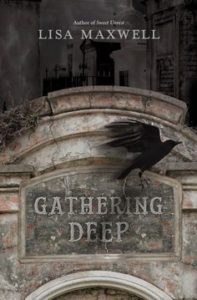 Gathering Deep by Lisa Maxwell
When Chloe Sabourin wakes in a dark, New Orleans cemetery with no memory of the previous days, she can hardly believe the story her friends tell her. They say Chloe was possessed by a witch named Thisbe, who had used the darkest magic to keep herself alive for over a century. They tell her that the witch is the one responsible for the unspeakable murders that nearly claimed the life of Chloe's friend, Lucy. Most unbelievable of all, they say that Thisbe is Chloe's own mother. As she struggles with this devastating revelation and tries to rebuilt her life, Chloe wants nothing to do with the magic that corrupted her mother…especially since she feels drawn to it.
Now, a new series of ritualistic killings suggests that Thisbe is plotting again, and Chloe is drawn unwillingly back into the mystical underworld of the French Quarter. To stop Thisbe before she kills again, Chloe and her friends must learn what they can from the mysterious Mama Legba. But when her boyfriend Piers vanishes, Chloe will have to risk everything and embrace her own power to save the one person she has left… even if that means bringing down her mother.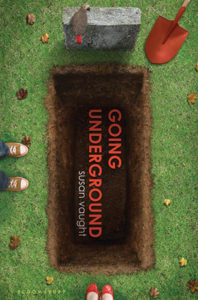 Going Underground by Susan Vaught
Del's not a bad guy. He's just a misunderstood criminal.
Seventeen-year-old Del is a good kid, but one mimro mistake three years ago was all it took to turn him into a social outcast. Now, with a criminal record, the only job he can get is digging graves-not exactly your typical after-school gig. But it's in the graveyard that Del meets the beautiful yet sad Livia, who doesn't know anything about him. She gives him reason to be hopeful again. Except that Del's crush comes with a sea of complications and he's not sure he is ready to reveal his past. Will the truth set him free..or will it dig him in even deeper?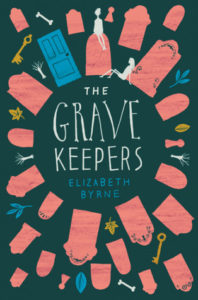 The Grave Keepers by Elizabeth Byrne
Lately, Athena Windham has been spending all her spare time in her grave.
Her parents—owners of a cemetery in Upstate New York—are proud of her devoutness, but her younger sister, Laurel, would rather spend her time exploring the forest that surrounds the Windham's' property than in her own grave.
The Windham girls lead secluded lives—their older sister died in a tragic accident and their parents' protectiveness has made the family semi-infamous.
As the new school year begins, the outside world comes creeping in through encounters with mean girls, a new friend, and a runaway boy hiding out in the cemetery. Meanwhile, a ghost hangs around the Windham property—the only grave keeper never to cross over—plotting how to keep the sisters close to home and close to her . . . forever.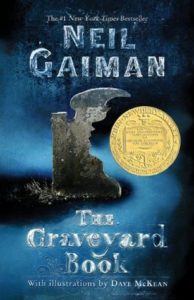 The Graveyard Book by Neil Gaiman
After the grisly murder of his entire family, a toddler wanders into a graveyard where the ghosts and other supernatural residents agree to raise him as one of their own.
Nobody Owens, known to his friends as Bod, is a normal boy. He would be completely normal if he didn't live in a sprawling graveyard, being raised and educated by ghosts, with a solitary guardian who belongs to neither the world of the living nor of the dead. There are dangers and adventures in the graveyard for a boy. But if Bod leaves the graveyard, then he will come under attack from the man Jack—who has already killed Bod's family.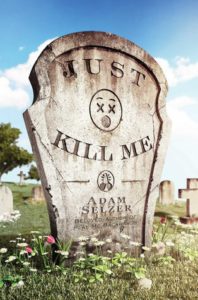 Just Kill Me by Adam Selzer
Megan Henske isn't one to heed warnings…
When the last letters in her alphabet cereal are D, I, and E, she doesn't crawl right back into bed. When her online girlfriend won't text a photo, she just sends more of herself.
And when she realizes that Cynthia, her boss at a Chicago ghost tour company, isn't joking about making stops more haunted by killing people there, she doesn't quit her job—she may even help.
But who is responsible for the deaths of prominent figures in the murdermonger industry? Could it be the head of the rival tour company? Or could it be someone near and dear to Megan?
Soon after she learns that she has an uncanny resemblance to a flapper who disappeared in 1922, Megan receives a warning she can't ignore: the next ghost on the tour might be her.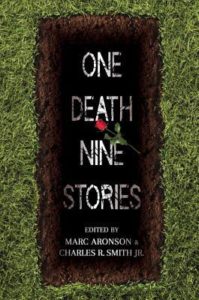 One Death, Nine Stories edited by Marc Aronson
Nicholas, Kevin. Age 19. Died at York Hospital, July 19, 2012. Kev's the first kid their age to die. And now, even though he's dead, he's not really gone. Even now his choices are touching the people he left behind. Rita Williams-Garcia follows one aimless teen as he finds a new life in his new job-at the mortuary. Ellen Hopkins reveals what two altar boys (and one altar girl) might get up to at the cemetery at night. Will Weaver turns a lens on Kevin's sister as she collects his surprising effects-and makes good use of them. Here, in nine stories, we meet people who didn't know Kevin, friends from his childhood, his ex-girlfriend, his best friend, all dealing with the fallout of his death. Being a teenager is a time for all kinds of firsts-first jobs, first loves, first good-byes, firsts that break your heart and awaken your soul. It's an initiation of sorts, and it can be brutal. But on the other side of it is the rest of your life.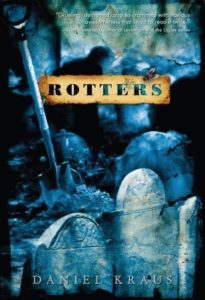 Rotters by Daniel Kraus
Grave-robbing. What kind of monster would do such a thing? It's true that Leonardo da Vinci did it, Shakespeare wrote about it, and the resurrection men of nineteenth-century Scotland practically made it an art. But none of this matters to Joey Crouch, a sixteen-year-old straight-A student living in Chicago with his single mom. For the most part, Joey's life is about playing the trumpet and avoiding the daily humiliations of high school.
Everything changes when Joey's mother dies in a tragic accident and he is sent to rural Iowa to live with the father he has never known, a strange, solitary man with unimaginable secrets. At first, Joey's father wants nothing to do with him, but once father and son come to terms with each other, Joey's life takes a turn both macabre and exhilarating.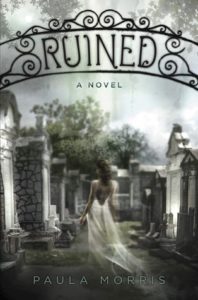 Ruined by Paula Morris
Rebecca couldn't feel more out of place in New Orleans, where she comes to spend the year while her dad is traveling. She's staying in a creepy old house with her Aunt Claudia, who reads Tarot cards for a living. And at the snooty prep school, a pack of filthy-rich girls treat Rebecca like she's invisible. Only gorgeous, unavailable Anton Grey seems to give Rebecca the time of day, but she wonders if he's got a hidden agenda. Then one night, in Lafayette Cemetery, Rebecca makes a friend. Sweet, mysterious Lisette is eager to talk to Rebecca, and to show her the nooks and crannies of the city.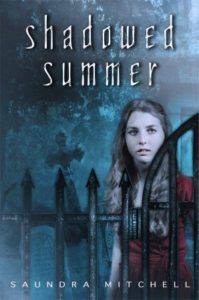 Shadowed Summer by Saundra Miller
Iris is ready for another hot, routine summer in her small Louisiana town, hanging around the Red Stripe grocery with her best friend, Collette, and traipsing through the cemetery telling each other spooky stories and pretending to cast spells. Except this summer, Iris doesn't have to make up a story. This summer, one falls right in her lap.
Years ago, before Iris was born, a local boy named Elijah Landry disappeared. All that remained of him were whispers and hushed gossip in the church pews. Until this summer. A ghost begins to haunt Iris, and she's certain it's the ghost of Elijah. What really happened to him? And why, of all people, has he chosen Iris to come back to?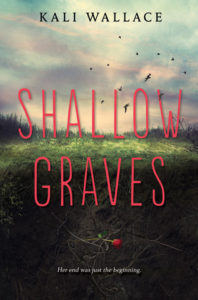 Shallow Graves by Kali Wallace
Breezy remembers leaving the party: the warm, wet grass under her feet, her cheek still stinging from a slap to her face. But when she wakes up, scared and pulling dirt from her mouth, a year has passed and she can't explain how.
Nor can she explain the man lying at her grave, dead from her touch, or why her heartbeat comes and goes. She doesn't remember who killed her or why. All she knows is that she's somehow conscious—and not only that, she's able to sense who around her is hiding a murderous past.
Haunted by happy memories from her life, Breezy sets out to find answers in the gritty, threatening world to which she now belongs—where killers hide in plain sight, and a sinister cult is hunting for strange creatures like her. What she discovers is at once empowering, redemptive, and dangerous.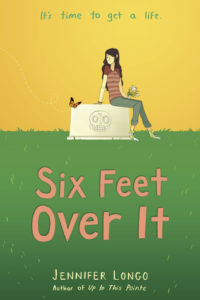 Six Feet Over It by Jennifer Longo
No one is more surprised than Leigh when her father buys a graveyard. Less shocking is the fact that he's too lazy to look farther than the dinner table for employees. Working the literal graveyard shift, she becomes great at predicting headstone choice (mostly granite) and taking notes with one hand while offering Kleenex with the other.
Sarcastic and smart, Leigh should be able to quit this stupid after-school job. But her world's been turned upside down by the sudden loss of her best friend and the appearance of Dario, the slightly-too-old-for-her gravedigger. Can Leigh move on, if moving on means it's time to get a life?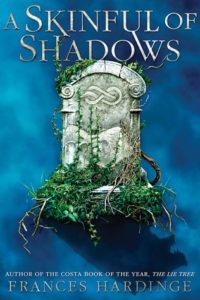 A Skinful of Shadows by Frances Hardinge
Sometimes, when a person dies, their spirit goes looking for somewhere to hide.
Some people have space within them, perfect for hiding.
Twelve-year-old Makepeace has learned to defend herself from the ghosts which try to possess her in the night, desperate for refuge, but one day a dreadful event causes her to drop her guard.
And now there's a spirit inside her.
The spirit is wild, brutish and strong, and it may be her only defence when she is sent to live with her father's rich and powerful ancestors. There is talk of civil war, and they need people like her to protect their dark and terrible family secret.
But as she plans her escape and heads out into a country torn apart by war, Makepeace must decide which is worse: possession – or death.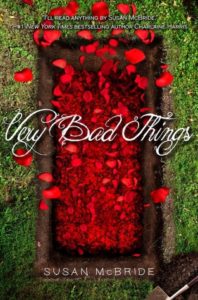 Very Bad Things by Susan McBride
Katie never thought she'd be the girl with the popular boyfriend. She also never thought he would cheat on her – but the proof is in the photo that people at their boarding school can't stop talking about. Mark swears he doesn't remember anything. But Rose, the girl in the photo, is missing, and Mark is in big trouble. Because it looks like Rose isn't just gone… she's dead.
Maybe Mark was stupid, but that doesn't mean he's a killer.
Katie needs to find out what really happened, and her digging turns up more than she bargained for, not just about Mark but about someone she loves like a sister: Tessa, her best friend. At Whitney Prep, it's easy to keep secrets… especially the cold-blooded kind.