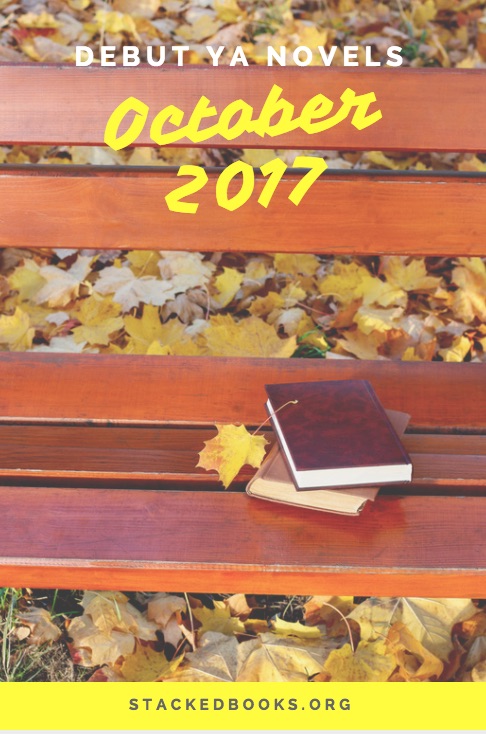 It's time for another round-up of debut YA novels of the month — here's what we've got for October.
This round-up includes debut novels, where "debut" is in its purest definition. These are first-time books by first-time authors. I'm not including books by authors who are using or have used a pseudonym in the past or those who have written in other categories (adult, middle grade, etc.) in the past. Authors who have self-published are not included here either.
All descriptions are from Goodreads, unless otherwise noted; I've found Goodreads descriptions to offer better insight to what a book is about over WorldCat. If I'm missing any debuts out in October from traditional publishers — and I should clarify that indie/small presses are okay — let me know in the comments.
As always, not all noted titles included here are necessarily endorsements for those titles. List is arranged alphabetically by title, with pub dates beside them. Starred titles are the beginning of a new series.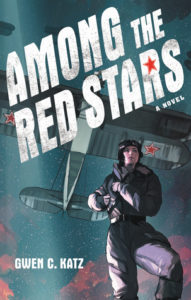 Among The Red Stars by Gwen C. Katz (10/3)
World War Two has shattered Valka's homeland of Russia, and Valka is determined to help the effort. She knows her skills as a pilot rival the best of the men, so when an all-female aviation group forms, Valka is the first to sign up.
Flying has always meant freedom and exhilaration for Valka, but dropping bombs on German soldiers from a fragile canvas biplane is no joyride. The war is taking its toll on everyone, including the boy Valka grew up with, who is fighting for his life on the front lines.
As the war intensifies and those around her fall, Valka must decide how much she is willing to risk to defend the skies she once called home.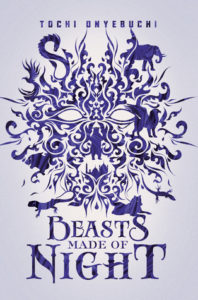 Beasts Made Of Night by Tochi Onyebuchi (10/31)
In the walled city of Kos, corrupt mages can magically call forth sin from a sinner in the form of sin-beasts – lethal creatures spawned from feelings of guilt.
Taj is the most talented of the aki, young sin-eaters indentured by the mages to slay the sin-beasts. But Taj's livelihood comes at a terrible cost. When he kills a sin-beast, a tattoo of the beast appears on his skin while the guilt of committing the sin appears on his mind. Most aki are driven mad by the process, but 17-year-old Taj is cocky and desperate to provide for his family.
When Taj is called to eat a sin of a royal, he's suddenly thrust into the center of a dark conspiracy to destroy Kos. Now Taj must fight to save the princess that he loves – and his own life.
A gritty Nigerian-influenced fantasy.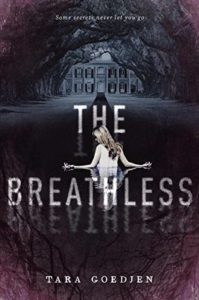 The Breathless by Tara Goedjen (10/10)
No one knows what really happened on the beach where Roxanne Cole's body was found, but her boyfriend, Cage, took off that night and hasn't been seen since. Until now. One year—almost to the day—from Ro's death, when he knocks on the door of Blue Gate Manor and asks where she is.
Cage has no memory of the past twelve months. According to him, Ro was alive only the day before. Ro's sister Mae wouldn't believe him, except that something's not right. Nothing's been right in the house since Ro died.
And then Mae finds the little green book. The one hidden in Ro's room. It's filled with secrets—dangerous secrets—about her family, and about Ro. And if what it says is true, then maybe, just maybe, Ro isn't lost forever.
And maybe there are secrets better left to the dead.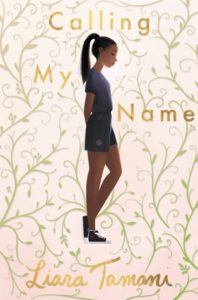 Calling My Name by Liara Tamani (10/24)
Taja Brown lives with her parents and older brother and younger sister, in Houston, Texas. Taja has always known what the expectations of her conservative and tightly-knit African American family are—do well in school, go to church every Sunday, no intimacy before marriage. But Taja is trying to keep up with friends as they get their first kisses, first boyfriends, first everythings. And she's tired of cheering for her athletic younger sister and an older brother who has more freedom just because he's a boy. Taja dreams of going to college and forging her own relationship with the world and with God, but when she falls in love for the first time, those dreams are suddenly in danger of evaporating.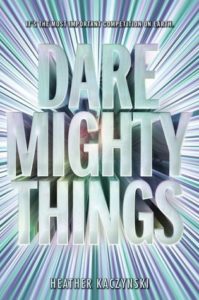 *Dare Mighty Things by Heather Kaczynski (10/10)
THE RULES ARE SIMPLE: You must be gifted. You must be younger than twenty-five. You must be willing to accept the dangers that you will face if you win.
Seventeen-year-old Cassandra Gupta's entire life has been leading up to this—the opportunity to travel to space. But to secure a spot on this classified mission, she must first compete against the best and brightest people on the planet. People who are as determined as she to win a place on a journey to the farthest reaches of the universe.
Cassie is ready for the toll that the competition will take; the rigorous mental and physical tests designed to push her to the brink of her endurance. But nothing could have prepared her for the bonds she would form with the very people she hopes to beat. Or that with each passing day it would be more and more difficult to ignore the feeling that the true objective of the mission is being kept from her.
As the days until the launch tick down and the stakes rise higher than ever before, only one thing is clear to Cassie: she'll never back down . . . even if it costs her everything.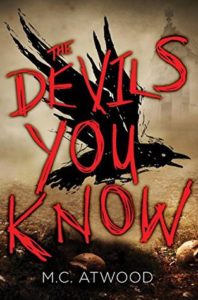 The Devils You Know by MC Atwood (10/3)
Plenty of legends surround the infamous Boulder House in Whispering Bluffs, Wisconsin, but nobody takes them seriously. Certainly nobody believes that the original owner, Maxwell Cartwright Jr., cursed its construction—or that a murder of crows died upon its completion, their carcasses turning the land black. If anyone did believe it all, there's no way River Red High would offer a field trip there for the senior class.
Five very different seniors on the trip—Violet, Paul, Ashley, Dylan, and Gretchen—have reasons beyond school spirit for not ditching the trip. When they're separated from the group, they discover that what lies within Boulder House is far more horrifying than any local folklore. To survive, they'll have to band together in ways they never could have imagined and ultimately confront the truths of their darkest selves.
Everything Must Go by Jenny Fran Davis (10/3)
Flora Goldwasser has fallen in love. She won't admit it to anyone, but something about Elijah Huck has pulled her under. When he tells her about the hippie Quaker school he attended in the Hudson Valley called Quare Academy, where he'll be teaching next year, Flora gives up her tony upper east side prep school for a life on a farm, hoping to woo him. A fish out of water, Flora stands out like a sore thumb in her vintage suits among the tattered tunics and ripped jeans of the rest of the student body. When Elijah doesn't show up, Flora must make the most of the situation and will ultimately learn more about herself than she ever thought possible.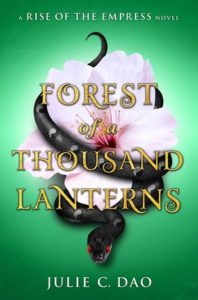 *Forest of a Thousand Lanterns by Julie C. Dao (10/10)
Eighteen-year-old Xifeng is beautiful. The stars say she is destined for greatness, that she is meant to be Empress of Feng Lu. But only if she embraces the darkness within her. Growing up as a peasant in a forgotten village on the edge of the map, Xifeng longs to fulfill the destiny promised to her by her cruel aunt, the witch Guma, who has read the cards and seen glimmers of Xifeng's majestic future. But is the price of the throne too high?
Because in order to achieve greatness, she must spurn the young man who loves her and exploit the callous magic that runs through her veins–sorcery fueled by eating the hearts of the recently killed. For the god who has sent her on this journey will not be satisfied until his power is absolute.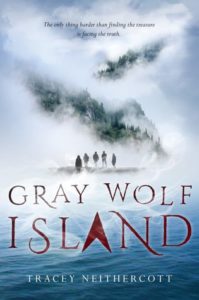 Gray Wolf Island by Tracey Neithercott (10/10)
Right before Sadie died, she begged her sister, Ruby, to do the one thing she could never do herself: Find the treasure on Gray Wolf Island.
With just a mysterious treasure map as a guide, Ruby reluctantly allows some friends to join her on the hunt, each of whom is touched by magic: a boy allegedly born to a virgin, a girl who never sleeps, a boy who can foresee his own death, and a boy with deep ties to the island. Each of them is also keeping a secret—something they'll have to reveal in order to reach the treasure.
As the secrets come to light, Ruby will have to decide: Can she make peace with her friends' troubled pasts and continue to trust them? Can she forgive herself for doing the unspeakable? Deep in the wilderness of Gray Wolf Island, Ruby's choices will determine if they make it out with the treasure—or merely with their lives.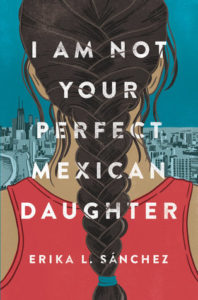 I Am Not Your Perfect Mexican Daughter by Erika L. Sánchez (10/17)
Perfect Mexican daughters do not go away to college. And they do not move out of their parents' house after high school graduation. Perfect Mexican daughters never abandon their family.
But Julia is not your perfect Mexican daughter. That was Olga's role.
Then a tragic accident on the busiest street in Chicago leaves Olga dead and Julia left behind to reassemble the shattered pieces of her family. And no one seems to acknowledge that Julia is broken, too. Instead, her mother seems to channel her grief into pointing out every possible way Julia has failed.
But it's not long before Julia discovers that Olga might not have been as perfect as everyone thought. With the help of her best friend Lorena, and her first kiss, first love, first everything boyfriend Connor, Julia is determined to find out. Was Olga really what she seemed? Or was there more to her sister's story? And either way, how can Julia even attempt to live up to a seemingly impossible ideal?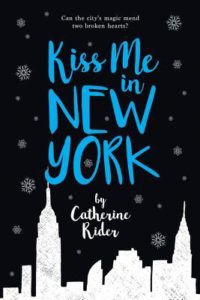 Kiss Me In New York by Catherine Rider (10/3)
It's Christmas Eve at JFK in NYC.
Charlotte is a British student, waiting for a flight home after the worst semester of her life. Anthony is a native New Yorker, surprising his girlfriend at the airport after three months apart. Charlotte has just been dumped, and Anthony is about to be dumped, right in the middle of the holiday crowd.
Charlotte's flight is canceled when a blizzard blows in, and Anthony can't bear to go home. So, they set out into the city together, clutching a book Charlotte picks up in the airport gift shop: Ten Easy Steps for Getting Over Your Ex. For this one night, they'll focus on healing their broken hearts … together.
Step-by-step, the two struggle to put the past behind them. But the snow is so enchanting, and the holiday lights are so beguiling, that soon their shared misery gives way to something else. Soon, they're not only over their exes — they're falling for each other.
Then a subway ride splits them up by mistake. Will they reunite before Charlotte's flight leaves New York forever?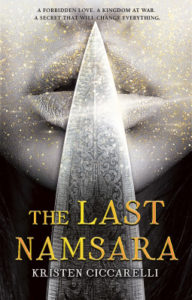 *The Last Namsara by Kristen Ciccarelli (10/3)
In the beginning, there was the Namsara: the child of sky and spirit, who carried love and laughter wherever he went. But where there is light, there must be dark—and so there was also the Iskari. The child of blood and moonlight. The destroyer. The death bringer.
These are the legends that Asha, daughter of the king of Firgaard, has grown up hearing in hushed whispers, drawn to the forbidden figures of the past. But it isn't until she becomes the fiercest, most feared dragon slayer in the land that she takes on the role of the next Iskari—a lonely destiny that leaves her feeling more like a weapon than a girl.
Asha conquers each dragon and brings its head to the king, but no kill can free her from the shackles that await at home: her betrothal to the cruel commandant, a man who holds the truth about her nature in his palm. When she's offered the chance to gain her freedom in exchange for the life of the most powerful dragon in Firgaard, she finds that there may be more truth to the ancient stories than she ever could have expected. With the help of a secret friend—a slave boy from her betrothed's household—Asha must shed the layers of her Iskari bondage and open her heart to love, light, and a truth that has been kept from her.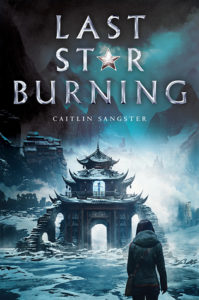 Last Star Burning by Caitlin Sangster (10/10)
Sev is branded with the mark of a criminal—a star burned into her hand. That's the penalty for being the daughter of the woman who betrayed their entire nation.
Now her mother's body is displayed above Traitor's Arch, kept in a paralyzed half sleep by the same plague that destroyed the rest of the world. And as further punishment, Sev is forced to do hard labor to prove that she's more valuable alive than dead.
When the government blames Sev for a horrific bombing, she must escape the city or face the chopping block. Unimaginable dangers lurk outside the city walls, and Sev's only hope of survival lies with the most unlikely person—Howl, the chairman's son. Though he promises to lead her to safety, Howl has secrets, and Sev can't help but wonder if he knows more about her past—and her mother's crimes—than he lets on.
But in a hostile world, trust is a luxury. Even when Sev's life and the lives of everyone she loves may hang in the balance.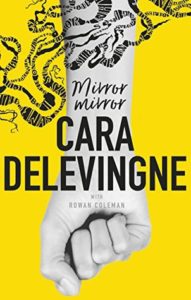 Mirror Mirror by Cara Delevingne
Sixteen-year-old friends Red, Leo, Naima and Rose are like anyone their age: figuring out who they are and trying to navigate the minefield of school and relationships. Life isn't perfect, but they're united by their love of music and excited about what the future holds for their band.
That is until Naima dies in tragic circumstances, leaving behind only one word. 'Sorry'.
What awful truth was she hiding? What dark secret was lurking behind her seemingly sunny persona? And how did Red, the self-styled protector of the group, fail to spot the warning signs?
While Rose turns to wild partying and Leo is shrouded by dark moods, Red sets out to uncover the truth and find out what – or perhaps who – was responsible for Naima's death.
It's a journey that will cause Red's world to crumble, exposing the dark and dangerous truth behind the fragile surface of their existence. Nothing will ever be the same again, because once a mirror is shattered, it can't be fixed.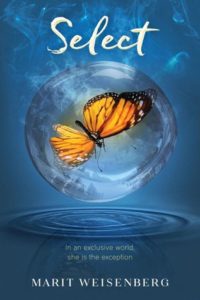 *Select by Marit Weisenberg (10/3)
Coming from a race of highly-evolved humans, Julia Jaynes has the perfect life. The perfect family. The perfect destiny. But there's something rotten beneath the surface—dangerous secrets her father is keeping; abilities she was never meant to have; and an elite society of people determined to keep their talents hidden and who care nothing for the rest of humanity. So when Julia accidentally disrupts the Jaynes' delicate anonymity, she's banished to the one place meant to make her feel inferior: public high school.
Julia's goal is to lay low and blend in. Then she meets him—John Ford, tennis prodigy, all-around good guy. When Julia discovers a knack for reading his mind, and also manipulating his life, school suddenly becomes a temporary escape from the cold grip of her manipulative father. But as Julia's powers over John grow, so do her feelings. For the first time in her life, Julia begins to develop a sense of self, to question her restrictive upbringing and her family prejudices. She must decide: can a perfect love be worth more than a perfect life?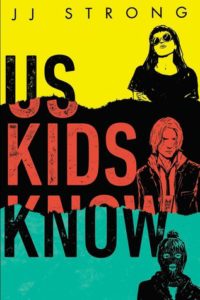 Us Kids Know by JJ Strong (10/24)
Siblings Brielle and Ray O'Dell are lost. Anxious. Restless. Bullied at his Catholic school for being small and timid, Ray wants to be someone people respect or, even better, someone people fear. Meanwhile, Brielle—whose "popular" status feels tenuous at best—knows that something is off about her friendship with the shiny, happy, sophisticated blond girls on her field hockey team. They don't really understand Bri, and if Bri is being totally honest, she doesn't really understand them either.
When storied delinquent Cullen Hickson enters the orbit of the O'Dell siblings, though, everything changes. Brielle and Ray find an alluring, addictive outlet in Cullen, who opens their eyes to a world they didn't know existed. For Ray, that means experiencing the singular thrill of small-time crime—from breaking and entering to grand theft auto—while Brielle quickly dives into an all-consuming romance with the enigmatic upperclassman.
But as Brielle and Ray find themselves more and more entwined with Cullen's antics, the once-thrilling experiences begin to feel increasingly dangerous, culminating in a life-changing event that shakes the teens to their core.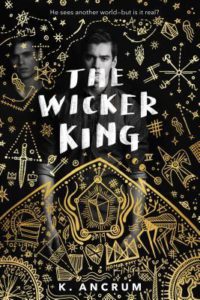 The Wicker King by K Ancrum (10/31)
When August learns that his best friend, Jack, shows signs of degenerative hallucinatory disorder, he is determined to help Jack cope. Jack's vivid and long-term visions take the form of an elaborate fantasy world layered over our own—a world ruled by the Wicker King. As Jack leads them on a quest to fulfill a dark prophecy in this alternate world, even August begins to question what is real or not.
August and Jack struggle to keep afloat as they teeter between fantasy and their own emotions. In the end, each must choose his own truth.