This month, I chose again to help support those affected by recent natural disasters: Hurricane Maria in the Caribbean and the earthquake in Mexico. American citizens in Puerto Rico are not receiving the aid they need from their own country; we can help. I donated through Global Giving, which is a great organization that helps funnel your contributions to local nonprofits and other grassroots charities in areas and for causes that you designate. If you haven't made a donation this month and can afford to do so, I encourage you to join me in giving to these projects: Hurricane Maria Relief Fund and Mexico Earthquake Relief Fund.
It's Hispanic Heritage Month until October 15, and there are tons of great book lists out there commemorating it. To help avoid simply repeating the same titles you likely see each year, I've focused on YA titles published within the last year. They all feature Puerto Rican, Mexican, or Mexican-American teens – those who would have been most affected by the recent disasters.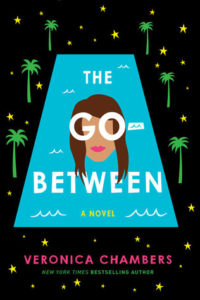 The Go-Between by Veronica Chambers
She is the envy of every teenage girl in Mexico City. Her mother is a glamorous telenovela actress. Her father is the go-to voice-over talent for blockbuster films. Hers is a world of private planes, chauffeurs, paparazzi and gossip columnists. Meet Camilla del Valle Cammi to those who know her best.
When Cammi s mom gets cast in an American television show and the family moves to LA, things change, and quickly. Her mom s first role is playing a not-so-glamorous maid in a sitcom. Her dad tries to find work but dreams about returning to Mexico. And at the posh, private Polestar Academy, Cammi s new friends assume she s a scholarship kid, the daughter of a domestic.
At first Cammi thinks playing along with the stereotypes will be her way of teaching her new friends a lesson. But the more she lies, the more she wonders: Is she only fooling herself?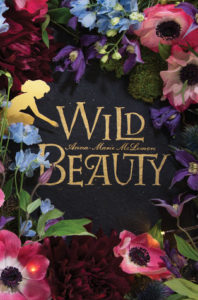 Wild Beauty by Anna-Marie McLemore (Oct. 3)
For nearly a century, the Nomeolvides women have tended the grounds of La Pradera, the lush estate gardens that enchant guests from around the world. They've also hidden a tragic legacy: if they fall in love too deeply, their lovers vanish. But then, after generations of vanishings, a strange boy appears in the gardens.
The boy is a mystery to Estrella, the Nomeolvides girl who finds him, and to her family, but he's even more a mystery to himself; he knows nothing more about who he is or where he came from than his first name. As Estrella tries to help Fel piece together his unknown past, La Pradera leads them to secrets as dangerous as they are magical in this stunning exploration of love, loss, and family.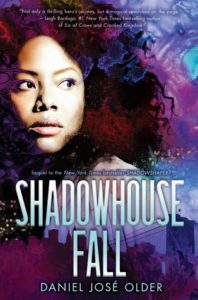 Shadowhouse Fall by Daniel Jose Older
Sierra and her friends love their new lives as shadowshapers, making art and creating change with the spirits of Brooklyn. Then Sierra receives a strange card depicting a beast called the Hound of Light—an image from the enigmatic, influential Deck of Worlds. The Deck tracks the players and powers of all the magical houses in the city, and when the real Hound begins to stalk Sierra through the streets, the shadowshapers know their next battle has arrived.
Sierra and Shadowhouse have been thrust into an ancient struggle with enemies old and new—a struggle they didn't want, but are determined to win. Revolution is brewing in the real world as well, as the shadowshapers lead the fight against systems that oppress their community. To protect her family and friends in every sphere, Sierra must take down the Hound and master the Deck of Worlds…or else she could lose all the things that matter most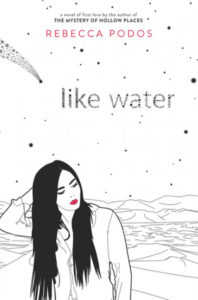 Like Water by Rebecca Podos (Oct. 17)
In Savannah Espinoza's small New Mexico hometown, kids either flee after graduation or they're trapped there forever. Vanni never planned to get stuck—but that was before her father was diagnosed with Huntington's disease, leaving her and her mother to care for him. Now, she doesn't have much of a plan at all: living at home, working as a performing mermaid at a second-rate water park, distracting herself with one boy after another.
That changes the day she meets Leigh. Disillusioned with small-town life and looking for something greater, Leigh is not a "nice girl." She is unlike anyone Vanni has met, and a friend when Vanni desperately needs one. Soon enough, Leigh is much more than a friend. But caring about another person stirs up the moat Vanni has carefully constructed around herself, and threatens to bring to the surface the questions she's held under for so long.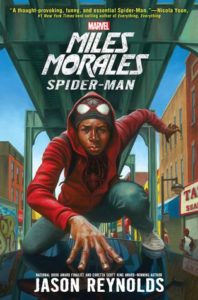 Miles Morales: Spider-Man by Jason Reynolds (Oct. 3)
Miles Morales is just your average teenager. Dinner every Sunday with his parents, chilling out playing old-school video games with his best friend, Ganke, crushing on brainy, beautiful poet Alicia. He's even got a scholarship spot at the prestigious Brooklyn Visions Academy. Oh yeah, and he's Spider Man.
But lately, Miles's spidey-sense has been on the fritz. When a misunderstanding leads to his suspension from school, Miles begins to question his abilities. After all, his dad and uncle were Brooklyn jack-boys with criminal records. Maybe kids like Miles aren't meant to be superheroes. Maybe Miles should take his dad's advice and focus on saving himself.
As Miles tries to get his school life back on track, he can't shake the vivid nightmares that continue to haunt him. Nor can he avoid the relentless buzz of his spidey-sense every day in history class, amidst his teacher's lectures on the historical "benefits" of slavery and the importance of the modern-day prison system. But after his scholarship is threatened, Miles uncovers a chilling plot, one that puts his friends, his neighborhood, and himself at risk.
It's time for Miles to suit up.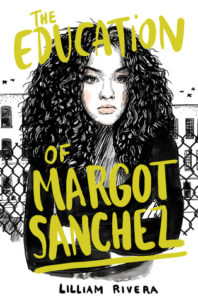 The Education of Margot Sanchez by Lilliam Rivera
After "borrowing" her father's credit card to finance a more stylish wardrobe, Margot
Sánchez suddenly finds herself grounded. And by grounded, she means working as an indentured servant in her family's struggling grocery store to pay off her debts.
With each order of deli meat she slices, Margot can feel her carefully cultivated prep school reputation slipping through her fingers, and she's willing to do anything to get out of this punishment. Lie, cheat, and maybe even steal…
Margot's invitation to the ultimate beach party is within reach and she has no intention of letting her family's drama or Moisés—the admittedly good looking but outspoken boy from the neighborhood—keep her from her goal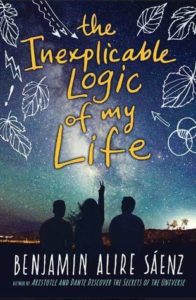 The Inexplicable Logic of My Life by Benjamin Alire Saenz
Everything is about to change. Until this moment, Sal has always been certain of his place with his adoptive gay father and their loving Mexican-American family. But now his own history unexpectedly haunts him, and life-altering events force him and his best friend, Samantha, to confront issues of faith, loss, and grief.
Suddenly Sal is throwing punches, questioning everything, and discovering that he no longer knows who he really is—but if Sal's not who he thought he was, who is he?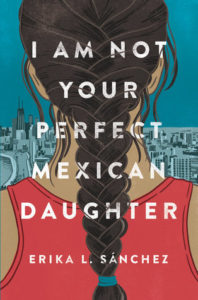 I Am Not Your Perfect Mexican Daughter by Erika L. Sanchez (Oct. 17)
Perfect Mexican daughters do not go away to college. And they do not move out of their parents' house after high school graduation. Perfect Mexican daughters never abandon their family.
But Julia is not your perfect Mexican daughter. That was Olga's role.
Then a tragic accident on the busiest street in Chicago leaves Olga dead and Julia left behind to reassemble the shattered pieces of her family. And no one seems to acknowledge that Julia is broken, too. Instead, her mother seems to channel her grief into pointing out every possible way Julia has failed.
But it's not long before Julia discovers that Olga might not have been as perfect as everyone thought. With the help of her best friend Lorena, and her first kiss, first love, first everything boyfriend Connor, Julia is determined to find out. Was Olga really what she seemed? Or was there more to her sister's story? And either way, how can Julia even attempt to live up to a seemingly impossible ideal?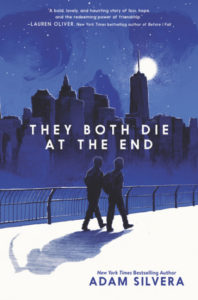 They Both Die at the End by Adam Silvera
On September 5, a little after midnight, Death-Cast calls Mateo Torrez and Rufus Emeterio to give them some bad news: They're going to die today. Mateo and Rufus are total strangers, but, for different reasons, they're both looking to make a new friend on their End Day. The good news: There's an app for that. It's called the Last Friend, and through it, Rufus and Mateo are about to meet up for one last great adventure and to live a lifetime in a single day.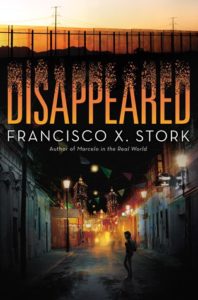 Disappeared by Francisco X. Stork
Four months ago: Sara Zapata's best friend disappeared, kidnapped by the web of criminals who terrorize Juàrez.
Four weeks ago: Her brother, Emiliano, fell in love with Perla Rubi, a girl whose family is as rich as her name.
Four hours ago: Sara received a death threat…and her first clue her friend's location.
Four minutes ago: Emiliano was offered a way into Perla Rubi's world—if he betrays his own.
In the next four days, Sara and Emiliano will each face impossible choices, between life and justice, friends and family, truth and love. But when the criminals come after Sara, only one path remains for both the siblings: the way across the desert to the United States.