I used to read tons of adult mysteries, from the time I was a tween all the way up through grad school in my early twenties. Both of my parents were really into them, so we listened to lots of (mostly) kid-friendly titles on long car trips. Elizabeth Peters, Alexander McCall Smith, and Janet Evanovich were a few favorites. As an adult, I loved reading Elizabeth George, Alan Bradley, and Deanna Raybourn.
And then my deep dive into the world of YA happened, and my focus shifted to mainly YA SFF. I'd always read a lot of science fiction and fantasy, but I didn't touch another genre for quite some time. It's only recently that I've drifted back into adult mysteries, and I have J.K. Rowling to thank for it.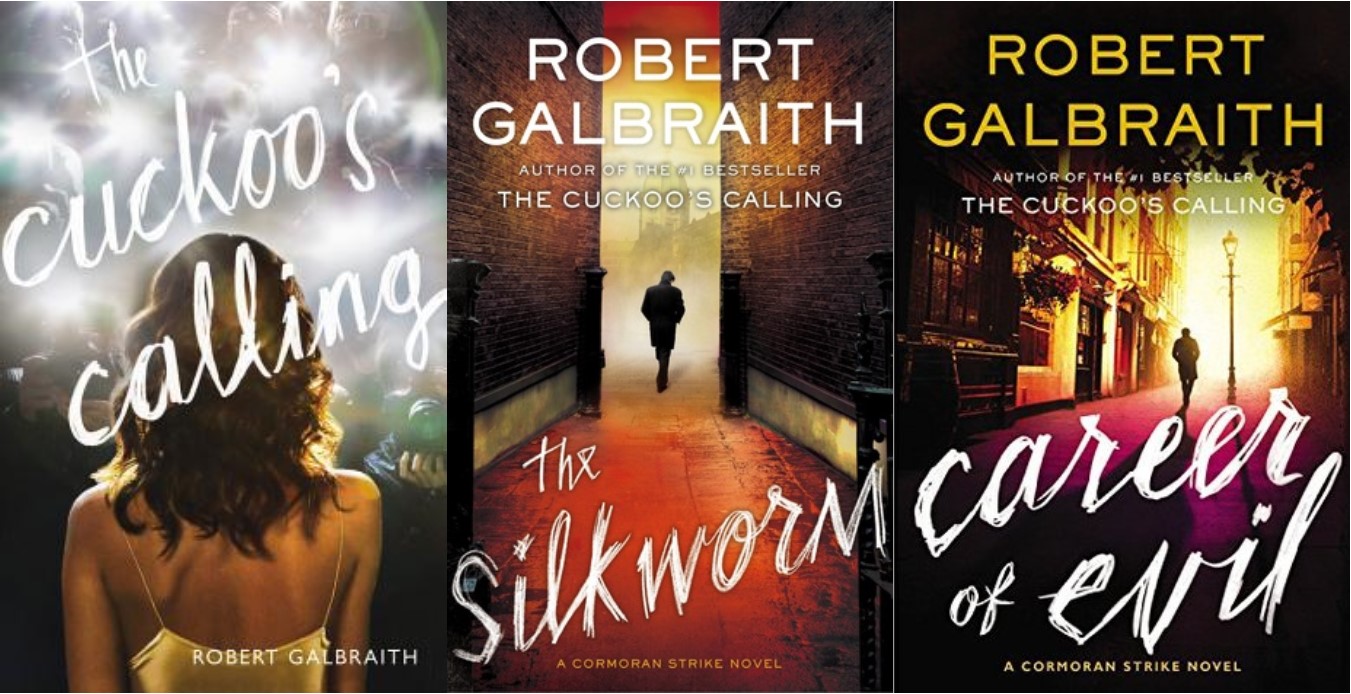 Under the pseudonym Robert Galbraith, she's written a series of three mysteries (so far) featuring private detective Cormoran Strike (a very Harry Potter-ish name). And they are really, really good. Rowling's plotting of the Harry Potter series has always been one of its main joys for me, so it makes total sense that she'd rock writing mysteries. The plots of the Strike books are complex, sometimes convoluted, with red herrings galore, but always, always a solution that makes complete sense and ties up all the myriad clues.
And of course, a good mystery series features a dynamic, interesting lead detective. In the Strike series, we get two: private detective Cormoran Strike and his assistant, Robin Ellacott, who was initially assigned to him as a secretary through a temp agency. She quickly proves herself to have a knack for detective work, and the two make a great team. Their relationship has its ups and downs – Cormoran doesn't always value her as he should, and Robin is often unsure of herself and her new role, leading to miscommunications – but it's one of the joys of reading the books. Cormoran himself has a fascinating backstory (son of a famous rockstar and a groupie, lost his leg in Afghanistan) that Rowling/Galbraith teases out through the three novels currently published. Robin, too, has a backstory, arguably equally tragic, but the focus with her is usually on her current troubles (an awful fiance who wants her to give up detective work).
I listened to these on audiobook, and the narrator, Robert Glenister, is fantastic, one of the best in the business. He partly voices each character, and the pace of his narration is terrific – no need to speed him up like so many other audiobook narrators. He is the voice of Cormoran Strike for me, and he even does the women pretty well – they're not breathy or weirdly high-pitched like male narrators often do for female characters.
The three currently published books have been adapted for a BBC television series, which has already begun airing in the UK. HBO has picked it up for distribution, but there's not yet a release date stateside. The fourth novel in the series, Lethal White, should be out sometime in 2018 (Rowling hasn't finished writing it yet). If you're in the mood for a really well-done contemporary mystery series, this is a great pick.