A curious thing in YA: title trends. I've seen many come and go, of course, and probably have many a draft post with a title trend as something worth covering. There are a lot of YA titles about Ashes and Fire. And as we've seen, the girl/s trend is no where near dissipating.
But this one caught me by surprise.
How about a ton of YA books on the edge? That is, YA books with "Edge" in the title. I didn't notice it until looking at a few recent YA reads in alphabetical order by title. What a nice nod to what it is to be a teenager.
These are all relatively recent titles, pubbed in the last couple of years. Know of others? I'd love to hear them in the comments.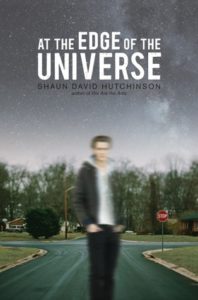 At The Edge of the Universe by Shaun David Hutchinson
Tommy and Ozzie have been best friends since second grade, and boyfriends since eighth. They spent countless days dreaming of escaping their small town—and then Tommy vanished.
More accurately, he ceased to exist, erased from the minds and memories of everyone who knew him. Everyone except Ozzie.
Ozzie doesn't know how to navigate life without Tommy, and soon suspects that something else is going on: that the universe is shrinking.
When Ozzie is paired up with new student Calvin on a physics project, he begins to wonder if Calvin could somehow be involved. But the more time they spend together, the harder it is for him to deny the feelings developing between them, even if he still loves Tommy.
But Ozzie knows there isn't much time left to find Tommy–that once the door closes, it can't be opened again. And he's determined to keep it open as long as possible.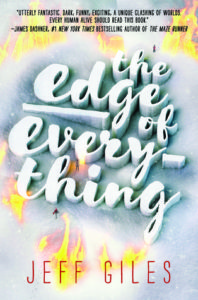 The Edge of Everything by Jeff Giles
For the perfect love, what would you be willing to lose?
It's been a shattering year for seventeen-year-old Zoe, who's still reeling from her father's shockingly sudden death in a caving accident and her neighbors' mysterious disappearance from their own home. Then on a terrifying sub-zero, blizzardy night in Montana, she and her brother are brutally attacked in a cabin in the woods—only to be rescued by a mysterious bounty hunter they call X.
X is no ordinary bounty hunter. He is from a hell called the Lowlands, sent to claim the soul of Zoe's evil attacker and others like him. X is forbidden from revealing himself to anyone other than his prey, but he casts aside the Lowlands' rules for Zoe. As they learn more about their colliding worlds, they begin to question the past, their fate, and their future.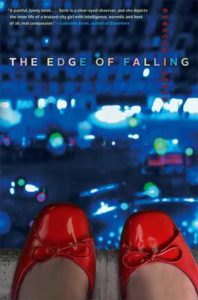 The Edge of Falling by Rebecca Serle
Growing up in privileged, Manhattan social circles, Caggie's life should be perfect, and it almost was until the day that her younger sister drowned when Caggie was supposed to be watching her. Stricken by grief, Caggie pulls away from her friends and family, only to have everyone misinterpret a crucial moment when she supposedly saves a fellow classmate from suicide. Now she's famous for something she didn't do and everyone lauds her as a hero. But inside she still blames herself for the death of her sister and continues to pull away from everything in her life, best friend and perfect boyfriend included. Then Caggie meets Astor, the new boy at school, about whom rumours are swirling and known facts are few. In Astor she finds someone who just might understand her pain, because he has an inner pain of his own. But the more Caggie pulls away from her former life to be with Astor, the more she realises that his pain might be darker, and deeper, than anything she's ever felt. His pain might be enough to end his life…and Caggie's as well.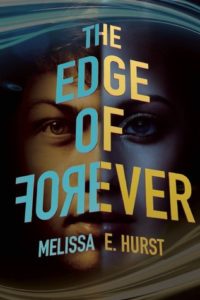 The Edge of Forever by Melissa E. Hurst
In 2013, sixteen-year-old Alora is having blackouts. Each time she wakes up in a different place with no idea how she got there. The one thing she is certain of? Someone is following her.
In 2146, seventeen-year-old Bridger is one of a small number of people born with the ability to travel to the past. While on a routine school time trip, he sees the last person he expected—his dead father. The strangest part is that, according to the Department of Temporal Affairs, his father was never assigned to be in that time. Bridger's even more stunned when he learns that his by-the-book father was there to break the most important rule of time travel—to prevent someone's murder.
And that someone is named Alora.
Determined to discover why his father wanted to help a "ghost," Bridger illegally shifts to 2013 and, along with Alora, races to solve the mystery surrounding her past and her connection to his father before the DTA finds him. If he can stop Alora's death without altering the timeline, maybe he can save his father too.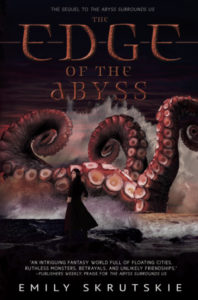 The Edge of The Abyss by Emily Skurtskie
Three weeks have passed since Cassandra Leung pledged her allegiance to the ruthless pirate-queen Santa Elena and set free Bao, the sea monster Reckoner she'd been forced to train. The days as a pirate trainee are long and grueling, but it's not the physical pain that Cas dreads most. It's being forced to work with Swift, the pirate girl who broke her heart.
But Cas has even bigger problems when she discovers that Bao is not the only monster swimming free. Other Reckoners illegally sold to pirates have escaped their captors and are taking the NeoPacific by storm, attacking ships at random and ruining the ocean ecosystem. As a Reckoner trainer, Cas might be the only one who can stop them. But how can she take up arms against creatures she used to care for and protect?
Will Cas embrace the murky morals that life as a pirate brings or perish in the dark waters of the NeoPacific?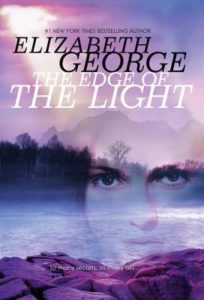 The Edge of The Light by Elizabeth George (Also see her The Edge of The Water)
Since his beloved grandfather's stroke, Seth has been focused on getting Grand home again, before his aunt can take advantage of the situation to get her hands on Grand's valuable real estate. Then there's Prynne. Seth would like to get his relationship with her on solid ground. He loves her, but can he believe she has her drug use under control?
Meanwhile, things are complicated for the other Whidbey Island friends. Derric has found Rejoice, the sister he left behind in Uganda, but Rejoice doesn't know she is his sister. Jenn is discovering feelings for her teammate Cynthia, feelings her born-again Christian mother would never find acceptable. And Becca, hiding under a false identity since her arrival on the island, is concealing the biggest secret of all.
In the final book of the Whidbey Island saga, events build to a climax as secrets are revealed, hearts are broken, and lives are changed forever.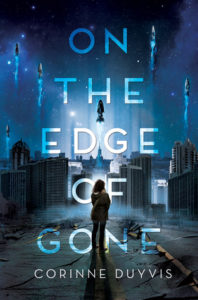 On The Edge of Gone by Corinne Duyvis
January 29, 2035.
That's the day the comet is scheduled to hit—the big one. Denise and her mother and sister, Iris, have been assigned to a temporary shelter near their hometown of Amsterdam to wait out the blast, but Iris is nowhere to be found, and at the rate Denise's drug-addicted mother is going, they'll never reach the shelter in time.
Then a last-minute encounter leads them to something better than a temporary shelter: a generation ship that's scheduled to leave Earth behind and colonize new worlds after the comet hits. But each passenger must have a practical skill to contribute. Denise is autistic and fears that she'll never be allowed to stay. Can she obtain a spot before the ship takes flight? What about her mother and sister?
When the future of the human race is at stake, whose lives matter most?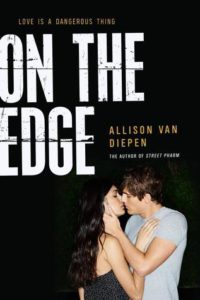 On The Edge by Allison van Diepen
Maddie Diaz never should have taken that shortcut through the park. If she hadn't, she wouldn't have seen two members of the Reyes gang attacking a homeless man. Now, as the only witness, she knows there's a target on her back.
But when the Reyes jump her on the street, Maddie is protected by a second gang and their secretive leader, Lobo, who is determined to take down the Reyes himself. Lobo is mysterious and passionate, and Maddie begins to fall for him. But when they live this close to the edge, can their love survive?
On the Edge is a compelling story about fighting for what's right and figuring out where you belong. The novel showcases a gritty, realistic voice and earth–shattering romance that will intrigue readers of Simone Elkeles and Paul Griffin and captivate fans of Allison van Diepen's other novels.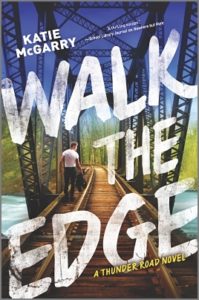 Walk The Edge by Katie McGarry
Smart. Responsible. That's seventeen-year-old Breanna's role in her large family, and heaven forbid she put a toe out of line. Until one night of shockingly un-Breanna-like behavior puts her into a vicious cyber-bully's line of fire—and brings fellow senior Thomas "Razor" Turner into her life.
Razor lives for the Reign of Terror motorcycle club, and good girls like Breanna just don't belong. But when he learns she's being blackmailed over a compromising picture of the two of them—a picture that turns one unexpected and beautiful moment into ugliness—he knows it's time to step outside the rules.
And so they make a pact: he'll help her track down her blackmailer, and in return she'll help him seek answers to the mystery that's haunted him—one that not even his club brothers have been willing to discuss. But the more time they spend together, the more their feelings grow. And suddenly they're both walking the edge of discovering who they really are, what they want, and where they're going from here.