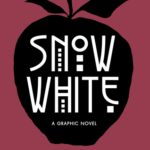 Snow White by Matt Phelan
Matt Phelan excels at the nearly-wordless graphic novel. His rendition of Snow White – updated to 1928 New York – surpasses the high bar he set with The Storm in the Barn and is my favorite book of his yet. Phelan's artwork is well-suited to a stylized, noir-ish retelling of the classic story. He uses mostly black and white with a few splashes of red for effect, taking full advantage of shadows in alleyways. In Phelan's version, Snow White's evil stepmother is the Queen of the Follies, her father is the King of Wall Street, and her protectors are seven street urchins. The whole package is clever and lovely.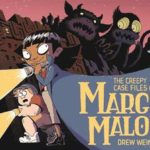 The Creepy Case Files of Margo Maloo by Drew Weing
Charles has just moved to Echo City, and he's not thrilled about it. They're living in an old hotel, which his parents are being paid to renovate. Naturally, it's haunted – Charles soon learns there's a monster in his closet. Luckily, there's Margo Maloo, a girl (or something more?) whose job it is to mediate disagreements between Echo City's monster inhabitants and its humans. She may like the monsters more than she likes the humans, but who can blame her? Charles is an aspiring journalist, so once he gets over his fear (or nearly so), he's eager to find out as much as he can about Margo and her monster friends. This is a fun middle grade graphic novel with a bit of humor, a bit of adventure, and a bit of mystery – everything you could want in a book, basically.
Spill Zone by Scott Westerfeld and Alex Puvilland
I've actually never read any novels by Scott Westerfeld, and I'm not sure this graphic novel will convince me to change that. It's got a good hook – a mysterious "spill" (chemical? otherwise?) occurred in the city a few years back, and now no one is allowed in the area. The spill killed everyone who was there at the time, and now the corpses occasionally move, among other horrifying things. Addison Merrick used to live in that part of town, and she sneaks back in regularly to take photos and sell them to collectors. It's a cool idea, but the execution is disappointing. This first volume (over 200 pages) feels like all exposition – it abruptly ends before anything is resolved or even explored in much depth. Its timeline is occasionally difficult to follow as well. Perhaps it's best read in tandem with the second volume, forthcoming July 2018. Puvilland's artwork is good, and the story is intriguing and unique – it just didn't quite live up to the high quality I had expected.