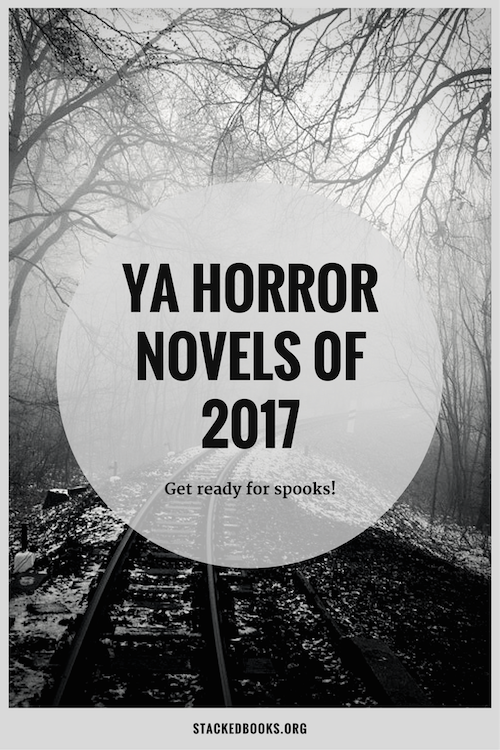 If you've been around STACKED for any period of time, you know YA horror is one of my favorite genres. I've been reading it since I was young, and I always look forward to picking up new horror titles, as well as exploring the backlist. July might not feel close to October, which is when horror season really ramps up, but for those who love horror year-round — as well as those who love to serve readers who itch for those books in October — July is always an excellent month to begin thinking about it.
Here's a look at the YA horror novels that have hit shelves in 2017, as well as the titles that will be releasing before the year ends. All descriptions are from Goodreads, as are publication dates.
Itching for more YA horror related reading? You can check out my post on 65 YA horror books written by women, a guide to the genre (written in 2013 but still relevant!), why YA horror is a staple at SLJ, and my big round-up of posts relating to horror from last fall.
Now let's get spooky.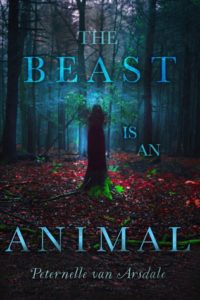 The Beast Is An Animal by Peternelle van Arsdale
Alys was seven when the soul eaters came to her village.
These soul eaters, twin sisters who were abandoned by their father and slowly morphed into something not quite human, devour human souls. Alys, and all the other children, were spared—and they were sent to live in a neighboring village. There the devout people created a strict world where good and evil are as fundamental as the nursery rhymes children sing. Fear of the soul eaters—and of the Beast they believe guides them—rule village life. But the Beast is not what they think it is. And neither is Alys.
Inside, Alys feels connected to the soul eaters, and maybe even to the Beast itself. As she grows from a child to a teenager, she longs for the freedom of the forest. And she has a gift she can tell no one, for fear they will call her a witch. When disaster strikes, Alys finds herself on a journey to heal herself and her world. A journey that will take her through the darkest parts of the forest, where danger threatens her from the outside—and from within her own heart and soul.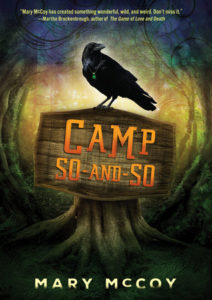 Camp So-And-So by Mary McCoy
The letters went out in mid-February. Each letter invited its recipient to spend a week at Camp So-and-So, a lakeside retreat for girls nestled high in the Starveling Mountains. Each letter came with a glossy brochure with photographs of young women climbing rocks, performing Shakespearean theatre under the stars, and spiking volleyballs. Each letter was signed in ink by the famed and reclusive businessman and philanthropist, Inge F. Yancey IV.
By the end of the month, twenty-five applications had been completed, signed, and mailed to a post office box in an obscure Appalachian town.
Had any of these girls tried to follow the directions in the brochure and visit the camp for themselves on that day in February, they would have discovered that there was no such town and no such mountain and that no one within a fifty-mile radius had ever heard of Camp So-and-So.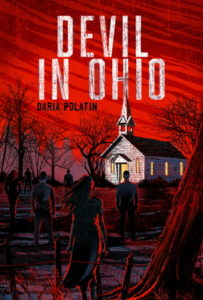 Devil in Ohio by Daria Polatin (November 7)
When fifteen-year-old Jules Mathis comes home from school to find a strange girl, her mother explains that Mae is one of her patients at the hospital and will be staying with their family for a few days. But shortly after, Mae is wearing Jules' clothes, sleeping in her bedroom, edging her out of her position on the school paper, and kissing Jules's crush. Then things get weird.
Jules walks in on a half-dressed Mae, she's startled to see a pentagram carved into her back. Soon white roses start turning up on the front porch, a rabid dog bites one of Jules' sisters, and Jules' parents, who never fight, start arguing behind closed doors.
Jules pieces clues together and discovers that Mae may be a survivor of the strange cult that has taken over a nearby town. And they will stop at nothing to get Mae back.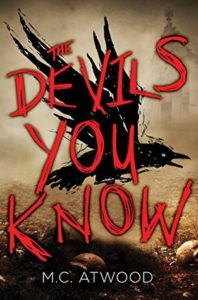 The Devils You Know by MC Atwood (October 3)
Plenty of legends surround the infamous Boulder House in Whispering Bluffs, Wisconsin, but nobody takes them seriously. Certainly nobody believes that the original owner, Maxwell Cartwright Jr., cursed its construction—or that a murder of crows died upon its completion, their carcasses turning the land black. If anyone did believe it all, there's no way River Red High would offer a field trip there for the senior class.
Five very different seniors on the trip—Violet, Paul, Ashley, Dylan, and Gretchen—have reasons beyond school spirit for not ditching the trip. When they're separated from the group, they discover that what lies within Boulder House is far more horrifying than any local folklore. To survive, they'll have to band together in ways they never could have imagined and ultimately confront the truths of their darkest selves.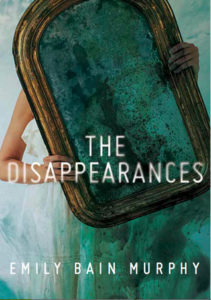 The Disappearances by Emily Bain Murphy
What if the ordinary things in life suddenly…disappeared?
Aila Quinn's mother, Juliet, has always been a mystery: vibrant yet guarded, she keeps her secrets beyond Aila's reach. When Juliet dies, Aila and her younger brother Miles are sent to live in Sterling, a rural town far from home–and the place where Juliet grew up.
Sterling is a place with mysteries of its own. A place where the experiences that weave life together–scents of flowers and food, reflections from mirrors and lakes, even the ability to dream–vanish every seven years.
No one knows what caused these "Disappearances," or what will slip away next. But Sterling always suspected that Juliet Quinn was somehow responsible–and Aila must bear the brunt of their blame while she follows the chain of literary clues her mother left behind.
As the next Disappearance nears, Aila begins to unravel the dual mystery of why the Disappearances happen and who her mother truly was. One thing is clear: Sterling isn't going to hold on to anyone's secrets for long before it starts giving them up.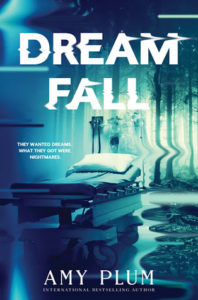 Dreamfall by Amy Plum (September 7)
Cata Cordova suffers from such debilitating insomnia that she agreed to take part in an experimental new procedure. She thought things couldn't get any worse…but she was terribly wrong.
Soon after the experiment begins, there's a malfunction with the lab equipment, and Cata and six other teen patients are plunged into a shared dreamworld with no memory of how they got there. Even worse, they come to the chilling realization that they are trapped in a place where their worst nightmares have come to life. Hunted by creatures from their darkest imaginations and tormented by secrets they'd rather keep buried, Cata and the others will be forced to band together to face their biggest fears. And if they can't find a way to defeat their dreams, they will never wake up.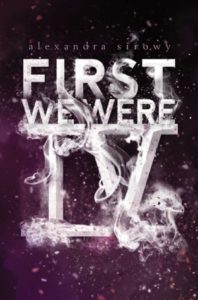 First We Were IV by Alexandra Sirowy (July 25)
It started for pranks, fun, and forever memories.
A secret society – for the four of us.
The rules: Never lie. Never tell. Love each other.
We made the pledge and danced under the blood moon on the meteorite in the orchard. In the spot we found the dead girl five years earlier. And discovered the ancient drawings way before that.
Nothing could break the four of us apart – I thought.
But then, others wanted in. Our seaside town had secrets. History.
We wanted revenge.
We broke the rules. We lied. We told. We loved each other too much, not enough, and in ways we weren't supposed to.
Our invention ratcheted out of control.
What started as a secret society, ended as justice. Revenge. Death. Rebellion.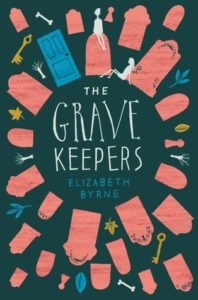 The Grave Keepers by Elizabeth Byrne (September 12)
Lately, Athena Windham has been spending all her spare time in her grave.
Her parents—owners of a cemetery in Upstate New York—are proud of her devoutness, but her younger sister, Laurel, would rather spend her time exploring the forest that surrounds the Windham's' property than in her own grave.
The Windham girls lead secluded lives—their older sister died in a tragic accident and their parents' protectiveness has made the family semi-infamous.
As the new school year begins, the outside world comes creeping in through encounters with mean girls, a new friend, and a runaway boy hiding out in the cemetery. Meanwhile, a ghost hangs around the Windham property—the only grave keeper never to cross over—plotting how to keep the sisters close to home and close to her . . . forever.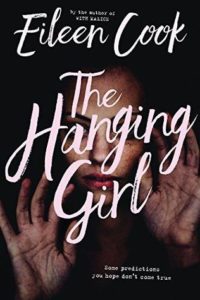 The Hanging Girl by Eileen Cook (October 3)
Skye Thorn has given tarot card readings for years, and now her psychic visions are helping the police find the town's missing golden girl. It's no challenge—her readings have always been faked, but this time she has some insider knowledge. The kidnapping was supposed to be easy—no one would get hurt and she'd get the money she needs to start a new life. But a seemingly harmless prank has turned dark, and Skye realizes the people she's involved with are willing to kill to get what they want and she must discover their true identity before it's too late.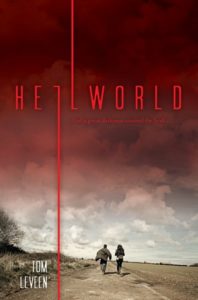 Hellworld by Tom Leveen
Five years ago, Abby Booth's mom, co-host of a ghost hunting reality show, went missing while filming in a 'haunted' cave in Arizona.
Since then, Abby's life has all but fallen to pieces, most notably because of her dad's deep depression and how they've drifted further and further apart.
But now, at seventeen, Abby has decided that things will change. She plans to go to the same cave where her mom and the crew went missing and to find out, once and for all, what happened there.
With the help of the co-host's son Charlie and two of his friends, Abby sets off on a quest for answers…but what the group ends up finding, what they stumble across in that dark, primordial cave in Arizona, is nothing they could have ever imagined.
Abby was investigating a possible haunting… she never expected that there could be something worse.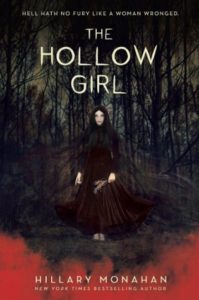 The Hollow Girl by Hillary Monahan (October 10)
Five boys attacked her.
Now they must repay her with their blood and flesh.
Bethan is the apprentice to a green healer named Drina in a clan of Welsh Romanies. Her life is happy and ordered and modest, as required by Roma custom, except for one thing: Silas, the son of the chieftain, has been secretly harassing her.
One night, Silas and his friends brutally assault Bethan and a half-Roma friend, Martyn. As empty and hopeless as she feels from the attack, she asks Drina to bring Martyn back from death's door. "There is always a price for this kind of magic," Drina warns. The way to save him is gruesome. Bethan must collect grisly pieces to fuel the spell: an ear, some hair, an eye, a nose, and fingers.
She gives the boys who assaulted her a chance to come forward and apologize. And when they don't, she knows exactly where to collect her ingredients to save Martyn.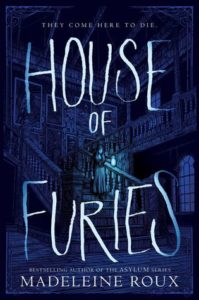 House of Furies by Madeleine Roux
After escaping a harsh school where punishment was the lesson of the day, seventeen-year-old Louisa Ditton is thrilled to find employment as a maid at a boarding house. But soon after her arrival at Coldthistle House, Louisa begins to realize that the house's mysterious owner, Mr. Morningside, is providing much more than lodging for his guests. Far from a place of rest, the house is a place of judgment, and Mr. Morningside and his unusual staff are meant to execute their own justice on those who are past being saved.
Louisa begins to fear for a young man named Lee who is not like the other guests. He is charismatic and kind, and Louisa knows that it may be up to her to save him from an untimely judgment. But in this house of distortions and lies, how can Louisa be sure whom to trust?
Featuring stunning interior illustrations from artist Iris Compiet, plus photo-collages that bring Coldthistle House to chilling life, House of Furies invites readers to a world where the line between monsters and men is ghostly thin.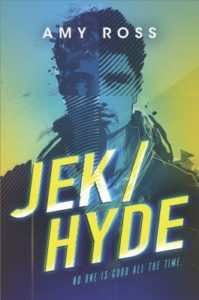 Jek/Hyde by Amy Ross (October 3)
Lulu and Jek are science nerds, and have been best friends since they were young…or at least they used to be. Lately Jek has been pulling away from Lulu, just as she's coming to terms with how she really feels about him. Just as she was ready to see if there could be something more between them.
But Lulu's thoughts are derailed by a mysterious new guy who's showing up at local parties. Hyde is the definition of a bad boy, and everybody knows it…but no one can seem to resist his charms. Girls can't stay away from him, and guys all want to be him. And even though Lulu's heart belongs to Jek, she can't deny Hyde's attraction either.
She also knows that there's something not quite right about Hyde. That the rumors of his backwoods parties make them sound a little more dangerous than what any of her friends are accustomed to. And she doesn't like the fact that Hyde seems to be cozying up to Jek, and that they seem to be intertwined in ways that have Lulu worrying for Jek's safety.
If Hyde has a dark secret, Lulu is determined to find out what it is, and to help Jek…before it's too late for both of them.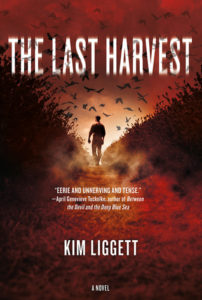 The Last Harvest by Kim Liggett
"I plead the blood."
Those were the last words seventeen-year-old golden boy quarterback Clay Tate heard rattling from his dad's throat when he discovered him dying on the barn floor of the Neely Cattle Ranch, clutching a crucifix to his chest.
Now, on the first anniversary of the Midland, Oklahoma slaughter, the whole town's looking at Clay like he might be next to go over the edge. Clay wants to forget the past, but the sons and daughters of the Preservation Society—a group of prominent farmers his dad accused of devil worship—won't leave him alone. Including Ali, his longtime crush, who suddenly wants to reignite their romance after a year of silence, and hated rival Tyler Neely, who's behaving like they're old friends.
Even as Clay tries to reassure himself, creepy glances turn to sinister stares and strange coincidences build to gruesome rituals—but when he can never prove that any of it happened, Clay worries he might be following his dad down the path to insanity…or that something far more terrifying lies in wait around the corner.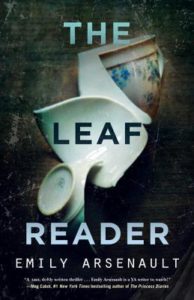 The Leaf Reader by Emily Arsenault
Maybe, occasionally, some of the pictures I saw in teacups were not for the tea drinkers. Maybe some of them were for me.
Marnie Wells knows that she creeps people out. It's not really her fault; her brother is always in trouble, and her grandmother, who's been their guardian since Mom took off is…eccentric. So no one even bats an eye when Marnie finds an old book about reading tea leaves and starts telling fortunes. The ceremony and symbols are weirdly soothing, but she knows—and hopes everyone else does too—that none of it's real.
Then basketball star Matt Cotrell asks for a reading. He's been getting emails from someone claiming to be his best friend, Andrea Quinley, who disappeared and is presumed dead. And while they'd always denied they were romantically involved, a cloud of suspicion now hangs over Matt. But Marnie sees a kindred spirit: someone who, like her, is damaged by association.
Suddenly the readings seem real. And, despite the fact that they're telling Marnie things about Matt that make him seem increasingly dangerous, she can't shake her initial attraction to him. In fact, it's getting stronger. And that could turn out to be deadly.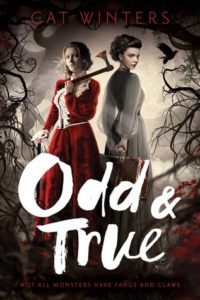 Odd and True by Cat Winters (September 12)
Trudchen grew up hearing Odette's stories of their monster-slaying mother and a magician's curse. But now that Tru's older, she's starting to wonder if her older sister's tales were just comforting lies, especially because there's nothing fantastic about her own life—permanently disabled and in constant pain from childhood polio.
In 1909, after a two-year absence, Od reappears with a suitcase supposedly full of weapons and a promise to rescue Tru from the monsters on their way to attack her. But it's Od who seems haunted by something. And when the sisters' search for their mother leads them to a face-off with the Leeds Devil, a nightmarish beast that's wreaking havoc in the Mid-Atlantic states, Tru discovers the peculiar possibility that she and her sister—despite their dark pasts and ordinary appearances—might, indeed, have magic after all.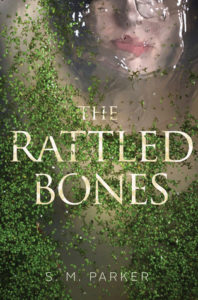 The Rattled Bones by SM Parker (August 22)
Unearthing years of buried secrets, Rilla Brae is haunted by ghostly visions tied to the tainted history of a mysterious island in this haunting novel from the author of The Girl Who Fell.
Maine-bred, independent Rilla Brae is no stranger to the deep. She knows the rhythms of hard work and harder seas. But when she experiences the sudden death of her father, the veil between the living and the dead blurs and she begins to be haunted by a girl on a nearby, uninhabited island. The girl floats a song over the waves, and it is as beautiful as it is terrifying. Familiar and distant.
Then Rilla meets Sam, a University of Southern Maine archeology student tasked with excavating the very island where the ghostly girl has appeared. Sam sifts the earth looking for the cultural remains of an island people who were forcibly evicted by the state nearly a hundred years ago. Sam tells Rilla the island has a history no locals talk about—if they know about it at all—due to the shame the events brought to the working waterfront community. All Rilla knows for sure is that the island has always been there—an eerie presence anchored in the stormy sea. Now Sam's work and the ghostly girl's song lure Rilla to the island's shores.
As Rilla helps Sam to unearth the island's many secrets, Rilla's visions grow—until the two discover a tragedy kept silent for years. And it's a tragedy that has everything to do with Rilla's past.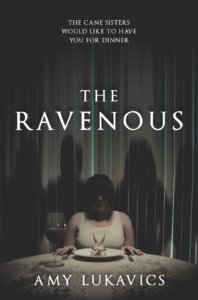 The Ravenous by Amy Lukavics (September 26)
From the outside, the Cane family looks like they have it all. A successful military father, a loving mother and five beautiful teenage daughters. But on the inside, life isn't quite so idyllic: the Cane sisters can barely stand each other, their father is always away, and their neglectful mother struggles with addiction and depression.
When their youngest and most beloved sister, Rose, dies in a tragic accident, Mona Cane and her sisters are devastated. And when she is brought back from the dead, they are relieved. But soon they discover that Rose must eat human flesh to survive, and when their mother abandons them, the sisters will find out just how far they'll go to keep their family together.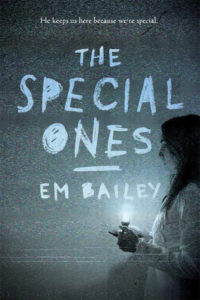 The Special Ones by Em Bailey
Esther is one of the Special Ones: four young spiritual guides who live in a remote farmhouse under the protection of a mysterious cult leader. He watches them around the clock, ready to punish them if they forget who they are—and all the while, broadcasting their lives to eager followers on the outside.       Esther knows that if she stops being Special, he will "renew" her. Nobody knows what happens to the Special Ones who are taken away from the farm for renewal, but Esther fears the worst. Like an actor caught up in an endless play, she must keep up the performance if she wants to survive long enough to escape.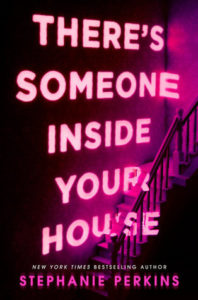 There's Someone Inside Your House by Stephanie Perkins (September 26)
One-by-one, the students of Osborne High are dying in a series of gruesome murders, each with increasing and grotesque flair. As the terror grows closer and the hunt intensifies for the killer, the dark secrets among them must finally be confronted.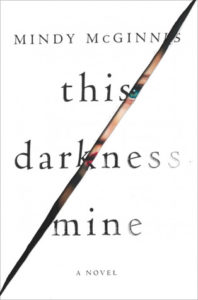 This Darkness Mine by Mindy McGinnis (October 10)
Sasha Stone knows her place—first-chair clarinet, top of her class, and at the side of her oxford-wearing boyfriend. She's worked her entire life to ensure that her path to Oberlin Conservatory as a star musician is perfectly paved.
But suddenly there's a fork in the road, in the shape of Isaac Harver. Her body shifts toward him when he walks by, her skin misses his touch even though she's never known it, and she relishes the smell of him—smoke, beer, and trouble—all the things she's avoided to get where she is. Even worse, every time he's near Sasha, her heart stops, literally. Why does he know her so well—too well—and she doesn't know him at all?
Sasha discovers that her by-the-book life began by ending another's: the twin sister she absorbed in the womb. But that doesn't explain the gaps of missing time in her practice schedule or the memories she has of things she certainly never did with Isaac. As Sasha loses her much-cherished control, her life—and heart—become more entangled with Isaac. Armed with the knowledge that her heart might not be hers alone, Sasha must decide what she's willing to do—and who she's willing to hurt—to take it back.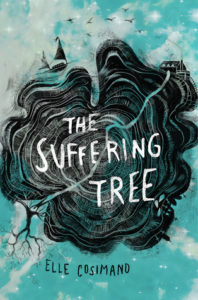 The Suffering Tree by Elle Cosimano
Tori Burns and her family left D.C. for claustrophobic Chaptico, Maryland, after suddenly inheriting a house under mysterious circumstances. That inheritance puts her at odds with the entire town, especially Jesse Slaughter and his family—it's their generations-old land the Burns have "stolen." But none of that seems to matter after Tori witnesses a young man claw his way out of a grave under the gnarled oak in her new backyard.
Nathaniel Bishop may not understand what brought him back, but it's clear to Tori that he hates the Slaughters for what they did to him centuries ago. Wary yet drawn to him by a shared sense of loss, she gives him shelter. But in the wake of his arrival comes a string of troubling events—including the disappearance of Jesse Slaughter's cousin—that seem to point back to Nathaniel.
As Tori digs for the truth—and slowly begins to fall for Nathaniel—she uncovers something much darker in the tangled branches of the Slaughter family tree. In order to break the centuries-old curse that binds Nathaniel there and discover the true nature of her inheritance, Tori must unravel the Slaughter family's oldest and most guarded secrets. But the Slaughters want to keep them buried… at any cost.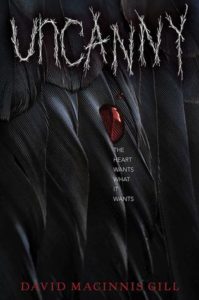 Uncanny by David Macinnis Gill (September 5)
You cannot wake the Shadowless when she sleeps within my bed. Kiss the lips of the Shadowless and the morning finds you dead.
When a bolt of lightning causes a Boston-wide blackout on her sixteenth birthday, Willow Jane doesn't think anything of it—until she begins stopping time, until she comes face-to-face with her menacing familiar, until her sister disappears. But these aren't the only strange and horrifying things to come out of the storm. An ancient witch named the Shadowless has awoken and escaped from her crypt, and she's looking for revenge on Willow Jane's family.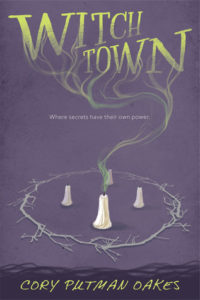 Witchtown by Cory Putman Oakes
When sixteen-year-old Macie O'Sullivan and her masterfully manipulative mother Aubra arrive at the gates of Witchtown—the most famous and mysterious witch-only haven in the world—they have one goal in mind: to rob it for all it's worth.
But that plan derails when Macie and Aubra start to dig deeper into Witchtown's history and uncover that there is more to the quirky haven than meets the eye.
Exploring the haven by herself, Macie finds that secrets are worth more than money in Witchtown.
Secrets have their own power.