Because sometimes, you see a book cover with a banana on it and become a 12-year-old with the giggle fits. Here's a roundup of a bunch of banana book covers, with book descriptions beside them. I'm not going to lie: I'm surprised there aren't more covers for romances with bananas on them. Too obvious?
Descriptions from Goodreads. I'm kind of surprised just how many microhistories about the fruit there are.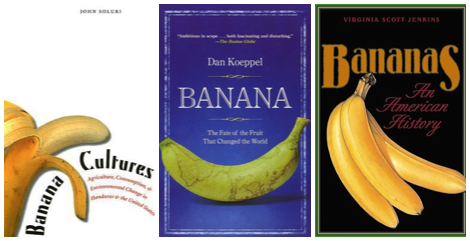 Banana Cultures by John Soluri
Bananas, the most frequently consumed fresh fruit in the United States, have been linked to Miss Chiquita and Carmen Miranda, "banana republics," and Banana Republic clothing stores—everything from exotic kitsch, to Third World dictatorships, to middle-class fashion. But how did the rise in banana consumption in the United States affect the banana-growing regions of Central America? In this lively, interdisciplinary study, John Soluri integrates agroecology, anthropology, political economy, and history to trace the symbiotic growth of the export banana industry in Honduras and the consumer mass market in the United States.
Beginning in the 1870s when bananas first appeared in the U.S. marketplace, Soluri examines the tensions between the small-scale growers, who dominated the trade in the early years, and the shippers. He then shows how rising demand led to changes in production that resulted in the formation of major agribusinesses, spawned international migrations, and transformed great swaths of the Honduran environment into monocultures susceptible to plant disease epidemics that in turn changed Central American livelihoods. Soluri also looks at labor practices and workers' lives, changing gender roles on the banana plantations, the effects of pesticides on the Honduran environment and people, and the mass marketing of bananas to consumers in the United States. His multifaceted account of a century of banana production and consumption adds an important chapter to the history of Honduras, as well as to the larger history of globalization and its effects on rural peoples, local economies, and biodiversity.
Banana by Dan Koeppel
To most people, a banana is a banana: a simple yellow fruit. Americans eat more bananas than apples and oranges combined. In others parts of the world, bananas are what keep millions of people alive. But for all its ubiquity, the banana is surprisingly mysterious; nobody knows how bananas evolved or exactly where they originated. Rich cultural lore surrounds the fruit: In ancient translations of the Bible, the 'apple' consumed by Eve is actually a banana (it makes sense, doesn't it?). Entire Central American nations have been said to rise and fall over the banana.
But the biggest mystery about the banana today is whether it will survive. A seedless fruit with a unique reproductive system, every banana is a genetic duplicate of the next, and therefore susceptible to the same blights. Today's yellow banana, the Cavendish, is increasingly threatened by such a blight — and there's no cure in sight.
Banana combines a pop-science journey around the globe, a fascinating tale of an iconic American business enterprise, and a look into the alternately tragic and hilarious banana subculture (one does exist) — ultimately taking us to the high-tech labs where new bananas are literally being built in test tubes, in a race to save the world's most beloved fruit.
Bananas: An American History by Virginia Scott Jenkins
Before 1880 most Americans had never seen a banana. By 1910 bananas were so common that streets were littered with their peels. Today Americans eat on average nearly seventy-five per year. More than a staple of the American diet, bananas have gained a secure place in the nation's culture and folklore. They have been recommended as the secret to longevity, the perfect food for infants, and the cure for warts, headaches, and stage fright. Essential to the cereal bowl and the pratfall, they remain a mainstay of jokes, songs, and wordplay even after a century of rapid change.
Covering every aspect of the banana in American culture, from its beginnings as luxury food to its reputation in the 1910s as the "poor man's" fruit to its role today as a healthy, easy-to-carry snack, Bananas provides an insightful look at a fruit with appeal.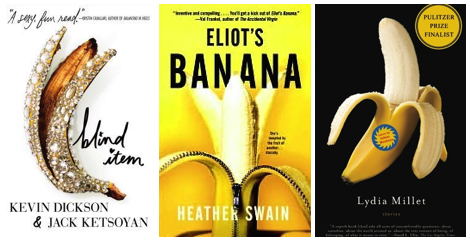 Blind Item by Kevin Dickson and Jack Ketsoyan
No one knows her name, but now everyone wants to.
As an assistant publicist in Hollywood, Nicola spends her days (and nights) sweeping up the scandals of singers, movie stars, and TV actors. Fresh from Ohio, she's rapidly discovering the real Hollywood is rotten under its glittering skin. Everyone is a hustler with a hard bottom line and a soap opera sob story.
When she breaks her own rules and starts dating a movie star, the Los Angeles scene starts to spill into her own life. As the paparazzi begin the hunt for sexy star Seamus O'Riordan's new mystery girl, Nicola's best friend Billy has her back while he prowls parties for the latest scoop to sell to the tabloids. Her roommate Kara keeps tabs on things too—in between befriending a former child star and transforming herself from stylist to reality TV sensation.
As the scandals pile up behind them, their pasts will be exposed… And every secret can be sold.
Written by two Hollywood insiders, the jaw-dropping scandals are real, but the names are not. And they'll never tell.
Eliot's Banana by Heather Swain
Things should be peachy.
Junie isn't entirely sure what her problem is. She's just moved into a Brooklyn apartment with her cool longtime boyfriend Leon, a drummer who adores her. She flits through a string of temp jobs in funky thrift store clothes. But beneath her veneer of quirky humor there's a nagging feeling of dissatisfaction about her life.
She's about to go bananas.
When Junie meets Eliot, who is twice her age, and his cat, Alfie, at the vet's office, she's convinced she's found the zest missing in her life. A burnt-out sci-fi writer in search of a muse, Eliot is apples to Leon's oranges. It's not long before Junie's standing in his kitchen being offered a banana…and then some.
Losing herself in the mayhem of a fling, Junie slowly realizes that kinky diversions are a poor distraction from what's really eating her. Only when she stops obsessing about Eliot and starts peeling away the layers of her family's past will she see that what she really wants has been waiting for her all along…and that her future's ripe with possibilities.
Love in Infant Monkeys by Lydia Millet
Lions, rabbits, monkeys, pheasants—all have shared the spotlight and tabloid headlines with famous men and women. Sharon Stone's husband's run-in with a Komodo dragon, Thomas Edison's filming of an elephant's electrocution and David Hasselhoff's dogwalker all find a home in Love in Infant Monkeys. At the rare intersections of wilderness and celebrity, Lydia Millet hilariously tweaks these unholy communions to run a stake through the heart of our fascination with pop icons and the culture of human self-worship.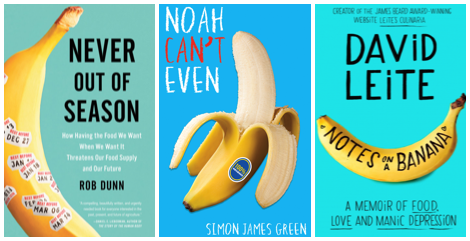 Never Out of Season by Rob Dunn
The bananas we eat today aren't your parents' bananas: We eat a recognizable, consistent breakfast fruit that was standardized in the 1960s from dozens into one basic banana. But because of that, the banana we love is dangerously susceptible to a pathogen that might wipe them out.
That's the story of our food today: Modern science has brought us produce in perpetual abundance-once-rare fruits are seemingly never out of season, and we breed and clone the hardiest, best-tasting varieties of the crops we rely on most. As a result, a smaller proportion of people on earth go hungry today than at any other moment in the last thousand years, and the streamlining of our food supply guarantees that the food we buy, from bananas to coffee to wheat, tastes the same every single time.
Our corporate food system has nearly perfected the process of turning sunlight, water and nutrients into food. But our crops themselves remain susceptible to the nature's fury. And nature always wins.
Authoritative, urgent, and filled with fascinating heroes and villains from around the world, Never Out of Season is the story of the crops we depend on most and the scientists racing to preserve the diversity of life, in order to save our food supply, and us.
Noah Can't Even by Simon James Green
Poor Noah Grimes! His father disappeared years ago, his mother's Beyonce tribute act is an unacceptable embarrassment, and his beloved gran is no longer herself. He only has one friend, Harry, and school is…Well, it's pure HELL. Why can't Noah be normal, like everyone else at school? Maybe if he struck up a romantic relationship with someone – maybe Sophie, who is perfect and lovely – he'd be seen in a different light? But Noah's plans are derailed when Harry kisses him at a party. That's when things go from bad to utter chaos.
Notes on a Banana by David Leite
Born into a devoutly Catholic, food-crazed family of Azorean immigrants in 1960s Fall River, Massachusetts, David had a childhood that was the stuff of sitcoms. But what no one knew was that this smart-ass, determined dreamer with a vivid imagination also struggled with the frightening mood swings of bipolar disorder. To cope, "Banana," as his mother endearingly called him, found relief and comfort in food, watching reruns of Julia Child, and, later as an adult, cooking for others. It was only in his mid-thirties, after years of desperate searching, did he finally uncover the truth about himself, receive proper medical treatment, and begin healing.
Throughout the narrative, David takes the reader along on the exhilarating highs and shattering lows of his life, with his trademark wit and humor: We watch as he slams the door on his Portuguese heritage in favor of blond-haired, blue-eyed WASPdom; pursues stardom with a near-pathological relentlessness; realizes he's gay and attempts to "turn straight" through Aesthetic Realism, a cult in downtown Manhattan; battles against dark and bitter moods; delights in his twenty-plus year relationship with Alan (known to millions of David's readers as "The One"); and shares the people, dishes, and events that shaped him.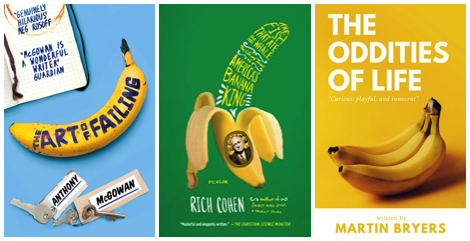 The Art of Failing by Anthony McGowan
HAUNTED! By endless tiny humiliations.
STRUGGLING! To resurrect the corpse of his literary career.
ENSNARED! In a loving yet perplexing marriage.
Anthony McGowan is a man at odds with the universe. Stumbling from one improbable fiasco to the next, patrolling the mean streets of West Hampstead like some unholy cross between Columbo, J. Alfred Prufrock and a common tramp, he ponders the very stuff of life itself. For McGowan that's holed socks, unsatisfactory packed lunches, athlete's foot powder, Kierkegaard, the eccentricities of the British Library, liver salts, Morrissey and disapproving ladies on trains… Relentlessly honest, exquisitely funny, The Art of Failing is a paean to the glory and desperation of everyday existence.
The Fish That Ate The Whale by Rich Cohen
When Samuel Zemurray arrived in America in 1891, he was tall, gangly, and penniless. When he died in the grandest house in New Orleans sixty-nine years later, he was among the richest, most powerful men in the world. In between, he worked as a fruit peddler, a banana hauler, a dockside hustler, and a plantation owner. He battled and conquered the United Fruit Company, becoming a symbol of the best and worst of the United States: proof that America is the land of opportunity, but also a classic example of the corporate pirate who treats foreign nations as the backdrop for his adventures. In Latin America, when people shouted "Yankee, go home!" it was men like Zemurray they had in mind.
The Oddities Of Life by Martin Bryers
This isn't a real book but a sample book cover from Canva I happened upon and couldn't not include.
Know of any other covers that are bananas? Leave 'em in the comments!