As a public librarian, I've come to appreciate the picture book biography for many reasons. The format is ideally suited to telling a true story in an efficient, beautiful, and interesting way. In a picture book biography, much like a fiction picture book, the illustrations are as important as the text: the two should pair with each other to create a unified work of art.
But perhaps most importantly, the picture book biography is a great way to bring to light the contributions of lesser-known individuals from history both distant and recent, including women, people of color, LGBTQ+ people, and disabled people, and all their intersections. They show kids that people like them have always done remarkable things, pique kids' interest in something new and fascinating, and spur them to do more investigation on their own afterward.
2017 is looking to be a great year for picture book biographies. This post is a round-up of several notable titles with an emphasis on biographies of marginalized people.
Out Now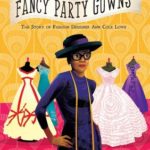 Fancy Party Gowns: The Story of Ann Cole Lowe by Deborah Blumenthal, illustrated by Laura Freeman
As soon as Ann Cole Lowe could walk, her momma and grandma taught her to sew. When her mom died, Ann continued sewing dresses. It wasn't easy, especially when she went to design school and had to learn alone, segregated from the rest of the class. But the work she did set her spirit soaring, as evidenced in the clothes she made. Rarely credited, Ann Cole Lowe became "society's best kept secret." This beautiful picture book shines the spotlight on a figure who proved that with hard work and passion, any obstacles can be overcome. (Goodreads)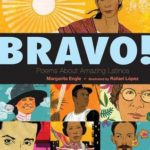 Bravo! Poems About Amazing Hispanics by Margarita Engle, illustrated by Rafael Lopez
Musician, botanist, baseball player, pilot—the Latinos featured in this collection come from many different countries and from many different backgrounds. Celebrate their accomplishments and their contributions to a collective history and a community that continues to evolve and thrive today! Biographical poems include: Aida de Acosta, Arnold Rojas, Baruj Benacerraf, César Chávez, Fabiola Cabeza de Baca, Félix Varela, George Meléndez, José Martí, Juan de Miralles, Juana Briones, Julia de Burgos, Louis Agassiz Fuertes, Paulina Pedroso, Pura Belpré, Roberto Clemente, Tito Puente, Ynes Mexia, and Tomás Rivera. (Goodreads)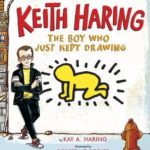 Keith Haring: The Boy Who Just Kept Drawing by Kay Haring, illustrated by Robert Neubecker
Traces the life of artist Keith Haring, from his childhood love of drawing to his meteoric rise to fame, with a focus on his concern for children, humanity, and disregard for the established art world. (WorldCat)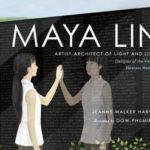 Maya Lin: Artist-Architect of Light and Lines by Jeanne Walker Harvey, illustrated by Dow Phumiruk
As a child, Maya Lin loved to study the spaces around her. She explored the forest in her backyard, observing woodland creatures, and used her house as a model to build tiny towns out of paper and scraps. The daughter of a clay artist and a poet, Maya grew up with art and learned to think with her hands as well as her mind. From her first experiments with light and lines to the height of her success nationwide, this is the story of an inspiring American artist: the visionary artist-architect who designed the Vietnam Veterans Memorial. (Goodreads)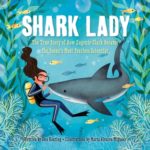 Shark Lady: The True Story of How Eugenie Clark Became the Ocean's Most Fearless Scientist by Jess Keating, illustrated by Marta Alvarez Miguens
At 9 years old, Eugenie Clark developed an unexpected passion for sharks after a visit to the Battery Park Aquarium in New York City. At the time, sharks were seen as mindless killing machines, but Eugenie knew better and set out to prove it. Despite many obstacles in her path, Eugenie was able to study the creatures she loved so much. From her many discoveries to the shark-related myths she dispelled, Eugenie's wide scientific contributions led to the well-earned nickname "Shark Lady." (Goodreads)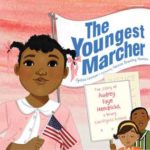 The Youngest Marcher: The Story of Audrey Faye Hendricks, a Young Civil Rights Activist by Cynthia Levinson, illustrated by Vanessa Brantley Newton
Meet the youngest known child to be arrested for a civil rights protest in Birmingham, Alabama, 1963, in this moving picture book that proves you're never too little to make a difference. Nine-year-old Audrey Faye Hendricks intended to go places and do things like anybody else. So when she heard grown-ups talk about wiping out Birmingham's segregation laws, she spoke up. As she listened to the preacher's words, smooth as glass, she sat up tall. And when she heard the plan—picket those white stores! March to protest those unfair laws! Fill the jails!—she stepped right up and said, I'll do it! She was going to j-a-a-il! Audrey Faye Hendricks was confident and bold and brave as can be, and hers is the remarkable and inspiring story of one child's role in the Civil Rights Movement. (Goodreads)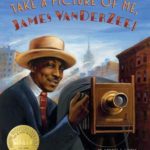 Take a Picture of Me, James VanDerZee! by Andrea J. Loney, illustrated by Keith Mallett
James VanDerZee was just a young boy when he saved enough money to buy his first camera. He took photos of his family, classmates, and anyone who would sit still for a portrait. By the fifth grade, James was the school photographer and unofficial town photographer. Eventually he outgrew his small town and moved to the exciting, fast-paced world of New York City. After being told by his boss that no one would want his or her photo taken by a black man, James opened his own portrait studio in Harlem. He took photographs of legendary figures of the Harlem Renaissance and ordinary folks in the neighborhood too. Everyone wanted fancy portraits by James VanDerZee. Winner of Lee & Low's New Voices Award, Take a Picture of Me, James VanDerZee! tells the story of a groundbreaking artist who chronicled an important era in Harlem and showed the beauty and pride of its people. (Goodreads)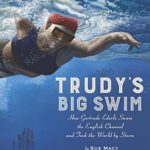 Trudy's Big Swim: How Gertrude Ederly Swam the English Channel and Took the World By Storm by Sue Macy, illustrated by Matt Collins
On the morning of August 6, 1926, Gertrude Ederle stood in her bathing suit on the beach at Cape Gris-Nez, France, and faced the churning waves of the English Channel. Twenty-one miles across the perilous waterway, the English coastline beckoned. Lyrical text, stunning illustrations and fascinating back matter put the reader right alongside Ederle in her bid to be the first woman to swim the Channel and contextualizes her record-smashing victory as a defining moment in sports history. (Goodreads)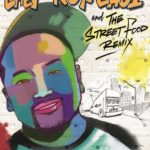 Chef Roy Choi and the Street Food Remix by Jacqueline Briggs Martin and June Jo Lee, illustrated by Man One
Describes the popular street cook's life, including working in his family's restaurant as a child, figuring out what he wanted to do with his life, and his success with his food truck and restaurant. (WorldCat)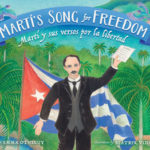 Marti's Song for Freedom by Emma Otheguy, illustrated by Beatriz Vidal
A bilingual biography of José Martí, who dedicated his life to the promotion of liberty, abolishment of slavery, political independence for Cuba, and intellectual independence from colonialism for all Latinos. Written in verse with excerpts from Mart's seminal work, Versos sencillos. (Goodreads)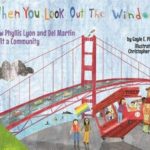 When You Look Out the Window: How Phyllis Lyon and Del Martin Built a Community by Gayle E. Pitman, illustrated by Christopher Lyles
Tells the story of Phyllis Lyon and Del Martin, one of San Francisco's most well-known and politically active lesbian couples. Describing the view from Phyllis and Del's window, this book shows how one couple's activism transformed their community – and had ripple effects throughout the world. (WorldCat)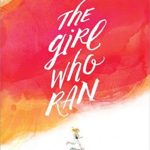 The Girl Who Ran: Bobbi Gibb, the First Woman to Run the Boston Marathon by Frances Poletti and Kristina Yee, illustrated by Susanna Chapman
In 1966, the world believed it was impossible for a woman to run the Boston Marathon. Bobbi Gibb was determined to prove them wrong. She said she would do it, she wasn't a liar; she'd show them by running like the wind in the fire. (WorldCat)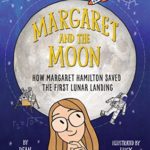 Margaret and the Moon: How Margaret Hamilton Saved the First Lunar Landing by Dean Robbins, illustrated by Lucy Knisley
Margaret Hamilton loved numbers as a young girl. She knew how many miles it was to the moon (and how many back). She loved studying algebra and geometry and calculus and using math to solve problems in the outside world. Soon math led her to MIT and then to helping NASA put a man on the moon! She handwrote code that would allow the spacecraft's computer to solve any problems it might encounter. Apollo 8. Apollo 9. Apollo 10. Apollo 11. Without her code, none of those missions could have been completed.  Dean Robbins and Lucy Knisley deliver a lovely portrayal of a pioneer in her field who never stopped reaching for the stars. (Goodreads)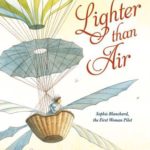 Lighter Than Air: Sophie Blanchard, the First Woman Pilot by Matthew Clark Smith, illustrated by Matt Tavares
In eighteenth-century France, "balloonomania" has fiercely gripped the nation . . . but all of the pioneering aeronauts are men. The job of shattering that myth falls to a most unlikely figure: a shy girl from a seaside village, entirely devoted to her dream of flight. Sophie is not the first woman to ascend in a balloon, nor the first woman to accompany an aeronaut on a trip, but she will become the first woman to climb to the clouds and steer her own course. (Goodreads)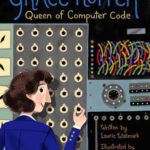 Grace Hopper: Queen of Computer Code by Laurie Wallmark, illustrated by Katy Wu
Who was Grace Hopper? A software tester, workplace jester, cherished mentor, ace inventor, avid reader, naval leader—AND rule breaker, chance taker, and troublemaker. Grace Hopper coined the term "computer bug" and taught computers to "speak English," and throughout her life succeeded in doing what no one had ever done before. Delighting in difficult ideas and in defying expectations, the insatiably curious Hopper truly is "Amazing Grace" . . . and a role model for science- and math-minded girls and boys. (Goodreads)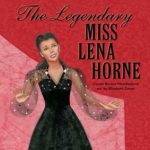 The Legendary Miss Lena Horne by Carole Boston Weatherford, illustrated by Elizabeth Zunon
Lena Horne was born into the freedom struggle, to a family of teachers and activists. Her mother dreamed of being an actress, so Lena followed in her footsteps as she chased small parts in vaudeville, living out of a suitcase until MGM offered Lena something more—the first ever studio contract for a black actress. But the roles she was considered for were maids and mammies, stereotypes that Lena refused to play. Still, she never gave up. "Stormy Weather" became her theme song, and when she sang "This Little Light of Mine" at a civil rights rally, she found not only her voice, but her calling. (Goodreads)
Forthcoming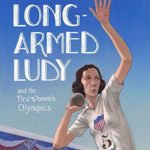 Long-Armed Ludy and the First Women's Olympics by Jean L.S. Patrick, illustrated by Adam Gustavson | August 8
Lucile "Ludy" Godbold was six feet tall and skinnier than a Carolina pine and an exceptional athlete. In her final year on the track team at Winthrop College in South Carolina, Ludy tried the shot put and she made that iron ball sail with her long, skinny arms. But when Ludy qualified for the first Women's Olympics in 1922, Ludy had no money to go. Thanks to the help of her college and classmates, Ludy traveled to Paris and won the gold medal with more than a foot to spare. (publisher marketing)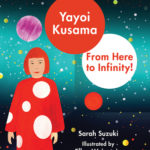 Yayoi Kusama: From Here to Infinity! by Sarah Suzuki, illustrated by Ellen Weinstein | August 22
Growing up in the mountains of Japan, Yayoi Kusama (b. 1929) dreamed of becoming an artist. One day, she had a vision in which the world and everything in it—the plants, the people, the sky—were covered in polka dots. She began to cover her paintings, drawings, sculptures, and even her body with dots. As she grew up, she traveled all around the world, from Tokyo to Seattle, New York to Venice, and brought her dots with her. Different people saw these dots in different ways—some thought they were tiny, like cells, and others imagined them enormous, like planets. Every year, Kusama sees more of the world, covering it with dots and offering people a way to experience it the way she does. Written by Sarah Suzuki, a curator at The Museum of Modern Art, and featuring reproductions of Kusama's instantly recognizable artworks, this colorful book tells the story of an artist whose work will not be complete until her dots cover the world, from here to infinity. (Goodreads)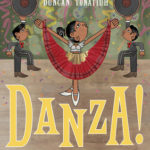 Danza! Amalia Hernandez and El Ballet Folklorico de Mexico by Duncan Tonatiuh | August 22
Award-winning author and illustrator Duncan Tonatiuh tells the story of Amalia Hernández, dancer and founder of El Ballet Folklórico de México. Danza! is a celebration of Hernández's life and of the rich history of dance in Mexico. As a child, Amalia always thought she would grow up to be a teacher, until she saw a performance of dancers in her town square. She was fascinated by the way the dancers twirled and swayed, and she knew that someday she would be a dancer, too. She began to study many different types of dance, including ballet and modern, under some of the best teachers in the world. Hernández traveled throughout Mexico studying and learning regional dances. Soon she founded her own dance company, El Ballet Folklórico de México, where she integrated her knowledge of ballet and modern dance with folkloric dances. The group began to perform all over the country and soon all over the world, becoming an international sensation that still tours today. (Goodreads)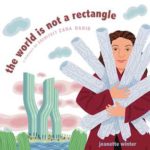 The World is Not a Rectangle: A Portrait of Architect Zaha Hadid by Jeanette Winter | August 22
Zaha Hadid grew up in Baghdad, Iraq, and dreamed of designing her own cities. After studying architecture in London, she opened her own studio and started designing buildings. But as a Muslim woman, Hadid faced many obstacles. Determined to succeed, she worked hard for many years, and achieved her goals—and now you can see the buildings Hadid has designed all over the world. (Goodreads)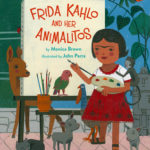 Frida Kahlo and Her Animalitos by Monica Brown, illustrated by John Parra | September 5
The fascinating Mexican artist Frida Kahlo is remembered for her dramatic self-portrait paintings featuring bold and vibrant colors. Her artwork brought attention to Mexican and indigenous culture with images renowned in celebrating the female form. Brown's story recounts Frida's beloved pets—two monkeys, a parrot, three dogs, two turkeys, an eagle, a black cat, and a fawn—and playfully considers how Frida embodied the many wonderful characteristics of each animal. (Goodreads)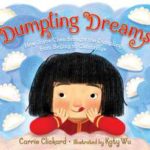 Dumpling Dreams: How Joyce Chen Brought the Dumpling From Beijing to Cambridge by Carrie Clickard, illustrated by Katy Wu | September 5
Carrie Clickard's delectable rhymes tell the story of how Joyce Chen, a girl born in Communist China, immigrated to the United States and popularized Chinese cooking. Illustrator Katy Wu brings this inspiring story beautifully and deliciously to life. (Goodreads)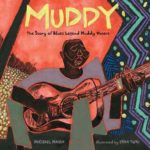 Muddy: The Story of Blues Legend Muddy Waters by Michael Mahin, illustrated by Evan Turk | September 5
Muddy Waters was never good at doing what he was told. When Grandma Della said the blues wouldn't put food on the table, Muddy didn't listen. And when record producers told him no one wanted to listen to a country boy playing country blues, Muddy ignored them as well. This tenacious streak carried Muddy from the hardscrabble fields of Mississippi to the smoky juke joints of Chicago and finally to a recording studio where a landmark record was made. Soon the world fell in love with the tough spirit of Muddy Waters. In blues-infused prose and soulful illustrations, Michael Mahin and award-winning artist Evan Turk tell Muddy's fascinating and inspiring story of struggle, determination, and hope. (Goodreads)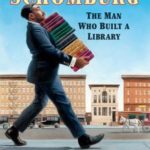 Schomburg: The Man Who Built a Library by Carole Boston Weatherford, illustrated by Eric Velasquez | September 12
Amid the scholars, poets, authors, and artists of the Harlem Renaissance stood an Afro-Puerto Rican named Arturo Schomburg. This law clerk's life's passion was to collect books, letters, music, and art from Africa and the African diaspora and bring to light the achievements of people of African descent through the ages. When Schomburg's collection became so big it began to overflow his house (and his wife threatened to mutiny), he turned to the New York Public Library, where he created and curated a collection that was the cornerstone of a new Negro Division. A century later, his groundbreaking collection, known as the Schomburg Center for Research in Black Culture, has become a beacon to scholars all over the world. (Goodreads)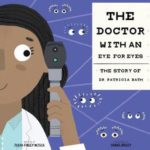 The Doctor With an Eye for Eyes: The Story of Dr. Patricia Bath by Julia Finley Mosca, illustrated by Daniel Rieley | September 26
As a girl coming of age during the Civil Rights Movement, Patricia Bath made it her mission to become a doctor. When obstacles like racism, poverty, and sexism threatened this goal, she persevered ― brightening the world with a game-changing treatment for blindness! (publisher marketing)
Mama Africa!: How Miriam Makeba Spread Hope With Her Song by Kathryn Erskine, illustrated by Charly Palmer | October 10, no cover yet
Miriam Makeba, a Grammy Award–winning South African singer, rose to fame in the hearts of her people at the pinnacle of apartheid―a brutal system of segregation similar to American Jim Crow laws. Mama Africa, as they called her, raised her voice to help combat these injustices at jazz clubs in Johannesburg; in exile, at a rally beside Dr. Martin Luther King, Jr.; and before the United Nations. (Goodreads)