This month is a little different for me: it's the first time I'm giving to an organization that isn't officially a nonprofit. EMILY's List is a political action committee (PAC) whose goal is to help elect progressive (particularly pro-choice) Democratic women to political office. Emily isn't a woman, it's an acronym: Early Money Is Like Yeast (as in, it helps raise the dough). If you've watched The West Wing, there is a small shout-out of sorts to them in one of the episodes.
Annie's List (which actually is named after a woman) is a Texas PAC with similar goals, but focused on the state. I'm including both of them in this post because I actually gave to Annie's List this time around. All of my other contributions so far have been on the country-wide level and I feel it's also necessary to give more locally, particularly in a state gerrymandered to be as red as Texas.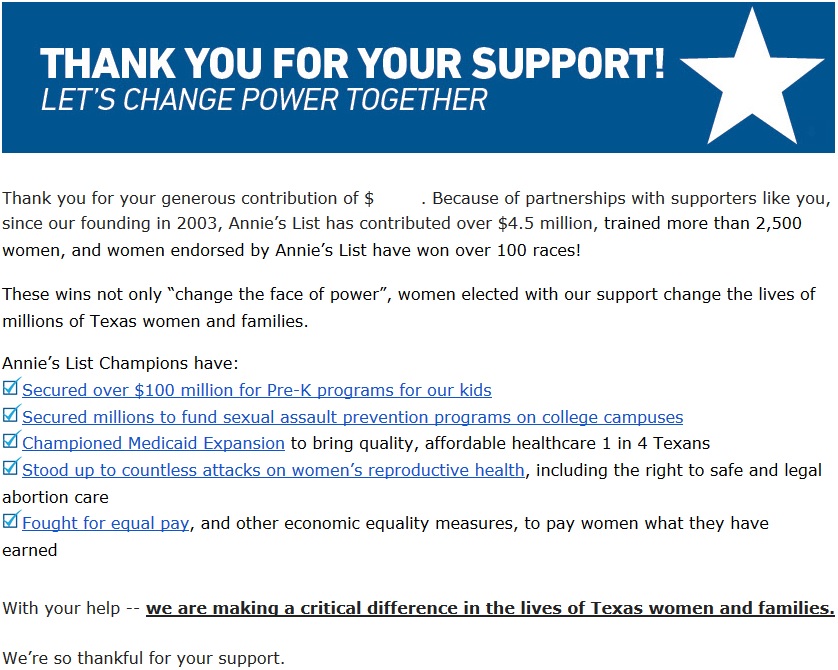 If progressive values are important to you (and if you're a fan of us here at Stacked, they probably are), I encourage you to give to organizations like these. If there isn't one in your state, EMILY's list does help progressive, pro-choice women all over the country get elected, not just to national but also state and local office. In a time where our country is swinging dangerously right and there are whispers that Democrats need to allow anti-choice people "into the fold" in order to win votes, I appreciate more and more groups that state unequivocally that being progressive means being pro-choice. Period.
This week's booklist features titles about women who have been elected to public office or have tried to do so. For a bit of a wider net (including activists, suffragettes, appointed officials, and other important women, both real and fictional), check out this post from A Mighty Girl. Descriptions are from Goodreads.
Picture Books
Ballots for Belva by Sudipta Bardhan-Quallen, illustrated by Courtney A. Martin
In 1884, when men were the only people allowed to vote in national elections, Belva Lockwood took a bold but legal step: She ran for president! Women did not have the same rights as men, but Belva went on undeterred – and she got votes! Her run for office was based on experience and merit: Unlike many women of the time, she went to college, then to law school, and even argued cases before the Supreme Court.
Though her campaign was difficult, Belva never wavered in her commitment to equality, earning the respect of many fellow citizens. A little-known but richly deserving American historical figure, Belva is an inspiration for modern-day readers. Despite all the changes in society since Belva's time, there is still a lot to fight for, and Belva shows the way. The book also includes a glossary and a timeline of women's suffrage events.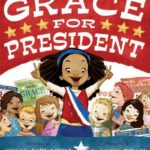 Grace for President by Kelly DiPucchio, illustrated by LeUyen Pham
"Where are the girls?"
When Grace's teacher reveals that the United States has never had a female president, Grace decides to be the first.  And she immediately starts off her political career as a candidate the school's mock election.  But soon, she realizes that she has entered a tough race.  Her popular opponent claims to be the "best man for the job"–and seems to have captured all the male votes–while Grace concentrates on being the best person.
In this timely story, author Kelly DiPucchio not only gives readers a fun introduction to the American electoral system, but also teaches them the value of hard work, courage, and independent thought–and offers an inspiring example of how to choose our leaders.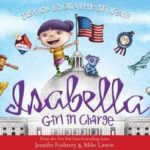 Isabella: Girl in Charge
by Jennifer Fosberry and Mike Litwin
A big event has Isabella ready to leave home at the crack of dawn. But that's a motion her parents are not likely to pass. After a two-to-one vote, it's decided that some things need to happen before Isabella can leave the house—like eating breakfast and brushing her teeth! If her house is going to work like a democracy, Isabella knows what she has to do; call an assembly and campaign her way out the door!
Taking inspiration from the women who trail blazed their way onto the political map of America, Isabella celebrates the women who were first to hold their offices. And if Isabella can get her parents out the door, she might just witness the first woman voted into the highest position of all…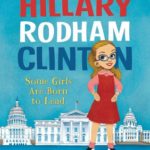 Hillary Rodham Clinton: Some Girls Are Born to Lead by Michelle Markel, illustrated by LeUyen Pham
In the 1950s, it was a man's world. Girls weren't supposed to act smart, tough, or ambitious. Even though, deep inside, they may have felt that way. And then along came Hillary. Brave, brilliant, and unstoppable, she was out to change the world.
They said a woman couldn't be a mother and a lawyer. Hillary was both. They said a woman shouldn't be too strong or too smart. Hillary was fearlessly herself. It didn't matter what people said—she was born to lead. With illustrations packed full of historical figures and details, this gorgeous and informative picture book biography is perfect for every budding leader.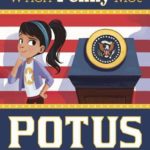 When Penny Met Potus by Rachel Ruiz, illustrated by Melissa Manwill
From debut author Rachel Ruiz, When Penny Met POTUS is a unique and clever picture book about a young girl whose mother works for the president of the United States. Penny has heard the term POTUS over and over but doesn't know what it means–and her imagination runs wild! When she spends a day at the office with her mother, she asks a few questions, looks around, and tries to discover just who–or what– POTUS is.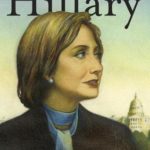 Hillary by Jonah Winter, illustrated by Raul Colon
In this beautiful and empowering picture-book biography of presidential candidate Hillary Rodham Clinton, New York Times bestselling author Winter and award-winning illustrator Colón illuminate her distinguished life and career. This stunning project follows Clinton from her early years as an outspoken student at Wellesley College and Yale Law School to marrying Bill Clinton and raising daughter Chelsea, to becoming First Lady of the United States and then a U.S. Senator and Secretary of State. Here is the inspiring story of the woman who may soon change the world—into a place where a girl can dream of growing up to be president.
Tween and Young Adult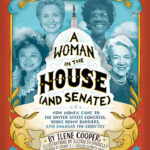 A Woman in the House (and Senate) by Ilene Cooper, illustrated by Elizabeth Baddeley
For the first 128 years of our country's history, not a single woman served in the Senate or House of Representatives. All of that changed, however, in November 1916, when Jeannette Rankin of Montana became the first woman elected to Congress—even before the Nineteenth Amendment gave women across the U.S. the right to vote.
Beginning with the women's suffrage movement and going all the way through the results of the 2012 election, Ilene Cooper deftly covers more than a century of U.S. history in order to highlight the influential and diverse group of female leaders who opened doors for women in politics as well as the nation as a whole. Featured women include Hattie Caraway (the first woman elected to the Senate), Patsy Mink (the first woman of color to serve in Congress), Shirley Chisholm (the first African-American woman in Congress), and present-day powerhouses like Nancy Pelosi and Hillary Clinton.
Hillary Rodham Clinton: Do All the Good You Can by Cynthia Levinson
An inspiring and meticulously researched middle grade biography of Hillary Rodham Clinton—First Lady, senator, secretary of state, and the first female presidential nominee in United States history.
Hillary Rodham Clinton is a true leader. Growing up in Park Ridge, Illinois, Hillary was inspired by the philosophy of John Wesley, who urged his followers to "do all the good you can." Rising to prominence in 1992 as the First Lady of the United States, Hillary captured the world's attention with her bold ideas and political forcefulness. From her time at Wellesley to her life at the White House and beyond, Hillary has been at the forefront of huge change—and despite setbacks and political scandals, she has worked for good in the world.
Acclaimed author Cynthia Levinson creates a compelling and personal portrait of Hillary's historic journey from her childhood to her service as secretary of state and beyond.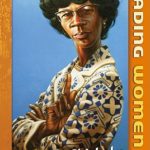 Shirley Chisholm by Lucia Raatma
A biography of Shirley Chisholm, the first black woman elected to US Congress and the first woman to run for the Democratic party's presidential nomination. [my own description]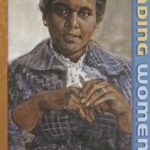 Barbara Jordan by Lucia Raatma
A biography of Barbara Jordan, the first black person elected to the Texas Senate post-reconstruction and later a US congresswoman. [my own description]