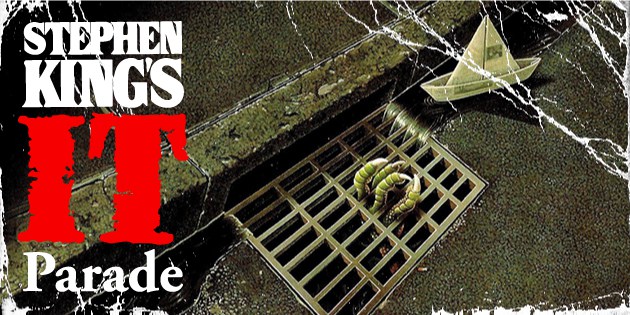 Daniel Kraus over at Booklist is running a 10-week read along of Stephen King's It to lead up to the release of the new movie in September. Having read a lot of King when I was younger — including It or part of it — it seemed like the right opportunity to pick up the book and play along. I remember none of it, aside from Pennywise being the name of the clown.
What I do remember about my reading experience with King is that it all happened within a summer and a year or so following it, when I literally spent hours every week visiting different libraries. It might have even been the summer where one of the libraries was remodeling, and check out times were extended to eight weeks to make it easier for them to remodel. I blew through a number of King titles and remember really loving Rose Madder and The Girl Who Loved Tom Gordon. Neither of them are particularly memorable to be now, nor are they among the books that end up on the best-of King lists. Most of his bigger stuff I didn't pick up because I've always been one of those kinds of readers. It's not disliking popularity so much as preferring the quieter stuff.
I can't make the promise I'll update with my thoughts after each reading assignment, but I'm going to try to do it Monday afternoons or Tuesdays. They'll be pretty short and sweet and definitely about reader reaction more than anything else. If you're reading along or you've read It in the past, you're welcome to hop into the comments and drop your thoughts, too.
Week One: Chapters 1 through 3
So far, we have a young boy who died a few decades in the past. He fell down a sewer drain while chasing a paper boat and met his demise with a clown.
There's also the gay man who was beaten by some locals as he left the gay bar with his partner, and those local men who did the murdering all claim to have seen the clown along the banks of the waterway in town. Of course, police and prosecutors don't believe this, and it ends up not becoming part of the testimony for the crime.
Then we fast forward to a comfortably middle class man who has mysteriously died.
When we hit chapter three, we meet far more characters. There's been a number of phone calls, and the characters are all leaving their lives and heading back to Derry, Maine. Something Has Happened and they all need to flee. It's a lot of middle age white male crisis going on (and yes, I know there's also a girl involved, but I'm not quite there yet in my reading, as I've got a few more pages in this chapter to go). Thinking about Something Happening and Men Returning Home to face a childhood fear is not an unfamiliar trope, though the pacing, the character development, and tension here work really well.
The most compelling character at this point for me is Ben Hanscom. He flies and travels, but he loves to stop and enjoy food and drinks at a tiny dive in rural Nebraska. This part of chapter three was rendered in such perfect midwesternness, and everything about the setting and the local characters there — not Hanscom himself — made me want more. There might not be much more there, though, if the ending is any indication. And, perhaps, the characters there, as small a role as they play and will play, are okay with that, too.
I can say Eddie Kaspbark might be the most terrible character. He super hates fat women. It's clearly coming from somewhere, though: his mother seems to have been at the center of many of his repressed childhood memories that bubble up, and his mother was fat. His wife is, too, and has, as he likes to elaborate on, ballooned into something huge. Eddie himself was a weakling child, one who couldn't participate in PE, one who has a medicine cabinet full of prescription and over-the-counter pills and vitamins. There's something here, too, about fear of aging, of returning to a place of comfort, to also have a lot of paranoia about what's outside of ones self and experiences.
Since it has been so long since I've read King, I forgot how compelling and fast moving his prose and storytelling are. There's a lot of repetition in It in terms of images and sounds, so it flows really quickly and seamlessly from one scene to another.
There's definitely been some trauma in this first part of the read, but nothing that will compare to what's coming. And I'm ready to get there because the scarier, the better.
Also, a moment to appreciate how Stephen King literally predicted DELIA*s (which used to be a mall retailer and was founded in 1993…six years after It was published).