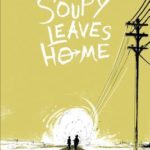 Soupy Leaves Home by Cecil Castellucci and Jose Pimienta
I normally love Castellucci's work, but this one fell flat for me. It's about a girl named Pearl living during the Great Depression whose father beats her, so she disguises herself as a boy and runs away. She falls in with a hobo named Ramshackle who shows her the ropes of living on the road, in the various encampments, and how to get by with the help of generous strangers (and avoid the ones who aren't so generous). Ramshackle has his own secrets, too, and soon Soupy (as Pearl calls herself) must learn to rely on herself in case Ramshackle is always around. I had a major problem with the "wise hobo" trope Castellucci uses here. Ramshackle and many other hobos speak platitudes like "I just couldn't stop wandering, that's why I live on the road" and "You don't need food, you just need happy thoughts" and "Our imaginations will keep us warm." (Those are a bit simplified, but pretty close.) The real reasons are much deeper – the economic crisis, mental health issues, poverty, unemployment, abuse, no social safety net, and so on – and aren't even really hinted at. The hobo life – while interesting and worth exploring – is romanticized. Romanticizing poverty and homelessness is pretty distasteful.
The story was also hard to follow at times and the ending was completely implausible. I was also not a fan of the art or the color palette (mostly sickly green). There are some interesting bits about how hobos enforced their own rule of law and the symbols carved into fences they would use to communicate information about houses that would give food and work. Overall, though, it's a dud. | Borrowed from the library.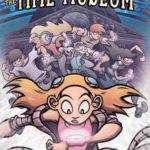 The Time Museum by Matthew Loux
I've been meaning to write about this one for months – it's a super fun middle grade story about time travel, so you know 12 year old me would have been all over it. Adult me is pretty into it too. Delia is competing to be an intern at her uncle's time museum, and she must complete a series of tasks across many different times to prove her worth. Things get out of control, though, and she must team with up with the other competitors (who all come from different times) to defend the time museum. Loux's story is creative and gets the most out of the time travel device. His art is expressive, kid-friendly but not cartoonish, and full color. I hope there will be sequels. | Finished copy from the publisher.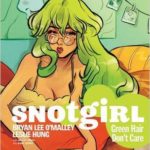 Snotgirl Vol. 1: Green Hair Don't Care by Bryan Lee O'Malley and Leslie Hung
Bryan Lee O'Malley is just not for me. I disliked the Scott Pilgrim books almost as much as I disliked the film version. Snotgirl confirms that it wasn't just Scott Pilgrim – O'Malley's characters are terrible everywhere. Snotgirl is about a 20-something fashion blogger who is incredibly insecure, despite her appearance otherwise online. She's also just awful. And so are all of her friends. And everyone else she meets. She has terrible allergies which makes her nose run uncontrollably, hence the title. It seems like the series may eventually have some supernatural elements, but they're only hinted at in this first volume. I won't be reading the second. | Borrowed from the library.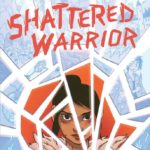 Shattered Warrior by Sharon Shinn and Molly Knox Ostertag
I've loved Sharon Shinn's work since I first read her Samaria series when I was a teenager. (The Shape-Changer's Wife, which I read in grad school, is also excellent). She teamed up with Molly Knox Ostertag for her first graphic novel, Shattered Warrior, based on one of her early unpublished novels. It's everything I love in a graphic novel: a resourceful female protagonist, alien invasion, organized rebellion, a little bit of romance, plus lovely full-color art. It stands alone but also leaves the door open for sequels. I believe this was published for the adult market, but it's suitable for teens as long as they don't mind one panel with an exposed breast. Sharon Shinn has not disappointed. | Finished copy from the publisher.