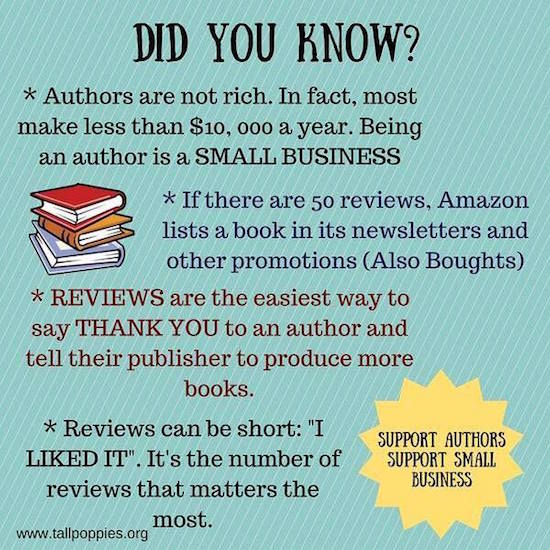 I shared this image on social media last week after I did my monthly review session on Amazon. I've made it a real point to go there each month and drop a short — seriously, short — review of the books I've read and enjoyed. This practice has become a habit, and knowing now from the other side that those reviews really DO matter, I like to think I'm doing my part as a reader and supporter of the book world by leaving a few words.
Most of the response to the image post was positive. But of course, there was a comment that rubbed me wrong as both a reader and an author/editor: why should the responsibility fall upon readers to do this work to help authors?
That was followed by another question/comment about how unfair the burden is but that they enjoy the reviews other people leave since they're helpful.
While certainly, the onus IS on the reader to do the work in writing a tiny review in order to boost a book's profile on Amazon (and Amazon is the one we're focusing on since it's the largest and most based on the all mighty algorithm), part of the support and success of a book comes through non-financial opportunities like short reviews. Like checking out the book from the library. Like talking about the book with people you know and saying how much you love it.
It's called word of mouth (or in the case of library check outs, circulation numbers, which culminate in statistics and data). We live in a world that data matters, which means we also live in a world that the responsibility CAN fall on those who are consumers to do a little work. Fortunately, it costs nothing to leave a short sentence or two review.
You don't even have to have bought the book to do so.
All of that is an introduction to a giveaway.
Here We Are: Feminism For The Real World has been hovering below the 30 reviews mark for a couple of months now, and I'd love some help getting it to that 50 review hump. And this is more than just a way to get my book over that magical number. It's about putting into practice a tiny habit that helps a whole reading community — if you love a book and share your thoughts on it on Amazon, you'll help other readers who don't know the book find it and fall in love. The book world is much wider than those of us who talk online and on social media, and those are the readers for whom reviews are so valuable. It's not the mega readers. It's those who are a little more selective, tighter on time, and/or who really don't have a whole book community in which to derive their recommendations.
So here goes.
Up for grabs is a $30US gift card to the online bookstore retailer of your choice. It can be Amazon. It can be B&N. It can be Indie Bound or your own local indie. It can be Book Depository. As long as I can buy it online and get it to you, that's fine. Which means this giveaway is open worldwide, as well.
How to enter: write a review of Here We Are on Amazon. Ten words is fine. Ten sentences is fine. I am hoping they'll be positive reviews, but I'll be honest: I'm not going to read them, since reviews are not for me. They're for other readers who have yet to discover the book.
Simple, right? After your review goes up, come back here with either the link to your Amazon review OR to the name you used to sign the review.
If you've already taken the time to review the book and want to enter, just drop your name/link in the form. It's open to you, too.
Want to be entered multiple times for this giveaway? Leave a review for another book you've read this year and loved. This giveaway will allow up to 5 entries per person, meaning you can review Here We Are and up to 4 more titles for a grand total of 5 entries into the giveaway. They can be titles with 50 or fewer reviews or titles with over 50 reviews. Ideally, they'd be for books published in 2017, but I'm not going to police it. Use your judgment and follow your passion.
For a little frame of reference, if it's helpful, when I sit down to do this every month, it takes me 10 to 15 minutes. If you write reviews on Goodreads, you are welcome to copy/paste the relevant info right into the Amazon review.
If there are more than 200 entries for this giveaway, I'll sweeten the pot and add a second $30 gift card giveaway.
This giveaway runs July 1 through July 31. I'll accept entries through midnight on the 31 and draw a winner (or winners!) on August 1. Winners will have 48 hours to respond and let me know where they'd like their gift card.