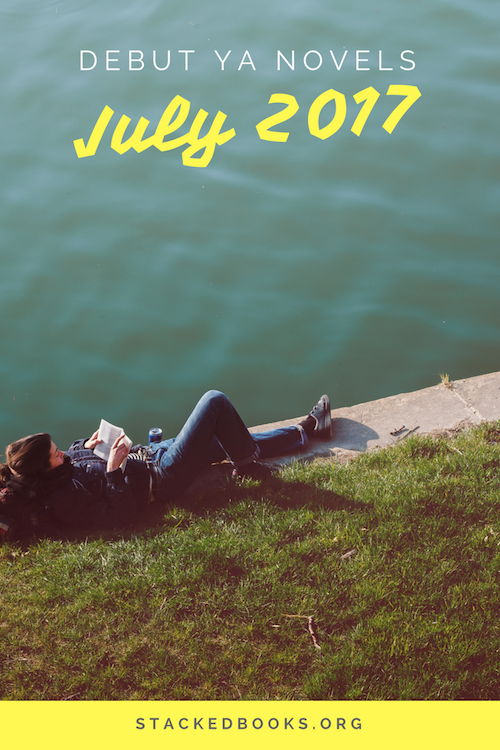 It's time for another round-up of debut YA novels of the month — here's what we've got for July.
This round-up includes debut novels, where "debut" is in its purest definition. These are first-time books by first-time authors. I'm not including books by authors who are using or have used a pseudonym in the past or those who have written in other categories (adult, middle grade, etc.) in the past. Authors who have self-published are not included here either.
All descriptions are from Goodreads, unless otherwise noted; I've found Goodreads descriptions to offer better insight to what a book is about over WorldCat. If I'm missing any debuts out in July from traditional publishers — and I should clarify that indie/small presses are okay — let me know in the comments.
As always, not all noted titles included here are necessarily endorsements for those titles. List is arranged alphabetically by title, with pub dates beside them.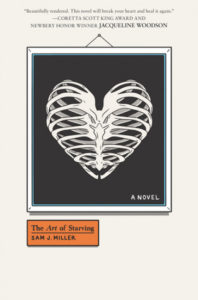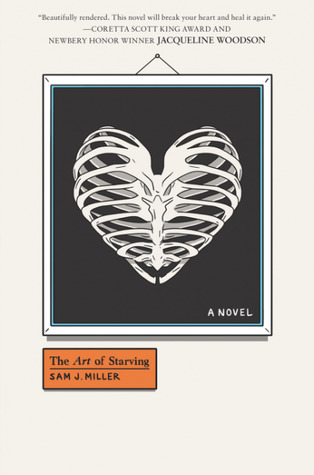 The Art of Starving by Sam J. Miller (7/11)
Matt hasn't eaten in days.
His stomach stabs and twists inside, pleading for a meal. But Matt won't give in. The hunger clears his mind, keeps him sharp—and he needs to be as sharp as possible if he's going to find out just how Tariq and his band of high school bullies drove his sister, Maya, away.
Matt's hardworking mom keeps the kitchen crammed with food, but Matt can resist the siren call of casseroles and cookies because he has discovered something: the less he eats the more he seems to have . . . powers. The ability to see things he shouldn't be able to see. The knack of tuning in to thoughts right out of people's heads. Maybe even the authority to bend time and space.
So what is lunch, really, compared to the secrets of the universe?
Matt decides to infiltrate Tariq's life, then use his powers to uncover what happened to Maya. All he needs to do is keep the hunger and longing at bay. No problem. But Matt doesn't realize there are many kinds of hunger… and he isn't in control of all of them.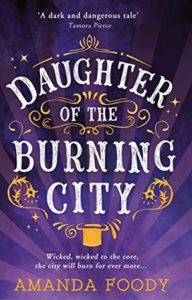 Daughter of the Burning City by Amanda Foody (7/25)
Reality is in the eye of the beholder…
Even among the many unusual members of the travelling circus that has always been her home sixteen year old Sorina stands apart as the only illusion-worker born in hundreds of years.
This rare talent allows her to create illusions that others can see, feel and touch, with personalities all of their own. Her creations are her family, and together they make up the cast of the Festival's Freak Show.
But no matter how lifelike they may seem, her illusions are still just that—illusions, and not truly real.
Or so she always believed…until one of them is murdered.
Now she must unravel the horrifying truth before all her loved ones disappear.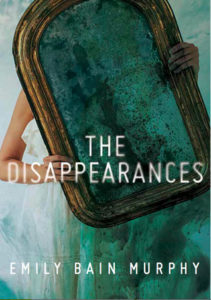 The Disappearances by Emily Bain Murphy (7/4)
What if the ordinary things in life suddenly…disappeared?
Aila Quinn's mother, Juliet, has always been a mystery: vibrant yet guarded, she keeps her secrets beyond Aila's reach. When Juliet dies, Aila and her younger brother Miles are sent to live in Sterling, a rural town far from home–and the place where Juliet grew up.
Sterling is a place with mysteries of its own. A place where the experiences that weave life together–scents of flowers and food, reflections from mirrors and lakes, even the ability to dream–vanish every seven years.
No one knows what caused these "Disappearances," or what will slip away next. But Sterling always suspected that Juliet Quinn was somehow responsible–and Aila must bear the brunt of their blame while she follows the chain of literary clues her mother left behind.
As the next Disappearance nears, Aila begins to unravel the dual mystery of why the Disappearances happen and who her mother truly was. One thing is clear: Sterling isn't going to hold on to anyone's secrets for long before it starts giving them up.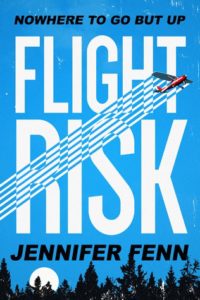 Flight Risk by Jennifer Fenn (7/18)
Who is Robert Jackson Kelly? Is he a juvenile delinquent? A criminal mastermind? A folk hero? One thing is clear: Robert always defies what people think of him. And now, the kid who failed at school, relationships, and almost everything in life, is determined to successfully steal and land a plane.
Told as an investigation into Robert's psyche, the narrative includes multiple points of view as well as documentary elements like emails, official records, and interviews with people who knew Robert. Ultimately, Flight Risk is a thrilling story about one teenager who is determined to find a moment of transcendence after everyone else has written him off as lost.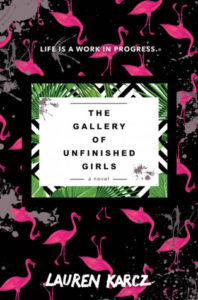 The Gallery of Unfinished Girls by Lauren Karcz (7/25)
Mercedes Moreno is an artist. At least, she thinks she could be, even though she hasn't been able to paint anything worthwhile since her award-winning piece Food Poisoning #1 last year.
Her lack of inspiration might be because her abuela is lying comatose in faraway Puerto Rico after suffering a stroke. Or the fact that Mercedes is in love with her best friend, Victoria, but is too afraid to admit her true feelings.
Despite Mercedes's creative block, art starts to show up in unexpected ways. A piano appears on her front lawn one morning, and a mysterious new neighbor invites Mercedes to paint with her at the Red Mangrove Estate.
At the Estate, Mercedes can create in ways she never has before. She can share her deepest secrets and feel safe. But Mercedes can't take anything out of the Estate, including her new-found clarity. As her life continues to crumble around her, the Estate offers more solace than she could hope for. But Mercedes can't live both lives forever, and ultimately she must choose between this perfect world of art and truth and a much messier reality.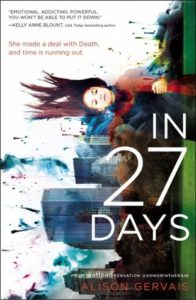 In 27 Days by Alison Gervais (7/25)
Hadley Jamison is shocked when she hears that her classmate, Archer Morales, has committed suicide. She didn't know the quiet, reserved guy very well, but that doesn't stop her from feeling there was something she could have done to help him.
Hoping to find some sense of closure, Hadley attends Archer's funeral. There, Hadley is approached by a man who calls himself Death and offers her a deal. If Hadley accepts, she will be sent back 27 days in time to prevent Archer from killing himself. But when Hadley agrees to Death's terms and goes back to right the past, she quickly learns her mission is harder than she ever could have known.
Hadley soon discovers Archer's reasons for being alone, and Archer realizes that having someone to confide in isn't as bad as he'd always thought. But when a series of dangerous accidents starts pushing them apart, Hadley must decide whether she is ready to risk everything – including her life – to keep Archer safe.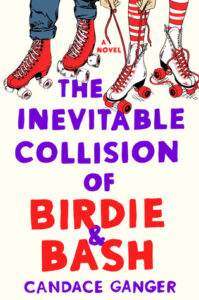 The Inevitable Collision of Birdie and Bash by Candace Ganger (7/25)
Birdie never meant to be at the party. Bash should have been long gone. But when they meet, a collision course is set off they may never recover from.
Sebastian Alvaréz is just trying to hold the pieces together: to not flunk out, to keep his sort-of-best friend Wild Kyle from doing something really bad, and to see his beloved Ma through chemo. But when he meets Birdie Paxton, a near-Valedictorian who doesn't realize she's smoking hot in her science pun T-shirt, at a party, an undeniable attraction sparks. And suddenly he's not worried about anything. But before they are able to exchange numbers, they are pulled apart. A horrifying tragedy soon links Birdie and Bash together—but neither knows it. When they finally reconnect, and are starting to fall—hard—the events of the tragedy unfold, changing both their lives in ways they can never undo.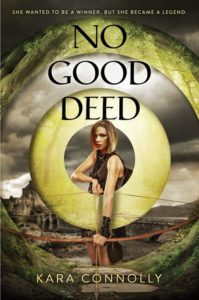 No Good Deed by Kara Connolly (7/18)
Ellie Hudson is the front-runner on the road to gold for the U.S. Olympic archery team. All she has to do is qualify at the trials in jolly old England. When Ellie makes some kind of crazy wrong turn in the caverns under Nottingham Castle—yes, that Nottingham—she ends up in medieval England.
Ellie doesn't care how she got to the Middle Ages; she just wants to go home before she gets the plague. But people are suffering in Nottingham, and Ellie has the skills to make it better. What's an ace archer to do while she's stuck in Sherwood Forest but make like Robin Hood?
Pulled into a past life as an outlaw, Ellie feels her present fading away next to daring do-gooding and a devilishly handsome knight. Only, Ellie is on the brink of rewriting history, and when she picks up her bow and arrow, her next shot could save her past—or doom civilization's future.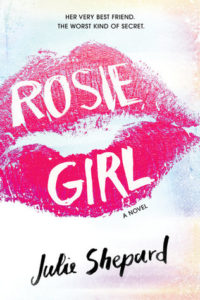 Rosie Girl by Julie Shepard (7/11)
After her father passes away, seventeen-year-old Rosie is forced to live with her abusive stepmom Lucy and her deadbeat boyfriend, Judd, who gives Rosie the sort of looks you shouldn't give your girlfriend's step-daughter. Desperate for a way out, Rosie would do just about anything to escape the life she's been handed. Then she finds a letter her dad wrote years ago, a letter confessing that Rosie's birth mother isn't dead, as she believed, but alive somewhere—having left them when Rosie was a little girl for reasons he won't reveal.
Rosie resolves to find her birth mom, and she'll put everything on the line to make that happen. She hires a PI paid for by her best friend, Mary, who turns tricks for money. Unlike Rosie, Mary's no delicate flower and when she sees the opportunity to make some cash and help out her closest friend, she takes it. Romance blooms when the PI Rosie hires hands the case off to his handsome nephew Mac, but Rosie struggles to keep her illicit activities with Mary a secret. Things begin to unravel when Rosie starts getting creepy anonymous texts from johns looking for Mary. And then there's Mary, the one person Rosie can count on, who's been acting strangely all of a sudden. As Rosie and Mary get closer to finally uncovering the truth about Rosie's mom, Rosie comes face to face with a secret she never saw coming.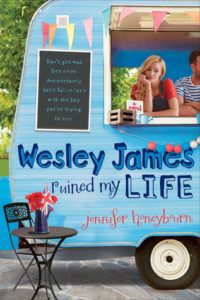 Wesley James Ruined My Life by Jennifer Honeybourn (7/18)
Sixteen-year-old Quinn Hardwick's having a rough summer. Her beloved grandmother has been put into a home, her dad's gambling addiction has flared back up and now her worst enemy is back in town: Wesley James, former childhood friend—until he ruined her life, that is.
So when Wesley is hired to work with her at Tudor Tymes, a medieval England themed restaurant, the last thing Quinn's going to do is forgive and forget. She's determined to remove him from her life and even the score all at once—by getting him fired.
But getting rid of Wesley isn't as easy as she'd hoped. When Quinn finds herself falling for him, she has to decide what she wants more: to get even, or to just get over it.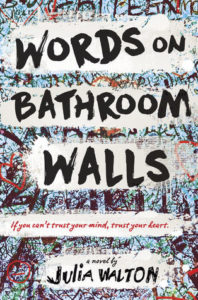 Words on Bathroom Walls by Julia Walton (7/4)
Adam has just been diagnosed with schizophrenia. He sees and hears people who aren't there: Rebecca, a beautiful girl who understands him; the Mob Boss, who harasses him; and Jason, the naked guy who's unfailingly polite. It should be easy to separate the real from the not real, but Adam can't.
Still, there's hope. As Adam starts fresh at a new school, he begins a drug trial that helps him ignore his visions. Suddenly everything seems possible, even love. When he meets Maya, a fiercely intelligent girl, he desperately wants to be the great guy that she thinks he is. But then the miracle drug begins to fail, and Adam will do anything to keep Maya from discovering his secret.