I've been on an adult science fiction kick lately, seeking out the hottest and best recent standalone titles. Monica Byrne's The Girl in the Road kicked it off earlier in the year, and since then, I've been craving more of the same. Two titles – Version Control by Dexter Palmer and Dark Matter by Blake Crouch – have helped sate this craving. Fortunately for me, not only are they well-written and exciting science fiction, they also feature two interlinking tropes that I can't get enough of: time travel and parallel worlds.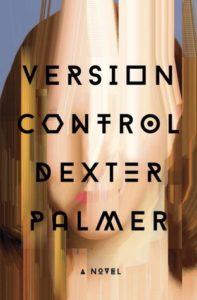 In Version Control, physicist Philip Steiner has been working on a Causality Violation Device for the past decade. This is really a fancy phrase for time machine, but he hates it when anyone calls it that. A time machine is fiction; the CVD is real. Or it would be, if it worked. He and his assistants are on test number three hundred something and the result is always the same: nothing. On the surface, Palmer's novel is about Steiner, his wife Rebecca Wright, Steiner's lab assistants (also respected scientists), and Rebecca's best friend Kate. It traces Rebecca and Philip's meeting and marriage, their respective jobs (Rebecca works for the dating site where she met Philip), their relationships with their friends, and the fallout from Philip's obsession with the CVD. Perspective shifts at times between all of these characters, though it focuses mainly on Rebecca (with Philip a close second), and much of the novel seems to be a story of a marriage that is falling apart. As the novel progresses, it becomes clear that Rebecca and Philip suffered a tragedy a few years ago, one they haven't really recovered from.
But this is science fiction, so that isn't the whole story. From the beginning, readers will notice small details that are different about the world Rebecca and Philip inhabit. It's the present-day, but self-driving cars are ubiquitous. The president will pop up on people's electronic devices every so often, addressing them by name and complimenting them on a particular detail of their dress, for example. It's…weird. Off-putting. Intriguing. Rebecca has a general feeling that something isn't quite right, and when others start to feel this too, psychologists put it down to a side effect of the overuse of technology like smartphones. But because this is a science fiction novel, readers will know right away it has something to do with the Causality Violation Device, that folly of Philip's that has never shown any evidence of actually working.
Palmer's novel is clever in many ways. It's divided into three parts, each more intriguing than the last. The finale is elegantly perfect, reasonable in context of the "physics" Palmer has created for his story, and satisfying in a story sense as well. In fact, I wish I knew some people who had read this so I could discuss the ending with them and just how perfect it is. His version of time travel is also fascinating, different from any other kind of time travel I've read about before in fiction.
The book is a big self-indulgent at times. It's long and wanders down a few paths that aren't strictly essential to the main plot, like the world of online dating. But in Palmer's capable hands, these lengthy asides are fascinating, and they lend further insight into this world that is just barely wrong. He tackles casual sexism and racism through a couple of characters' points of view as well. The asides and deeper themes give the book a more literary feel. One Goodreads reviewer wrote that this book might be "too SF for the Literature with capital L-lovers and too literary and 'normal' for the die hard SF-lovers" which I thought was apt. But if you love both Literature and SF, you'll love Version Control.
Dark Matter is also the story of a marriage, though the tone is quite different. Whereas Version Control was deliberate and thoughtful, Crouch's story reads much more like a thriller. Jason Dessen teaches physics at a mid-rate local college in Chicago. He's married to Daniela, who gave up a promising art career to stay home with their son Charlie, whom she became pregnant with before the two were married. Jason himself gave up a much more lucrative physics career because their son (who was born premature) and his marriage required more time than he could give as a scientist stuck in a clean room for twelve or more hours each day. He often wonders what his life would have been like had he not had to do that; he wonders if Daniela has regrets, too. But overall, he's happy with his choices.
Then one day, as he's driving home, he's abducted by a masked stranger. He's knocked out; when he wakes, he's in an unfamiliar laboratory and the people around him are welcoming him back home. But this world is not his world. He and Daniela never got married. Charlie was never born. People seem to believe he's a celebrated scientist who won a major award and has been missing for the past eight months. After a brief time believing he may be crazy, Jason figures out he's actually been forcibly sent to another version of his world, one where he made the choice to break up with Daniela when she became pregnant and pursue his career instead. Crouch shows us that the person who abducted Jason is now inhabiting his own life, sleeping with his wife and raising his son. Original Jason embarks on a journey to get back, no matter how impossible it seems. His love for Daniela drives him, haunting him across the multiverse as he runs into version after version of her.
The major fault I found in Dark Matter was its drawn-out beginning. It took too long for Jason to finally realize he's not crazy, he's not in his own world, and there are in fact infinite versions of the world that he now has the ability to travel through. Anyone who's read any SF will have figured all of these things out long before; this concept is not new to the genre and is a primary reason why many readers will have picked up the book in the first place. While the beginning is interesting in a character sense, it's once Jason learns the truth that the story really takes off. Crouch's multiverse is fascinating, and I loved reading about the many different realities – terrible and wonderful and just plain weird – that Jason explores on his journey to find the one where he belongs. About a quarter of the way from the end, the story goes full-on bananas in the best kind of way, and I was worried that Crouch had written himself into a corner. But he found the solution for his characters (the only one possible, really), and the end is supremely satisfying.
Interestingly, the words "abortion" and "rape" are never used. In the world that Jason wakes up in initially, Daniela was pregnant and then she wasn't. In Jason's original world, Jason's abductor is having sex with his wife without her knowledge of who he truly is. I don't know if these two elisions were a conscious choice on Blake's part, but they are two more aspects of this book for the reader to unpack.
The common themes between Version Control and Dark Matter are obvious, and they're ones science fiction is perfectly suited to tackle. Are my choices permanent, or can they be changed? Should I even wish to change the past? Would I have turned out to be the same person I am now had I made a different choice – big or small – five years ago? Fifteen years ago? What is it that makes me uniquely me? How much impact do my choices make upon the rest of the world? Readers will come away from both of these novels pondering these timeless, thorny questions. Both books are highly recommended.