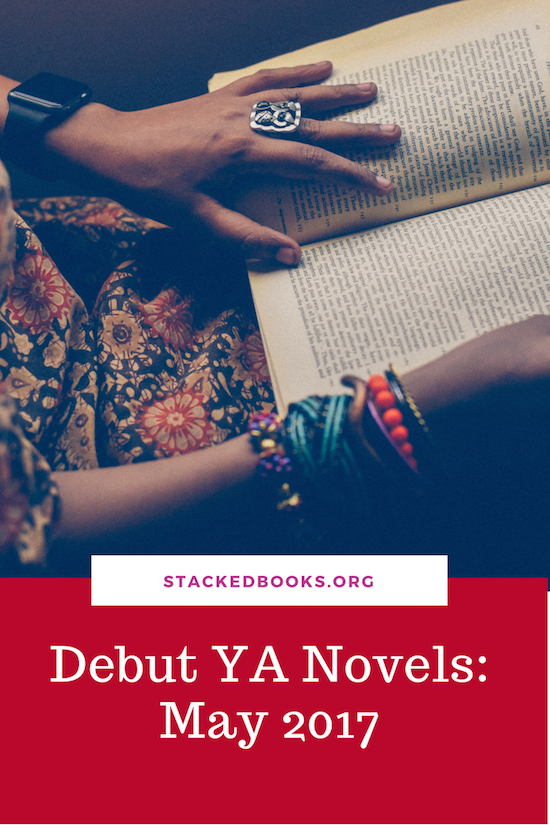 It's time for another round-up of debut YA novels of the month — here's what we've got for May.
This round-up includes debut novels, where "debut" is in its purest definition. These are first-time books by first-time authors. I'm not including books by authors who are using or have used a pseudonym in the past or those who have written in other categories (adult, middle grade, etc.) in the past. Authors who have self-published are not included here either.
All descriptions are from Goodreads, unless otherwise noted; I've found Goodreads descriptions to offer better insight to what a book is about over WorldCat. If I'm missing any debuts out in May from traditional publishers — and I should clarify that indie/small presses are okay — let me know in the comments.
As always, not all noted titles included here are necessarily endorsements for those titles. List is arranged alphabetically by title, with pub dates beside them.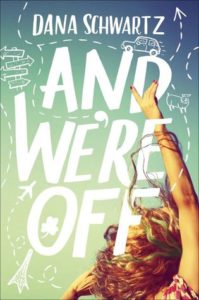 And We're Off by Dana Schwartz
Seventeen-year-old Nora Holmes is an artist, a painter from the moment she could hold a brush. She inherited the skill from her grandfather, Robert, who's always nurtured Nora's talent and encouraged her to follow her passion. Still, Nora is shocked and elated when Robert offers her a gift: an all-expenses-paid summer trip to Europe to immerse herself in the craft and to study history's most famous artists. The only catch? Nora has to create an original piece of artwork at every stop and send it back to her grandfather. It's a no-brainer: Nora is in!
Unfortunately, Nora's mother, Alice, is less than thrilled about the trip. She worries about what the future holds for her young, idealistic daughter and her opinions haven't gone unnoticed. Nora couldn't feel more unsupported by her mother, and in the weeks leading up to the trip, the women are as disconnected as they've ever been. But seconds after saying goodbye to Alice at the airport terminal, Nora hears a voice call out: "Wait! Stop! I'm coming with you!"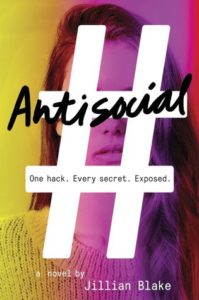 Antisocial by Jillian Blake
6 hours and 30 minutes
Alexandria Prep is hacked in this whodunit set in the age of social media and the cloud.
Senior spring at Alexandria Prep was supposed to be for sleeping through class and partying with friends. But for Anna Soler, it's going to be a lonely road. She's just been dumped by her gorgeous basketball star boyfriend—with no explanation. Anna's closest friends, the real ones she abandoned while dating him, are ignoring her. The endearing boy she's always had a complicated friendship with is almost too sympathetic.
But suddenly Anna isn't the only one whose life has been upended. Someone is determined to knock the kings and queens of the school off their thrones: one by one, their phones get hacked and their personal messages and photos are leaked. At first it's funny—people love watching the dirty private lives of those they envy become all too public.
Then the hacks escalate. Dark secrets are exposed, and lives are shattered. Chaos erupts at school. As Anna tries to save those she cares about most and to protect her own secrets, she begins to understand the reality of our always-connected lives:
Sometimes we share too much.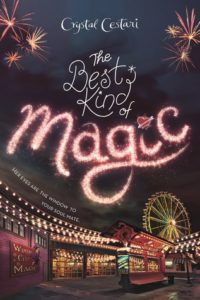 The Best Kind of Magic by Crystal Cestari (first in a series)
Amber Sand is not a witch. The Sand family Wicca gene somehow leapfrogged over her. But she did get one highly specific magical talent: she can see true love. As a matchmaker, Amber's pretty far down the sorcery food chain (even birthday party magicians rank higher), but after five seconds of eye contact, she can envision anyone's soul mate.
Amber works at her mother's magic shop–Windy City Magic–in downtown Chicago, and she's confident she's seen every kind of happy ending there is: except for one–her own. (The Fates are tricky jerks that way.) So when Charlie Blitzman, the mayor's son and most-desired boy in school, comes to her for help finding his father's missing girlfriend, she's distressed to find herself falling for him. Because while she can't see her own match, she can see his–and it's not Amber. How can she, an honest peddler of true love, pursue a boy she knows full well isn't her match?
The Best Kind of Magic is set in urban Chicago and will appeal to readers who long for magic in the real world. With a sharp-witted and sassy heroine, a quirky cast of mystical beings, and a heady dose of adventure, this novel will have you laughing out loud and questioning your belief in happy endings.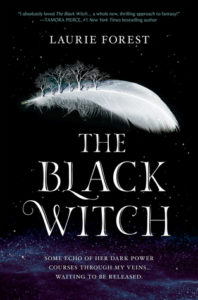 The Black Witch by Laurie Forest (first in a series)
Elloren Gardner is the granddaughter of the last prophesied Black Witch, Carnissa Gardner, who drove back the enemy forces and saved the Gardnerian people during the Realm War. But while she is the absolute spitting image of her famous grandmother, Elloren is utterly devoid of power in a society that prizes magical ability above all else.
When she is granted the opportunity to pursue her lifelong dream of becoming an apothecary, Elloren joins her brothers at the prestigious Verpax University to embrace a destiny of her own, free from the shadow of her grandmother's legacy. But she soon realizes that the university, which admits all manner of people—including the fire-wielding, winged Icarals, the sworn enemies of all Gardnerians—is a treacherous place for the granddaughter of the Black Witch.
As evil looms on the horizon and the pressure to live up to her heritage builds, everything Elloren thought she knew will be challenged and torn away. Her best hope of survival may be among the most unlikely band of misfits…if only she can find the courage to trust those she's been taught to hate and fear.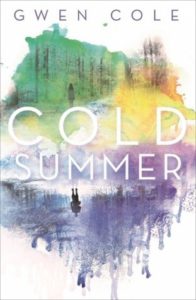 Cold Summer by Gwen Cole
Kale Jackson has spent years trying to control his time-traveling ability but hasn't had much luck. One day he lives in 1945, fighting in the war as a sharpshooter and helplessly watching soldiers—friends—die. Then the next day, he's back in the present, where WWII has bled into his modern life in the form of PTSD, straining his relationship with his father and the few friends he has left. Every day it becomes harder to hide his battle wounds, both physical and mental, from the past.
When the ex-girl-next-door, Harper, moves back to town, thoughts of what could be if only he had a normal life begin to haunt him. Harper reminds him of the person he was before the PTSD, which helps anchor him to the present. With practice, maybe Kale could remain in the present permanently and never step foot on a battlefield again. Maybe he can have the normal life he craves.
But then Harper finds Kale's name in a historical article—and he's listed as a casualty of the war. Kale knows now that he must learn to control his time-traveling ability to save himself and his chance at a life with Harper. Otherwise, he'll be killed in a time where he doesn't belong by a bullet that was never meant for him.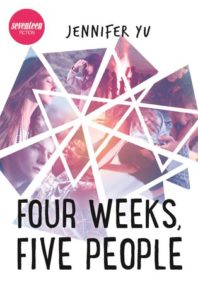 Four Weeks, Five People by Jennifer Yu
They're more than their problems
Obsessive-compulsive teen Clarissa wants to get better, if only so her mother will stop asking her if she's okay.
Andrew wants to overcome his eating disorder so he can get back to his band and their dreams of becoming famous.
Film aficionado Ben would rather live in the movies than in reality.
Gorgeous and overly confident Mason thinks everyone is an idiot.
And Stella just doesn't want to be back for her second summer of wilderness therapy.
As the five teens get to know one another and work to overcome the various disorders that have affected their lives, they find themselves forming bonds they never thought they would, discovering new truths about themselves and actually looking forward to the future.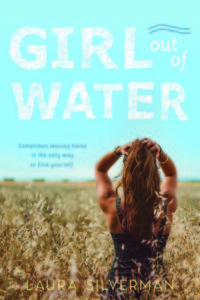 Girl Out of Water by Laura Silverman
Anise Sawyer plans to spend every minute of summer with her friends: surfing, chowing down on fish tacos drizzled with wasabi balsamic vinegar, and throwing bonfires that blaze until dawn. But when a serious car wreck leaves her aunt, a single mother of three, with two broken legs, it forces Anise to say goodbye for the first time to Santa Cruz, the waves, her friends, and even a kindling romance, and fly with her dad to Nebraska for the entire summer. Living in Nebraska isn't easy. Anise spends her days caring for her three younger cousins in the childhood home of her runaway mom, a wild figure who's been flickering in and out of her life since birth, appearing for weeks at a time and then disappearing again for months, or even years, without a word.
Complicating matters is Lincoln, a one-armed, charismatic skater who pushes Anise to trade her surfboard for a skateboard. As Anise draws closer to Lincoln and takes on the full burden and joy of her cousins, she loses touch with her friends back home – leading her to one terrifying question: will she turn out just like her mom and spend her life leaving behind the ones she loves.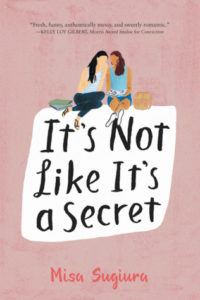 It's Not Like It's A Secret by Misa Sugiura
Sixteen-year-old Sana Kiyohara has too many secrets. Some are small, like how it bothers her when her friends don't invite her to parties. Some are big, like that fact that her father may be having an affair. And then there's the one that she can barely even admit to herself—the one about how she might have a crush on her best friend.
When Sana and her family move to California she begins to wonder if it's finally time for some honesty, especially after she meets Jamie Ramirez. Jamie is beautiful and smart and unlike anyone Sana's ever known. There are just a few problems: Sana's new friends don't trust Jamie's crowd; Jamie's friends clearly don't want her around anyway; and a sweet guy named Caleb seems to have more-than-friendly feelings for her. Meanwhile, her dad's affair is becoming too obvious to ignore anymore.
Sana always figured that the hardest thing would be to tell people that she wants to date a girl, but as she quickly learns, telling the truth is easy… what comes after it, though, is a whole lot more complicated.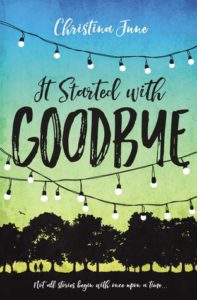 It Started With Goodbye by Christina June
Sixteen-year-old Tatum Elsea is bracing for the worst summer of her life. After being falsely accused of a crime, she's stuck under stepmother-imposed house arrest and her BFF's gone ghost. Tatum fills her newfound free time with community service by day and working at her covert graphic design business at night (which includes trading emails with a cute cello-playing client). When Tatum discovers she's not the only one in the house keeping secrets, she finds she has the chance to make amends with her family and friends. Equipped with a new perspective, and assisted by her feisty step-abuela-slash-fairy-godmother, Tatum is ready to start fresh and maybe even get her happy ending along the way.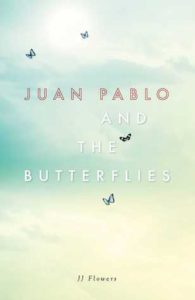 Juan Pablo and The Butterflies by JJ Flowers
After facing problems with a local drug cartel in Mexico, a man and his best friend must flee to California for their freedom and a chance for survival.
In the small town of El Rosario, Mexico's butterfly sanctuary, drug traffickers begin to take over and disrupt the life of the community. As Juan Pablo's grandmother, the medicine woman of the town, lies on her deathbed, she tells her grandson that he must follow the migration of butterflies to Pacific Grove, California—to another butterfly sanctuary—where someone will be waiting for him. When Juan Pablo uses one of his grandmother's poisons on members of the cartel, he and his best friend Rocio must leave for California as soon as they can and follow the butterflies. But is he following the wings of freedom? Or death?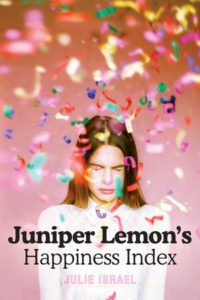 Juniper Lemon's Happiness Index by Julie Israel
It's been sixty-five days since the accident that killed Juniper's sister, and ripped Juniper's world apart.
Then she finds the love letter: written by Camilla on the day of the accident, addressed mysteriously to "You," but never sent. Desperate to learn You's identity and deliver the message, Juniper starts to investigate.
Until she loses something. A card from her Happiness Index: a ritual started by sunny Camie for logging positives each day. It's what's been holding Juniper together since her death – but a lost card only widens the hole she left behind. And this particular card contains Juniper's own dark secret: a memory she can't let anyone else find out.
The search for You and her card take Juniper to even less expected places, and as she connects with those whose secrets she upturns in the effort, she may just find the means to make peace with her own.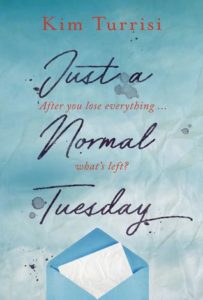 Just A Normal Tuesday by Kim Turrisi
If you are reading this, I am already gone.
It's just a normal Tuesday…until sixteen-year-old Kai finds a suicide note from her beloved older sister, Jen. Now Kai is the only child in a family reeling with grief. Unable to make sense of her sister's choice, Kai begins to lose control. She cuts class. Lashes out at the people closest to her. Pops the same pills that killed her sister.
As she spirals toward rock bottom, her parents offer her a lifeline: a summer away at camp. Grief camp…for teens. Kai reluctantly agrees to attend, even though she's not exactly in the mood for s'mores. But she finds solace in meeting kids like her, and slowly she begins to come back to life—and even love—at The Treehouse.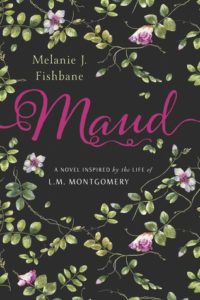 Maud by Melanie J. Fishbane
Fourteen-year-old Lucy Maud Montgomery—Maud to her friends—has a dream: to go to college and, just like her idol, Louisa May Alcott, become a writer. But living with her grandparents on Prince Edward Island, she worries that this dream will never come true. Her grandfather has strong opinions about a woman's place in the world, and they do not include spending good money on college. Luckily, she has a teacher to believe in her, and good friends to support her, including Nate, the Baptist minister's stepson and the smartest boy in the class. If only he weren't a Baptist; her Presbyterian grandparents would never approve. Then again, Maud isn't sure she wants to settle down with a boy—her dreams of being a writer are much more important.
Life changes for Maud when she goes out West to live with her father and his new wife and daughter. Her new home offers her another chance at love, as well as attending school, but tensions increase as Maud discovers her stepmother's plans for her, which threaten Maud's future—and her happiness—forever.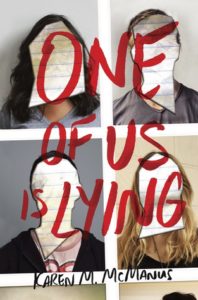 One Of Us Is Lying by Karen M. McManus
Pay close attention and you might solve this.
On Monday afternoon, five students at Bayview High walk into detention.
Bronwyn, the brain, is Yale-bound and never breaks a rule.
Addy, the beauty, is the picture-perfect homecoming princess.
Nate, the criminal, is already on probation for dealing.
Cooper, the athlete, is the all-star baseball pitcher.
And Simon, the outcast, is the creator of Bayview High's notorious gossip app.
Only, Simon never makes it out of that classroom. Before the end of detention Simon's dead. And according to investigators, his death wasn't an accident. On Monday, he died. But on Tuesday, he'd planned to post juicy reveals about all four of his high-profile classmates, which makes all four of them suspects in his murder. Or are they the perfect patsies for a killer who's still on the loose?
Everyone has secrets, right? What really matters is how far you would go to protect them.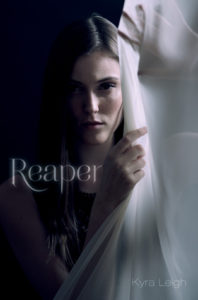 Reaper by Kyra Leigh
Sixteen-year-old Rosie Wolf is sure when you die, you go straight to Paradise, until she wakes to discover she has died in an accident and that Paradise isn't what she thought it would be.
Rosie Wolf was sure that when her dad died, he went to Paradise. After all, isn't that where everyone went? But when Rosie wakes up in a strange hospital bed and finds out that she's died in an accident, she learns things aren't always what you think they will be.
Now her father feels further away than ever, and Rosie is left to deal with the Grim Reaper, who isn't a man in a black cloak, but a beautiful woman with a bad attitude. The Grim Reaper tells Rosie that before she can move on to Paradise, she has to go back down to Earth and collect three souls. But Rosie quickly realizes it's not so simple.
To complicate matters, Rosie meets Kyle, a boy who is different than anyone she's ever known. He's cute, smart, and funny. Rosie's been warned to stay away from the living, but she doesn't want to. What will happen if she doesn't?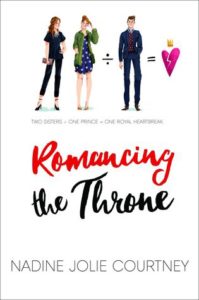 Romancing The Throne by Nadine Jolie Courtney
For the first time ever, the Weston sisters are at the same boarding school. After an administration scandal at Libby's all-girls school threatens her chances at a top university, she decides to join Charlotte at posh and picturesque Sussex Park. Social-climbing Charlotte considers it her sisterly duty to bring Libby into her circle: Britain's young elites, glamorous teens who vacation in Hong Kong and the South of France and are just as comfortable at a polo match as they are at a party.
It's a social circle that just so happens to include handsome seventeen-year-old Prince Edward, heir to Britain's throne.
If there are any rules of sisterhood, "Don't fall for the same guy" should be one of them. But sometimes chemistry—even love—grows where you least expect it. In the end, there may be a price to pay for romancing the throne…and more than one path to happily ever after.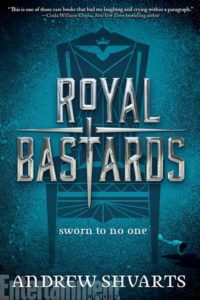 Royal Bastards by Andrew Shvarts
Being a bastard blows. Tilla would know. Her father, Lord Kent of the Western Province, loved her as a child, but cast her aside as soon as he had trueborn children.
At sixteen, Tilla spends her days exploring long-forgotten tunnels beneath the castle with her stablehand half brother, Jax, and her nights drinking with the servants, passing out on Jax's floor while her castle bedroom collects dust. Tilla secretly longs to sit by her father's side, resplendent in a sparkling gown, enjoying feasts with the rest of the family. Instead, she sits with the other bastards, like Miles of House Hampstedt, an awkward scholar who's been in love with Tilla since they were children.
Then, at a feast honoring the visiting princess Lyriana, the royal shocks everyone by choosing to sit at the Bastards' Table. Before she knows it, Tilla is leading the sheltered princess on a late-night escapade. Along with Jax, Miles, and fellow bastard Zell, a Zitochi warrior from the north, they stumble upon a crime they were never meant to witness.
Rebellion is brewing in the west, and a brutal coup leaves Lyriana's uncle, the Royal Archmagus, dead—with Lyriana next on the list. The group flees for their lives, relentlessly pursued by murderous mercenaries; their own parents have put a price on their heads to prevent the king and his powerful Royal Mages from discovering their treachery.
The bastards band together, realizing they alone have the power to prevent a civil war that will tear their kingdom apart—if they can warn the king in time. And if they can survive the journey.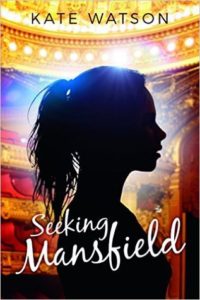 Seeking Mansfield by Kate Watson (first in a series)
Sixteen-year-old Finley Price has perfected two things: how to direct a world-class production, and how to fly way, way under the radar. The only person who ever seems to notice Finley is her best friend, the Bertram's son Oliver. If she could just take Oliver's constant encouragement to heart and step out of the shadows, she'd finally chase her dream of joining the prestigious Mansfield Theater.
When teen movie stars Emma and Harlan Crawford move next door to the Bertram's, they immediately set their sights on Oliver and his cunning sister, Juliette, shaking up Finley and Oliver's stable friendship. As Emma and Oliver grow closer, Harlan finds his attention shifting from Juliette to the quiet, enigmatic, and thoroughly unimpressed Finley. Out of boredom, Harlan decides to make her fall in love with him. Problem is, the harder he seeks to win her, the harder he falls for her.
But Finley doesn't want to be won, and she doesn't want to see Oliver with anyone else. To claim Oliver's heart—and keep her own—she'll have to find the courage to do what she fears most: step into the spotlight.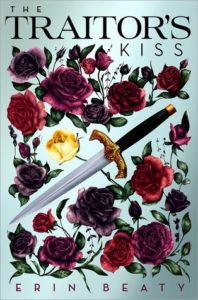 The Traitor's Kiss by Erin Beaty (first in a series)
An obstinate girl who will not be married.
A soldier desperate to prove himself.
A kingdom on the brink of war.
With a sharp tongue and an unruly temper, Sage Fowler is not what they'd call a lady―which is perfectly fine with her. Deemed unfit for marriage, Sage is apprenticed to a matchmaker and tasked with wrangling other young ladies to be married off for political alliances. She spies on the girls―and on the soldiers escorting them.
As the girls' military escort senses a political uprising, Sage is recruited by a handsome soldier to infiltrate the enemy ranks. The more she discovers as a spy, the less certain she becomes about whom to trust―and Sage becomes caught in a dangerous balancing act that will determine the fate of her kingdom.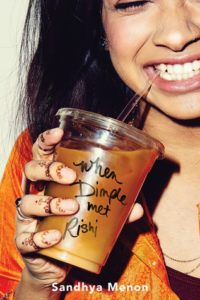 When Dimple Met Rishi by Sandhya Menon
Dimple Shah has it all figured out. With graduation behind her, she's more than ready for a break from her family, from Mamma's inexplicable obsession with her finding the "Ideal Indian Husband." Ugh. Dimple knows they must respect her principles on some level, though. If they truly believed she needed a husband right now, they wouldn't have paid for her to attend a summer program for aspiring web developers…right?
Rishi Patel is a hopeless romantic. So when his parents tell him that his future wife will be attending the same summer program as him—wherein he'll have to woo her—he's totally on board. Because as silly as it sounds to most people in his life, Rishi wants to be arranged, believes in the power of tradition, stability, and being a part of something much bigger than himself.
The Shahs and Patels didn't mean to start turning the wheels on this "suggested arrangement" so early in their children's lives, but when they noticed them both gravitate toward the same summer program, they figured, Why not?
Dimple and Rishi may think they have each other figured out. But when opposites clash, love works hard to prove itself in the most unexpected ways.