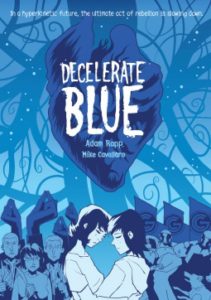 In Rapp's and Cavallaro's dystopian near-future, everyone lives their life at high-speed. There's no time taken for reflection and everything is always go-go-go. In fact, everyone is supposed to say "go" when they're done talking to indicate that it's time for the person they're talking with to reply. It's not strictly illegal to leave out the "go," but it's more serious than a social faux pas (like forgetting to say "please," for example). Everyone reads abridged versions of classic novels in school, and beds are made upright. This world is more than just annoying, though: it's a surveillance state, and the government punishes people for not living up to the hyper-efficient ideal, seen most alarmingly when protagonist Angela's grandfather is sent to a "reduction colony" when his heart rate drops too low for too prolonged a time.
Angela is tired of living this way – and she learns a few others are, too, when she's recruited into a resistance whose sole purpose is to deliberately slow things down, to dismantle this enforced way of life. The resistance lives underground, unplugged, and they have their own speech patterns, too – they refuse to use contractions, creating an immediately recognizable difference when reading the resistance sections versus the above-ground sections. The resistance, now with the help of Angela, are hatching a plan to make this sort of life possible for others on the outside, too.
The concept is intriguing, and I think a lot of teens will immediately find it relevant to their lives. Parts of the world-building seem like a stretch (upright beds?), but people said that about The Handmaid's Tale too, and look where we are now. The story's rhythm takes a while to get used to, mainly because every character really does end their sentences with "go" or eliminate contractions, so no one character really talks like we talk now. Cavallaro's art is mostly black and white, with some spots of color during particularly emotional or important sections of the story. There's a nice romance between Angela and a fellow female resistance fighter, and the "decelerate blue" of the title comes into play in a literal and shocking way at the end.
Decelerate Blue is a good question-raiser, even if its themes aren't explored fully. It's not a super long graphic novel, and it packs a lot of story into its roughly 200 pages. Somewhat ironically, I wish I could have lingered a little while longer in Rapp's and Cavallaro's future world, both the government-controlled one and the resistance, to get a more immersive experience and feel a greater connection to the characters. It felt like the story was sped up a bit, and then it was over too quickly, though the open ending is fitting. This is a good pick for teens who aren't tired of dystopias yet – and we may actually see a resurgence of interest in this subgenre considering the current climate in this country.
Review copy received from the publisher. Decelerate Blue is available now.