A good/bad thing about managing a youth collection in a large public library system is I learn about all of the fun new books I don't have nearly enough time to read. Here's a smattering of new or soon to be released YA titles I'm looking forward to reading.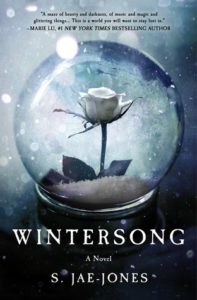 Wintersong by S. Jae-Jones (February 7)
From Goodreads: All her life, nineteen-year-old Liesl has heard tales of the beautiful, mysterious Goblin King. He is the Lord of Mischief, the Ruler Underground, and the muse around which her music is composed. Yet, as Liesl helps shoulder the burden of running her family's inn, her dreams of composition and childish fancies about the Goblin King must be set aside in favor of more practical concerns.
But when her sister Käthe is taken by the goblins, Liesl journeys to their realm to rescue her sister and return her to the world above. The Goblin King agrees to let Käthe go—for a price. The life of a maiden must be given to the land, in accordance with the old laws. A life for a life, he says. Without sacrifice, nothing good can grow. Without death, there can be no rebirth. In exchange for her sister's freedom, Liesl offers her hand in marriage to the Goblin King. He accepts.
Down in the Underground, Liesl discovers that the Goblin King still inspires her—musically, physically, emotionally. Yet even as her talent blossoms, Liesl's life is slowly fading away, the price she paid for becoming the Goblin King's bride. As the two of them grow closer, they must learn just what it is they are each willing to sacrifice: her life, her music, or the end of the world.
Why it's on my tbr: It sounds like a dash of the Hades/Persephone myth mixed with a dash of The Princess and the Goblin, both of which I loved as a kid. And I'm not above choosing a book with a beautiful cover.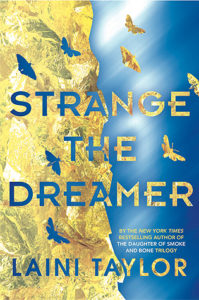 Strange the Dreamer by Laini Taylor (March 28)
From Goodreads: The dream chooses the dreamer, not the other way around—and Lazlo Strange, war orphan and junior librarian, has always feared that his dream chose poorly. Since he was five years old he's been obsessed with the mythic lost city of Weep, but it would take someone bolder than he to cross half the world in search of it. Then a stunning opportunity presents itself, in the person of a hero called the Godslayer and a band of legendary warriors, and he has to seize his chance or lose his dream forever.
What happened in Weep two hundred years ago to cut it off from the rest of the world? What exactly did the Godslayer slay that went by the name of god? And what is the mysterious problem he now seeks help in solving?
The answers await in Weep, but so do more mysteries—including the blue-skinned goddess who appears in Lazlo's dreams. How did he dream her before he knew she existed? And if all the gods are dead, why does she seem so real?
Why it's on my tbr: Friends who have read this say it's just as good as Daughter of Smoke and Bone, which is one of my favorite books (confession: I still haven't read the third book in that series because I'm not sure I want to put myself through that emotional wringer). Taylor's writing is always lovely and I love the whole concept for this story.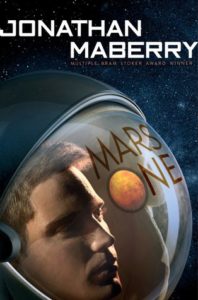 Mars One by Jonathan Maberry (April 4)
From Goodreads: Tristan has known that he and his family were going to be on the first mission to colonize Mars since he was twelve years old, and he has been training ever since. However, knowing that he would be leaving for Mars with no plan to return didn't stop him from falling in love with Izzy.
But now, at sixteen, it's time to leave Earth, and he's forced to face what he must leave behind in exchange for an uncertain future. When the news hits that another ship is already headed to colonize Mars, and the NeoLuddite terrorist group begins threatening the Mars One project, the mission's purpose is called into question. Is this all worth it?
Why it's on my tbr: Maberry can make me enjoy stories I'm not normally drawn to (I normally avoid zombies, but his Rot and Ruin series is great). In this case, though, the topic is a natural draw: stories about colonizing Mars are my catnip. It's possible I've given entirely too much thought to if I would volunteer to go to Mars (only if it's a round trip, and only if it has books).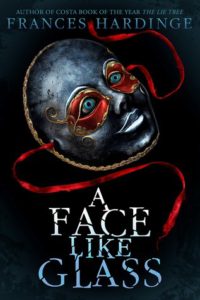 A Face Like Glass by Frances Hardinge (May 9)
From Goodreads: In the underground city of Caverna, the world's most skilled craftsmen toil in the darkness to create delicacies beyond compare—wines that remove memories, cheeses that make you hallucinate, and perfumes that convince you to trust the wearer, even as they slit your throat. On the surface, the people of Caverna seem ordinary, except for one thing: their faces are as blank as untouched snow. Expressions must be learned, and only the famous Facesmiths can teach a person to express (or fake) joy, despair, or fear—at a steep price. Into this dark and distrustful world comes Neverfell, a girl with no memory of her past and a face so terrifying to those around her that she must wear a mask at all times. Neverfell's expressions are as varied and dynamic as those of the most skilled Facesmiths, except hers are entirely genuine. And that makes her very dangerous indeed…
Why it's on my tbr: The Lie Tree was my favorite book of 2016, so anything else by Hardinge is pretty much an auto-read. This was originally published in the UK in 2012. The premise sounds just as strange as The Lie Tree; I hope the writing lives up to it.