I've been fascinated with Scientology for a while now, for a number of reasons:
I grew up without religion, which makes almost every religion a source of interest for me as an outsider;
There's a huge Scientology church right by the University of Texas campus where I went to grad school;
It's an American-founded religion;
It's based on the writings of a science fiction author;
It's intensely secretive and scandal-laden in a pretty awful way;
It's so new compared to most other religions, meaning we are essentially witnessing its adolescent years. Will it manage to find a way into the mainstream, fade into obscurity, or remain a curiosity for most Americans (and others around the world)?
Whenever a new nonfiction title on Scientology is published, I tend to pick it up. By far the best is Lawrence Wright's Going Clear, which was made into a (much too short) HBO documentary of the same name a few years ago. It remains the standard for journalistic, accurate (and quite damning) information on Scientology, its founder L. Ron Hubbard, and its current leaders, namely David Miscavige.
The two books I read recently differ from Wright's account because they are first-person. In Troublemaker: Surviving Hollywood and Scientology, Leah Remini (of the tv show The King of Queens) writes about her time as an actress in Hollywood, growing up in the church, and eventually leaving it. In Ruthless: Scientology, My Son David Miscavige, and Me, Ron Miscavige writes about his own time in the church and his decision to leave it, with a focus on his son, David.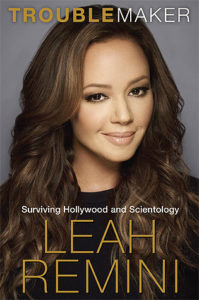 Of the two, Remini's account is better written and more illuminating. I listened to both of these on audio, and Remini narrates hers herself, adding a lot of personality (she has a pretty strong New York accent). She was a second generation Scientologist who got into the church as a child after her mother started attending. She believed in it wholeheartedly for many years, but slowly grew disillusioned after she started to notice things that were off or outright harmful, including particularly bizarre encounters at Tom Cruise's house and at his wedding to Katie Holmes. Remini may be best known Scientology-wise as the person who filed the missing person report for Shelly Miscavige, David's wife, who hasn't been seen in public in almost a decade.
Remini's first-person account adds more to the Hollywood dimension of Scientology, and we also get a good feel for Remini's personality. She writes about her career as an actress and her personal life outside of Scientology as well: how she landed her first roles and eventually was cast in The King of Queens, her affair with a married man who eventually became her husband, her thoughts on motherhood. While this kind of stuff probably won't be the reason most people pick up her book, they're still pretty interesting thanks to Remini's off-the-cuff style.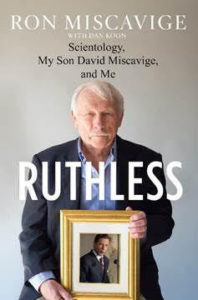 Ron Miscavige's book is less successful. His writing style is drier and more repetitive, but his life also just isn't terribly interesting up until the point when he begins to talk about Scientology. He's not necessarily a boring person, but his adventures during his childhood, marriage, and raising a family are all pretty normal, and they're not buoyed by particularly good writing. The Scientology bits are definitely more engaging, but mainly they just made me sad. Ron writes that he decided to write this book when he discovered David had hired people to follow him after he had been out of the church for many years, and when those private investigators saw what they thought was Ron having a heart attack, David told them not to interfere, "if he dies, he dies." Awful, yes, but worth writing an expose on your son?
I didn't find Ron's stories about David as a kid particularly insightful or illuminating. At one point, he writes that David may be a sociopath but he isn't sure; this is something a reader could have gathered from any first-person account with David Miscavige, and Ron hasn't had a first-person encounter with his son in many years anyway. Despite Ron's blood relation to the most powerful person in Scientology, there was remarkably little new information in his book, and he references third parties extensively. It made me wonder if it was really worth it for Ron to write an entire book about how his son is awful. By all accounts David Miscavige is a worm (understatement), but maybe we didn't need to hear that from his father. Then again, I was the one who chose to read the book.
What I did find interesting about Ron's account is that he still believes Scientology holds a lot of truth and goodness, he just thinks the leadership has twisted it into something awful. This is not a perspective you usually get from an ex-Scientologist.