The Pulitzer Prizes were announced earlier this month, and ProPublica won the Pulitzer Gold Medal for Public Service for their work with the New York Daily News "uncovering, primarily through the work of reporter Sarah Ryley, widespread abuse of eviction rules by the [New York] police to oust hundreds of people, most of them poor minorities." If you haven't dug through the series highlighted on the Pulitzer Prize website, I highly recommend it. It's an example of the ongoing importance of investigative journalism – when it's done right. This is ProPublica's fourth Pulitzer Prize.
Journalism is rapidly changing, and many of us have become disillusioned with the traditional news sources, particularly with the way the presidential campaign was covered. ProPublica is a bit different from the rest: they're non-profit and independent, focusing solely on "investigative journalism in the public interest…stories with 'moral force.'"
I donated to ProPublica this month, and if you haven't yet given anything this month and are able, I encourage you to do so as well. With "alternative facts" proliferating, it's more and more important that we support high-quality journalism in any way we can.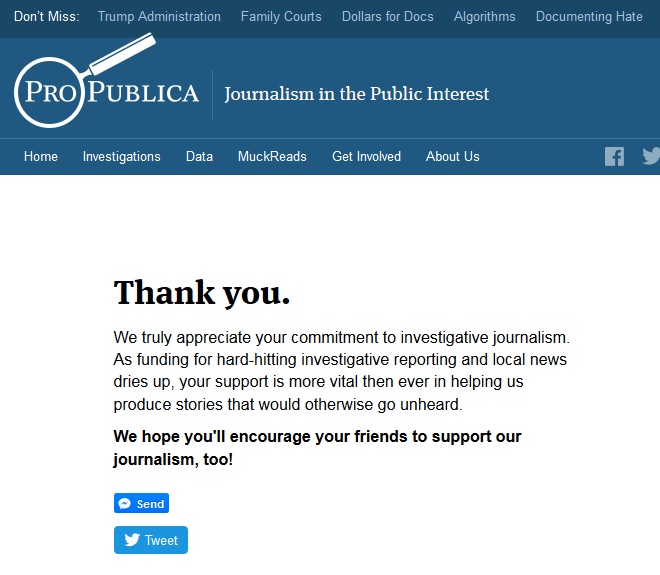 In honor of the Pulitzer prizes and ProPublica, the book list for this month features kids and teens who are journalists (aspiring or otherwise) themselves – kids and teens who may grow up to work for an organization like ProPublica one day. I've also highlighted a few nonfiction titles about real-world journalists. If there are any additional titles you'd like to recommend, please let me know in the comments.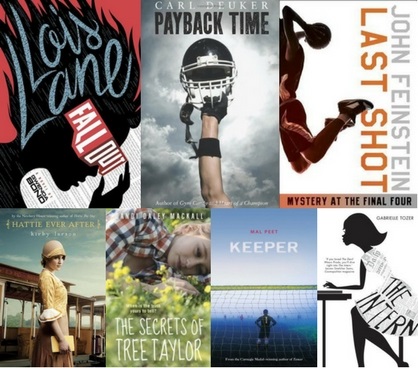 Young Adult Fiction
Fallout by Gwenda Bond
Lois Lane is the new girl at East Metropolis High, and her instinct to ask questions brings her and her online friend, Smallville Guy, into conflict with some bullying video gamers called the Warheads, who are being used in a dangerous virtual reality experiment. | Sequel: Triple Threat
Payback Time by Carl Deuker
Overweight, somewhat timid Mitch reluctantly agrees to be the sports reporter for the Lincoln High newspaper because he's determined to be a writer, but he senses a real story in Angel, a talented football player who refuses to stand out on the field–or to discuss his past.
Last Shot by John Feinstein
After winning a basketball reporting contest, eighth graders Stevie and Susan are sent to cover the Final Four tournament, where they discover that a talented player is being blackmailed into throwing the final game. | Sequels: Vanishing Act, Cover-Up, Change-Up, The Rivalry, Rush for the Gold
Hattie Ever After by Kirby Larson
In 1919, seventeen-year-old Hattie leaves the Montana prairie–and her sweetheart Charlie–to become a female reporter in San Francisco. | Sequel to Hattie Big Sky
The Secrets of Tree Taylor by Dandi Daley Mackall
In small-town Missouri in tumultuous 1963, Tree Taylor, thirteen, wants to write an important story to secure a spot on the high school newspaper staff, but when a neighbor is shot, she investigates and learns that some secrets should be kept.
Keeper by Mal Peet
In an interview with a young journalist, World Cup hero, El Gato, describes his youth in the Brazilian rain forest and the events, experiences, and people that helped make him a great goalkeeper and renowned soccer star. | Sequels: The Penalty, Exposure
The Intern by Gabrielle Tozer
Josie Browning dreams of having it all. A perfect academic record, an amazing journalism career – and for her crush to realise she exists. The only problem? Josie can't stop embarrassing her little sister or her best friend, let alone herself. Josie's luck changes when she lands an internship at Sash magazine. A coveted columnist job is up for grabs, but Josie quickly learns making her mark will be far from easy, especially under the reign of editor Rae Swanson. From the lows of photocopying and coffee-fetching, to the highs of celebrities, beauty products and by-lines, this is one internship Josie will never forget. | Sequel: Faking It

Middle Grade Fiction
Isabel Feeney, Star Reporter by Beth Fantaskey
In the 1920s, a ten-year-old newsgirl who aspires to be a reporter at the Chicago Tribune investigates the murder of a gangster.
Emma is on the Air: Big News! by Ida Siegal
Traces young Emma Perez's journey into journalism, mystery solving, and fame when she investigates a worm found in a friend's hamburger. | Sequels: Party Drama!, Showtime!, Undercover!
Meet Kit: An American Girl, 1934 by Valerie Tripp
Kit longs for a big story to write in her daily newspaper for her Dad—that is, until she's faced with news that's really bad. When Mother's friends lose their house and come to stay with her family, it's nothing but trouble for Kit. Then Kit's dad loses his business, and things go from bad to worse. Will life ever be the same again? | Sequels: Kit Learns a Lesson, Kit's Surprise, Happy Birthday Kit, Kit Saves the Day, Changes for Kit
Uncertain Glory by Lea Wait
Joe Wood has big dreams. He wants to be a newspaperman, and though he's only thirteen, he's already borrowed money for the equipment to start his own press. But it's April 1861, and the young nation is teetering on the brink of a civil war. He has to help Owen, his young assistant, deal with the challenges of being black in a white world torn apart by color. He needs to talk his best friend, Charlie, out of enlisting. He wants to help a young spiritualist, Nell, whose uncle claims can she speak to the dead. And when Owen disappears, it's up to Joe to save him.

Nonfiction
Yours for Justice, Ida B. Wells: The Daring Life of a Crusading Journalist by Philip Dray
Biography of Ida B. Wells-Barnett, a journalist and teacher who wrote about and spoke against the injustices suffered by African-Americans.
Reporting Under Fire: 16 Daring Women War Correspondents and Photojournalists by Kerrie Logan Hollihan
A profile of 16 courageous women, Reporting Under Fire tells the story of journalists who risked their lives to bring back scoops from the front lines. Each woman experiences her own journey, both personally and professionally, and each draws her own conclusions. Yet without exception, these war correspondents share a singular ambition: to answer an inner call driving them to witness war firsthand, and to share what they learn via words or images.
Ida M. Tarbell: The Woman Who Challenged Big Business – and Won! by Emily Arnold McCully
Biography of Ida Minerva Tarbell, arguably one of the first journalists to regularly write exposés, and through them exposed the shady business practices of businessman John D. Rockefeller.
Ten Days a Madwoman: The Daring Life and Turbulent Times of the Original "Girl" Reporter, Nellie Bly by Deborah Noyes
A biography of Nellie Bly, the pioneering journalist whose showy but substantive stunts skyrocketed her to fame.
Reporter in Disguise: The Intrepid Vic Steinberg by Christine Welldon
Over 100 years ago, Vic Steinberg was breaking ground. She was one of the New Women, a bachelor girl who pursued a career in investigative journalism–hardly the type of lifestyle for an upper-middle class young lady. But she had to be stealthy, secretive, and cunning if she wanted her scoop.