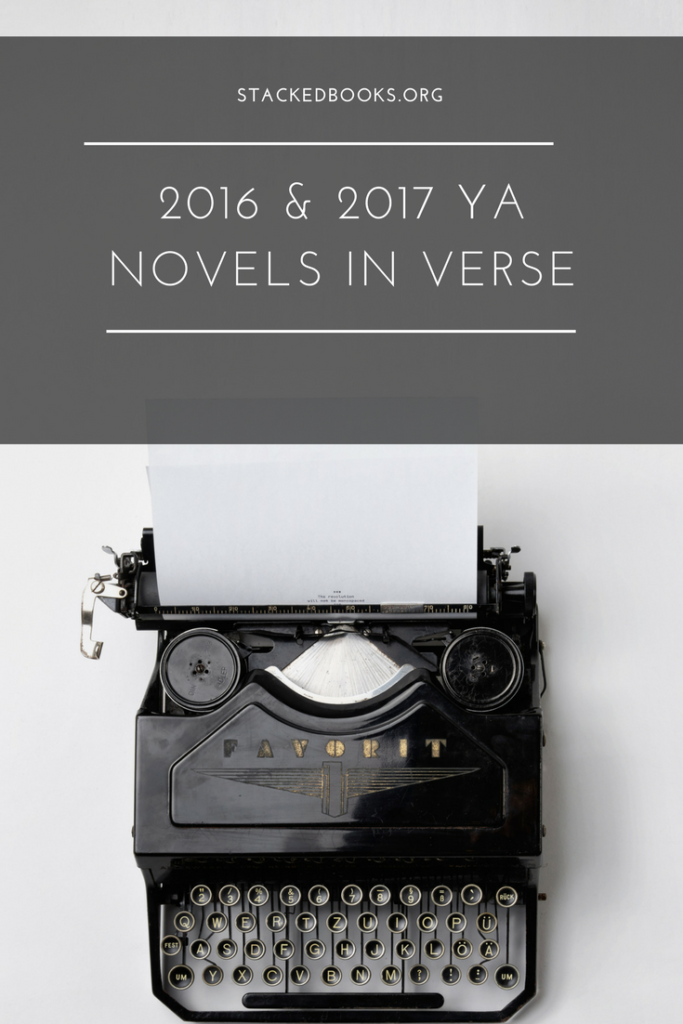 It's been a couple of years since I've done a round-up of YA novels in verse, but seeing it's National Poetry Month and there's been a slight uptick in verse novels this year, it feels like time for an update.
The list below isn't comprehensive, but it's close. If I'm missing something, please let me know in the comments. Titles span both 2016 and 2017, and I've noted publication dates for those not yet released. All descriptions come from Goodreads. Some of these verse novels are only partially in verse — it may be a single voice in the story with multiple narrators.
If you're looking to bulk up your knowledge of verse novels, we put together a "Get Genrefied" piece in 2013, complete with resources and additional classic titles in the format, and last year at Book Riot, I compiled a list of 100 must-read YA novels in verse.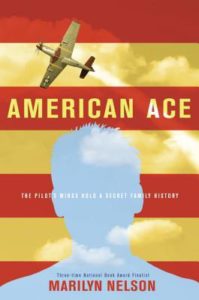 American Ace by Marilyn Nelson
Connor's grandmother leaves his dad a letter when she dies, and the letter's confession shakes their tight-knit Italian American family: The man who raised Dad is not his birth father.
But the only clues to this birth father's identity are a class ring and a pair of pilot's wings. And so Connor takes it upon himself to investigate—a pursuit that becomes even more pressing when Dad is hospitalized after a stroke. What Connor discovers will lead him and his father to a new, richer understanding of race, identity, and each other.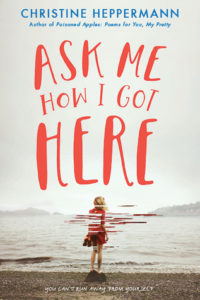 Ask Me How I Got Here by Christine Heppermann
Addie has always known what she was running toward. In cross-country, in life, in love. Until she and her boyfriend—her sensitive, good-guy boyfriend—are careless one night and she ends up pregnant. Addie makes the difficult choice to have an abortion. And after that—even though she knows it was the right decision for her—nothing is the same anymore. She doesn't want anyone besides her parents and her boyfriend to know what happened; she doesn't want to run cross-country; she can't bring herself to be excited about anything. Until she reconnects with Juliana, a former teammate who's going through her own dark places.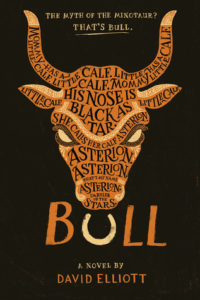 Bull by David Elliott
Much like Lin-Manuel Miranda did in Hamilton, the New York Times best-selling author David Elliott turns a classic on its head in form and approach, updating the timeless story of Theseus and the Minotaur for a new generation. A rough, rowdy, and darkly comedic young adult retelling in verse, Bull will have readers reevaluating one of mythology's most infamous monsters.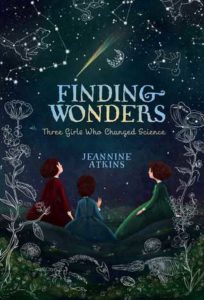 Finding Wonders: Three Girls Who Changed Science by Jeannine Atkins
Maria Merian was sure that caterpillars were not wicked things born from mud, as most people of her time believed. Through careful observation she discovered the truth about metamorphosis and documented her findings in gorgeous paintings of the life cycles of insects.
More than a century later, Mary Anning helped her father collect stone sea creatures from the cliffs in southwest England. To him they were merely a source of income, but to Mary they held a stronger fascination. Intrepid and patient, she eventually discovered fossils that would change people's vision of the past.
Across the ocean, Maria Mitchell helped her mapmaker father in the whaling village of Nantucket. At night they explored the starry sky through his telescope. Maria longed to discover a new comet—and after years of studying the night sky, she finally did.
Forget Me Not by Ellie Terry
Calliope June has Tourette syndrome. Sometimes she can't control the noises that come out of her mouth, or even her body language. When she and her mother move yet again, she tries to hide her TS. But soon the kids in her class realize she's different. Only her neighbor, who is also the class president, sees her as she truly is—a quirky kid, and a good friend. But is he brave enough to take their friendship public?
As Callie navigates school, she must also face her mother's new relationship and the fact that she might be moving again—just as she's starting to make friends and finally accept her differences. This story of being true to yourself will speak to a wide audience.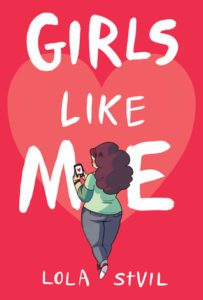 Girls Like Me by Lola StVil
Fifteen-year-old Shay Summers is trying to cope with the death of her father, being overweight, and threats from a girl bully in school.  When she falls in love with Blake, a mysterious boy online, insecure Shay doesn't want to tell him who she is.   But with the help of her two best friends, as well as an assist by Kermit and Miss Piggy, ultimately Shay and Blake's love prevails.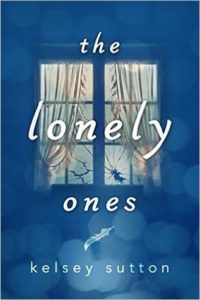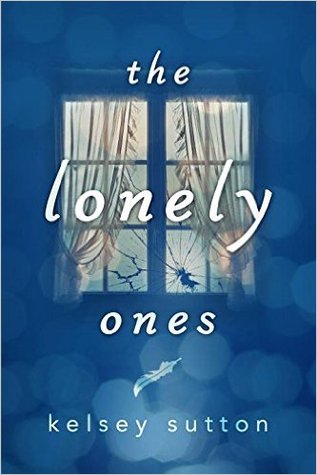 The Lonely Ones by Kelsey Sutton (April 26)
With parents too busy to pay her attention, an older brother and sister who would rather spend their time with friends, and peers who oscillate between picking on her and simply ignoring her, it's no wonder that Fain spends most of her time in a world of her own making. During the day, Fain takes solace in crafting her own fantastical adventures in writing, but in the darkness of night, these adventures come to life as Fain lives and breathes alongside a legion of imaginary creatures. Whether floating through space or under the sea, climbing mountains or traipsing through forests, Fain becomes queen beyond – and in spite of – the walls of her bedroom.
In time, Fain begins to see possibilities and friendships emerge in her day-to-day reality. . . yet when she is let down by the one relationship she thought she could trust, Fain must decide: remain queen of the imaginary creatures, or risk the pain that comes with opening herself up to the fragile connections that exist only in the real world?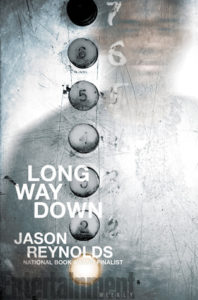 Long Way Down by Jason Reynolds (October 17)
A cannon. A strap.
A piece. A biscuit.
A burner. A heater.
A chopper. A gat.
A hammer
A tool
for RULE
Or, you can call it a gun. That's what fifteen-year-old Will has shoved in the back waistband of his jeans. See, his brother Shawn was just murdered. And Will knows the rules. No crying. No snitching. Revenge. That's where Will's now heading, with that gun shoved in the back waistband of his jeans, the gun that was his brother's gun. He gets on the elevator, seventh floor, stoked. He knows who he's after. Or does he? As the elevator stops on the sixth floor, on comes Buck. Buck, Will finds out, is who gave Shawn the gun before Will took the gun. Buck tells Will to check that the gun is even loaded. And that's when Will sees that one bullet is missing. And the only one who could have fired Shawn's gun was Shawn. Huh. Will didn't know that Shawn had ever actually USED his gun. Bigger huh. BUCK IS DEAD. But Buck's in the elevator? Just as Will's trying to think this through, the door to the next floor opens. A teenage girl gets on, waves away the smoke from Dead Buck's cigarette. Will doesn't know her, but she knew him. Knew. When they were eight. And stray bullets had cut through the playground, and Will had tried to cover her, but she was hit anyway, and so what she wants to know, on that fifth floor elevator stop, is, what if Will, Will with the gun shoved in the back waistband of his jeans, MISSES.
And so it goes, the whole long way down, as the elevator stops on each floor, and at each stop someone connected to his brother gets on to give Will a piece to a bigger story than the one he thinks he knows. A story that might never know an END…if WILL gets off that elevator.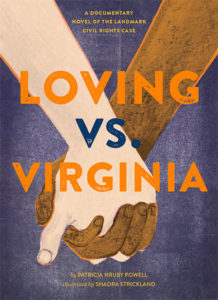 Loving Vs. Virginia by Patricia Hruby Powell; Shadra Strickland
From acclaimed author Patricia Hruby Powell comes the story of a landmark civil rights case, told in spare and gorgeous verse. In 1955, in Caroline County, Virginia, amidst segregation and prejudice, injustice and cruelty, two teenagers fell in love. Their life together broke the law, but their determination would change it. Richard and Mildred Loving were at the heart of a Supreme Court case that legalized marriage between races, and a story of the devoted couple who faced discrimination, fought it, and won.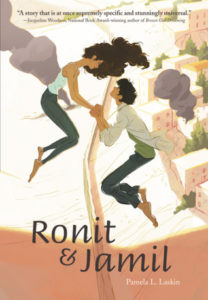 Ronit and Jamil by Pamela L. Laskin
Ronit, an Israeli girl, lives on one side of the fence. Jamil, a Palestinian boy, lives on the other side. Only miles apart but separated by generations of conflict—much more than just the concrete blockade between them. Their fathers, however, work in a distrusting but mutually beneficial business arrangement, a relationship that brings Ronit and Jamil together. And lightning strikes. The kind of lightning that transcends barrier fences, war, and hatred.
The teenage lovers fall desperately into the throes of forbidden love, one that would create an irreparable rift between their families if it were discovered. But a love this big can only be kept secret for so long. Ronit and Jamil must face the fateful choice to save their lives or their loves, as it may not be possible to save both.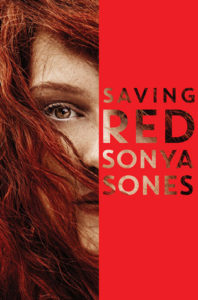 Saving Red by Sonya Sones
Right before winter break, fourteen-year-old Molly Rosenberg reluctantly volunteers to participate in Santa Monica's annual homeless count, just to get her school's community service requirement out of the way. But when she ends up meeting Red, a spirited homeless girl only a few years older than she is, Molly makes it her mission to reunite her with her family in time for Christmas. This turns out to be extremely difficult—because Red refuses to talk about her past. There are things Molly won't talk about either. Like the awful thing that happened last winter. She may never be ready to talk about that. Not to Red, or to Cristo, the soulful boy she meets while riding the Ferris wheel one afternoon.
When Molly realizes that the friends who Red keeps mentioning are nothing more than voices inside Red's head, she becomes even more concerned about her well-being. How will Molly keep her safe until she can figure out a way to get Red home? In Sonya Sones' latest novel, two girls, with much more in common than they realize, give each other a new perspective on the meaning of family, friendship, and forgiveness.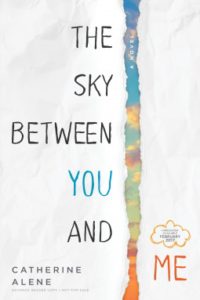 The Sky Between You and Me by Catherine Alene
Raesha can't let go. Not of the ache she feels at the loss of her mother. Or her loneliness from the long hours her father spends on the road. And certainly not of her jealousy of the new girl who keeps flirting with her boyfriend and making plans with her best friend. So she focuses on training for Nationals.
For Raesha, competing isn't just about the speed of her horse or the thrill of the win. It's about honoring her mother's memory. Raesha knows minus five on the scale will let her sit deeper in her saddle, make her horse lighter on her feet. And lighter, leaner, faster gives her the edge she needs to win—to run that perfect race that will make everyone proud.
But the more Raesha focuses on the win, the more she starts to push away the people she loves. And if she's not careful, she will lose herself and all she loves to lighter. Leaner. Faster.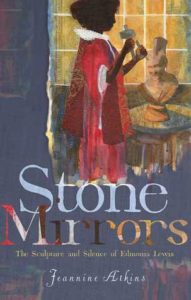 Stone Mirrors: The Sculpture and Silence of Edmonia Lewis by Jeannine Atkins
A sculptor of historical figures starts with givens but creates her own vision. Edmonia Lewis was just such a sculptor, but she never spoke or wrote much about her past, and the stories that have come down through time are often vague or contradictory. Some facts are known: Edmonia was the daughter of an Ojibwe woman and an African-Haitian man. She had the rare opportunity to study art at Oberlin, one of the first schools to admit women and people of color, but lost her place after being accused of poisoning and theft, despite being acquitted of both. She moved to Boston and eventually Italy, where she became a successful sculptor.
But the historical record is very thin. The open questions about Edmonia's life seem ideally suited to verse, a form that is comfortable with mysteries. Inspired by both the facts and the gaps in history, author Jeannine Atkins imagines her way into a vision of what might have been.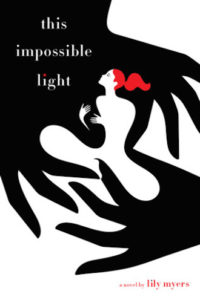 This Impossible Light by Lily Myers (June 6)
Sixteen-year-old Ivy's world is in flux. Her dad has moved out, her mother is withdrawn, her brother is off at college, and her best friend, Anna, has grown distant. Worst of all, Ivy's body won t stop expanding. She's getting taller and curvier, with no end in sight. Even her beloved math class offers no clear solution to the imbalanced equation that has become Ivy s life.
Everything feels off-kilter until a skipped meal leads to a boost in confidence and reminds Ivy that her life is her own. If Ivy can just limit what she eats the way her mother seems to she can stop herself from growing, focus on the upcoming math competition, and reclaim control of her life. But when her disordered eating leads to missed opportunities and a devastating health scare, Ivy realizes that she must weigh her mother's issues against her own, and discover what it means to be a part of and apart from her family.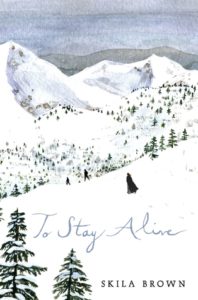 To Stay Alive by Skila Brown
The journey west by wagon train promises to be long and arduous for nineteen-year-old Mary Ann Graves and her parents and eight siblings. Yet she is hopeful about their new life in California: freedom from the demands of family, maybe some romance, better opportunities for all. But when winter comes early to the Sierra Nevada and their group gets a late start, the Graves family, traveling alongside the Donner and Reed parties, must endure one of the most harrowing and storied journeys in American history. Amid the pain of loss and the constant threat of death from starvation or cold, Mary Ann's is a narrative, told beautifully in verse, of a girl learning what it means to be part of a family, to make sacrifices for those we love, and above all to persevere.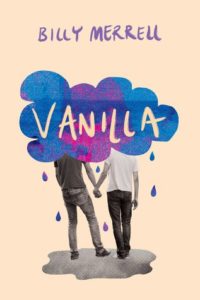 Vanilla by Billy Merrell (October 17)
Hunter and Van become boyfriends before they're even teenagers, and stay a couple even when adolescence intervenes. But in high school, conflict arises — mostly because Hunter is much more comfortable with the sex part of sexual identity. As the two boys start to realize that loving someone doesn't guarantee they will always be with you, they find out more about their own identities — with Hunter striking out on his own while Van begins to understand his own asexuality.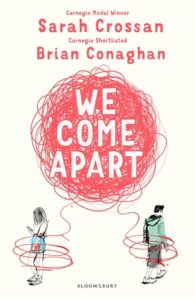 We Come Apart by Brian Conaghan; Sarah Crossan
Nicu has emigrated from Romania and is struggling to find his place in his new home. Meanwhile, Jess's home life is overshadowed by violence. When Nicu and Jess meet, what starts out as friendship grows into romance as the two bond over their painful pasts and hopeful futures. But will they be able to save each other, let alone themselves?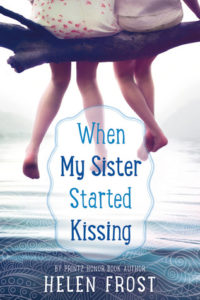 When My Sister Started Kissing by Helen Frost
Claire and Abi have always loved their summers at the lake house, but this year, everything's different. Dad and Pam, their stepmom, are expecting a new baby, and they've cleared out all of Mom's belongings to make room. And last summer, Abi was looking at boys, but this summer, boys are looking back at her. While Abi sneaks around, Claire is left behind to make excuses and cover up for her. Claire doesn't want her family to change, but there doesn't seem to be a way of stopping it. By the end of their time at the house, the two sisters have learned that growing up doesn't have to mean their family growing apart.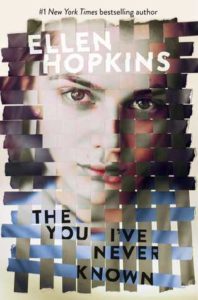 The You I've Never Known by Ellen Hopkins
For as long as she can remember, it's been just Ariel and Dad. Ariel's mom disappeared when she was a baby. Dad says home is wherever the two of them are, but Ariel is now seventeen and after years of new apartments, new schools, and new faces, all she wants is to put down some roots. Complicating things are Monica and Gabe, both of whom have stirred a different kind of desire.
Maya's a teenager who's run from an abusive mother right into the arms of an older man she thinks she can trust. But now she's isolated with a baby on the way, and life's getting more complicated than Maya ever could have imagined.
Ariel and Maya's lives collide unexpectedly when Ariel's mother shows up out of the blue with wild accusations: Ariel wasn't abandoned. Her father kidnapped her fourteen years ago.
What is Ariel supposed to believe? Is it possible Dad's woven her entire history into a tapestry of lies? How can she choose between the mother she's been taught to mistrust and the father who has taken care of her all these years?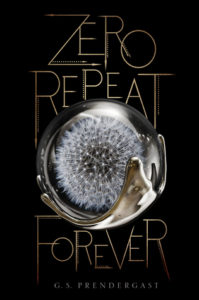 Zero Repeat Forever by Gabrielle Prendergast (August 29)
He has no voice, or name, only a rank, Eighth. He doesn't know the details of the mission, only the directives that hum in his mind.
Dart the humans. Leave them where they fall.
His job is to protect his Offside. Let her do the shooting.
Until a human kills her…
Sixteen year-old Raven is at summer camp when the terrifying armored Nahx invade, annihilating entire cities, taking control of the Earth. Isolated in the wilderness, Raven and her friends have only a fragment of instruction from the human resistance.
Shelter in place.
Which seems like good advice at first. Stay put. Await rescue. Raven doesn't like feeling helpless but what choice does she have?
Then a Nahx kills her boyfriend.
Thrown together in a violent, unfamiliar world, Eighth and Raven should feel only hate and fear. But when Raven is injured, and Eighth deserts his unit, their survival comes to depend on trusting each other.