Young readers' editions (usually for teens or tweens) of adult nonfiction titles are pretty common, and run the gamut from mediocre knock-offs to standouts that improve on the originals. What haven't been particularly common are young readers' editions of novels – until now, perhaps? In my collection management duties, I've come across three recently that may signal a trend. What do you think – are these worthwhile, or are they simply failed attempts to extend the life of bestsellers that are now fading in popularity?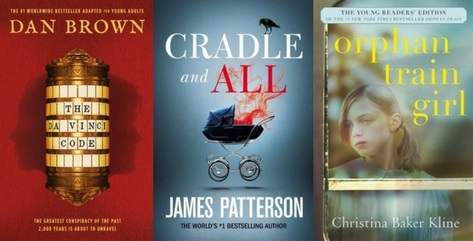 The Da Vinci Code (the Young Adult Adaptation) by Dan Brown
Y'all, I still really love this book. I never got into any of his other novels featuring Robert Langdon, but I've re-read this one a few times and I think it holds up. It's a fun thriller, a superb page-turner, and I'm always befuddled by people who trash it for featuring a conspiracy plotline that is obviously untrue. It's a novel, not a treatise on religion.
That said, is a teen adaptation really necessary? There's no content in the original unsuitable for teens (a bit of sex, but it's glossed over; no explicit violence; not much swearing that I can recall, if any). There are other things that could be done to make the story more appealing (vs. suitable) for teen readers, such as somehow making a teen the protagonist, but I don't think that would necessarily add anything, and this book was so huge I think teens would want to read the original anyway. The language certainly doesn't need to be dumbed down any – not to say that it's dumb already, that's just never a good way to reach teenagers generally.
The publisher marketing says this new edition "includes over twenty color photos showing important locations, landmarks, and artwork, taking readers from Paris to London and beyond," which may help teen readers better contextualize the action of the story, particularly if they're unfamiliar with some of the locations or artwork mentioned. But this sort of thing is helpful for adult readers too. Our five copies have circulated 16 times since they were added in November 2016.
Cradle and All by James Patterson
At first this appeared to be simply a reissue of the book for the YA market with no changes, much like Tor did with Brandon Sanderson's Mistborn series a few years ago. It's published under James Patterson's youth imprint, Jimmy Patterson, and includes an excerpt from one of the first YA titles from that line, Stalking Jack the Ripper by Kerri Maniscalco, which makes me think the reissue is mainly a marketing tool for the Jimmy Patterson line of YA books. The book was originally published in 1980 under the title Virgin, but renamed Cradle and All in 2000, still published for the adult market. The teen edition has a new cover, but the publisher marketing is the same as for the 2000 edition. The new cover doesn't even state that it's a young readers edition anywhere.
It has an ensemble cast of characters, two of whom are teenagers (not a requirement for a YA novel, but a general rule). The main investigator and the first person POV character, however, is an adult. A couple of the Goodreads reviews indicate this edition has a few changes from the adult edition, such as this one which states "It was a much quicker read than the 'adult' version" and this one which states "tweeting and social media play a part in this story now." But since the publisher blurb is identical to the adult edition, it's hard to really tell what changes have been made – just updates to make it more contemporary, or more significant changes to make it more appealing to teens? Our 11 copies have circulated 23 times so far since they were added in November 2016.
Orphan Train Girl by Christina Baker Kline
Out May 2, this is a young readers' edition of Kline's bestselling Orphan Train. This is the first of the young readers' editions of adult novels I've seen that actually changes the title, rather than just appending "young readers' edition" or something similar to it. Thankfully, the publisher marketing explicitly addresses the ways in which this edition differs from the adult edition: "Adapted and condensed for a young audience, Orphan Train Girl includes an author's note and archival photos from the orphan train era." So it's basically shorter and has a couple extras. The cover uses the same basic design as the adult edition, which makes sense, since it features a young girl.
I actually think this may be well-suited to a young readers' edition since a teenage (or perhaps pre-teen) girl is one of the two main characters in the original, and the relationship between her and the 91-year-old woman she meets while forced to do community service is the central plotline (and the novel explores the older woman's childhood as well). So shifting the focus to the young girl's thoughts and feelings may indeed breathe new life into this novel for younger readers. HarperCollins is publishing this version for the middle grade market, ages 8-12.