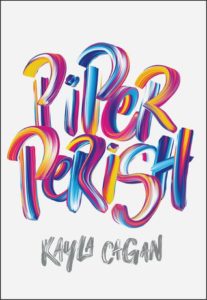 After last week's non-stop fun, let's take this week to recalibrate.
I've found myself slowing down in my reading. I was going at a really fast speed for the first couple of months of the year, but as soon as March hit, it's almost like everything in my life decided to grind to a halt. I've picked up some light reading, the kind of self-help/self-comfort stuff that's primarily list-based, with no narrative structure, that's given me the freedom to bounce around. And while that's been nice, I do miss sinking into a book and hope when this month of travel and talking — which I've loved! — comes to an end, I can curl up with a pile of novels.
That said, one of the more recent titles I've finished is Kayla Cagan's debut Piper Perish. It's not really the kind of book worthy of an in-depth review here. That's not because it's not good or that it's bad. It's a slice-of-life story, set over the course of a school year, about a girl who learns how to navigate shifting friendships, shifting romances, and the possibility of leaving home in Houston, Texas, for the dream life she's always wanted in New York City.
The book is set up diary-style, so everything that we know comes straight from Piper's perspective. For many readers, this can be jarring in the sense that Piper does and says things that are mean and hurtful; to her, though, they aren't. They're her reality and because the book's purpose is to give us her view from the inside, it's going to be that way. There are times, for example, where the budget challenges her family faces come off as non-issues to her, and that things like getting a summer job to help save for college are things she thinks are silly. But, and I speak from experience as well as from the experiences I know of others, this tends to be a perfect example of life as a 17-year-old who is ready to get out of town.
Perhaps one of the places in the book where Piper's voice has been a challenge for many readers (if it's not obvious, I've read many reader reviews of this one with fascination!) is where it comes to her sister. Her sister, who was away in her first year of college, finds herself pregnant and having to move back home. There is a lot of sibling rivalry between them, as there had been for years. But with the change in family situation and her sister's need to live at home has a drastic effect on Piper's future. Money is one of the challenges. The other is that Piper dislikes — HATES — her sister's boyfriend and as the book progresses, it becomes clear why that's the case.
My only concern about the book is its length, as I think it might be a turnoff to some readers, even though this is a story they will be familiar with and that might resonate with them. Being on that cusp of freedom and feeling the ropes that hold you back is something many teens at that 16, 17, 18 feel. I do think, though, the readers who pick this up despite the length will find, like I did, that it's a quick read, in part because of the format. Piper writes her diary in fun, non-linear ways that allow the reader to really understand how her artistic brain works.
Piper Perish is an excellent read to hand to fans of Susan Juby's The Truth Commission, as well as readers who cannot get enough of Amy Spalding — the humor in Cagan's debut is on par with both of those authors and so is the way that art is treated as an important, imperative part of many teen lives. Cagan includes a bisexual character who plays a big role in the story, and it's also fair in depicting a variety of races and ethnicities among Piper's friends and classmates in an arts school in Houston.
If you're curious, you can read an excerpt of the book here to get a sense of the tone and humor.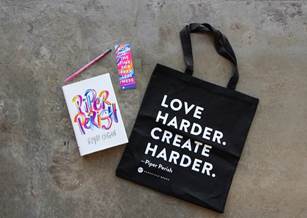 I've got a copy of the book available for one lucky US reader who'd like one. In addition to the book, this giveaway is complete with a fun tote bag and bookmark. To enter, fill out the form below, and I'll pick a winner on or around April 3.