This month, in the wake of the Muslim Ban 2.0, I decided to give to the International Refugee Assistance Project (IRAP). IRAP "organizes law students and lawyers to develop and enforce a set of legal and human rights for refugees and displaced persons." Along with the ACLU, CAIR, and other organizations, IRAP has been "on the front lines of the fight against the discriminatory executive order" and continues to fight it in its new iteration. They also make available a valuable document, Know Your Rights, for those affected by either of these travel bans. If you haven't yet made a charitable contribution this month and can afford to do so, I urge you to consider IRAP.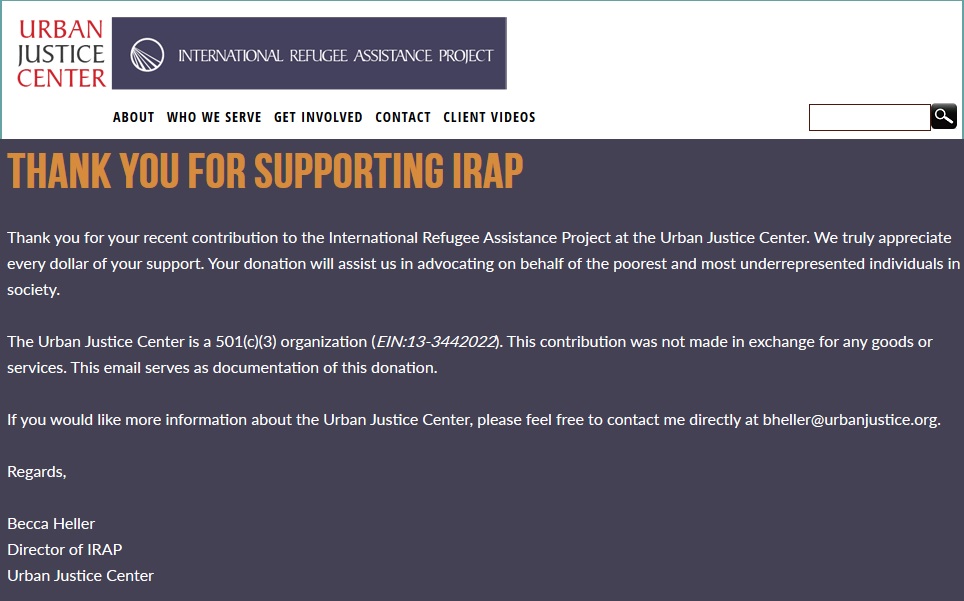 For reading material about refugees, first head over to Kelly's post from late 2015 featuring middle grade and YA fiction about refugees. Because Kelly did such an excellent and thorough job in that post, the book list here will be a bit shorter and highlight nonfiction, picture books, and new middle grade/YA fiction. Links lead to Goodreads and synopses are from WorldCat.
Nonfiction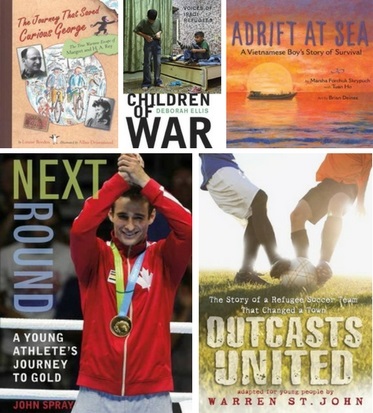 The Journey That Saved Curious George: The True Wartime Escape of Margret and H. A. Rey by Louise Borden
In 1940, Hans and Margret Rey fled their Paris home as the German army advanced. They began their harrowing journey on bicycles, pedaling to Southern France with children's book manuscripts, including what would become the international sensation "Curious George," among their few possessions. This is their dramatic story.
Children of War: Voices of Iraqi Refugees by Deborah Ellis
Provides interviews with twenty-three young Iraqi children who have moved away from their homeland and tells of their fears, challenges, and struggles to rebuild their lives in foreign lands as refugees of war.
Adrift at Sea: A Vietnamese Boy's Story of Survival by Marsha Forchuk Skrypuch with Tuan Ho, art by Brian Deines
Tuan and his family survive bullets, a broken motor, and a leaking boat in the long days they spend at sea after fleeing Vietnam. A true story as told to the author by Tuan Ho. Includes family photographs and a historical note about the Vietnamese refugee crisis.
Next Round: A Young Athlete's Journey to Gold by John Spray
Arthur Biyarslanov's journey to competitive boxing has been full of obstacles. As a young Muslim refugee, he fled with his family from Chechnya and eventually landed in Toronto where he became the "Chechen Wolf," a school-aged soccer star. A broken leg interrupted his soccer career and he took up boxing, only to find that it was his greatest love. Now a gold medal winner at the 2015 Pan Am Games, the talented boxer will be on a quest for the ultimate gold medal at the Summer Olympics in Rio de Janeiro.
Outcasts United: The Story of a Refugee Soccer Team That Changed a Town by Warren St. John
Shares the inspirational story of a youth soccer team comprised of refugees from around the world who, under the guidance of a formidable female coach, helped to transform their Georgia community.
Picture Books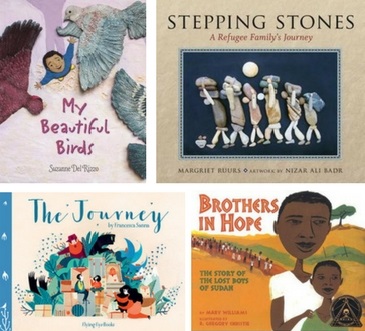 My Beautiful Birds by Suzanne Del Rizzo
Behind Sami, the Syrian skyline is full of smoke. The boy follows his family and all his neighbors in a long line, as they trudge through the sands and hills to escape the bombs that have destroyed their homes. But all Sami can think of is his pet pigeons–will they escape too?
Stepping Stones: A Refugee Family's Journey by Margriet Ruurs, artwork by Nizar Ali Badr
A girl called Rama describes how life changed as conditions got worse in her small town in Syria, and how she and her family finally escaped, undergoing many hardships along the way.
The Journey by Francesca Sanna
What is it like to have to leave everything behind and travel many miles to somewhere unfamiliar and strange? A mother and her two children set out on such a journey; one filled with fear of the unknown, but also great hope. Based on her interactions with people forced to seek a new home, and told from the perspective of a young child, Francesca Sanna has created a beautiful and sensitive book that is full of significance for our time.
Brothers in Hope: The Story of the Lost Boys of Sudan by Mary Williams, illustrated by R. Gregory Christie
Eight-year-old Garang, orphaned by a civil war in Sudan, finds the inner strength to help lead other boys as they trek thousands of miles seeking safety in Ethiopia, then Kenya, and finally in the United States.
Middle Grade Fiction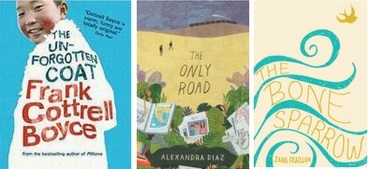 The Unforgotten Coat by Frank Cottrell Boyce
Two refugee brothers from Mongolia are determined to fit in with their Liverpool schoolmates, but bring so much of Mongolia to Bootle that their new friend and guide, Julie, is hard-pressed to know truth from fantasy as she recollects a wonderful friendship that was abruptly ended when Chingis and his family were forced to return to Mongolia.
The Only Road by Alexandra Diaz
Twelve-year-old Jaime makes the treacherous journey from his home in Guatemala to his older brother in New Mexico after his cousin is murdered by a drug cartel.
The Bone Sparrow by Zana Fraillon
Subhi's contained world as a refugee in an Australian permanent detention center rapidly expands when Jimmie arrives on the other side of the fence and asks him to read her late mother's stories to her.
Young Adult Fiction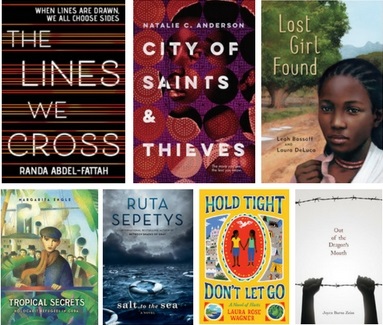 The Lines We Cross by Randa Abdel-Fattah (May 9)
Michael's parents are leaders of a new anti-immigrant political party called Aussie Values which is trying to halt the flood of refugees from the Middle East; Mina fled Afghanistan with her family ten years ago, and just wants to concentrate on fitting in and getting into college–but the mutual attraction they feel demands that they come to terms with their family's concerns and decide where they stand in the ugly anti-Muslim politics of the time.
City of Saints and Thieves by Natalie C. Anderson
Sixteen-year-old Tina and two friends leave Kenya and slip into the Congo, from where she and her mother fled years before, seeking revenge for her mother's murder but uncovering startling secrets.
Lost Girl Found by Leah Bassoff and Laura DeLuca
For Poni, life in her small village in southern Sudan is simple and complicated at the same time. But then the war comes and there is only one thing for Poni to do. Run. Run for her life. Driven by the sheer will to survive and the hope that she can somehow make it to the Kakuma refugee camp in Kenya, Poni sets out on a long, dusty trek across the east African countryside with thousands of refugees.
Tropical Secrets: Holocaust Refugees in Cuba by Margarita Engle
Escaping from Nazi Germany to Cuba in 1939, a young Jewish refugee dreams of finding his parents again, befriends a local girl with painful secrets of her own, and discovers that the Nazi darkness is never far away.
Salt to the Sea by Ruta Sepetys
As World War II draws to a close, refugees try to escape the war's final dangers, only to find themselves aboard a ship with a target on its hull.
Hold Tight, Don't Let Go by Laura Rose Wagner
Magdalie's entire life changes in an instant. One minute, she's an ordinary fifteen-year-old schoolgirl who lives with her aunt and cousin, Nadine, in Port-au-Prince, Haiti. The next minute – after the earthquake hits – her aunt, her home, and her plans for school are all gone.
Out of the Dragon's Mouth by Joyce Burns Zeiss
After the fall of South Vietnam, fourteen-year-old Mai is forced to flee to a refugee camp on an island off the coast of Malaysia, where she must navigate numerous hardships while waiting to be sponsored for entry into America.