As part of the promotion for Here We Are: Feminism For The Real World at ALA Midwinter, Algonquin gave out out some excellent t-shirts that looked like this (with a standard collar, unlike my DIY boatneck):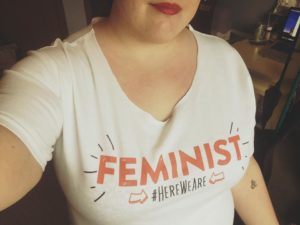 A number of people asked if they could buy one of those shirts, since they weren't able to attend ALA. So, with permission of Algonquin, they're available.
You can pick up a standard crewneck t-shirt, a mug, or a sticker from teespring through Friday, February 3, end of the day — and if there's more interest, I am happy to extend the sale longer. All of the proceeds from the sales will be split between two excellent causes: Girls Write Now and We Need Diverse Books.
As of this post, about $200 will be split and donated. I'd love to be able to hit $500. I think that's totally possible.