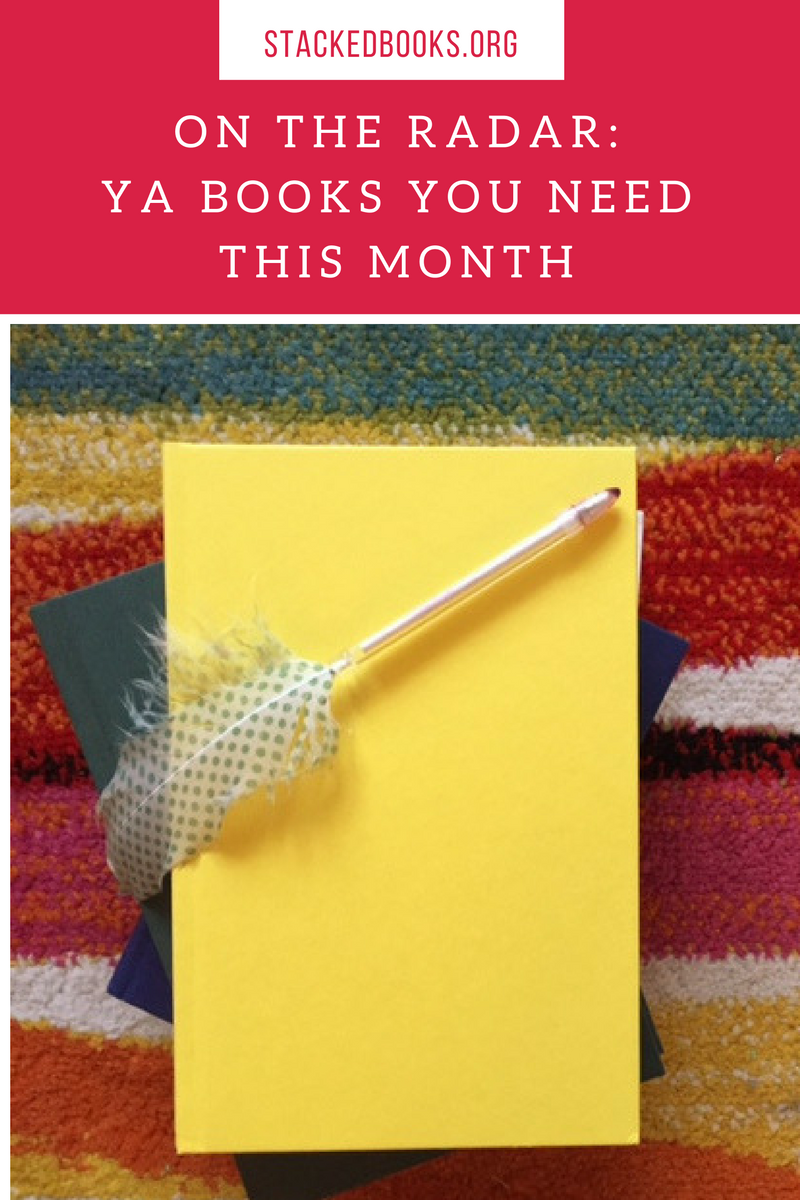 "On The Radar" is a monthly series meant to highlight between 9 and 12 books per month to fit a budget of roughly $300 or less. These lists are curated from a larger spreadsheet I keep with a running list of titles hitting shelves and are meant to reflect not only the big books coming out from authors readers know and love, but it's also meant to showcase some of the titles that have hit my radar through review copies, publicity blasts, or because they're titles that might otherwise not be readily seen or picked up through those traditional avenues. It's part science and part art.
This month, I've pulled 11 titles, a few from well-known authors and/or popular series, and a few that are debut authors whose books are making a splash already. I've also deliberately selected inclusive YA titles, since February is a month where we're seeing quite a few; hopefully, this is a thing we'll continue to see the rest of the year.
Book descriptions come from Goodreads and reasons for putting on your radar are mine and mine alone! Titles are alphabetical, with pub dates beside them.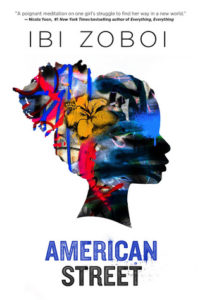 American Street by Ibi Zoboi (February 14)
On the corner of American Street and Joy Road, Fabiola Toussaint thought she would finally find une belle vie—a good life.
But after they leave Port-au-Prince, Haiti, Fabiola's mother is detained by U.S. immigration, leaving Fabiola to navigate her loud American cousins, Chantal, Donna, and Princess; the grittiness of Detroit's west side; a new school; and a surprising romance, all on her own.
Just as she finds her footing in this strange new world, a dangerous proposition presents itself, and Fabiola soon realizes that freedom comes at a cost. Trapped at the crossroads of an impossible choice, will she pay the price for the American dream?
Why it should be on your radar: This is an immigrant story with a gritty urban setting. It's a timely (and timeless!) story.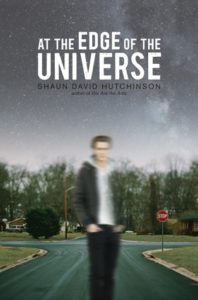 At The Edge of the Universe by Shaun David Hutchinson (February 7)
Tommy and Ozzie have been best friends since second grade, and boyfriends since eighth. They spent countless days dreaming of escaping their small town—and then Tommy vanished.
More accurately, he ceased to exist, erased from the minds and memories of everyone who knew him. Everyone except Ozzie.
Ozzie doesn't know how to navigate life without Tommy, and soon suspects that something else is going on: that the universe is shrinking.
When Ozzie is paired up with new student Calvin on a physics project, he begins to wonder if Calvin could somehow be involved. But the more time they spend together, the harder it is for him to deny the feelings developing between them, even if he still loves Tommy.
But Ozzie knows there isn't much time left to find Tommy–that once the door closes, it can't be opened again. And he's determined to keep it open as long as possible.
Why it should be on your radar: Hutchinson continues to blossom as a staple in YA lit, and even more specifically, a staple author to know for books featuring queer characters whose stories explore the edges past the "coming out" narrative.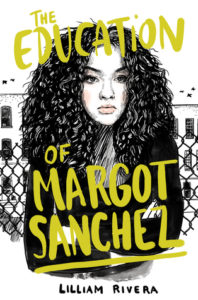 The Education of Margot Sanchez by Lilliam Rivera (February 21)
Pretty in Pink comes to the South Bronx in this bold and romantic coming-of-age novel about dysfunctional families, good and bad choices, and finding the courage to question everything you ever thought you wanted—from debut author Lilliam Rivera.
THINGS/PEOPLE MARGOT HATES:
Mami, for destroying my social life
Papi, for allowing Junior to become a Neanderthal
Junior, for becoming a Neanderthal
This supermarket
Everyone else
After "borrowing" her father's credit card to finance a more stylish wardrobe, Margot
Sanchez suddenly finds herself grounded. And by grounded, she means working as an indentured servant in her family's struggling grocery store to pay off her debts.
With each order of deli meat she slices, Margot can feel her carefully cultivated prep school reputation slipping through her fingers, and she's willing to do anything to get out of this punishment. Lie, cheat, and maybe even steal…
Margot's invitation to the ultimate beach party is within reach and she has no intention of letting her family's drama or Moises—the admittedly good looking but outspoken boy from the neighborhood—keep her from her goal.
Why it should be on your radar: Another urban-set story featuring characters of color — we don't have enough of these sorts of books, and we certainly always have room for more. This debut sounds excellent and has been receiving quite a bit of buzz.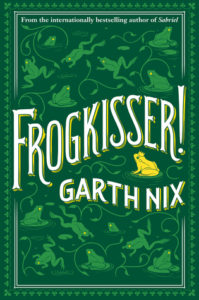 Frogkisser by Garth Nix (February 28)
Poor Princess Anya. Forced to live with her evil stepmother's new husband, her evil stepstepfather. Plagued with an unfortunate ability to break curses with a magic-assisted kiss. And forced to go on the run when her stepstepfather decides to make the kingdom entirely his own.
Aided by a loyal talking dog, a boy thief trapped in the body of a newt, and some extraordinarily mischievous wizards, Anya sets off on a Quest that, if she plays it right, will ultimately free her land-and teach her a thing or two about the use of power, the effectiveness of a well-placed pucker, and the finding of friends in places both high and low.
Why it should be on your radar: Besides being by Garth Nix, this light-hearted fantasy sounds like the kind of book that will fill in some of the gaps in YA collections that need titles on the lower end of the age range. Plus, it sounds fun.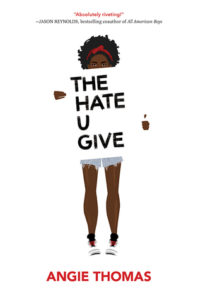 The Hate U Give by Angie Thomas (February 28)
Sixteen-year-old Starr lives in two worlds: the poor neighbourhood where she was born and raised and her posh high school in the suburbs. The uneasy balance between them is shattered when Starr is the only witness to the fatal shooting of her unarmed best friend, Khalil, by a police officer. Now what Starr says could destroy her community. It could also get her killed. Inspired by the Black Lives Matter movement, this is a powerful and gripping YA novel about one girl's struggle for justice.
Why it should be on your radar: This book went to a heated auction among different publishing houses for a reason. This contemporary read explores the Black Lives Matter and has already been optioned for film. It's going to mean a lot of things to a lot of teen readers, particularly those who have an interest and passion for social justice. Excellent characters, realistic teen dialog, and continued buzz mean this one will be passed from teen to teen. No question.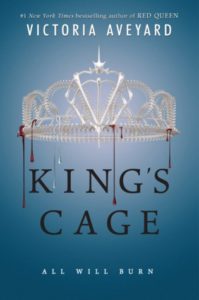 King's Cage by Victoria Aveyard (February 7)
Mare Barrow is a prisoner, powerless without her lightning, tormented by her lethal mistakes. She lives at the mercy of a boy she once loved, a boy made of lies and betrayal. Now a king, Maven Calore continues weaving his dead mother's web in an attempt to maintain control over his country—and his prisoner.
As Mare bears the weight of Silent Stone in the palace, her once-ragtag band of newbloods and Reds continue organizing, training, and expanding. They prepare for war, no longer able to linger in the shadows. And Cal, the exiled prince with his own claim on Mare's heart, will stop at nothing to bring her back.
When blood turns on blood, and ability on ability, there may be no one left to put out the fire—leaving Norta as Mare knows it to burn all the way down.
Why it should be on your radar: It's the third book in the tremendously popular "Red Queen" series. If you haven't acquired the first two, they should be available in paperback for you to fill in.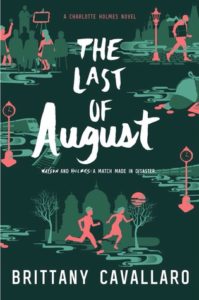 The Last of August by Brittany Cavallaro (February 14)
Jamie Watson and Charlotte Holmes are looking for a winter break reprieve in Sussex after a fall semester that almost got them killed. But nothing about their time off is proving simple, including Holmes and Watson's growing feelings for each other. When Charlotte's beloved uncle Leander goes missing from the Holmes estate—after being oddly private about his latest assignment in a German art forgery ring—the game is afoot once again, and Charlotte throws herself into a search for answers.
So begins a dangerous race through the gritty underground scene in Berlin and glittering art houses in Prague, where Holmes and Watson discover that this complicated case might change everything they know about their families, themselves, and each other.
Why it should be on your radar: The first book in this series, A Study in Charlotte, earned a lot of buzz and positive reviews. It's likely book two will do the same thing. A female-twist on the Sherlock Holmes story.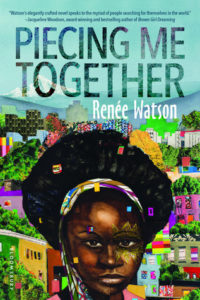 Piecing Me Together by Renée Watson (February 14)
Jade believes she must get out of her neighborhood if she's ever going to succeed. Her mother says she has to take every opportunity. She has. She accepted a scholarship to a mostly-white private school and even Saturday morning test prep opportunities. But some opportunities feel more demeaning than helpful. Like an invitation to join Women to Women, a mentorship program for "at-risk" girls. Except really, it's for black girls. From "bad" neighborhoods.
But Jade doesn't need support. And just because her mentor is black doesn't mean she understands Jade. And maybe there are some things Jade could show these successful women about the real world and finding ways to make a real difference.
Friendships, race, privilege, identity—this compelling and thoughtful story explores the issues young women face.
Why it should be on your radar: Watson's capacity to explore social class, among other topics, makes her work necessary and important in YA collections. These are stories we don't see enough of. Bonus for an incredible cover on this book, too.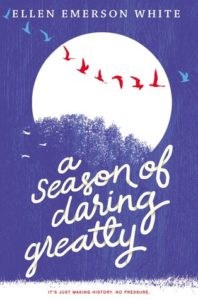 A Season of Daring Greatly by Ellen Emerson White (February 14)
Eighteen-year-old Jill Cafferty just made history. Her high school's star pitcher, she is now the first woman drafted by a major league baseball team. Only days after her high school graduation, she'll join the Pittsburgh Pirates' Class A Short Season team . . . but not everyone is happy to have her there.
On top of the pressure heaped on every pitcher, Jill must deal with defying conventions and living up to impossible expectations, all while living away from home for the first time. She'll go head-to-head against those who are determined to keep baseball an all-male sport. Despite the reassurance of coaches and managers alike, a few of her teammates are giving her trouble. The media presence following her at each game is inescapable. And to top it all off, Jill is struggling with the responsibilities of being a national hero and a role model for young women everywhere. How can she be a role model when she's not even sure she made the right choice for herself? Didn't baseball used to be fun?
Why it should be on your radar: Ellen Emerson White! Girls in sports! The comps for this one are Friday Night Lights and Laurie Halse Anderson, so it'll go. And if popularity of Miranda Kennelly is any indication, readers are itching for girls playing sports and loving athleticism in their YA reads.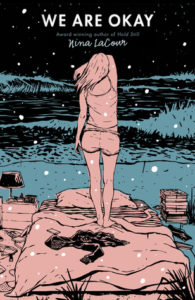 We Are Okay by Nina LaCour (February 14)
"You go through life thinking there's so much you need. . . . Until you leave with only your phone, your wallet, and a picture of your mother."
Marin hasn't spoken to anyone from her old life since the day she left everything behind. No one knows the truth about those final weeks. Not even her best friend Mabel. But even thousands of miles away from the California coast, at college in New York, Marin still feels the pull of the life and tragedy she's tried to outrun. Now, months later, alone in an emptied dorm for winter break, Marin waits. Mabel is coming to visit and Marin will be forced to face everything that's been left unsaid and finally confront the loneliness that has made a home in her heart.
Why it should be on your radar: Nina LaCour is an award winning writer, and her work continues to be getting better and better. This'll certainly go over with your more literary-minded YA readers.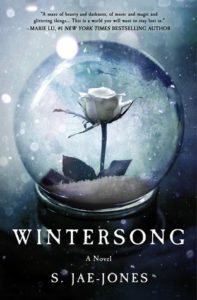 Wintersong by S Jae Jones (February 7)
All her life, nineteen-year-old Liesl has heard tales of the beautiful, mysterious Goblin King. He is the Lord of Mischief, the Ruler Underground, and the muse around which her music is composed. Yet, as Liesl helps shoulder the burden of running her family's inn, her dreams of composition and childish fancies about the Goblin King must be set aside in favor of more practical concerns.
But when her sister Käthe is taken by the goblins, Liesl journeys to their realm to rescue her sister and return her to the world above. The Goblin King agrees to let Käthe go—for a price. The life of a maiden must be given to the land, in accordance with the old laws. A life for a life, he says. Without sacrifice, nothing good can grow. Without death, there can be no rebirth. In exchange for her sister's freedom, Liesl offers her hand in marriage to the Goblin King. He accepts.
Down in the Underground, Liesl discovers that the Goblin King still inspires her—musically, physically, emotionally. Yet even as her talent blossoms, Liesl's life is slowly fading away, the price she paid for becoming the Goblin King's bride. As the two of them grow closer, they must learn just what it is they are each willing to sacrifice: her life, her music, or the end of the world.
Why it should be on your radar: This debut is a stand-alone fantasy story with tremendous appeal.