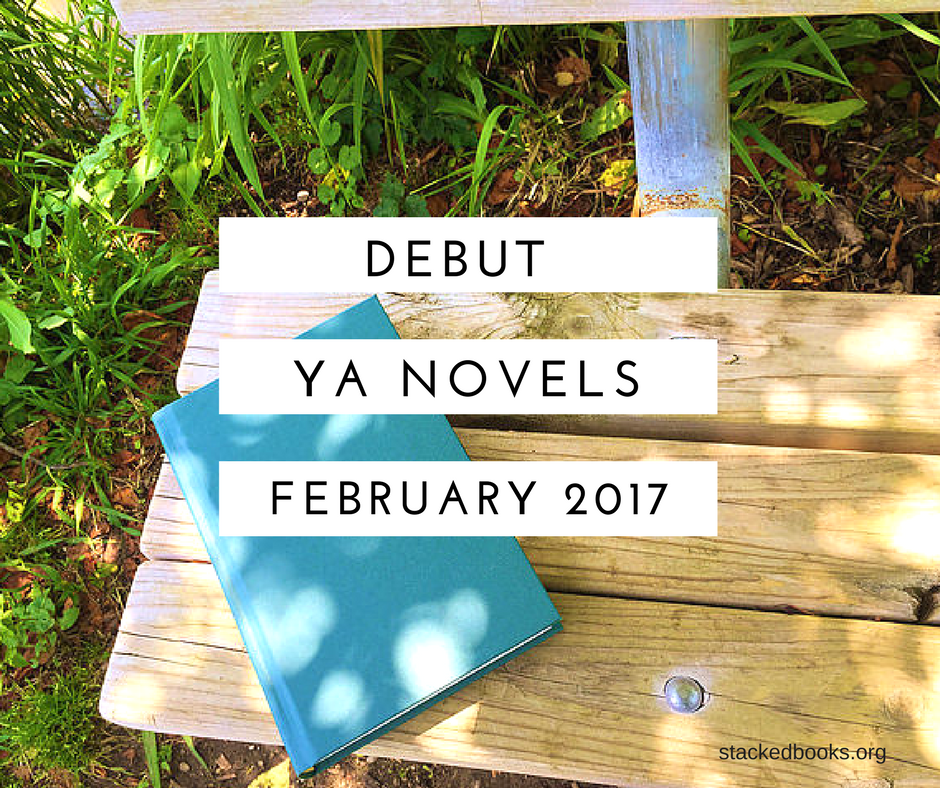 It's time for another round-up of debut YA novels of the month — here's what we've got for February.
This round-up includes debut novels, where "debut" is in its purest definition. These are first-time books by first-time authors. I'm not including books by authors who are using or have used a pseudonym in the past or those who have written in other categories (adult, middle grade, etc.) in the past. Authors who have self-published are not included here either.
All descriptions are from Goodreads, unless otherwise noted; I've found Goodreads descriptions to offer better insight to what a book is about over WorldCat. If I'm missing any debuts out in February from traditional publishers — and I should clarify that indie/small presses are okay — let me know in the comments.
As always, not all noted titles included here are necessarily endorsements for those titles. List is arranged alphabetically by title, with pub dates beside them.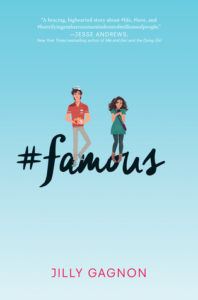 #famous by Jilly Gagnon (2/14)
In this modern-day love story, Girl likes Boy, Girl takes photo of Boy and posts it online, Boy becomes accidentally insta-famous. And what starts out as an innocent joke spirals into a whirlwind adventure that could change both their lives—and their hearts—forever. But are fame and love worth the price?
Told in alternating points of view, #famous captures the out-of-control thrill ride of falling for someone in front of everyone.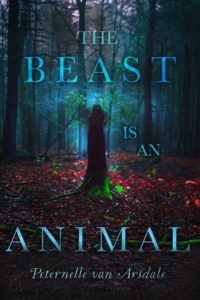 The Beast Is an Animal by Peternelle van Arsdale (2/28)
Alys was seven when the soul eaters came to her village.
These soul eaters, twin sisters who were abandoned by their father and slowly morphed into something not quite human, devour human souls. Alys, and all the other children, were spared—and they were sent to live in a neighboring village. There the devout people created a strict world where good and evil are as fundamental as the nursery rhymes children sing. Fear of the soul eaters—and of the Beast they believe guides them—rule village life. But the Beast is not what they think it is. And neither is Alys.
Inside, Alys feels connected to the soul eaters, and maybe even to the Beast itself. As she grows from a child to a teenager, she longs for the freedom of the forest. And she has a gift she can tell no one, for fear they will call her a witch. When disaster strikes, Alys finds herself on a journey to heal herself and her world. A journey that will take her through the darkest parts of the forest, where danger threatens her from the outside—and from within her own heart and soul.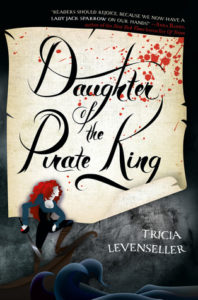 Daughter of The Pirate King by Tricia Levenseller (2/28)
A 17-year-old pirate captain intentionally allows herself to get captured by enemy pirates in this thrilling YA adventure.
Sent on a mission to retrieve an ancient hidden map—the key to a legendary treasure trove—seventeen-year-old pirate captain Alosa deliberately allows herself to be captured by her enemies, giving her the perfect opportunity to search their ship.
More than a match for the ruthless pirate crew, Alosa has only one thing standing between her and the map: her captor, the unexpectedly clever and unfairly attractive first mate, Riden. But not to worry, for Alosa has a few tricks up her sleeve, and no lone pirate can stop the Daughter of the Pirate King.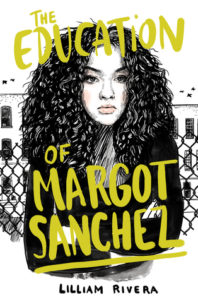 The Education of Margot Sanchez by Lilliam Rivera (2/21)
THINGS/PEOPLE MARGOT HATES:
Mami, for destroying my social life
Papi, for allowing Junior to become a Neanderthal
Junior, for becoming a Neanderthal
This supermarket
Everyone else
After "borrowing" her father's credit card to finance a more stylish wardrobe, Margot
Sanchez suddenly finds herself grounded. And by grounded, she means working as an indentured servant in her family's struggling grocery store to pay off her debts.
With each order of deli meat she slices, Margot can feel her carefully cultivated prep school reputation slipping through her fingers, and she's willing to do anything to get out of this punishment. Lie, cheat, and maybe even steal…
Margot's invitation to the ultimate beach party is within reach and she has no intention of letting her family's drama or Moises—the admittedly good looking but outspoken boy from the neighborhood—keep her from her goal.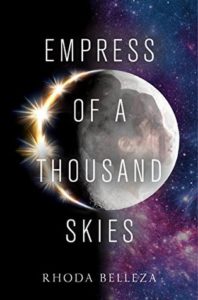 Empress of a Thousand Skies by Rhoda Belleza (2/7)
Empress
Rhee, also known as Crown Princess Rhiannon Ta'an, is the sole surviving heir to a powerful dynasty. She'll stop at nothing to avenge her family and claim her throne.
Fugitive
Aly has risen above his war refugee origins to find fame as the dashing star of a DroneVision show. But when he's falsely accused of killing Rhee, he's forced to prove his innocence to save his reputation – and his life.
Madman
With planets on the brink of war, Rhee and Aly are thrown together to confront a ruthless evil that threatens the fate of the entire galaxy.
A saga of vengeance, warfare, and the true meaning of legacy.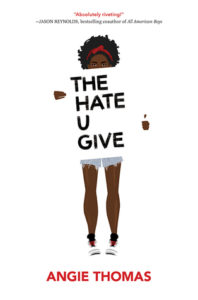 The Hate U Give by Angie Thomas (2/28)
Sixteen-year-old Starr lives in two worlds: the poor neighbourhood where she was born and raised and her posh high school in the suburbs. The uneasy balance between them is shattered when Starr is the only witness to the fatal shooting of her unarmed best friend, Khalil, by a police officer. Now what Starr says could destroy her community. It could also get her killed. Inspired by the Black Lives Matter movement, this is a powerful and gripping YA novel about one girl's struggle for justice.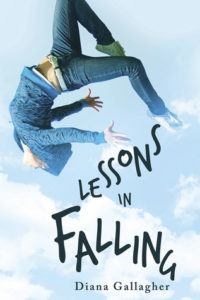 Lessons in Falling by Diana Gallagher (2/7)
When Savannah Gregory blows out her knee –and her shot at a gymnastics scholarship – she decides she's done with the sport forever. Without gymnastics, she has more time for her best friend, Cassie. She's content to let her fun, impulsive best friend plan a memorable senior year.
That is, until Cassie tries to kill herself.
Savannah wants to understand what happened, but Cassie refuses to talk about it and for the first time, Savannah has to find her own way. The only person she can turn to is Marcos, the boy who saved Cassie's life. Being with him makes her see who she could be and what she really wants: gymnastics.
But Cassie doesn't approve of Marcos or of Savannah going back to gymnastics, and the tighter she tries to hold onto Savannah, the farther it pulls them apart. Without Cassie to call the shots, Savannah discovers how capable she is on her own—and that maybe her best friend's been holding her back all along.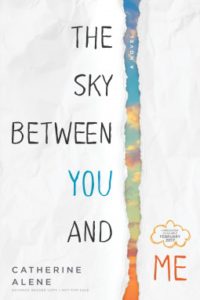 The Sky Between You and Me by Catherine Alene (2/7)
Lighter. Leaner. Faster.
Raesha will do whatever it takes to win Nationals. For her, competing isn't just about the speed of her horse or the thrill of the win. It's about honoring her mother's memory and holding on to a dream they once shared.
Lighter. Leaner. Faster.
For an athlete. Every second counts. Raesha knows minus five on the scale will let her sit deeper in the saddle, make her horse lighter on her feet. And lighter, leaner, faster gives her the edge she needs over the new girl on the team, a girl who keeps flirting with Raesha's boyfriend and making plans with her best friend.
So Raesha focuses on minus five. But if she isn't careful, she will lose more than just the people she loves. She will lose herself to Lighter. Leaner. Faster.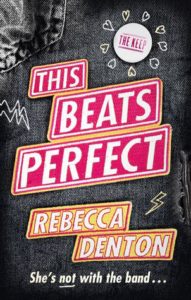 This Beats Perfect by Rebecca Denton (2/2)
Amelie Ayres has impeccable taste in music. Bowie. Bush. Bob. So when she finds herself backstage at The Keep's only UK gig she expects to hate it; after all they are world's most tragic band. In fact she feels a grudging respect – not (obviously) for their music, but for the work that goes in to making them megastars. And when lead singer, 'Maxx', is not dressed up as a cross between Elvis and a My Little Pony, he is actually rather normal, talented and has creative struggles not too dissimilar to her own.
But the next morning she wakes up rolls over and discovers a million new @'s on social media. Overnight a photo of her backstage has made her a subject of global speculation. Suddenly the world needs to know #Who'sThatGirl? – but for all the wrong reasons.
All Amelie wants is to play her music. She's got the guitar, the songs, the soul and, in the safety of her bedroom, she's got the voice. But when it comes to getting up on stage, she struggles with self-doubt.
Immaculate's a concept. Flawless is fake. But just sometimes music – and hearts – can rock a perfect beat.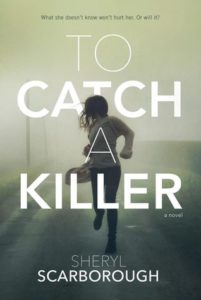 To Catch A Killer by Sheryl Scarborough (2/7)
Erin Blake has one of those names. A name that, like Natalee Holloway or Elizabeth Smart, is inextricably linked to a grisly crime. As a toddler, Erin survived for three days alongside the corpse of her murdered mother, and the case—which remains unsolved—fascinated a nation. Her father's identity unknown, Erin was taken in by her mother's best friend and has become a relatively normal teen in spite of the looming questions about her past.
Fourteen years later, Erin is once again at the center of a brutal homicide when she finds the body of her biology teacher. When questioned by the police, Erin tells almost the whole truth, but never voices her suspicions that her mother's killer has struck again in order to protect the casework she's secretly doing on her own.
Inspired by her uncle, an FBI agent, Erin has ramped up her forensic hobby into a full-blown cold-case investigation. This new murder makes her certain she's close to the truth, but when all the evidence starts to point the authorities straight to Erin, she turns to her longtime crush (and fellow suspect) Journey Michaels to help her crack the case before it's too late.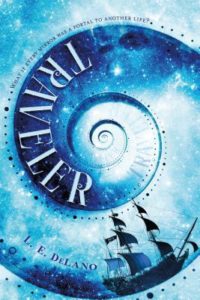 Traveler by LE DeLano (2/7)
Jessa has spent her life dreaming of other worlds and writing down stories more interesting than her own, until the day her favorite character, Finn, suddenly shows up and invites her out for coffee. After the requisite nervous breakdown, Jessa learns that she and Finn are Travelers, born with the ability to slide through reflections and dreams into alternate realities. But it's not all steampunk pirates and fantasy lifestyles…Jessa is dying over and over again, in every reality, and Finn is determined that this time, he's going to stop it… this Jessa is going to live.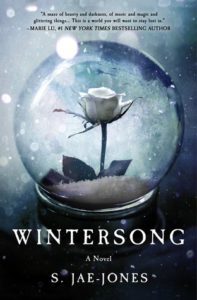 Wintersong by S. Jae-Jones (2/7)
Beware the goblin men and the wares they sell.
All her life, nineteen-year-old Liesl has heard tales of the beautiful, mysterious Goblin King. He is the Lord of Mischief, the Ruler Underground, and the muse around which her music is composed. Yet, as Liesl helps shoulder the burden of running her family's inn, her dreams of composition and childish fancies about the Goblin King must be set aside in favor of more practical concerns.
But when her sister Käthe is taken by the goblins, Liesl journeys to their realm to rescue her sister and return her to the world above. The Goblin King agrees to let Käthe go—for a price. The life of a maiden must be given to the land, in accordance with the old laws. A life for a life, he says. Without sacrifice, nothing good can grow. Without death, there can be no rebirth. In exchange for her sister's freedom, Liesl offers her hand in marriage to the Goblin King. He accepts.
Down in the Underground, Liesl discovers that the Goblin King still inspires her—musically, physically, emotionally. Yet even as her talent blossoms, Liesl's life is slowly fading away, the price she paid for becoming the Goblin King's bride. As the two of them grow closer, they must learn just what it is they are each willing to sacrifice: her life, her music, or the end of the world.