Book covers are one of the most important marketing tools for a book — it's what makes a reader who knows nothing about what is inside pick it up and look at it. A good cover sells a story, which sells a book. A cover that isn't as good can make an otherwise solid story be overlooked in favor of a better, more appealing cover.
One of my favorite things to do is see which books get new covers when they're released into paperback. It used to be that the hardcover books were the covers that sold to libraries and schools, while paperbacks were the ones to appeal to bookstore shoppers (in YA, that would be your teen readers). This isn't necessarily the same, as hardcovers have just as much shelf potential in stores to make a splash in their initial releases. But we also all know that there's a lot of power in what covers get the okay to make it to Big Chain Bookstore shelves.
Here's a look at six YA books getting new looks in paperback. Some of these are standalone titles. Some are part of a series. Some are reissues of titles that have become classics. It's interesting to look and see what the changes might suggest about how the book is being angled. In some cases, the paperback does it better; in others, the original cover is the clear winner. And still in others, they're about the same.
As always, I'd love to hear your thoughts on these changes. Anything you like better or like less? Any other recent changes you think are worth talking about? I've been keeping a list, of course, and just pulled these from the top; there are so many other ones that have recently hit or will be hitting soon.
Covers on the left are the original; covers on the right are the reissue/paperback.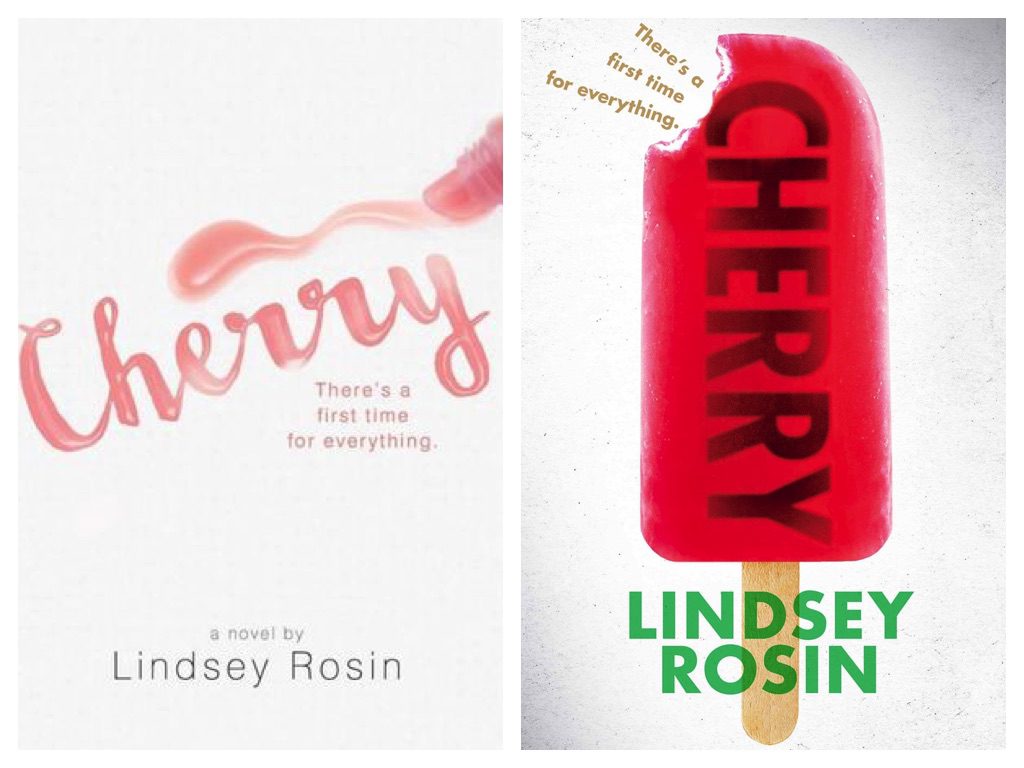 Lindsey Rosin's Cherry was one of my favorite reads last year and one that's criminally underrated. The original cover, with its cherry lipgloss image, really did kind of capture the vibe of the book. It's girl-positive, girl-friendly, and the tag line is the perfect wink-nudge that this is a book about sex. I mean, of course the title helps with that, too.
That said, it's not particularly memorable as a cover on the shelf. It's white with a light pink, and it could easily blend into so many other books.
The hardcover goes a little bolder, while still keeping that wink-nudge. This time, we have a cherry ice cream pop, with one bite out of the top. It's a bolder pink color, and the title within the pink sets it a little bit apart. The tag line being put at the outside of the bite draws eyes in; there's a psychology in how our eyes take in an image, and it's a reverse-6. You start at the top left, then your eyes go out and down, then back up. This design utilizes that backward 6, as your eye is drawn to that tag line, then down and around. The bright green for Rosin's name is a nice touch, too. There's something crisp and fresh about it. The only thing I don't love about the cover is that I've seen it before (Jenny Han's Shug, Ibi Kaslick's Skinny, and so forth).
The paperback ekes out the hardcover just a tiny bit for me. The redesign will hit shelves on August 15.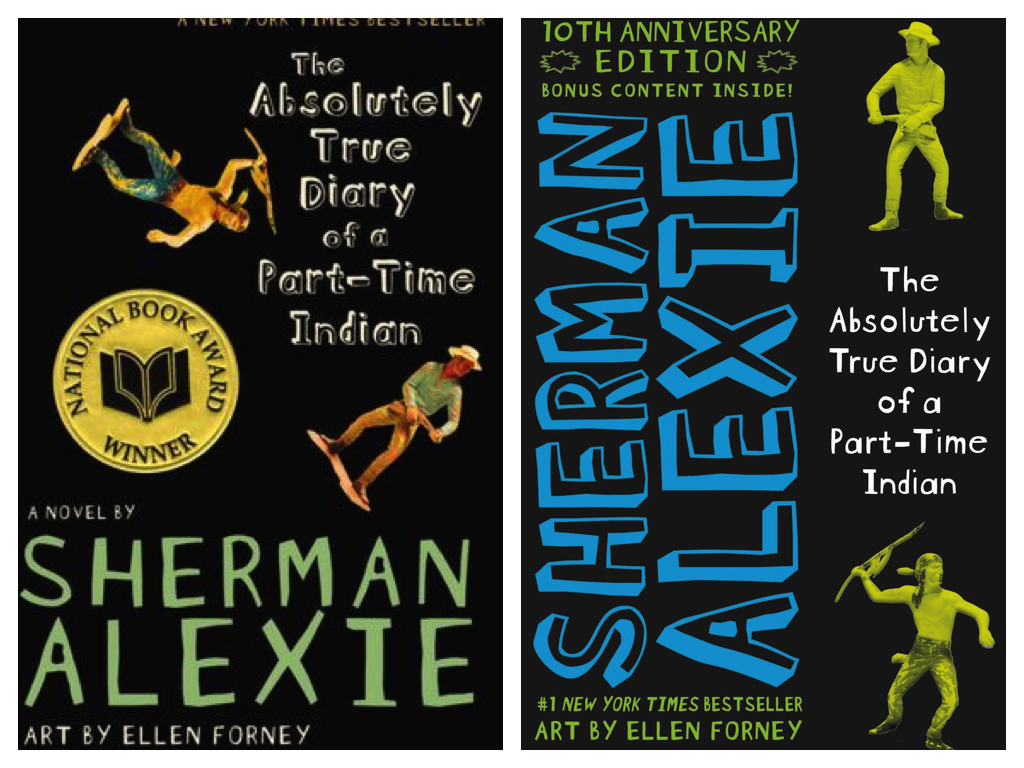 In some ways, it's hard to wrap my head around the idea that Sherman Alexie's The Absolutely True Diary of a Part-Time Indian is ten years old. In other ways, though, it feels like a book that's been around much longer than that, and neither of those statements are about the quality of the book. I picked this one up in my YA lit class in graduate school and fell in love with it, and it's remained a go-to book rec (and best seller and regularly challenged book…) for a reason.
The original cover is iconic and memorable. It's impossible not to connect the toy cowboy and indians to this book and the way they're positioned on the cover expresses a lot about the cultural issues in the story itself.
But that paperback anniversary edition is hard to ignore, too. Maintaining those two plastic toys, their colors have been removed and replaced with a solid green and, like the original cover, Alexie's name takes up the most real estate. But rather than sticking with the original font choice, it's been flipped with the title font from the original design. It's enough of a difference in design to be noticeable and yet, it's also similar enough to pay homage to this book being a modern classic of YA lit.
Both covers are great and represent the book well. Both have good reader appeal, though I do wonder a bit if the paperback, with its emphasis on Alexie's name (taking up more than half of the book) is a bigger appeal to adult readers than to teen YA readers. Perhaps it's also worth noting that the reissue is a hardcover edition, which, while more expensive, means that it can continue to be part of the New York Times Bestsellers list *and* make for an excellent replacement copy for those well-read, well-loved library copies.
The 10th anniversary edition of Alexie's book will be out October 7.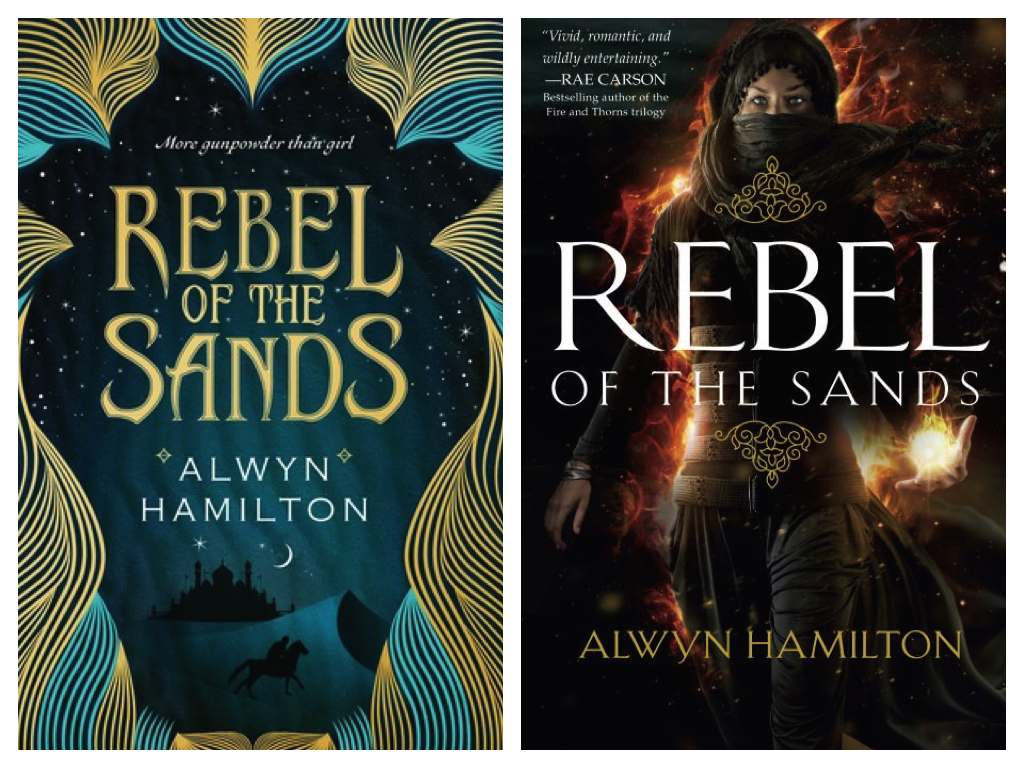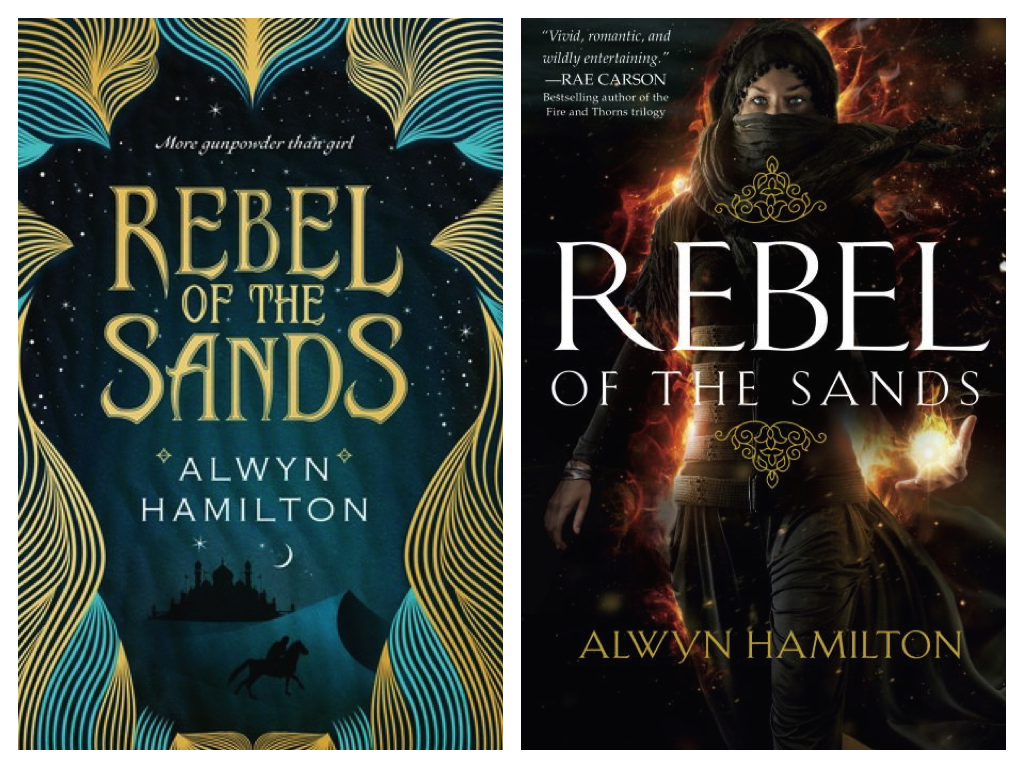 When books change cover in the middle of a series, it's always a reason to pause and consider why the change was made. Was the book not selling? Did another book hit shelves around the same time with a look that might do better with intended readers? I think in the case of Alwyn Hamilton's Rebel of the Sands, it's a little bit of the former, laced with the fact that the original hardcover looks a lot like a retelling of 1001 Nights (which itself has been a trend in recent YA past).
On the one hand, the original cover is striking. It's illustrated and gives a great sense of place. The paperback, on the other hand, screams "this is a read alike for Sarah J Maas" and any other number of recent fantasy series books with female leads. But oh, it's boring. There isn't anything particularly remarkable about the new cover, save for the fact we've dropped the tag line from the hardcover and instead included a blurb from Rae Carson — a likely good addition for readers who love her work and are looking for something similar.
Something about the paperback makes me uncomfortable, and I can't quite put my finger on what it is. It's such a drastic change, maybe, and/or perhaps it's the use of coverings on a model that suggest a religious practice which the book itself doesn't seem to take on. Maybe it's a little of both.
Neither of these are particularly great, but on a personal level, the hardcover catches my eye far more than the overly dark paperback. But for teen readers? I suspect it's likely the opposite.
Rebel of the Sands came out in paperback on February 14.
Another one of my favorite 2016 reads was Anna Breslaw's hilarious and unshy-about-its-feminist-agenda Scarlett Epstein Hates It Here. And this is one of those cases where, I think, both of the covers do the book good justice and for about the same reason.
The hardcover on the left is fun. It's a bright green color, which makes it stand out on a shelf, and further, there's a geeky-looking Jewish girl at the center (if you've read the book, you know Scarlett is Jewish and while a reader who hasn't read the book might not know, the model on the cover might be a good suggestion of that). The sketches are a fun addition, too, as they sort of highlight the idea of fandom, the fact that Scarlett lives in New Jersey, and she has a sense of humor. I'm a big fan of the font for the title, too.
The paperback goes a little further in highlighting Scarlett's Jewish descent. It's set up like a high school class photo, and the expression on the model's face is precisely what I suspect Scarlett would do in many of the situations in the story. The plain striped shirt makes this cover have a timeless feel, which, while a strange thing to think about, is not — style of a model on a book cover can quickly date the cover. The wink-nudge to fandom is right there, too, with the comic bubbles for the second half of the title, as well as the drawn-on sunglasses over her face.
It's interesting to note that the blurb for this book switched in the makeover: we went from a blurb from another author to a blurb from Buzzfeed. I have a suspicion that the Buzzfeed blurb will likely speak to teen readers in a different way than one from DC Pierson. Also of interest: Scarlett's name continues to be in a script-like font, but the "S" in her first name flips the loop. Rather than going from the bottom curse of the "S," it comes from the top.
Both are fun covers and both capture the feel of the book. The paperback will hit shelves on March 28.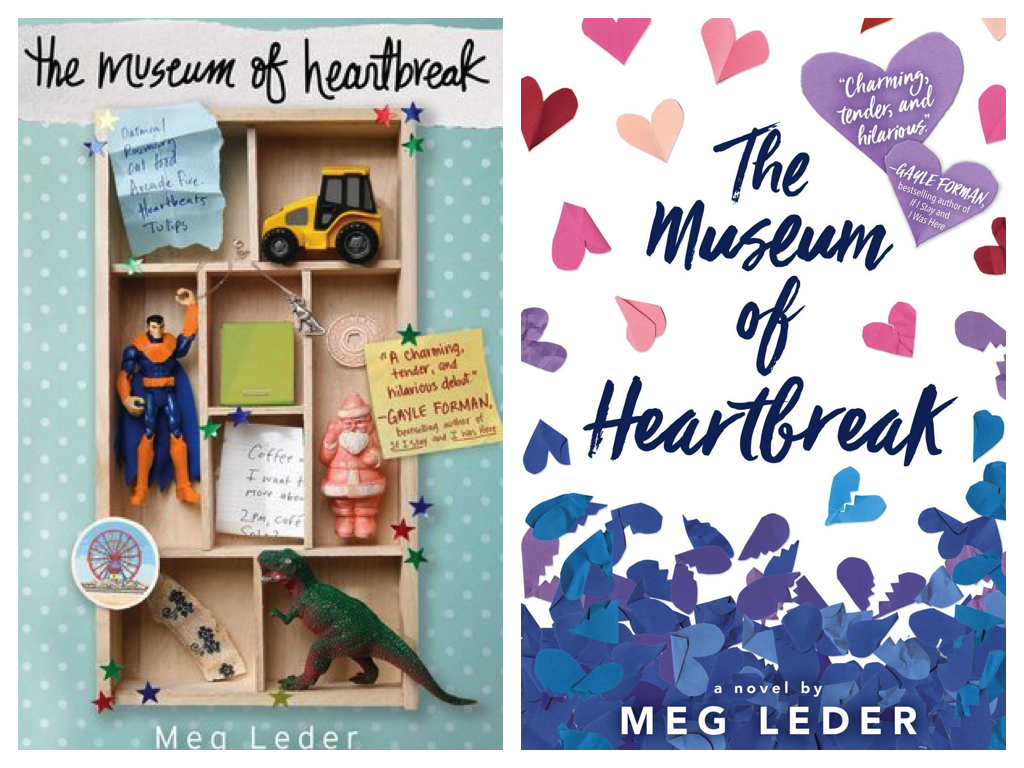 When the publicity for The Museum of Heartbreak reached its peak last spring, I think I was getting an advanced copy every week or so. I know I ended up with a pile of them. But nothing about the cover, as cute as it was, compelled me to pick it up. There was a lot going on, and nothing told me what it was about. Was it a book about collecting things? With "Museum" in the title, I felt a weird disconnect with what was clearly a small shelf of trinkets.
Don't get me wrong. The dinosaur is super cute. And there's a random ferris wheel, a bizarre thing we see periodically on YA covers for some reason. Romance, maybe?
The paperback edition of this book, though, tells me a hell of a lot more about what's inside. This is clearly a romance in some capacity. And while it's again not showcasing the idea of a museum, the broken paper hearts suggest that there might be a collection of some sort going on. More, the title on the paperback is much more prominent and obvious than it is on the paperback.
In many ways, the hardcover original looks like a middle grade novel. Again, I think it's the assortment of trinkets, which, in text, wouldn't feel the same way as it does in an image. The paperback, though, screams YA novel. It might not be the most original, but it does suggest far more about the content, as well as the ideal readership.
The paperback wins for me, though I absolutely see where readers would wholly disagree and love how unique the hardcover is. The Museum of Heartbreak's paperback hits shelves on June 7.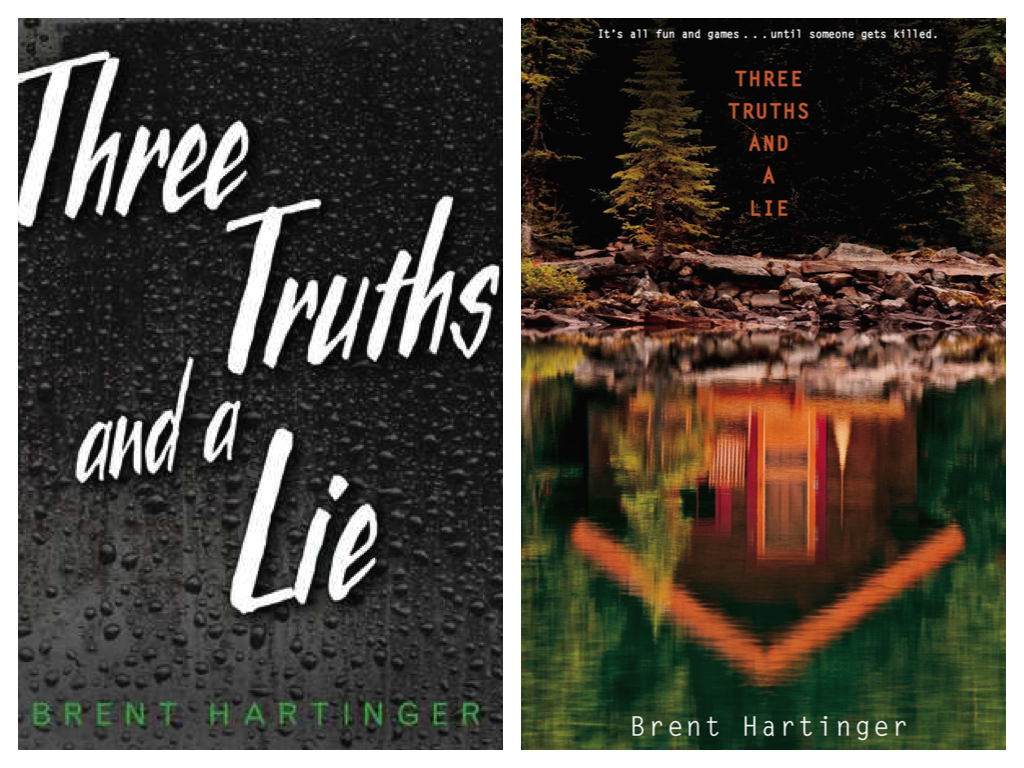 I saved my favorite cover redesign for the final one in this round-up, which I suspect spoils the cover change I think was the best. Brent Hartinger's Three Truths and a Lie is another one of those books I got a few copies of and didn't pick up. The cover told me absolutely nothing except the title, which is a game that we're all familiar with and become familiar with as teenagers (how many times did you have to play this as an ice breaker in a room full of people you don't know?). I had no idea what genre the book was in, except that it was a bit of a departure from Hartinger's other books.
And then I saw the paperback and suddenly, my interest in the book skyrocketed.
This is a thriller. Set in the woods. It's going to have horror vibes. And that tag line is an absolute knock out — "It's all fun and games . . . until someone gets killed." These sorts of thrillers are my favorite, and without the change in covers, I'd have had no idea. I suspect the same will be said among other readers, both because they'll understand the book's genre and want it as soon as possible OR because they'll understand that it's squarely Not A Book For Them.
Readers who keep tabs on these things would likely know that this was a 2017 Edgar Nominee, meaning it's up for consideration as one of the best YA mystery books of the year. But again: without much cover indication, even with the gloomy rain background, it would be a hard sell to readers.
On more shallow notes, I love the richness of the color, the way that it's a reflection on the water (one of my favorite photography techniques). I love how small the title is, which gives that looming sense of doom and fear with that image. Everything about this paperback redesign works. 
The paperback hits shelves on August 1. And honestly, I might pick it up before then, if for no other reason than the paperback told me what it was about, and I'm sold.