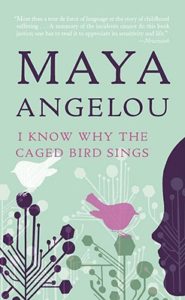 Late last year, I decided 2017 would be the year I dove more fully into the literary canon. I was an English major (you are all shocked), and when I graduated and no longer had to read the classics for my classes, it was a real joy to dive into books that were as far from that category as possible: YA dystopias, adult mysteries, popular nonfiction, and lots of Harry Potter re-reads.
Lately, though, I've been wanting to inject more variety into my reading. Despite all the reading I did for my degree, my knowledge of the (English language) literary canon is not as expansive as I wish it were. It will be ten years this December since I graduated with my BA, so 2017 seems like a good time to revisit some of my roots, to broaden them, and in so doing, learn more about our cultural history.
The first book I chose was I Know Why the Caged Bird Sings by Maya Angelou. I expect most of the books I read for this project will be audiobook reads, and this was a great one to kick it off, since Angelou reads it herself. She's got such a unique voice and cadence, and her story of her first sixteen years of life is engrossing, painful, and important. It's also full of joy and humor in many parts. I like a good memoir, and there's no doubt that Angelou's is among the best, both in terms of content and writing style.
I have read a lot of the classics already, of course; favorites include Jane Eyre, Frankenstein, The Color Purple, and A Christmas Carol. There are definitely some I like less (Mrs. Dalloway, A Tale of Two Cities, Wuthering Heights), and a couple I loathe (Absalom, Absalom!, The Great Gatsby). I look forward to adding more titles to each category this year.
I've made a list of some authors I'd like to read more of for this project, including Jane Austen, Toni Morrison, Salman Rushdie, and Ernest Hemingway. I want to try a few more Dickens titles and finally read The Catcher in the Rye. I want to check out classic adventure tales like Robinson Crusoe and read newer additions to the literary canon like Things Fall Apart and The Brief Wondrous Life of Oscar Wao. I want to broaden the idea of what our English language literary canon should be, too, and I hope you'll help me do so by commenting with a recommendation for a book you loved.