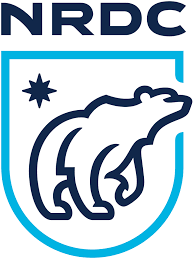 Over this past weekend, I drove out to West Texas and spent a few hours at Big Bend National Park on Monday. (All national parks were free on MLK Day, I hope some of our readers took advantage like I did!) Despite living in Texas most of my life, I had never been to this particular park before. It offers plenty for visitors who only have a few hours (like me) as well as those who want to stay for weeks. I took one of the scenic drives down to Santa Elena Canyon at the Mexican border (here, have a picture), marveled at the mountains, said hello to a coyote, and stood alongside the Rio Grande.
I could go on about the beauty and majesty of this particular park, but this is not a travelogue. My trip to Big Bend, however, was why the environment was on my mind and why I selected the Natural Resources Defense Council as January's organization for my monthly giving. The protection of the Earth and its resources is vital to all people and the generations to come, and the NRDC is one of the most effective organizations fighting for it. It's both no secret and no surprise that our incoming administration has targeted environmental protections, vowing to roll back the progress we've made on ensuring access to little things like clean air and water. The most alarming is the proposed appointment of a man as head of the EPA who "has sued to block every major EPA regulation in recent years." The NRDC's website is a good place to explore to learn about the threat to our shared home and what you can do to fight it.
My 18-month old nephew gave me a membership to the NRDC for Christmas (I expect he had some help from his parents), and I think of him whenever I visit a place like Big Bend. I hope my donation goes a little way toward ensuring both the Earth's beauty and its life-supporting resources will be there for him and all future generations. If you haven't made a charitable contribution this month and have the means, the NRDC would be an excellent choice.
The booklist below features fiction about tweens and teens who are passionate about the Earth, its wildlife, conservation, and sustainability, as well as nonfiction titles that describe the seriousness of the threat to our environment and what we can do about it. Also check out Kelly's Get Genrefied piece from 2014 on climate fiction (cli-fi), a subgenre of science fiction (usually) whose themes tackle the effects of climate change. Descriptions are from WorldCat and links lead to Goodreads.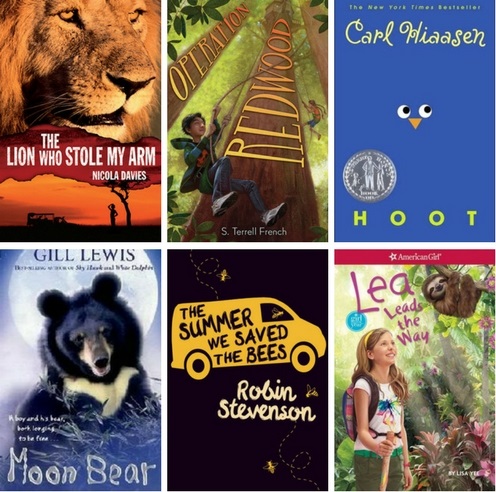 Fiction – Middle Grade
The Lion Who Stole My Arm by Nicola Davies
When his ambition to become a great hunter like his father is crushed by a lion attack that causes him to lose an arm, young Pedru is overcome by a desire to kill the lion that mauled him but questions his resolve when an opportunity arises.
Operation Redwood by S. Terrell French
In northern California, Julian Carter-Li and his friends old and new fight to save a grove of redwoods from an investment company that plans to cut them down.
Hoot by Carl Hiaasen
Roy, who is new to his small Florida community, becomes involved in another boy's attempt to save a colony of burrowing owls from a proposed construction site. | Also by Hiaasen: Flush, Scat
Moon Bear by Gill Lewis
In Laos, twelve-year-old Tam must work at a bear farm where bears are cruelly caged and milked for their bile, but when a familiar cub is brought to the farm, Tam will do anything to free both the cub, and himself.
The Summer We Saved the Bees by Robin Stevenson
Wolf's mother is obsessed with saving the world's honeybees. He gets that. It's another thing entirely when she announces that she's taking her Save the Bees show on the road–family style and complete with mortifying bee costumes. What will it take for Wolf and his sisters to convince her that dragging the family around the province in a beat-up Ford panel van may not be the best idea she ever had?
Lea Leads the Way by Lisa Yee (American Girl)
During a hike with her brother through the Amazon rainforest, fifth-grader Lea discovers a badly injured baby sloth. Lea quickly decides she must do all she can to help the little sloth survive. But as she learns more, she wonders: "Is that the right thing to do?"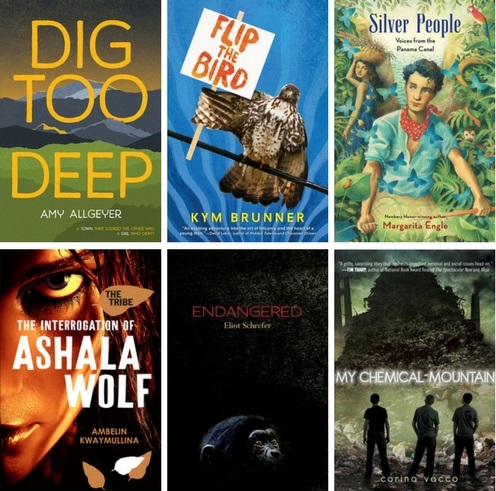 Fiction – Young Adult
Dig Too Deep by Amy Allgeyer
When a nearby mountaintop removal mine is suspected of contaminating the water and sickening the residents of a small Kentucky town, sixteen-year-old Liberty Briscoe searches for answers.
Flip the Bird by Kym Brunner
A teenage falconer in training runs up against trouble when he finds himself falling for a girl who is part of a radical animal rights group.
Silver People: Voices From the Panama Canal by Margarita Engle
Fourteen-year-old Mateo and other Caribbean islanders face discrimination, segregation, and harsh working conditions when American recruiters lure them to the Panamanian rain forest in 1906 to build the great canal.
The Interrogation of Ashala Wolf by Ambelin Kwaymullina
Taking refuge among other teens who are in hiding from a government threatened by their supernatural powers, Ashala covertly practices her abilities only to be captured and interrogated for information about the location of her friends. [Note from KF: This description doesn't show the environmental connections, but they're an integral part of the story, I promise!] | Sequels: The Disappearance of Ember Crow, The Foretelling of Georgie Spider
Endangered by Eliot Schrefer
Sophie is not happy to be back in the Congo for the summer, but when she rescues an abused baby bonobo she becomes more involved in her mother's sanctuary–and when fighting breaks out and the sanctuary is attacked, it is up to Sophie to rescue the apes and somehow survive in the jungle. | Also by Schrefer: Threatened, Rescued
My Chemical Mountain by Corina Vacco
The summer before they begin high school, best friends Jason, Charlie, and Cornpop go after the chemical plant that has been polluting their town, one seeking revenge for his father's death and the others mainly for the thrill of it.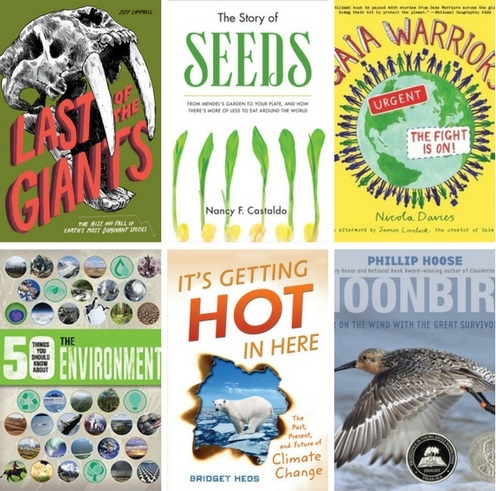 Nonfiction
Last of the Giants: The Rise and Fall of Earth's Most Dominant Species by Jeff Campbell
Today, an ancient world is vanishing right before our eyes: the age of giant animals. Over 40,000 years ago, the earth was ruled by megafauna: mammoths and mastodons, saber-toothed tigers and giant sloths. Of course, those creatures no longer exist, and there is only one likely reason for that: the evolution and arrival of the earth's only tool-wielding hunter, the wildly adaptive, comparatively pint-sized human species. Many more of the world's biggest and baddest creatures–including the black rhino, the dodo, giant tortoises, and the great auk–have vanished since our world became truly global. Last of the Giants chronicles those giant animals and apex predators who were pushed to extinction in the modern era. At the same time, the book also highlights those giant species that remain–even though many barely survive, living in such low numbers that they are on the brink of leaving this world within the next few decades.

The Story of Seeds: From Mendel's Garden to Your Plate, and How There's More of Less to Eat Around the World by Nancy Castaldo
With the growth of genetically modified foods, the use of many seeds is dwindling–of 80,000 edible plants, only about 150 are being cultivated. With a global cast of men and women, scientists and laypeople, and photographic documentation, Nancy Castaldo chronicles where our food comes from, and more importantly, where it is going as she digs deeper into the importance of seeds in our world.
Gaia Warriors by Nicola Davies
Here is a book that takes a clear look at how and why Earth's climate is changing and the ways we can deal with it. Its style is simple and its explanations are compelling, illuminating not only hard facts but also the opinions and potential solutions of scientists all over the world.
50 Things You Should Know About the Environment by Jen Green
From the icy poles to the evergreen rainforests, life has found a way to flourish in nearly every environment on Earth. This book explores the startling discoveries of new life forms in extreme environments, such as the strange worlds of the ocean depths. Whilst marvelling the world around us, it also confronts the human impact on the environment. The mounting evidence for global warming is explored and challenges us to work towards a more sustainable future. Packed with facts, diagrams, infographics and photos, this is the perfect introduction to the wonder and intrigue of our environment.
It's Getting Hot in Here: The Past, Present, and Future of Climate Change by Bridget Heos
This hard-hitting look at climate change tackles the past, present, and future of global warming, examining the effects it's having across the world, the politics behind denial, and the ways in which we can all work to lessen the harsh effects of our warming world. Perfect for young environmentalists looking to learn about the ways in which we can take action against global warming.
Moonbird: A Year on the Wind With the Great Survivor B95 by Philip Hoose
Documents the survival tale of an intrepid shorebird who has endured annual migrations between Argentina and the Canadian Arctic throughout the course of a long lifetime while his species continues to decline. | Also by Hoose: The Race to Save the Lord God-Bird