It's the first of the year, meaning that it's not only time for a fresh start, but it's also the day that Cybils shortlists are announced. I took part in a totally new-to-me category this year: middle grade and young adult nonfiction. For the last three months, I read a lot of nonfiction. I managed to get my hands on nearly every nominated title; just a few didn't get read! It was a lot of fun and a lot of work and I learned a ridiculous amount about great nonfiction for young readers.
Here's our roundup of middle grade short listed titles: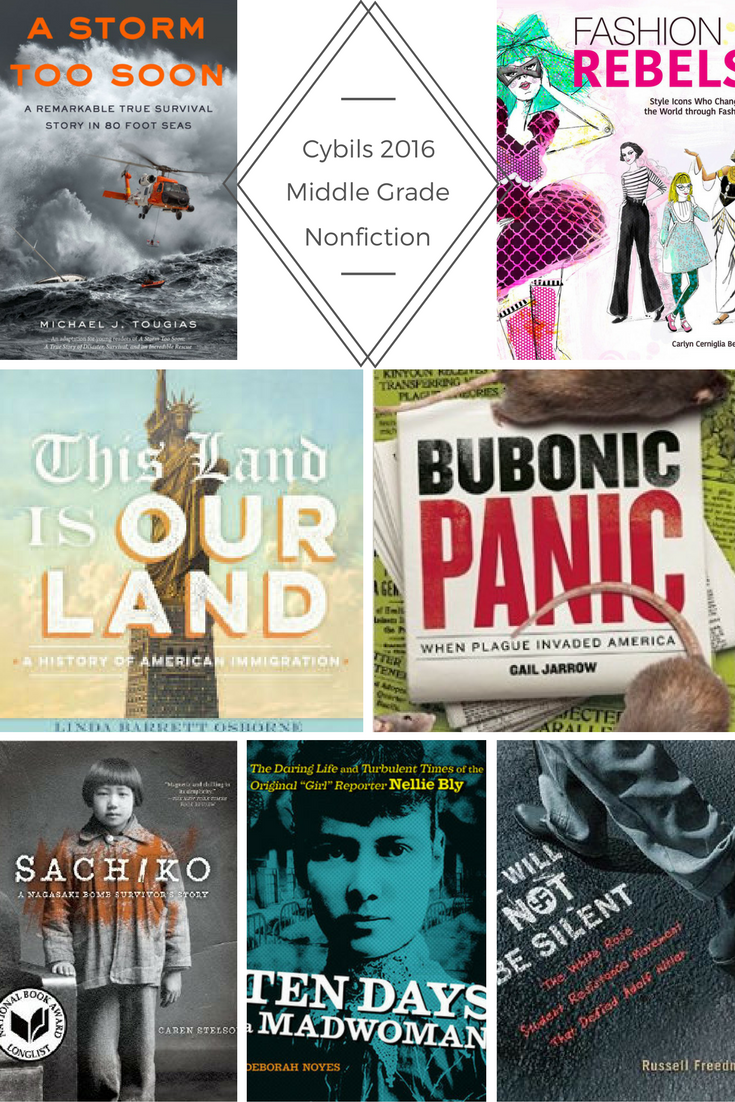 The titles include A Storm Too Soon, Fashion Rebels, This Land Is Our Land, Bubonic Panic, Sachiko, Ten Days A Madwoman, and We Will Not Be Silent. You can read the blurbs about why these were the selected titles right here (and you should!). Each of these titles I found to be great, engaging reads and the range of topics, writing styles, and layouts is really fascinating to see.
Here's the Young Adult nonfiction list: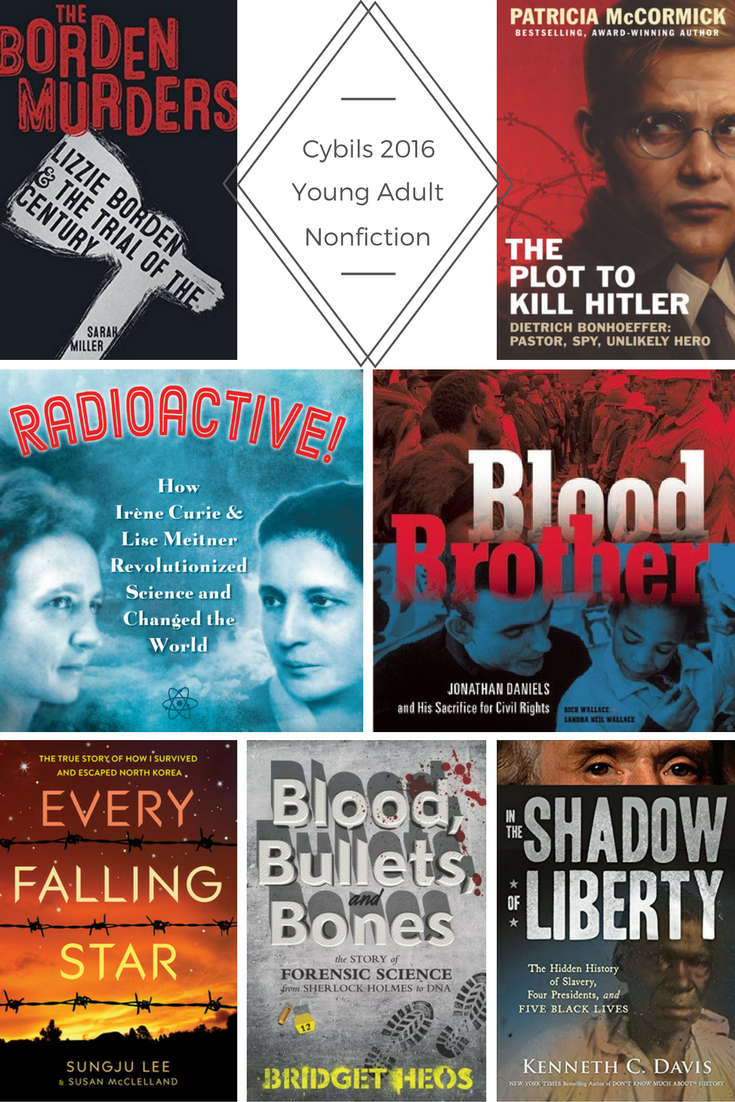 The titles include The Borden Murders, The Plot to Kill Hitler, Radioactive: How Irene Curie and Lise Meitner Revolutionized Science and Changed The World, Blood Brother, Every Falling Star, Blood Bullets Bones, and In The Shadow of Liberty. Again, you can read the reasons why each title was selected here.
I have to say that I'm a fan of every title selected and don't feel there's anything that I read that I wish had made it instead of any of these. A couple of other titles I read and thought were good and would make good reads, especially for readers who seek out nonfiction, include Women in Science by Rachel Ignotofsky (the only collective biography we read that I felt had merit from beginning to end — I found a lot of them to be written poorly and/or overlooked facts that should have been mentioned and/or had errors and/or were just not high on the appeal factor), The Totally Gross History of Ancient Rome by Jeremy Klar (I love social histories of ancient Rome, so this was a case of appealing to me!), All Better Now by Emily Wing Smith (which is a medical/mental health memoir with one of the most unfortunate and unappealing covers out there — you would have a hard time getting someone to pick that one up and know anything about it!), and Forward by Abby Wambach (it's about her life pre- and post-soccer life and even though I knew nothing about her at all, her writing style and honesty in telling her ups and downs through life was engaging).
Some other interesting things of note from this year's nonfiction reading: the feminist-angled nonfiction is not only very white, but when it attempts to be more intersectional, it has half-facts and overlooks other big issues (The F-Word title we read, for example, notes how some women of color fought for equal rights and suffrage, but then doesn't note that the voting Amendment for women was limited to white women). The collective biographies, including the two fashion books, mined a lot of similar material and it was so interesting to see the biases and writing styles shine through each of them. And as noted before, many were not particularly great. I also found myself liking some of the titles in a bigger trim size and not being put off by it, though there was a lot of time spent these last three months thinking about the design of nonfiction and how information can be conveyed well or poorly depending on choices made in the design process.
Fun tidbit from this year's cybils work on my committee was that we finished our discussion very quickly. Like, land speed record quickly. The setup for discussion throughout the reading period made the conversation happen efficiently, but also, there were a lot of clear-cut great reads and clear-cut not-great reads. More, one of the things Jennie, our organizer, mentioned to me was that often, literary merit and reader appeal can work against one another in nonfiction, and that seemed to be really evident in these titles.
I'm glad I took the leap and did this this year. You can catch up on all of the shortlisted titles for "best in kid lit" over on the Cybils blog. Now that my work is done, Kimberly gets to be on the super-secret judging side of round two for graphic novels.