Does anyone still care about 2016? I always feel like I'm cheating a little if I make my best of list before the end of the official year. What if the last book I finish, in the last hours of December 31, turns out to be the most phenomenal book of the year? (It hasn't yet, but in theory, it could happen.)
So I hope some of you are still interested in reading a bit about 2016 books. In no particular order, these were my favorite reads of the year. Most were 2016 publications, but some are backlist. Links lead to my reviews, if I wrote one.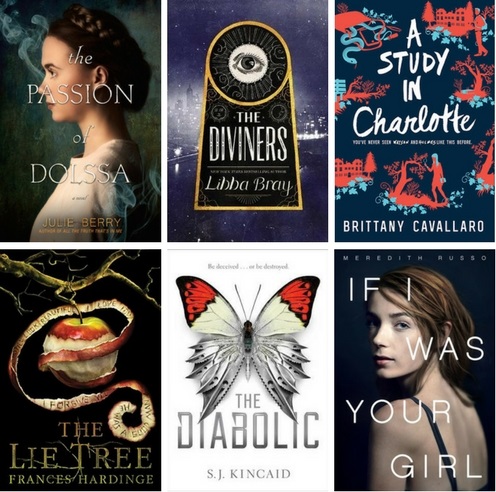 YA Fiction
The Passion of Dolssa by Julie Berry
I loved this story about a teenage female mystic in 13th-century France fleeing persecution and the teenage girl and her sisters who take her in and protect her. It's superb historical fiction – a well-realized setting, characters that feel immediate but not overly modernized, literary and completely absorbing – about a time period not written much about in books for teens. I highly recommend it on audio for the old Provencal pronunciations and spot-on voicing of the two main characters.
The Diviners by Libba Bray
This is by far my favorite book by Libba Bray. It's got a lot going on – 1920s New York setting, supernatural murders, multiple POVs, a main character with magical powers – but Bray makes it all work together. The characters and time period (not usually one of my favorites) are fascinating in her hands, and so is the central mystery.
A Study in Charlotte by Brittany Cavallaro
How I love Sherlock Holmes retellings. This one stands out because of the voice. It's gender-swapped: Charlotte Holmes is the descendant of the "real" Sherlock Holmes, and she inherited his genius at solving crimes as well as his propensity for misandry and drug addiction. She strikes up a tense friendship with James "Jamie" Watson, a descendant of John Watson, who narrates the book. They investigate the murder of a student at the boarding school they both attend, and while the mystery is good, it's the relationship between Charlotte and Jamie that sets this book apart.
The Lie Tree by Frances Hardinge
OK, I know I said that these were in no particular order, but I lied (see what I did there?). This is my favorite book of the year, and the one my workplace selected as our Mock Printz winner (I am so hoping it gets some love from the real Printz committee). It's rare that my favorite book is also one I would consider a contender for an award based solely on literary merit, but there you have it. I loved the melding of historical fiction, fantasy, and mystery; the characters were three-dimensional and interesting; the plot was complex and kept me guessing; and it explores religion vs. science, feminism, and the nature of truth, all things that are catnip for me in fiction.
The Diabolic by S. J. Kincaid
This is a true science fiction treat: a space adventure with a killer hook, complex world-building, political machinations that will interest teenagers, an unusual love story, characters you love and characters you love to hate, and a twisty plot that will leave you breathless. It reminded me of everything I love about science fiction, and as soon as I finished it, I started gushing about it to people. If you're a fan of science fiction at all, pick this up – it's even better than Kincaid's Insignia series, which was excellent as well.
If I Was Your Girl by Meredith Russo
Russo's book is a positive, hopeful story of a Amanda's acclimation to a new school, where no one knows that she was assigned the male gender at birth, not the female gender she knows she is. At heart, it is a sweet teen romance, but the focus broadens to Amanda's family and friends as well. Amanda initially passes easily, but inevitably, she is outed, and this conflict is the main driver of the story. Amanda's voice is authentically teen and readers (cis and trans) will easily empathize and root for her. Not just socially important, this is also just a well-executed story.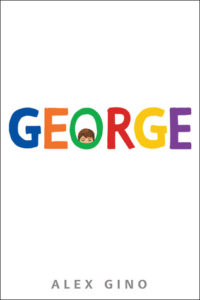 Middle Grade Fiction
George by Alex Gino
Jamie Clayton (a trans actress from Sense8) narrates Gino's young middle grade book about a girl who everyone thinks is a boy. Melissa, as she prefers to be called instead of her given name George, desperately wants to play Charlotte in her school's production of Charlotte's Web, but her teacher tells her that role is reserved for girls – not knowing that Melissa is a girl, too. Melissa's friend decides to help her out, and there is a happy ending. This is a gentle story about a trans child that also doesn't shy away from some of the unpleasantness associated with being trans. This book single-handedly attempts to fill a giant hole in kidlit – books for elementary age kids about trans kids – and it does so wonderfully.
Adult Fiction
The Girl on the Train by Paula Hawkins
I describe this book as the anti-Gone Girl. Like Gone Girl, it's a twisty, psychological thriller about unlikable people who do nasty things and lie about them, but it diverges from Gone Girl in an important way that would be a complete spoiler if I mentioned it here. So just take my word for it and give this immensely popular novel a whirl, if you haven't already.
Station Eleven by Emily St. John Mandel
With this gorgeous gem of a book, Emily St. John Mandel reminded me that adult science fiction is still worth reading. This is literary SF set in a post-flu pandemic America that also flashes back to the times before. It focuses on a variety of characters, but they all revolve around a Hollywood star, Arthur Leander, who is on the brink of being washed-up – or perhaps he has already passed that point before he contracts the flu and dies in the first few pages of the novel. The writing is just so lovely, the characters so real, and Kirsten Potter's voice is perfectly suited to narrate the audio version.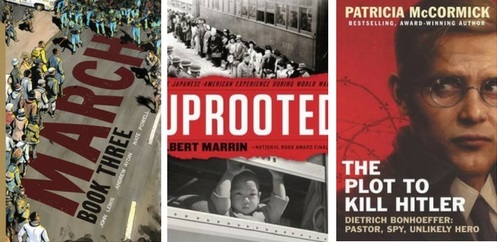 Middle Grade/YA Nonfiction
March: Book Three by John Lewis, Andrew Aydin, and Nate Powell
Ugh, this was just so good. I can see why it won the National Book Award. The story is engrossing, Lewis tells it in such an engaging way, and the art is a terrific complement. I learned so much but never felt like I was reading a textbook or being lectured. Fascinating and important and moving.
Uprooted: The Japanese American Experience During World War II by Albert Marrin
Marrin covers the Japanese-American imprisonment in American concentration camps (with an excellent explanation for why these were concentration camps, not internment camps, both legally and practically speaking). He also delves into Japanese-American participation as soldiers in both the Pacific and the European warfronts. The writing is crisp, the topic absorbing, and Marrin doesn't shy away from calling things what they are – racism, concentration camps, white supremacy. Especially in light of the current climate, this should be required reading for all Americans.
The Plot to Kill Hitler: Dietrich Bonhoeffer: Pastor, Spy, Unlikely Hero by Patricia McCormick
McCormick traces Dietrich Bonhoeffer's life from sensitive young boy to passive resister to outright involvement in some of the most well-known plots to kill Hitler. His life is fascinating and not very well known by many in America (I don't believe I even heard about him until I was an adult myself). McCormick asks her young readers hard questions and challenges them to think deeply about what they would do in Bonhoeffer's situation – and whether doing the right thing, the hard thing, the dangerous thing is worth it even in the face of failure.