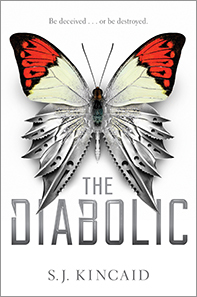 I first read this book in June, and I've been eagerly anticipating its release date (yesterday, November 1!) so I could publish this review. It was my favorite book of the year so far in June; it's held its position since then. With The Diabolic, Kincaid has improved upon her Insignia series (which was quite good) and given us a true science fiction treat: a space adventure with a killer hook, complex world-building, political machinations that will interest teenagers, an unusual love story, characters you love and characters you love to hate, and a twisty plot that will leave you breathless. It's got a bit of a Dune feel, a bit of a Game of Thrones feel, but it's mainly its own thing, and it's definitely written for teens.
Nemesis is a Diabolic, a genetically engineered being created to protect Sidonia, a senator's daughter. Nemesis is strong, ruthless, violent, and loyal to Sidonia only. Like all other Diabolics, she was forced to bond early on with the person she protects, and she is not considered to be fully human – or human at all, really. Years later, when Sidonia is a teenager, the Emperor orders all Diabolics destroyed; they are too dangerous. But Sidonia loves Nemesis, considers her a sister, a part of her family, so she is secretly spared. This comes in handy when Sidonia's father, the senator, angers the Emperor and the Emperor calls for Sidonia to be a hostage at his court as a safeguard against future bad behavior. Because no one knows what Sidonia actually looks like, they decide to send Nemesis instead. After all, protecting Sidonia is what she was made for, and she does it willingly.
The story takes place against a backdrop of war between science and religion. Previous generations created the highly advanced ships and other advancements that their society now takes for granted, but the knowledge of their creation – and how to repair it all – has been lost over time. The ships are failing, and when they do, they're killing people, and ripping holes in space. The Emperor's family long ago imposed a religion that mandates no study of technology or science at all in response to this crisis, which is exactly the opposite tack Sidonia's senator father and his allies think should be taken. Nemesis is caught in the middle of this, as the Emperor intended – or rather, he intended Sidonia to be. Watching Nemesis interact with the Emperor and his family members (who all have different motivations) is one of the joys of reading this book. Every line can have multiple interpretations, and Nemesis must puzzle out exactly what each character's words and actions mean.
I'm a sucker for a well-plotted book, and Kincaid does a fantastic job with The Diabolic. Aside from the main plotline I described above, there are multiple ancillary characters who have intentions – good or ill – for Nemesis-as-Sidonia. Kincaid juggles multiple moving pieces with these characters, their behind the scenes doings, and how they connect (or don't) to Nemesis' situation as hostage. There's also some nifty action scenes and several shocking twists (that make sense in context, so important!). The way everything plays out is so much fun to read. Meanwhile, Nemesis has to continue to convince everyone she's the gentle senator's daughter when she's anything but (this book does get a bit violent at times, and Nemesis does kill to protect Sidonia), and acting in such a way causes her to wonder if she is in fact human. After all, Sidonia always believed she was. And there's a really interesting romance, too, with a character you'll guess right away, but it doesn't develop as you think it will, and the two are actually drawn to each other due to commonalities in personality and goals, not just because they're the two primary young people in the story.
I can't really talk about the ending much, but I want to at least mention how much I love it. It's a conclusive ending, but it also leaves an opening for Nemesis to change her mind, to further analyze the situation and the people around her and make changes based upon that analysis. The book ends here, and it's a good ending, but Nemesis' story goes on.
This should be a surefire hit with almost any teen science fiction fan. It's a big story with tons of appeal factors: space travel, futuristic technology, an interesting new world, plot twists galore, a touch of romance, ruminations on the nature of humanity, and a kickass protagonist. Highly recommended.