I didn't think I was going to write anything today. Mostly, I felt like I had no words to express what I was feeling in a way that would be relevant to our mission here at Stacked – how could I write about books today, and who would even care if I did?
But then I woke up this morning, with my grief a blanket around me, and my feelings of anger, despair, and hopelessness began to coalesce and transform into something else: a drive to do something useful. As a white woman, it's been amply demonstrated that I, and others like me, did not do enough in the past weeks and months. For me at least, that ends today.
I have always felt like my job is part of the way I help further social justice. It was true when I was doing face to face public service, helping people find jobs and information and a friendly face, and it's true now when I work behind the scenes, selecting books for kids. Every time I select a book that features a child of color, or a trans teenager, or a disabled person, or any other person whom our culture overwhelmingly says is of less value, I know that book is vital and could change a child's life. Sometimes these actions feel small – it's my job to do this, after all – but I have known too many librarians who think buying books that feature kids like these is tokenism or "PC" or a waste of money.
But my paid work is not enough, nor is championing diversity on the blog. Not anymore. So today I made the choice, as one of many more steps I will take, to contribute financially. Each month, I'll select an organization to donate money to, and because I want my actions to reverberate as loudly as possible so as to inspire others to do the same, I'm posting about it on social media and I'm going to post about it here, too. Because I'm a librarian and I can't help it, there will be a book list with each post. My sincerest hope is that our readers will choose to donate alongside me, particularly if you have the means and you don't already contribute regularly to other groups. Even a small donation can help.
This month, I chose to donate to the Trans Lifeline, a non-profit run by transgender people for transgender people. In their own words: "Trans Lifeline volunteers are ready to respond to whatever support needs members of our community might have." Trans people are some of the most vulnerable people in our country, and this is one way we can help. A $25 donation pays for one day of calls, and any number of those calls could improve – or save – people's lives.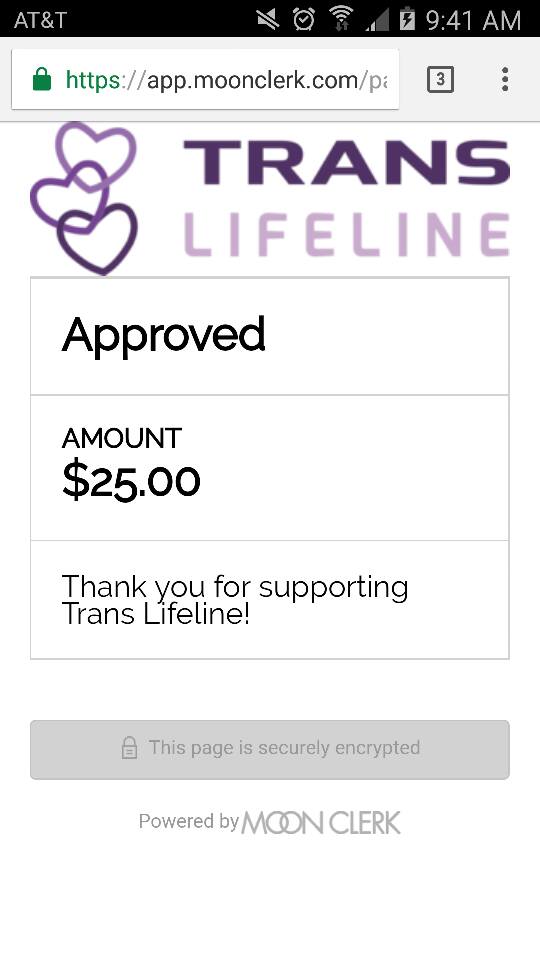 And here's a list of recommended books about trans & gender-nonconforming kids and teens, perfect for a display. As always, check out the Stonewall Book Awards (the Mike Morgan and Larry Romans Award is for youth) and the Rainbow Book List for more worthy titles about trans kids and teens plus others who identify within the GLBTQ acronym.
FICTION
10,000 Dresses by Marcus Ewert
Jacob's New Dress by Sarah and Ian Hoffman
Introducing Teddy by Jess Walton
George by Alex Gino (#ownvoices)
Gracefully Grayson by Ami Polonsky
The Other Boy by M. G. Hennessey
If I Was Your Girl by Meredith Russo (#ownvoices)
How Beautiful the Ordinary: Twelve Stories of Identity edited by Michael Cart (includes some #ownvoices)
Beautiful Music for Ugly Children by Kirstin Cronn-Mills
Happy Families by Tanita S. Davis
Parrotfish by Ellen Wittlinger
Almost Perfect by Brian Katcher
Beast by Brie Spangler
Luna by Julie Anne Peters
I Am J by Cris Beam
Jess, Chunk, and the Road Trip to Infinity by Kristin Elizabeth Clark
NONFICTION
I Am Jazz by Jazz Jennings and Jessica Herthel (#ownvoices)
Being Jazz: My Life as a Transgender Teen by Jazz Jennings (#ownvoices)
Rethinking Normal: A Memoir in Transition by Katie Rain Hill (#ownvoices)
Some Assembly Required: The Not-So-Secret Life of a Transgender Teen by Arin Andrews (#ownvoices)
This Book is Gay by James Dawson
Beyond Magenta: Transgender Teens Speak Out edited by Susan Kuklin (#ownvoices)
The Gender Quest Workbook: A Guide for Teens and Young Adults Exploring Gender Identity by Rylan Jay Testa