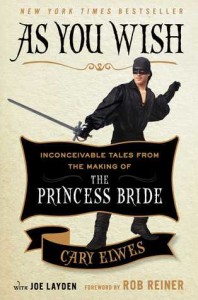 Do you need something happy and palate-cleansing to temporarily take your mind off the shithole that our country is descending into? Are you a fan of The Princess Bride? If your answer to both of those questions is yes, and I'm assuming it will be for most of our readers, allow me to recommend As You Wish, an excellent audiobook by Cary Elwes (with some help from Joe Layden) about the making of The Princess Bride, full of fun little stories and a huge heaping of love for everyone involved.
If you're at all like me, it can be a bit of a bummer to learn that some of the actors or writers or creators involved in a piece of art you love actually hated each other. We want the actors to be as charming and kind as the characters they portray; we want their on-screen friendships to be mimicked behind the scenes. There's nothing to fear about The Princess Bride in this regard – according to Elwes, Rob Reiner was the kindest of directors, Robin Wright was the most talented and beautiful of co-stars, and Andre the Giant's stature matched his heart. In fact, everyone got along so well and the movie they made was so magical, many of them remember it as the best movie-making experience of their entire careers.
Elwes takes his listeners on a journey from the time he was cast as Westley to the movie's release and the cast reunion 25 years later. Other actors and people involved voice their own parts as well, including Rob Reiner, William Goldman (referred to as Bill by Elwes), Robin Wright, Wallace Shawn, Billy Crystal (calling in by phone), Christopher Guest, and Chris Sarandon. Hearing this chorus of voices really does an excellent job of bringing the listener right back into the world of the movie, and I highly recommend you listen to this on audio because of it.
We learn that Elwes, on Andre the Giant's urging, took Andre's ATV out for an ill-advised spin and broke his toe, which is why you can see him limping a bit as he and Buttercup race into the Fire Swamp. There's an amusing story about one of the stuntmen who portrayed a rodent of unusual size, and Wallace Shawn talks about his enduring fear that he could never measure up to Danny DeVito, whom the producers initially wanted for Vizzini (Reiner is quick to reassure us that Shawn was always the top pick and did a perfect job). Billy Crystal and Carol Kane's improv skills are lauded, and Elwes talks about how difficult it was not to laugh while he was supposed to be mostly dead at Miracle Max's. There's nothing hugely revelatory in any of these little stories, and that's kind of the point, I think. Everyone got along and they all remain friends. The film was a joy to make, and they produced something they're proud of and that endures. Elwes portrays the film's making as we all hoped it was: just like the film itself.