I got a little bit backlogged last month and didn't get the debut YA novels round-up posted before September ended. Thus, this round-up includes both September debuts and October debuts.
Like always, this round-up includes debut novels, where "debut" is in its purest definition. These are first-time books by first-time authors. I'm not including books by authors who are using or have used a pseudonym in the past or those who have written in other categories (adult, middle grade, etc.) in the past. Authors who have self-published are not included here either.
All descriptions are from WorldCat or Goodreads, unless otherwise noted. If I'm missing any debuts out in August from traditional publishers — and I should note that indie/small presses are okay — let me know in the comments.
As always, not all titles included here are necessarily endorsements for those titles.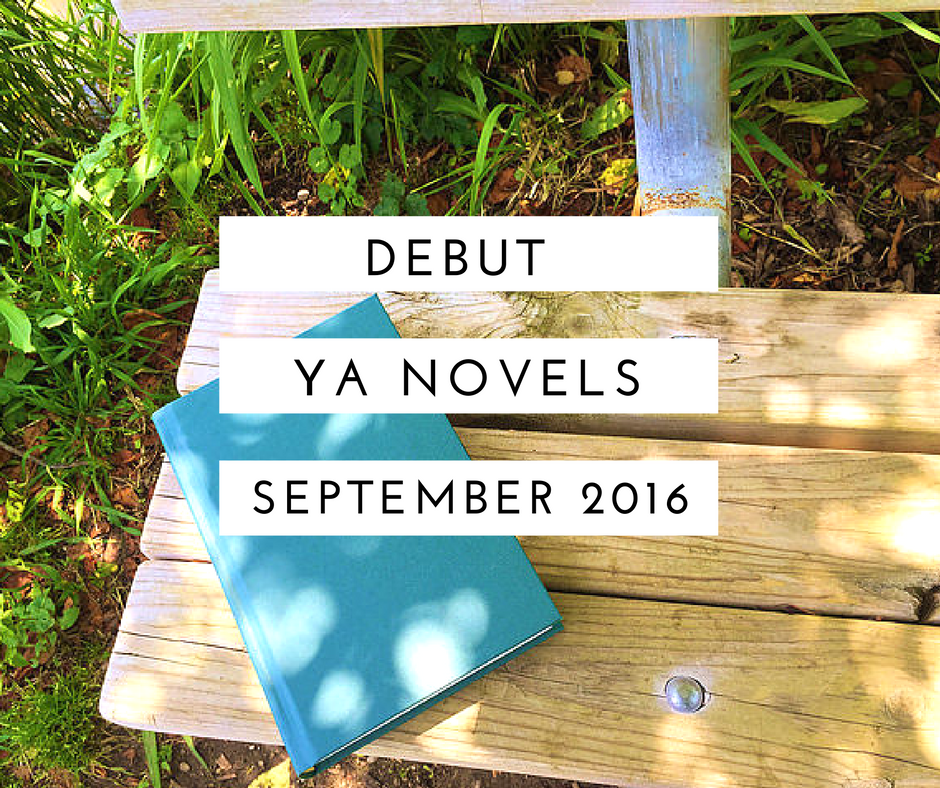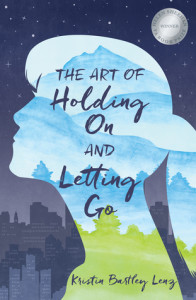 The Art of Hold On and Letting Go by Kristin Bartley Lenz
Competitive climber Cara Jenkins feels most at home high off the ground, clinging to a rock wall by her fingertips. She's enjoyed a roaming life with her mountaineering parents, making the natural world her jungle gym, the writings of Annie Dillard and Henry David Thoreau her textbooks. But when tragedy strikes on an
Ecuadoran mountaintop, Cara's nomadic lifestyle comes to an abrupt halt.
Starting over at her grandparents' home in suburban Detroit, Cara embarks on a year of discovery, uncovering unknown strengths, friendships, and first love. Cara's journey illustrates the transformative power of nature, love and loss, and discovering that home can be far from where you started.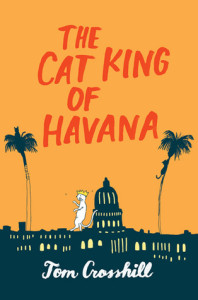 The Cat King of Havana by Tom Crosshill
Rick Gutierrez is . . . the Cat King of Havana! A cat-video tycoon turned salsa-dancer extraordinaire, he'll take Cuba by storm, romance the girl of his dreams, and ignite a lolcat revolution!
At least that's the plan.
It all starts when his girlfriend dumps Rick on his sixteenth birthday for uploading cat videos from his bedroom when he should be out experiencing the real world. Known as "That Cat Guy" at school, Rick isn't cool and he knows it. He realizes it's time for a change.
Rick decides joining a salsa class is the answer . . . because of a girl, of course. Ana Cabrera is smart, friendly, and smooth on the dance floor. Rick might be half-Cuban, but he dances like a drunk hippo. Desperate to impress Ana, he invites her to spend the summer in Havana. The official reason: learning to dance. The hidden agenda: romance under the palm trees.
Except Cuba isn't all sun, salsa, and music. There's a darker side to the island. As Rick and Ana meet his family and investigate the reason why his mother left Cuba decades ago, they learn that politics isn't just something that happens to other people. And when they find romance, it's got sharp edges.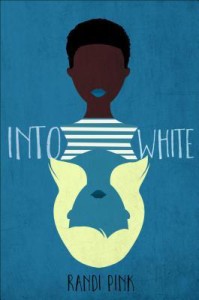 Into White by Randi Pink
When a black teenager prays to be white and her wish comes true, her journey of self-discovery takes shocking–and often hilarious–twists and turns in this debut that people are sure to talk about.
LaToya Williams lives in Birmingham, Alabama, and attends a mostly white high school. She's so low on the social ladder that even the other black kids disrespect her. Only her older brother, Alex, believes in her. At least, until a higher power answers her only prayer–to be "anything but black." And voila! She wakes up with blond hair, blue eyes, and lily white skin. And then the real fun begins . . .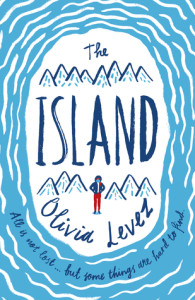 The Island by Olivia Levez
Frances is alone on a small island in the middle of the Indian Ocean. She has to find water and food. She has to survive. And when she is there she also thinks about the past. The things that she did before. The things that made her a monster. Nothing is easy. Survival is hard and so is being honest about the past. Frances is a survivor however, and with the help of the only other crash survivor, she sees that the future is worth fighting for.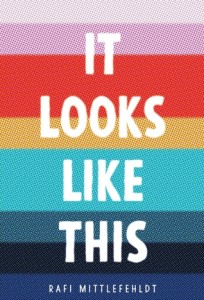 It Looks Like This by Rafi Mittlefehldt
A new state, a new city, a new high school. Mike's father has already found a new evangelical church for the family to attend, even if Mike and his plainspoken little sister, Toby, don't want to go. Dad wants Mike to ditch art for sports, to toughen up, but there's something uneasy behind his demands.
Then Mike meets Sean, the new kid, and "hey" becomes games of basketball, partnering on a French project, hanging out after school. A night at the beach. The fierce colors of sunrise. But Mike's father is always watching. And so is Victor from school, cell phone in hand.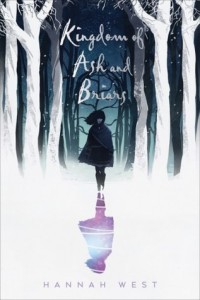 Kingdom of Ash and Briars by Hannah West
Bristal, an orphaned kitchen maid, lands in a gritty fairy tale gone wrong when she discovers she is an elicromancer with a knack for shape-shifting. An ancient breed of immortal magic beings, elicromancers have been winnowed down to merely two – now three – after centuries of bloody conflict in the realm. Their gifts are fraught with responsibility, and sixteen-year-old Bristal is torn between two paths. Should she vow to seek the good of the world, to protect and serve mortals? Or should she follow the strength of her power, even if it leads to unknown terrors? She draws on her ability to disguise herself as a man to infiltrate a prince's band of soldiers, and masquerades as a fairy godmother to shield a cursed princess, but time is running out. As an army of dark creatures grows closer, Bristal faces a supernatural war. To save the kingdoms, Bristal must find the courage to show her true form.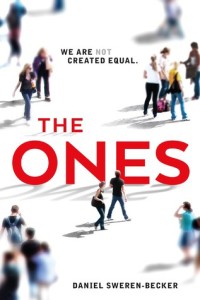 The Ones by Daniel Sweren-Becker
Cody has always been proud of being a One. She and her boyfriend James were two of the lucky babies from the 1% of the U.S. population that were randomly selected to benefit from genetic engineering. Now, she and the rest of The Ones are excelling. They are healthy, beautiful, and talented. They aren't otherworldly, just perfect. And to some, that's not fair. The Equality Movement, capitalizing on the growing fear and jealousy, gains political traction and actually outlaws their existence. Society shows its darker side as The Ones are marginalized. The line between right and wrong blurs in the face of injustice and Cody becomes closer to a group of radical Ones intent on fighting back. James begins to fear just how far she is willing to go for the cause.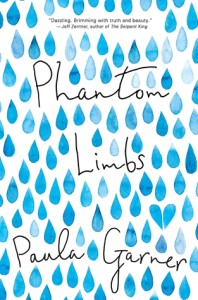 Phantom Limbs by Paula Garner
Otis and Meg were inseparable until her family abruptly moved away after the terrible accident that left Otis's little brother dead and both of their families changed forever. Since then, it's been three years of radio silence, during which time Otis has become the unlikely protégé of eighteen-year-old Dara—part drill sergeant, part friend—who's hell-bent on transforming Otis into the Olympic swimmer she can no longer be. But when Otis learns that Meg is coming back to town, he must face some difficult truths about the girl he's never forgotten and the brother he's never stopped grieving. As it becomes achingly clear that he and Meg are not the same people they were, Otis must decide what to hold on to and what to leave behind.
The Reader by Traci Chee
Sefia lives her life on the run. After her father is viciously murdered, she flees to the forest with her aunt Nin, the only person left she can trust. They survive in the wilderness together, hunting and stealing what they need, forever looking over their shoulders for new threats. But when Nin is kidnapped, Sefia is suddenly on her own, with no way to know who's taken Nin or where she is. Her only clue is a strange rectangular object that once belonged to her father left behind, something she comes to realize is a book.
Though reading is unheard of in Sefia's world, she slowly learns, unearthing the book's closely guarded secrets, which may be the key to Nin's disappearance and discovering what really happened the day her father was killed. With no time to lose, and the unexpected help of swashbuckling pirates and an enigmatic stranger, Sefia sets out on a dangerous journey to rescue her aunt, using the book as her guide. In the end, she discovers what the book had been trying to tell her all along: Nothing is as it seems, and the end of her story is only the beginning.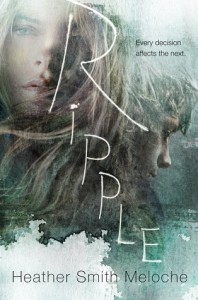 Ripple by Heather Smith Meloche
With her impossible-to-please grandmother on her back about college and her disapproving step-dad watching her every move, Tessa would do anything to escape the pressure-cooker she calls home. So she finds a shot of much-needed power and confidence by hooking up with boys, even though it means cheating on her boyfriend. But when she's finally caught red-handed, she'll do anything she can to cover up what she's done.
Jack is a prankster who bucks the system every chance he gets—each transgression getting riskier and riskier. He loves the thrill, and each adventure allows a little release because his smug smile and suave demeanor in the face of authority doesn't make life at home with his mom any less tough. He tries to take care of her, but the truth is he's powerless in the face of her fragile mental health. So he copes in his own way, by defacing public property and pulling elaborate pranks, though he knows in the end this'll only screw up his life even more.
As they both try not to let their self-destructive patterns get the best of them, Tessa and Jack gravitate toward one another, discovering the best parts of themselves in the process. An honest portrayal of the urges that drive us and finding the strength to overcome them.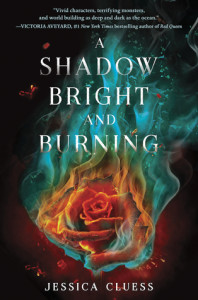 A Shadow Bright and Burning by Jessica Cluess
Henrietta Howel can burst into flames. When she is brought to London to train with Her Majesty's sorcerers, she meets her fellow sorcerer trainees, young men eager to test her powers and her heart. One will challenge her. One will fight for her. One will betray her. As Henrietta discovers the secrets hiding behind the glamour of sorcerer life, she begins to doubt that she's the true prophesied one. With battle looming, how much will she risk to save the city–and the one she loves?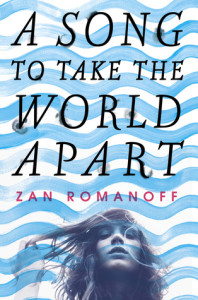 A Song To Take The World Apart by Zan Romanoff
Hanging out with Chris was supposed to make Lorelei's life normal. He's cooler, he's older, and he's in a band, which means he can teach her about the music that was forbidden in her house growing up. Her grandmother told her when she was little that she was never allowed to sing, but listening to someone else do it is probably harmless— right?
The more she listens, though, the more keenly she can feel her own voice locked up in her throat, and how she longs to use it. And as she starts exploring the power her grandmother never wanted her to discover, influencing Chris and everyone around her, the foundations of Lorelei's life start to crumble. There's a reason the women in her family never want to talk about what their voices can do.
And a reason Lorelei can't seem to stop herself from singing anyway.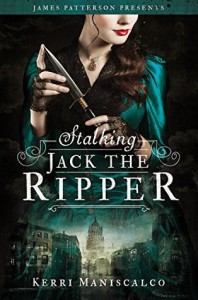 Stalking Jack The Ripper by Keri Maniscalco
Seventeen-year-old Audrey Rose Wadsworth was born a lord's daughter, with a life of wealth and privilege stretched out before her. But between the social teas and silk dress fittings, she leads a forbidden secret life.
Against her stern father's wishes and society's expectations, Audrey often slips away to her uncle's laboratory to study the gruesome practice of forensic medicine. When her work on a string of savagely killed corpses drags Audrey into the investigation of a serial murderer, her search for answers brings her close to her own sheltered world.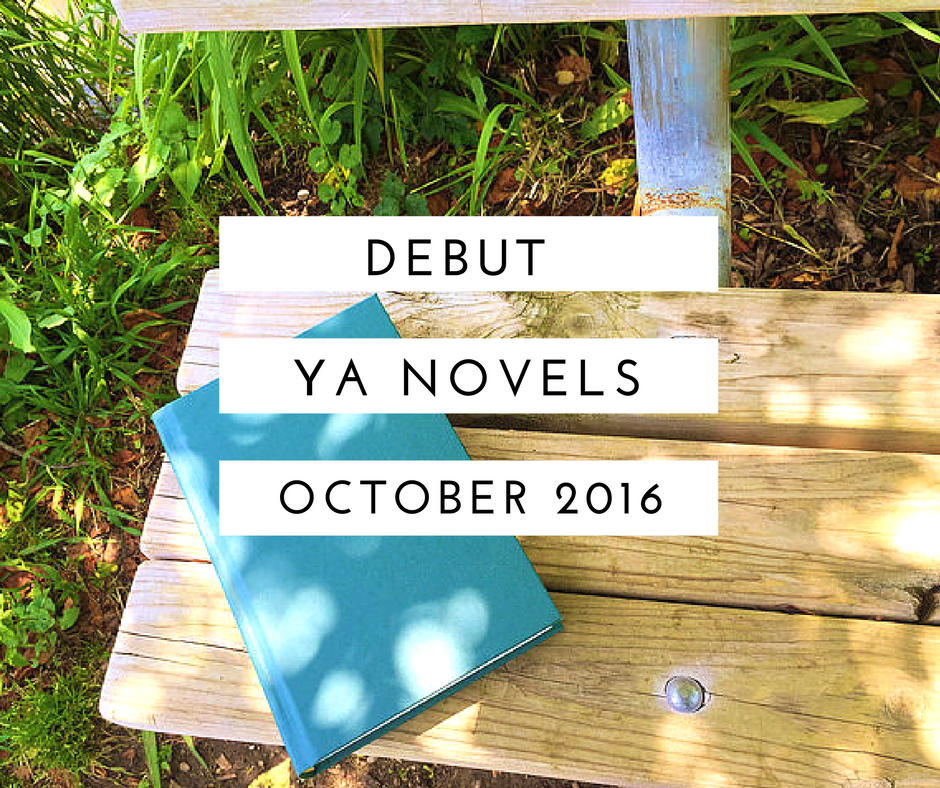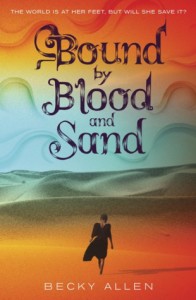 Bound By Blood and Sand by Becky Allen
Jae is a slave in a dying desert world.
Once verdant with water from a magical Well, the land is drying up, and no one remembers the magic needed to keep the water flowing. If a new source isn't found soon, the people will perish. Jae doesn't mind, in a way. By law, she is bound by a curse to obey every order given her, no matter how vile. At least in death, she'll be free.
Lord Elan's family rules the fading realm. He comes to the estate where Jae works, searching for the hidden magic needed to replenish the Well, but it's Jae who finds it, and she who must wield it. Desperate to save his realm, Elan begs her to use it to locate the Well.
But why would a slave—abused, beaten, and treated as less than human—want to save the system that shackles her? Jae would rather see the world burn.
Though revenge clouds her vision, she agrees to help if the kingdom's slaves are freed. Then Elan's father arrives. The ruler's cruelty knows no limits. He is determined that the class system will not change—and that Jae will remain a slave forever.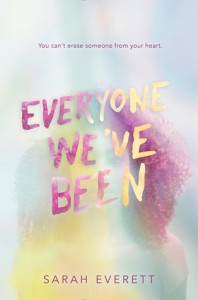 Everyone We've Been by Sarah Everett
Addison Sullivan has been in an accident. In its aftermath, she has memory lapses and starts talking to a boy that no one else can see. It gets so bad that she's worried she's going crazy.
Addie takes drastic measures to fill in the blanks and visits a shadowy medical facility that promises to "help with your memory." But at the clinic, Addie unwittingly discovers it is not her first visit. And when she presses, she finds out that she had certain memories erased. She had a boy erased.
But why? Who was that boy, and what happened that was too devastating to live with? And even if she gets the answers she's looking for, will she ever be able to feel like a whole person again?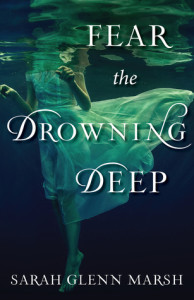 Fear The Drowning Deep by Sarah Glenn Marsh
Witch's apprentice Bridey Corkill has hated the ocean ever since she watched her granddad dive in and drown with a smile on his face. So when a dead girl rolls in with the tide in the summer of 1913, sixteen-year-old Bridey suspects that whatever compelled her granddad to leap into the sea has made its return to the Isle of Man.
Soon, villagers are vanishing in the night, but no one shares Bridey's suspicions about the sea. No one but the island's witch, who isn't as frightening as she first appears, and the handsome dark-haired lad Bridey rescues from a grim and watery fate. The cause of the deep gashes in Fynn's stomach and his lost memories are, like the recent disappearances, a mystery well-guarded by the sea. In exchange for saving his life, Fynn teaches Bridey to master her fear of the water — stealing her heart in the process.
Now, Bridey must work with the Isle's eccentric witch and the boy she isn't sure she can trust — because if she can't uncover the truth about the ancient evil in the water, everyone she loves will walk into the sea, never to return.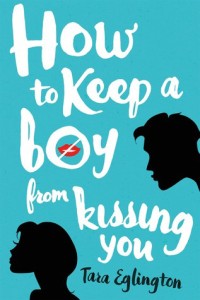 How To Keep A Boy From Kissing You by Tara Eglington
Sweet sixteen and never been kissed . . .

That's Aurora Skye's big secret. And the way she wants it to stay. She's not going to give away her first kiss to just anyone. Busy dodging suitors and matchmaking for her best friends, Aurora (not so) patiently awaits her prince.
But everything changes when Aurora is coerced into a lead role in the school production of Much Ado about Nothing. Which means she'll have to lock lips with her co-star Hayden Paris—the smart and funny boy next door who also happens to be the bane of her existence, always around to see her at her worst.
Now Aurora is more determined than ever to have her first kiss with the one who's truly worthy of it. But first she'll have to figure out just who that person is.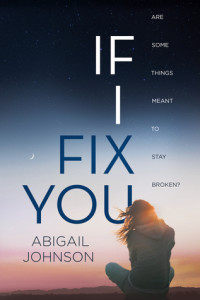 If I Fix You by Abigail Johnson
When sixteen-year-old Jill Whitaker's mom walks out—with a sticky note as a goodbye—only Jill knows the real reason she's gone. But how can she tell her father? Jill can hardly believe the truth herself.
Suddenly, the girl who likes to fix things—cars, relationships, romances, people—is all broken up. Used to be, her best friend, tall, blond and hot flirt Sean Addison, could make her smile in seconds. But not anymore. They don't even talk.
With nothing making sense, Jill tries to pick up the pieces of her life. But when a new guy moves in next door, intense, seriously cute, but with scars—on the inside and out—that he thinks don't show, Jill finds herself trying to make things better for Daniel. But over one long, hot Arizona summer, she realizes she can't fix anyone's life until she fixes her own. And she knows just where to start .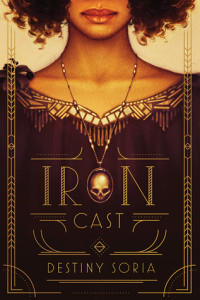 Iron Cast by Destiny Soria
It's Boston, 1919, and the Cast Iron club is packed. On stage, hemopaths—whose "afflicted" blood gives them the ability to create illusions through art—captivate their audience. Corinne and Ada have been best friends ever since infamous gangster Johnny Dervish recruited them into his circle. By night they perform for Johnny's crowds, and by day they con Boston's elite. When a job goes wrong and Ada is imprisoned, they realize how precarious their position is. After she escapes, two of the Cast Iron's hires are shot, and Johnny disappears. With the law closing in, Corinne and Ada are forced to hunt for answers, even as betrayal faces them at every turn.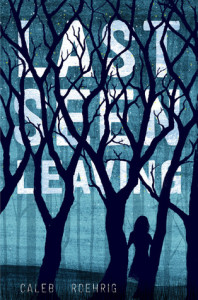 Last Seen Leaving by Caleb Roehrig
Flynn's girlfriend has disappeared. How can he uncover her secrets without revealing his own?
Flynn's girlfriend, January, is missing. The cops are asking questions he can't answer, and her friends are telling stories that don't add up. All eyes are on Flynn—as January's boyfriend, he must know something.
But Flynn has a secret of his own. And as he struggles to uncover the truth about January's disappearance, he must also face the truth about himself.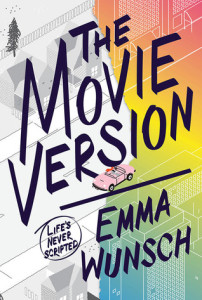 The Movie Version by Emma Wunsch
In the movie version of Amelia's life, the roles have always been clear. Her older brother, Toby: definitely the Star. As popular with the stoners as he is with the cheerleaders, Toby is someone you'd pay ten bucks to watch sweep Battle of the Bands and build a "beach party" in the bathroom. As for Amelia? She's Toby Anderson's Younger Sister. She's perfectly happy to watch Toby's hijinks from the sidelines, when she's not engrossed in one of her elaborately themed Netflix movie marathons.
But recently Toby's been acting in a very non-movie-version way. He's stopped hanging out with his horde of friends and started obsessively journaling and disappearing for days at a time. Amelia doesn't know what's happened to her awesome older brother, or who this strange actor is that's taken his place. And there's someone else pulling at her attention: a smart, cute new boyfriend who wants to know the real Amelia—not Toby's Sidekick. Amelia feels adrift without her star, but to best help Toby—and herself—it might be time to cast a new role: Amelia Anderson, leading lady.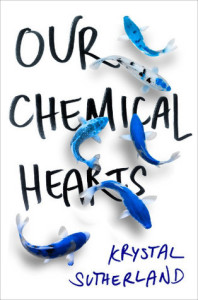 Our Chemical Hearts by Krystal Sutherland
Henry Page has never been in love. He fancies himself a hopeless romantic, but the slo-mo, heart palpitating, can't-eat-can't-sleep kind of love that he's been hoping for just hasn't been in the cards for him—at least not yet. Instead, he's been happy to focus on his grades, on getting into a semi-decent college and finally becoming editor of his school newspaper. Then Grace Town walks into his first period class on the third Tuesday of senior year and he knows everything's about to change.
Grace isn't who Henry pictured as his dream girl—she walks with a cane, wears oversized boys' clothes, and rarely seems to shower. But when Grace and Henry are both chosen to edit the school paper, he quickly finds himself falling for her. It's obvious there's something broken about Grace, but it seems to make her even more beautiful to Henry, and he wants nothing more than to help her put the pieces back together again. And yet, this isn't your average story of boy meets girl. Krystal Sutherland's brilliant debut is equal parts wit and heartbreak, a potent reminder of the bittersweet bliss that is first love.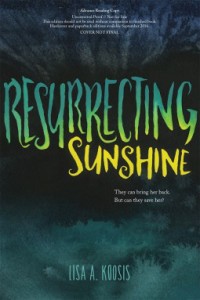 Resurrecting Sunshine by Lisa A Koosis
At seventeen, Adam Rhodes is famous, living on his own, and in a downward spiral since he lost the girl he loved. Marybeth stage name Sunshine was his best friend from the days they were foster kids; then she was his girlfriend and his band mate. But since her accidental death, he's been drinking to deal with the memories. Until one day, an unexpected visitor, Dr. Elloran, presents Adam with a proposition that just might save him from himself. Using breakthrough cloning and memory-implantation techniques, Dr. Elloran and the scientists at Project Orpheus want to resurrect Marybeth, and they need Adam to "donate" intimate memories of his life with her. The memory retrieval process forces Adam to relive his life with Marybeth and the devastating path that brought them both to fame. Along the way, he must confront not only the circumstances of her death but also his growing relationship with the mysterious Genevieve, daughter of Project Orpheus's founder. As the process sweeps Adam and Marybeth ever closer to reliving the tragedy that destroyed them, Adam must decide how far he'll go to save her.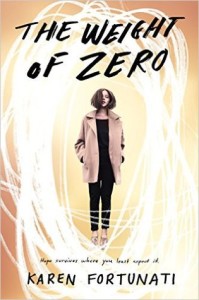 The Weight of Zero by Karen Fortunati
Seventeen-year-old Cath knows Zero is coming for her. Zero, the devastating depression born of Catherine's bipolar disease, has almost triumphed once, propelling Catherine to her first suicide attempt. With Zero only temporarily restrained by the latest med du jour, time is running out. In an old ballet shoebox, Catherine stockpiles meds, preparing to take her own life when Zero next arrives.
But Zero's return is delayed. Unexpected relationships along with the care of a new psychiatrist start to alter Catherine's perception of her diagnosis. But will this be enough? This is a story of loss and grief and hope and how the many shapes of love – maternal, romantic and platonic – impact a young woman's struggle with mental illness.