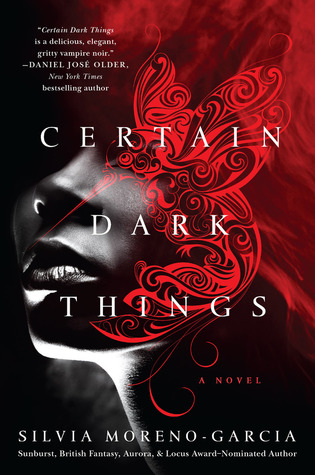 When is the last time you found yourself reading a vampire book and being completely and utterly unable to do anything else until you found out what happened?
That's what happened with me and Silvia Moreno-Garcia's just-released Certain Dark Things. Moreno-Garcia blew me away with her novel Signal to Noise last fall, and when I saw she had a new book releasing — one about vampires in Mexico City — I knew I had to have it, even though I'm generally not a reader of vampire stories. But there's something about the pitch, vampires in Mexico City, that took me in, and Moreno-Garcia utterly delivered with a fast-paced, engaging, and lushly written story that will appeal to teen readers who love their vampire stories with grit and with adult readers who are fans of similar stories.
Certain Dark Things could be considered a paranormal story, though it's not a romance. There is a love story within it, but if we take the traditional definition of a happily ever after defining the romance genre, this does not fit (that's a tiny bit of a spoiler, but nothing that readers don't see coming immediately). While the paranormal plays a significant role in the story, this book falls neatly into the genre of urban fantasy; it's reminiscent of the style of DJ Older's Shadowshaper or Rachel Vincent's Shadowbound series.
Told through alternating points of view, Moreno-Garcia's story begins with Domingo, a garbage-collecting homeless street kid, stumbling upon Atl, an Aztec-lined vampire. She sees him as an easy and tasty treat and he is taken with the idea of her being a vampire. The trouble, though, is that Atl needs to get out of Mexico City and into a place where she is safe, both as a vampire and as a vampire tangled up in a great war. Mexico City, as we learn nearly immediately, is a safe place where vampires are not welcome, and yet, there is still a great rivalry within the city limits. Atl knows getting out and getting out of Mexico all together may be the only way to survive.
Hitch? There's Domingo. And there's the challenge of finding a way out of the city and to freedom without being caught or without being hurt by rival vampires.
Moreno-Garcia excels at world building in this story. It's not just the setting which pulls the reader in and makes a world where vampires live alongside humans feel possible; she also weaves in some fascinating Aztec folklore which enhances Atl's background story and makes her as intriguing to us as readers as she is to Domingo. In many ways, we as readers are the character Domingo. We become fascinated initially by the premise, but then we're unable to let go because we've been sucked deep into a dark and inescapable story. Even the "bad guy" vampires in this story have a solid backstory, making their eagerness to take down Atl plausible and understandable (despite it not something you want to happen).
One of the most intriguing characters in the story is the single mother Ana, who works as a cop and finds herself entangled in this battle between rival vampires. She's hard edged, and she's devoted to her daughter, and it's through both of those qualities that she keeps pursuing this case, even when the cards seem to be stacked against her.
Likewise, the relationship between Domingo and Atl is well done and as realistic as one can imagine a human-vampire love story to be. Domingo's background is equally as fascinating as Atl's, which is something worth noting: he might be a "street kid," but his story is given as much due time and explanation as the vampires in the city. There is respect for his situation and he's not rendered as some dumb kid. He is, in fact, quite savvy and his loyalty to Atl and her troubles is sweet without being saccharine or hard to swallow.
Certain Dark Things has a plot that is this straightforward, but it's in the aforementioned world building and in the development of solid voices and gorgeous prose that Moreno-Garcia's story is more than "straightforward." The language is poetic, and the descriptions, including the brutal ones, are visual and arresting. This book is indeed gritty and dark, so it's the kind of vampire read you'd hand to those teen readers you know are digging into books by Anne Rice (which isn't a knock on her books, but rather, a means of explaining exactly the kind of reader who will absolutely devour this title).
It's wonderful when an author whose initial work you read leads you to wanting more of their stories, and it's made better when they ask for your trust as a reader in a book that's wildly different from the one you initially loved. Certain Dark Things made me fall in love with a vampire story, even though those aren't the sorts of books I tend to go for. There is so much here to dig into and so many of the hallmarks that made me love Signal to Noise were present here, despite the books being so radically different. I'm certainly going to pick up more of Moreno-Garcia's books, especially when I'm looking for something that diverges from my usual reading.
If you haven't picked up a vampire book in a while or want to get your hands on a unique urban fantasy that's brimming with folklore, legend, and the magic of Mexico City, this will not disappoint. That it's a stand alone read clocking in at just a bit over 300 pages makes it more impressive. It's tight, well-executed storytelling.