I've been going through audiobooks super fast. Here are a few recent ones.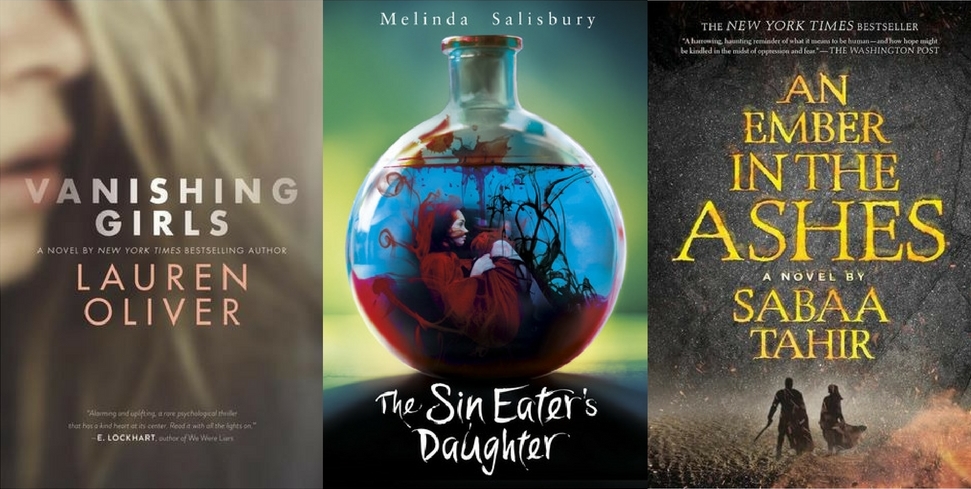 Vanishing Girls by Lauren Oliver
I really enjoy Oliver's writing, so even when a storyline doesn't especially appeal to me, like this one, I figure I'll mostly enjoy it anyway. Sisters Dara and Nicole (Nick) were close when they were young, but as they've grown into teenagers, their differing personalities (Dara is very outgoing, a bit of a rebel, while Nick is more reserved, the "good daughter") cause friction. And then a terrible accident occurs, and Dara and Nick's relationship is forever altered. Dara's and Nick's stories are told in alternating points of view, and that main plotline overlaps with another subplot about a younger girl who has vanished. There are a number of secrets each girl hides, and Oliver teases them out slowly, knowing just how to manipulate her readers' emotions in skilled ways. There's a major twist that I saw coming pretty early on in the book, but it was fun to listen and see just how Oliver made it work. Her writing is above average as always, and the audiobook narration is solid.
The Sin Eater's Daughter by Melinda Salisbury
The concept of this book is so interesting: Twylla is the embodiment of a goddess and as such, she is able to eat poison every day and then kill with a single touch. She's used by the Queen to execute traitors to the crown, a job Twylla despises. She's engaged to the prince and while she feels trapped, she knows that her role as the goddess embodied is important. Then she gets a new guard, and he starts to make her question everything she's been told. There is a bit of a typical love triangle here and the story isn't especially fast-moving, but there are enough surprises and emotional reveals to keep a reader's interest. So while I found the execution a little lacking, I wasn't disappointed I invested time in it. The narration is good, at times it sounded like Emma Watson was reading the story (she was not).
An Ember in the Ashes by Sabaa Tahir
I have meaning to read this book in print form pretty much since it was published, but every time I picked it up, I just wasn't in the  mood for a long book. But I was almost 100% sure I would enjoy it, so I went the audio route. I'm glad I did: the narration is excellent (it's told from two perspectives, one male and one female) and the story, while familiar, is engrossing. Laia belongs to the Scholar culture, a group of people who have been conquered by the Martials, and many of the Scholars are now slaves. When her brother is taken prisoner, accused of treason, she knows she must rescue him. She goes to the Scholar resistance, who agree to help break him out of the Martial prison if she will do something for them in return: go undercover as a slave, serving the cruel leader of the military academy where the other protagonist, Elias, currently trains unwillingly. Elias has his own story, and it soon converges with Laia's. What sets this book apart are the setting and the quality of the writing. Laia's and Elias' world is based partly on ancient Rome, but there are also magical elements borrowed from Arabic culture. Many of the characters are non-white (such as Laia) and the world they inhabit lives and breathes, with interesting cultures and complicated politics. The story is always riveting, danger lurking around ever corner, and I was constantly rooting for both leads, even though their goals were often at odds. Highly recommended for fantasy fans.