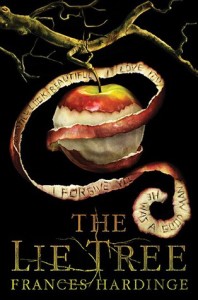 Faith Sunderly and her family are moving temporarily to the island of Vane, where her natural scientist father has been hired to help excavate a dig site. The Reverend Erasmus Sunderly made headlines years ago when several of his fossil finds appeared to verify Biblical stories, something much of the British public desperately needs in this time when Charles Darwin's On the Origin of Species is making waves in the scientific community. But more recently, Faith's father's work has come under more scrutiny, and though he tries to hide it from his family, most scientists now consider him a fraud.
Faith is fourteen and hungry for two things: scientific knowledge and her father's affection. The former cannot come with the latter, however, because Faith's father is of the common mindset of the time that women and girls are incapable of deep thought and scientific study. So Faith collects her knowledge in private, secretly opening her father's trunks and sneaking out at night to see what mysterious plant he is keeping in the cave by the sea.
But then the unthinkable happens – Faith's father is found hanging limply over a tree limb, dead. The people of Vane begin to whisper that he killed himself, but Faith is sure it was murder, and she's determined to prove it – to unmask the murderer herself and get justice for her beloved father. And she means to do it with the assistance of the plant in the cave, the Lie Tree, a tree that thrives in the dark and will give hazy truths to anyone who feeds it – and the world – lies.
Faith is smart, sometimes scarily so, and her scheme begins as planned. She wants the Tree to reveal the murderer of her father, but in order for that to happen, according to her father's papers, she must convince the world of a lie. The more people who believe it, the bigger the truth that will be revealed to the liar. Faith is an astute observer of men, so she knows that the easiest lie is one that people want to believe. But Faith is blind about many things too. This book is not just about the lies we tell others, but the lies we tell ourselves.
It's also about women and girls, then and now. Faith is not an astute observer of women, and watching her interactions with her mother are often painful as an adult reader. Faith herself has bought into the mindset of her father in subtle ways, though she does not realize it. And while the rest of the world has underestimated her, to their detriment, she has underestimated its women, to her cost.
It's about relationships, too, not just those between parents and children, but between friends, in particular the burgeoning friendship between Faith and a local boy named Paul. It's such an interesting friendship, one that begins antagonistically and slowly transforms into a partnership, with neither person particularly caring if the other likes them. One of the book's greatest scenes is between Faith and Paul near the end of the book, where what they've shared together has finally bonded them in a lasting way and they reveal their own truths – pieces of themselves – to each other.
The Lie Tree, aside from exploring these often heavy themes I've described above, is also a cracking good mystery and revenge story with a fascinating fantasy twist. I was unsure about the identity of the murderer (and even the murder itself) up until the final reveal. It's a satisfying ending that puts all the pieces together and gives greater meaning to all that came before. And by the end of the book, Faith is fundamentally different from who she was at the beginning, though she is still inimitably herself.
The Lie Tree won the Costa (formerly Whitbread) Book of the Year Award in the UK, one of the few book awards I know of that pits children's books against adult books. With all the trash articles about young adult literature being published now, it's not hard to surmise that few adult readers would place a children's book above an adult book, no matter its quality. But The Lie Tree was chosen, and this fact further illuminates how truly remarkable it is, beating out books by Kate Atkinson and Anne Enright, among others.
I've been participating in my workplace's Mock Printz considerations, and this one is at the top of my list right now. It's a masterpiece of a book, one that shares something new with each page turned. It's a book I wish I had written, a book I wish I had read when I was fourteen. Hand this to readers who want a feminist book, who love their genres well-blended, who want their leisure reading to make them think deeply while also telling a hell of a good story.