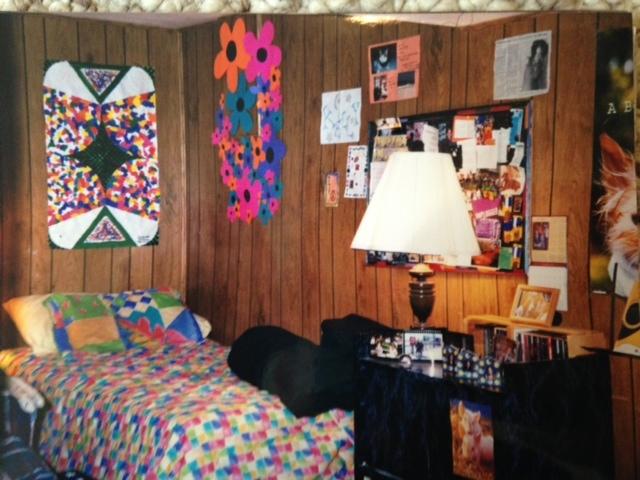 Pictured above is my teenage bedroom. I lived in a basement room, complete with glittery tile floor from the 60s and wood paneling. I made that room mine, though, with art — most made by me or friends — and with bright colors. You can see at this point, I was into guitar (I think that was freshman and sophomore year), Ani DiFranco, and had one of those "bad hair day" cat posters. On my dresser, which was the changing table my mom bought for me as a baby and which I repurposed, I kept friends' photos, as well as a small portion of my CDs. The poster right above my bed was from an 8th grade art class project I'd done with three of my good friends at the time and it remained one of my favorite possessions for many, many years.
Why am I writing about my teen bedroom?
Because I want to see your teen bedrooms if you're part of the YA community.
I started thinking about what a picture says about a person, and I began thinking even more about what our teen bedrooms said about us at a very specific time in our lives, when our rooms were our sacred spaces. Where we got to have our true selves shine through.
Are you a YA author? An editor? An agent? A critic? I'd love to see a photo of your teen bedroom. I've gotten a couple of killer submissions already, including one from a Very Well-Known YA Author You'll All Know (!!) and I'd love to build a huge, fun post of your bedrooms.
I'll collect photos through the middle of August. You can send the photo, along with a bio of who you are and what you do, to kelly@stackedbooks.org. Then I'll build a beautiful gallery here on STACKED so we can all enjoy the peeks at where we came from and what we were into during that time.