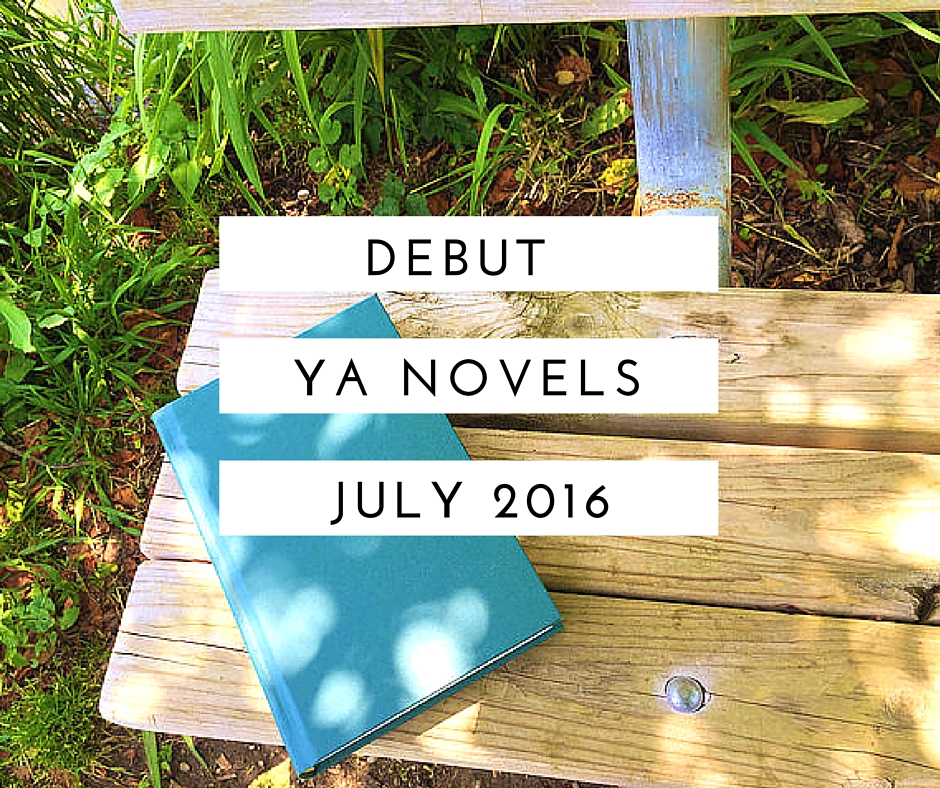 Welcome to August! This month you'll be treated to two debut YA novel round-ups, since I didn't post July's during July.
Like always, this round-up includes debut novels, where "debut" is in its purest definition. These are first-time books by first-time authors. I'm not including books by authors who are using or have used a pseudonym in the past or those who have written in other categories (adult, middle grade, etc.) in the past. Authors who have self-published are not included here either.
All descriptions are from WorldCat or Goodreads, unless otherwise noted. If I'm missing any debuts out in July from traditional publishers — and I should note that indie/small presses are okay — let me know in the comments.
As always, not all titles included here are necessarily endorsements for those titles. Get ready to get reading.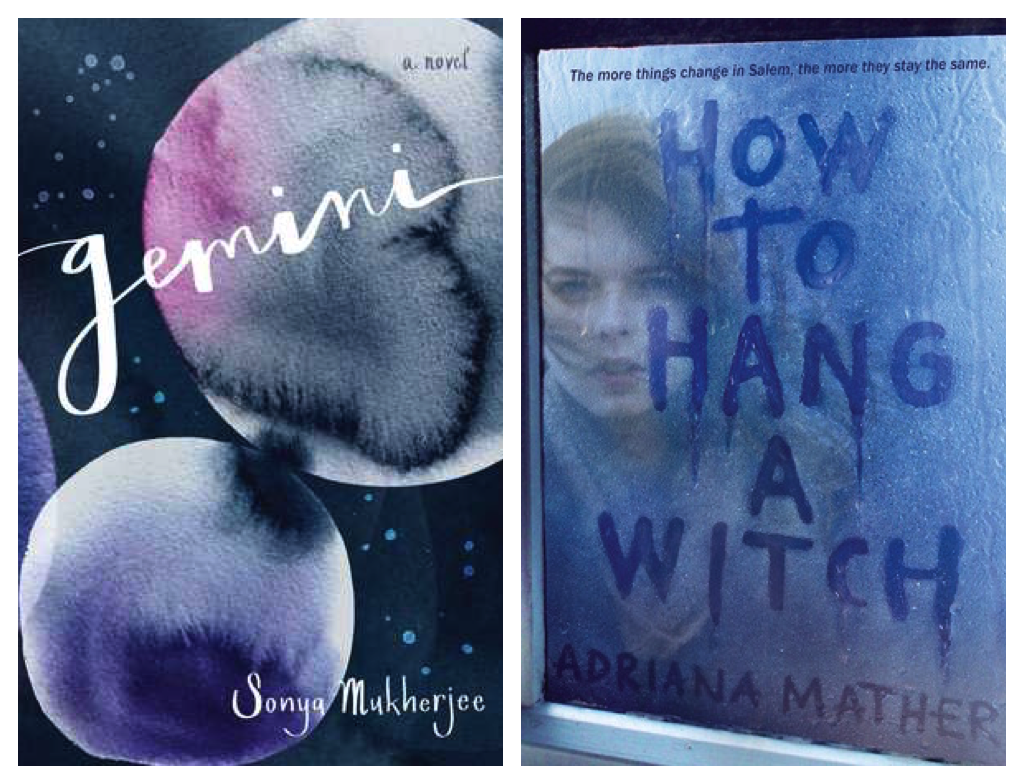 Gemini by Sonya Mukherjee
Seventeen-year-old conjoined twins Clara and Hailey have lived in the same small town their entire lives—no one stares at them anymore. But there are cracks in their quiet existence, and they're slowly becoming more apparent. Clara and Hailey are at a crossroads. Clara wants to stay close to home, avoid all attention, and study the night sky. Hailey wants to travel the world, learn from great artists, and dance with mysterious boys. As high school graduation approaches, each twin must untangle her dreams from her sister's, and figure out what it means to be her own person.
How to Hang a Witch by Adriana Mather
Samantha Mather has just moved to Salem, Massachusetts from New York City in the wake of her father's mysterious illness. But Mathers have lived in Salem for centuries and Sam is the ancestor of Cotton Mather—one of the architects of the Salem Witch Trials. Her name precedes her, and comes with too many stigmas. Before long, Sam finds herself at odds with The Descendants, a powerful group of girls who also have ties to the trials; only their ancestors were on the other end of the noose.
Before long, Sam realizes she is at the center of a centuries old curse that is tying her fate, as well as her father's, to her new enemies. Can she overcome her family's past and break the cycle of unexplained deaths or will she discover just how easy it can be to hang a witch?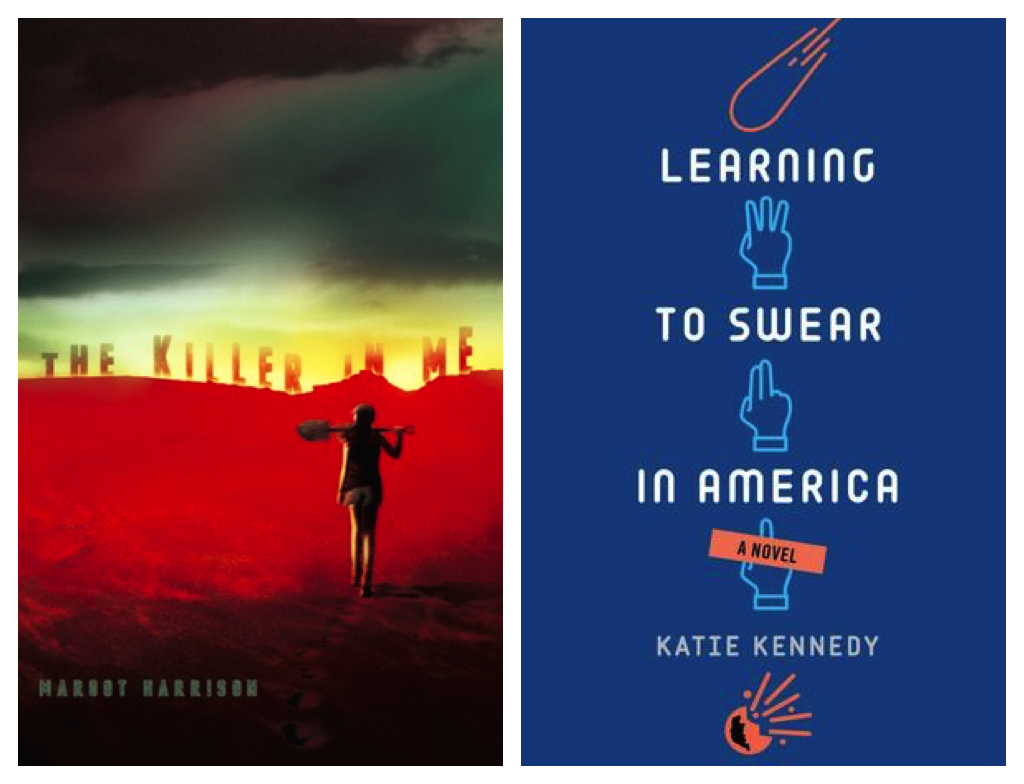 The Killer in Me by Margot Harrison
Seventeen-year-old Nina Barrows knows all about the Thief. She's intimately familiar with his hunting methods: how he stalks and kills at random, how he disposes of his victims' bodies in an abandoned mine in the deepest, most desolate part of a desert.
Now, for the first time, Nina has the chance to do something about the serial killer that no one else knows exists. With the help of her former best friend, Warren, she tracks the Thief two thousand miles, to his home turf—the deserts of New Mexico.
But the man she meets there seems nothing like the brutal sociopath with whom she's had a disturbing connection her whole life. To anyone else, Dylan Shadwell is exactly what he appears to be: a young veteran committed to his girlfriend and her young daughter. As Nina spends more time with him, she begins to doubt the truth she once held as certain: Dylan Shadwell is the Thief. She even starts to wonder . . . what if there is no Thief?
Learning to Swear in America by Katie Kennedy
An asteroid is hurtling toward Earth. A big, bad one. Yuri, a physicist prodigy from Russia, has been called to NASA as they calculate a plan to avoid disaster. He knows how to stop the asteroid: his research in antimatter will probably win him a Nobel prize–if there's ever another Nobel prize awarded. But Yuri's 17, and having a hard time making older, stodgy physicists listen to him. Then he meets Dovie, who lives like a normal teenager, oblivious to the impending doom. Being with her, on the adventures she plans when he's not at NASA, Yuri catches a glimpse of what it means to save the world and save a life worth living.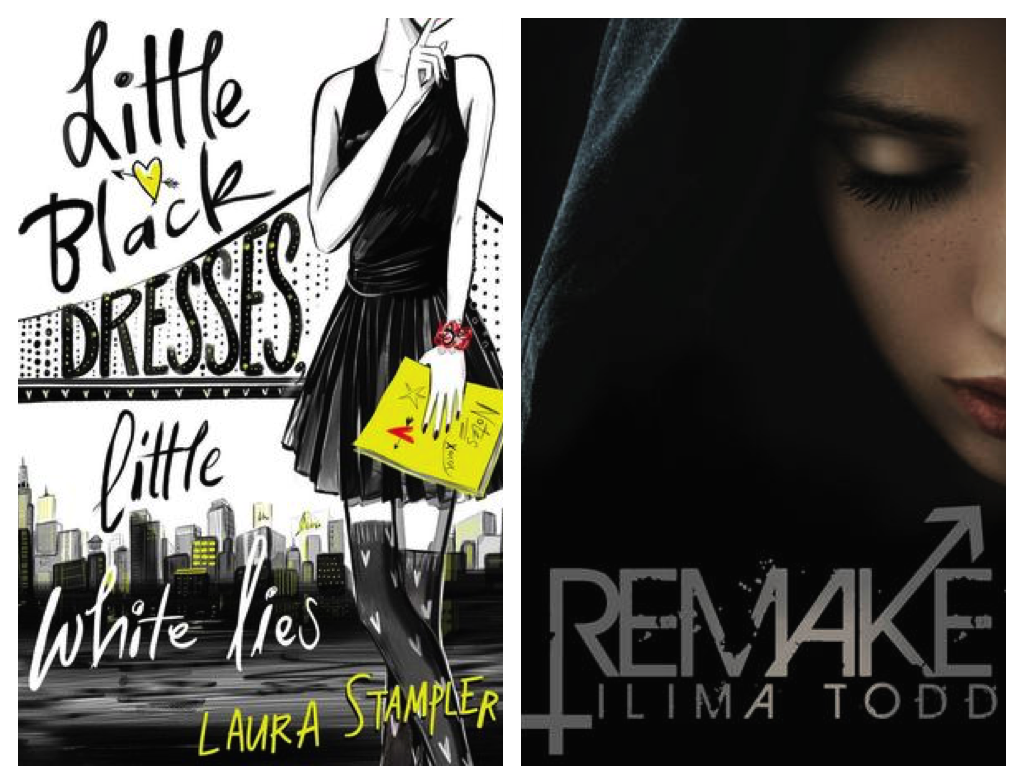 Little Black Dresses, Little White Lies by Lauren Stampler
Harper Anderson always believed she belonged somewhere more glamorous than her sleepy Northern California suburb. After all, how many water polo matches and lame parties in Bobby McKittrick's backyard can one girl take? That's why Harper is beyond ecstatic when she lands her dream internship as a dating blogger at the elite teen magazine Shift. Getting to spend the summer in New York City to live her dream of becoming a writer? Harper's totally in.
There's just one teeny, tiny, infinitesimal problem: Apart from some dance floor make-outs, Harper doesn't have a lot of – or, really, any – dating expertise. In fact, she might have sort of stolen her best friend's experiences as her own on her Shiftapplication. But she can learn on the job…right?
From awkward run-ins with the cute neighborhood dog-walker to terrifying encounters with her crazed editor, from Brooklyn gallery openings to weekends in the Hamptons, Harper finds out what it takes to make it in the Big City–and as the writer of her own destiny.
Remake by Ilima Todd
Nine is the ninth female born in her batch of ten females and ten males. By design, her life in Freedom Province is without complications or consequences. However, such freedom comes with a price. The Prime Maker is determined to keep that price a secret from the new batches of citizens that are born, nurtured, and raised androgynously.
But Nine isn't like every other batcher. She harbors indecision
and worries about her upcoming Remake Day — her seventeenth birthday, the age when batchers fly to the Remake facility and have the freedom to choose who and what they'll be.
When Nine discovers the truth about life outside of Freedom Province, including the secret plan of the Prime Maker, she is pulled between two worlds and two lives. Her decisions will test her courage, her heart, and her beliefs. Who can she trust? Who does she love? And most importantly, who will she decide to be?
**Worth noting this book looks like it was published by Shadow Mountain in 2014, though this refers to the Simon Pulse edition from this month.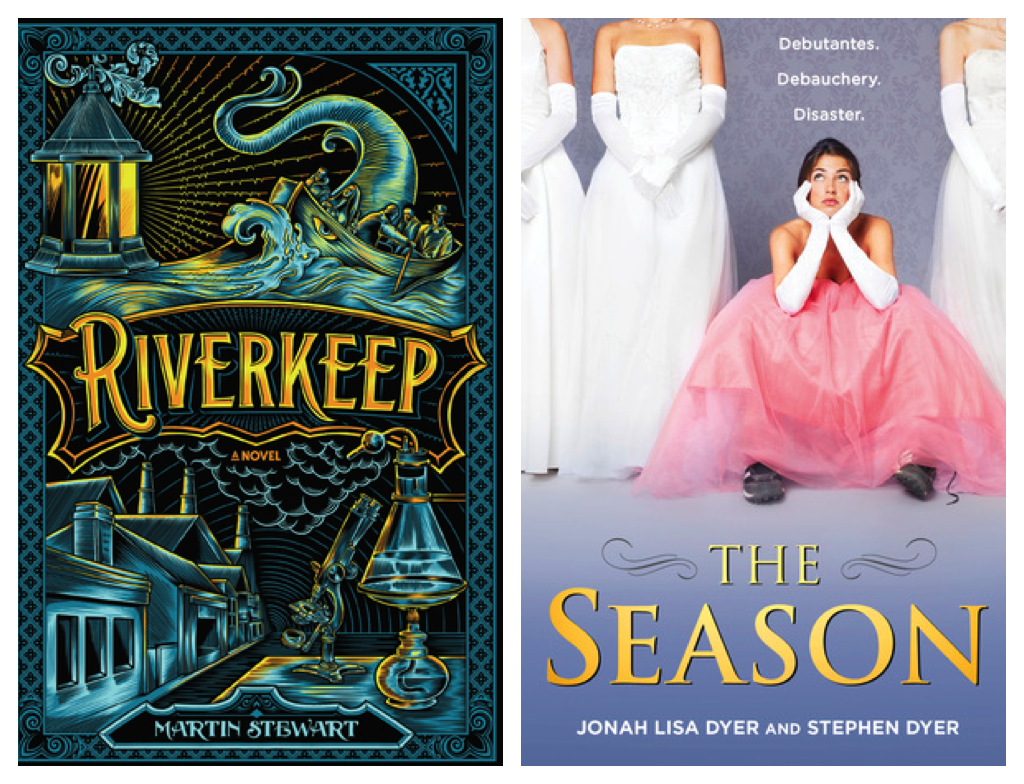 Riverkeep by Martin Stewart
The Danék is a wild, treacherous river, and the Fobisher family has tended it for generations—clearing it of ice and weed, making sure boats can get through, and fishing corpses from its bleak depths. Wulliam's father, the current Riverkeep, is proud of this work. Wull dreads it. And in one week, when he comes of age, he will have to take over.

Then the unthinkable happens. While recovering a drowned man, Wull's father is pulled under—and when he emerges, he is no longer himself. A dark spirit possesses him, devouring him from the inside. In an instant, Wull is Riverkeep. And he must care for his father, too.

When he hears that a cure for his father lurks in the belly of a great sea-dwelling beast known as the mormorach, he embarks on an epic journey down the river that his family has so long protected—but never explored. Along the way, he faces death in any number of ways, meets people and creatures touched by magic and madness and alchemy, and finds courage he never knew he possessed.
The Season by Jonah Lisa Dyer and Stephen Dyer
Megan McKnight is a soccer star with Olympic dreams, but she's not a girly girl. So when her Southern belle mother secretly enters her in the 2016 Dallas debutante season, she's furious—and has no idea what she's in for. When Megan's attitude gets her on probation with the mother hen of the debs, she's got a month to prove she can ballroom dance, display impeccable manners, and curtsey like a proper Texas lady or she'll get the boot and disgrace her family. The perk of being a debutante, of course, is going to parties, and it's at one of these lavish affairs where Megan gets swept off her feet by the debonair and down-to-earth Hank Waterhouse. If only she didn't have to contend with a backstabbing blonde and her handsome but surly billionaire boyfriend, Megan thinks, being a deb might not be so bad after all. But that's before she humiliates herself in front of a room full of ten-year-olds, becomes embroiled in a media-frenzy scandal, and gets punched in the face by another girl.
The season has officially begun…but the drama is just getting started.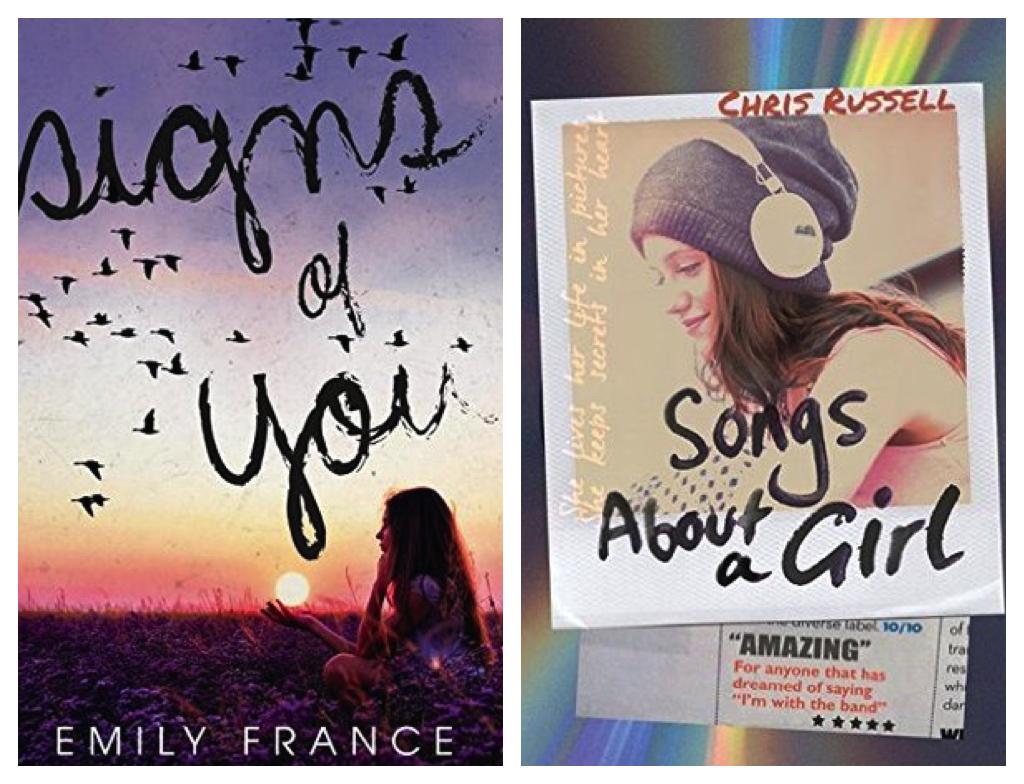 Signs of You by Emily France
Since sixteen-year-old Riley Strout lost her mother two years ago, her saving grace has been her quirky little family in the grief support group she joined as a freshman. Jay, Kate, and Noah understand her pain; each lost a loved one, and they've stuck together in spite of their differences, united by tragedies only they understand.
When Riley thinks she spots her mother shopping in a grocery store, she fears she is suffering some sort of post-traumatic stress. Then Jay and Kate report similar experiences. Only Noah hasn't had some kind of vision, which is perhaps why he's become so skeptical and distant.
When Noah disappears, Riley fears she's lost another loved one. As they frantically search for him, she, Kate, and Jay are drawn into the mystery surrounding a relic that belonged to Jay's dead father and contains clues about the afterlife. Riley finds herself wrestling with her feelings for both Noah and Jay—which have become clear only in Noah's absence. If Riley is to help those she loves, and herself, she must set things right with the one she's lost.
Songs About A Girl by Chris Russell
Charlie Bloom never wanted to be 'with the band'. She's happiest out of the spotlight, behind her camera, unseen and unnoticed. But when she's asked to take backstage photos for hot new boy band Fire&Lights, she can't pass up the chance.
Catapulted into a world of paparazzi and backstage bickering, Charlie soon becomes caught between gorgeous but damaged frontman, Gabriel West, and his boy-next-door bandmate Olly Samson. Then, as the boys' rivalry threatens to tear the band apart, Charlie stumbles upon a mind-blowing secret, hidden in the lyrics of their songs.
*This book appears to be a UK release, so it might not yet bet available in the US/Canada.