This year, I've been making more of an effort to read YA books featuring LGBTQIA+ characters. This means I've been reading more realistic contemporary YA, since most (but not all!) of these characters are focused there. Here are brief reviews of the five I've read so far this year.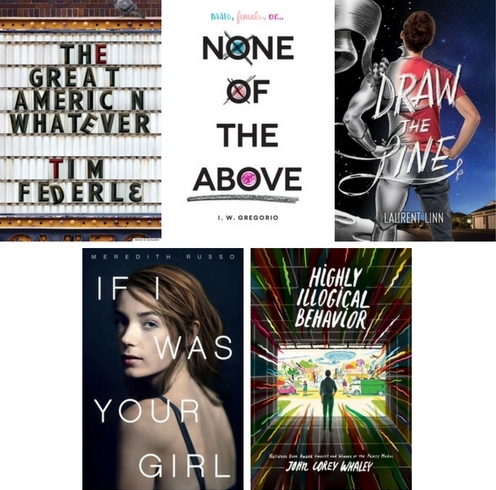 The Great American Whatever by Tim Federle
Sixteen year old Quinn is an aspiring screenwriter, still in the closet, and still grieving over the death of his sister, Annabeth, in a car accident at the end of last school year. He and Annabeth were a dynamic movie-making duo – he would write the scripts and she would direct. Since her death, Quinn hasn't been able to do much of anything, much less finish a screenplay. He doesn't even leave his house. Until his best friend Geoff convinces him to go to a college party Geoff's sister is throwing – and he meets someone there who could maybe be his first more-than-a-friend.
Quinn's first romance with another boy is a big part of the story, but it's part of his larger journey in learning to deal with his grief over Annabeth's death and how it has affected his family and friendships. Federle gives Quinn a great voice; he's often funny (or irritating, depending on your perspective) and will insert film trivia into everyday conversation, something that will appeal to teens who love movies (current and classics). Federle writes some of Quinn's story as imagined scenes in a script, which adds interest – it's like an alternative to a daydream sequence. The romance is exciting and thorny and realistic. I took issue with how Quinn refers to his mother; his father left them following Annabeth's death and she has gained weight and hoards junk food. While he often calls his mother beautiful, almost every reference of her involves a mention of her weight or her junk food obsession, which I found reductive and shallow. Calling a fat woman beautiful isn't a band-aid for this and Quinn (or Federle) seems to think it is.
None of the Above by I. W. Gregorio
Kristin learns she's intersex after she tries to have sex with her boyfriend and it's extremely painful. She goes to the doctor, who shares the life-changing information with Kristin: she has an X chromosome and traditionally male "parts" – they're just inside instead of outside. Kristin has androgen insensitivity syndrome, or AIS, which is one of the most common forms of intersex and one where people can outwardly appear biologically female (though people with AIS can exhibit the full range of phenotypes). Kristin tries to hide the diagnosis from everyone she knows, feeling ashamed and like she's not a "real girl." But when she lets it slip to one of her best friends one night, the whole school knows the next day, and her nightmare really begins.
This book will be foundational for stories about intersex people. It's not perfect (the writing is a bit rough and simplistic at times), but it's a perfect book to lead the way. It's moving – Kristin slowly does accept herself and reconcile her chromosomal reality with her identity as a girl – as well as educational. I'm certain there will be many readers who won't even know what being intersex means, not to mention even more readers who haven't ever heard of AIS and don't know how it affects people. Gregorio is a doctor and it shows: she gives readers details about Kristin's condition that are fascinating and important. Kristin has a good voice, and Gregorio doesn't let her story shy away from how horrible people can be. I was on pins and needles during one scene where the threat of violence loomed so large it was hard to keep reading. I highly recommend this book; it's a great YA story and it helps fill the "I" gap in in LGBTQIA+ literature for teens.
Draw the Line by Laurent Linn
Adrian is gay, and he knows that if the school bully Doug and his toady Buddy found out about it, he'd be a target for their fists. After all, Doug routinely goes after out-and-proud Kobe. Adrian uses art as an outlet: he invented a gay comic book superhero, Graphite, and regularly posts new stories featuring Graphite and his exploits anonymously online, where he has a small following. But when Doug beats up Kobe so badly he almost dies, Adrian starts to learn that he can't just stay in the shadows when injustices like this routinely occur – he decides that this is where he draws the line (yes, I worked in the title).
This is probably the weakest of the five I've reviewed here. Its strongest aspect is the art: Linn includes several excerpts from Graphite's adventures and they're really nicely done. It's clear Linn/Adrian is a talented artist and storyteller. But overall, the plot is meandering and the writing weak. It feels like half of the novel is exposition, and there are a lot of scenes that don't serve much purpose. It's over 500 pages long, and it feels like it. Adrian's best friends are stereotypes and Doug's character arc doesn't make much sense. Linn tries to give Adrian a teen-y voice in his writing style, but it just comes across as unpolished (especially compared to the superior books by Federle and Whaley, both authors whose writing is sophisticated but whose characters feel like teens). It's still a worthwhile read, but it's not a standout unless you're really into the art.
If I Was Your Girl by Meredith Russo
It's a good thing I branched out more into contemporary reads this year, because this is one of my favorite reads. Amanda moved to live with her dad because it will allow her to go to a different high school, away from the one she was at before where everyone knew her as Andrew. Amanda is a trans girl, and she knows she's fortunate in that she can pass as a cis girl at her new school – so much so that she's considered one of the prettiest girls in school. Amanda falls for Grant, despite her vow to keep her head low, stay away from guys, and graduate high school without letting anyone in or causing any trouble, like she promised her dad. But inevitably, the truth comes out, and Amanda must deal with how her newfound friends, boyfriend, and classmates react.
While this book is not without conflict (the threat of violence is always there), it does paint a rosy picture of one trans girl's experience. Amanda passes easily. She had surgery at a young age so no one can tell she's trans even with her clothes off. Her parents more or less accept her. By the end of the book, many of the people she came to care about at her new school have accepted her as well, though the journey there is rocky. Russo, who is trans herself, acknowledges this in her author's notes (she writes one for trans readers and one for cis readers) and says it is deliberate: this is a story of hope. It is also not every trans person's experience, and shouldn't be read that way. I've seen some reviewers criticize Russo's writing, but I thought it was quite strong and read as if Amanda herself were writing her story. She has a singular voice and the ability to make readers feel her pain, worries, and frustrations keenly. Lovely throughout, this is highly recommended.
Highly Illogical Behavior by John Corey Whaley
In middle school one day, Solomon had a panic attack and jumped into the fountain at the front of the school. He hasn't been out of his house in the three years since, trapped by his agoraphobia. His parents seem to have accepted it, long ago giving up on encouraging him to get out of the house. Lisa, one of Solomon's former classmates, learns of Solomon's condition and decides to make him her project. She wants to get into a prestigious psychology program at a particular college, and she thinks "curing" Solomon will be just the thing to do that. So she weasels her way into Solomon's life, eventually bringing her boyfriend in on the scheme as well. Lisa didn't expect she'd actually like Solomon, that they'd form a true friendship, but that's what happens. For his part, Solomon is resigned to living the rest of his life in his parents' house, but he can't seem to shake Lisa's overtures of friendship, and when her boyfriend starts coming over too, he can't seem to shake his burgeoning feelings for him, either.
Whaley's writing is top-notch, though I would argue that he hammers home his point a little too firmly when it would have been better to just let it sit, the point having already been made. Lisa is a terrible person (one professional reviewer described her as likeable, which I find funny) and I shudder to think what kind of psychologist she would make, but she's always interesting to read about, and there are plenty of tender moments between her and Solomon. Whaley succeeds at writing Solomon as more than just his illness, as someone who has strengths and personality and smarts even though no one can really see them. What could have been a hackey book is instead something pretty great in Whaley's hands – his characters come alive and so, too, does the book.
Three of out of these five titles feature gay white teenage boys as their protagonists, and within the still small selection of LGBTQIA+ books for teens, this character dominates. It's harder to find books featuring girls, teens of color, or characters who don't identify with the "G" part of the acronym. On that note, next on my list are Georgia Peaches and Other Forbidden Fruit by Jaye Robin Brown, which published yesterday, and As I Descended by Robin Talley, out September 6. I'll let you know how they are.