Have you been as taken with the story of the 9-year-old girl who broke the story of a local murder as I have? Hilde Lysiak got a lot of slack for the whole thing, in part because of her age and in part because the old school thinking about journalism and reporting meant that The Establishment was not really on top of it. Lysiak has scored a book deal, and I am so excited to see this young girl grow into a hell of a successful person.
Growing up, my dream was journalism. I wanted to work on my high school's paper, and I wanted to edit it. I took on roles as an Opinions editor, then as a Features editor, and my senior year, I applied for — but did not become — the editor-in-chief. Instead, I was second in command of the paper, and used that "loss" to strengthen my writing, my reporting, my storytelling, and applied to a college where I knew I could get great experience on a paper for a future career.
Of course, life happened, journalism changed, and while I did eventually succeed as becoming an editor-in-chief of my college's paper, my career in the field shifted a bit. I love what I do and absolutely credit my journalism background for where I am.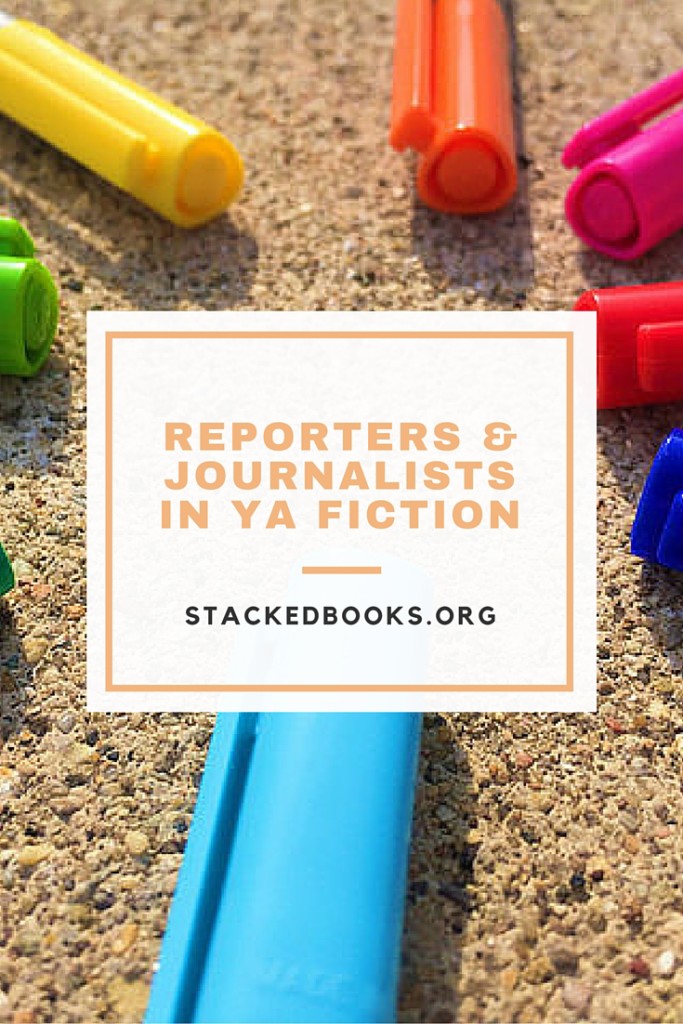 It's interesting to me that despite the changes in the field at large, journalism remains an interest for so many teens and tweens. Moreover, it's a fantastic narrative device in the sense that it allows teenagers to become investigators with a purpose; they aren't super sleuths or interested in mysteries on their own, but rather, they're seeking answers to an assignment. For me, that almost makes it more interesting than a straight-forward mystery, as the main character is exploring so much more than a single story.
I thought, in honor of Lysiak, as well as teens who are driven to make a name for themselves in newspapers, magazines, and other word-based media outlets, it'd be fun to round up some of the YA featuring journalists. This won't be comprehensive, so feel free to add other titles to the comments. I'm sticking to YA, though it would be easy to do an even larger round-up of middle grade titles featuring young journalists.  I've also opened it up to titles that might be a bit down the backlist, in part because it would be interesting to see how they hold up in today's journalism era.
All descriptions are from Goodreads or WorldCat. And for fun*, I didn't put these in any order (*I didn't even think about it until after I put the images together).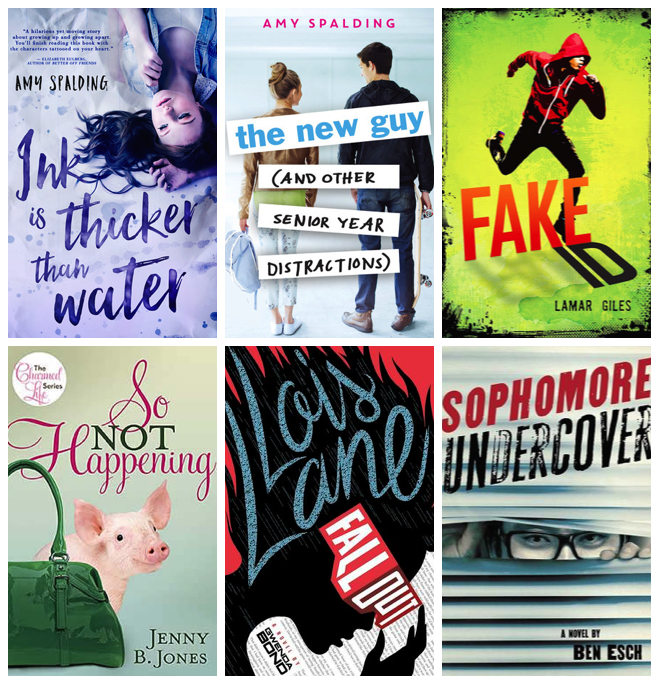 Ink is Thicker Than Water by Amy Spalding
For Kellie Brooks, family has always been a tough word to define. Combine her hippie mom and tattooist stepdad, her adopted overachieving sister, her younger half brother, and her tough-love dad, and average Kellie's the one stuck in the middle, overlooked and impermanent. When Kellie's sister finally meets her birth mother and her best friend starts hanging with a cooler crowd, the feeling only grows stronger.
But then she reconnects with Oliver, the sweet and sensitive college guy she had a near hookup with last year. Oliver is intense and attractive, and she's sure he's totally out of her league. But as she discovers that maybe intensity isn't always a good thing, it's yet another relationship she feels is spiraling out of her control.
It'll take a new role on the school newspaper and a new job at her mom's tattoo shop for Kellie to realize that defining herself both outside and within her family is what can finally allow her to feel permanent, just like a tattoo.
The New Guy (& Other Senior Year Distractions) by Amy Spalding (she writes teens with such great interests!)
A ridiculously cute, formerly-famous new guy dropping into your life? It's practically every girl's dream.
But not Jules McCallister-Morgan's.
I realize that on paper I look like your standard type-A, neurotic, overachiever. And maybe I am. But I didn't get to be the editor of my school's long-revered newspaper by just showing up*. I have one main goal for my senior year-early acceptance into my first choice Ivy League college-and I will not be deterred by best friends, moms who think I could stand to "live a little," or boys.
At least, that was the plan before I knew about Alex Powell**.
And before Alex Powell betrayed me***.
I know what you're thinking: Calm down, Jules. But you don't understand. This stuff matters. This is my life. And I'm not going down without a fight.
—-
* Okay, I sort of did. But it's a sore subject.
** I mean, I guess everyone knows about Alex Powell? Two years ago, you couldn't go anywhere without hearing about viral video boy band sensation Chaos 4 All. Two years ago, Alex Powell was famous.
***Some people think I'm overreacting. But this. Means. War.
Fake ID by Lamar Giles
Nick Pearson is hiding in plain sight…
My name isn't really Nick Pearson.
I shouldn't tell you where I'm from or why my family moved to Stepton, Virginia.
I shouldn't tell you who I really am, or my hair, eye, and skin color.
And I definitely shouldn't tell you about my friend Eli Cruz and the major conspiracy he was about to uncover when he died—right after I moved to town. About how I had to choose between solving his murder with his hot sister, Reya, and "staying low-key" like the Program has taught me. About how moving to Stepon changed my life forever.
But I'm going to.
So Not Happening by Jenny B. Jones (series)
Bella Kirkwood had it all: A-list friends at her prestigious private school, Broadway in her backyard, and Daddy's MasterCard in her wallet. Then her father, a plastic surgeon to the stars, decided to trade her mother in for a newer model.
When Bella's mom falls in love with a man she met on the Internet–a factory worker with two bratty sons–Bella has to pack up and move in with her new family in Truman, Oklahoma. On a farm no less!
Forced to trade her uber-trendy NYC lifestyle for  down-home charm, Bella feels like a pair of Rock & Republic jeans in a sea of Wranglers.
At least some of the people in her new high school are pretty cool. Especially the hunky football player who invites her to lunch. And maybe even the annoying–but kinda hot–editor of the school newspaper.
But before long, Bella smells something rotten in the town of Truman, and it's not just the cow pasture. With her savvy reporter's instincts, she is determined to find the story behind all the secrets.
How can a girl go on when her charmed life is gone and God appears to be giving her the total smackdown?
Lois Lane: Fallout by Gwenda Bond (series)
Lois Lane is starting a new life in Metropolis. An Army brat, Lois has lived all over—and seen all kinds of things. (Some of them defy explanation, like the near-disaster she witnessed in Kansas in the middle of one night.) But now her family is putting down roots in the big city, and Lois is determined to fit in. Stay quiet. Fly straight. As soon as she steps into her new high school, though, she can see it won't be that easy. A group known as the Warheads is making life miserable for another girl at school. They're messing with her mind, somehow, via the high-tech immersive videogame they all play. Not cool. Armed with her wit and her new snazzy job as a reporter, Lois has her sights set on solving this mystery. But sometimes it's all a bit much. Thank goodness for her maybe-more-than-a friend, a guy she knows only by his screenname, SmallvilleGuy.
Sophomore Undercover by Ben Esch
For fifteen-year-old, adopted Vietnamese orphan Dixie Nguyen, high school is one long string of hard-to-swallow humiliations. He shares a locker with a nudist linebacker, his teachers are incompetent, and he's stuck doing fluff pieces for the school newspaper. But Dixie's luck takes a turn when he stumbles across one of the jocks using drugs in the locker room; not only does he finally have something newsworthy to write, but the chance to strike a blow against his tormentors at the school as well.
However, when his editor insists he drop the story and cover homecoming events instead, Dixie sets off on his own unconventional-and often misguided-investigation. He soon discovers that the scandal extends beyond the football team to something far bigger and more sinister than he ever thought possible. Once he follows the guidelines of his hero, Mel Nichols (journalism professor at Fresno State University and author of the textbook Elementary Journalism) this high school reporter just might save the world. That is, of course, if Dixie can stay out of juvenile hall, the hospital, and new age therapy long enough to piece it all together.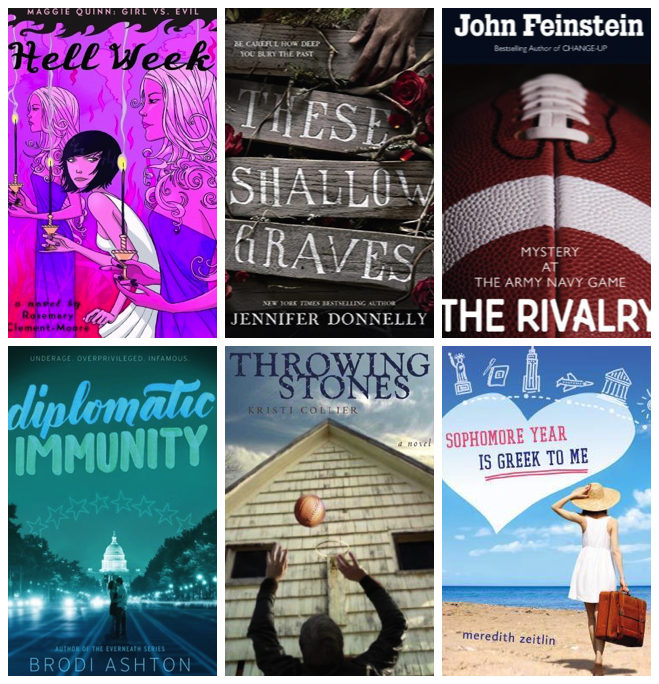 Hell Week by Rosemary Clement-Moore (series)
MAGGIE QUINN IS determined to make her mark as a journalist. The only problem? The Ranger Report does not take freshmen on staff.
Rules are rules. But when has that ever stopped Maggie?
After facing hellfire, infiltrating sorority rush should be easy. It's no Woodward and Bernstein, but going undercover as the Phantom Pledge will allow her to write her exposé. Then she can make a stealth exit before initiation. But when she finds a group of girls who are after way more than "sisterhood," all her instincts say there's something rotten on Greek Row. And when Hell Week rolls around, there may be no turning back.
If there is such a thing as a sorority from hell, you can bet that Maggie Quinn will be the one to stumble into it.
These Shallow Graves by Jennifer Donnelly
Jo Montfort is beautiful and rich, and soon—like all the girls in her class—she'll graduate from finishing school and be married off to a wealthy bachelor. Which is the last thing she wants. Jo secretly dreams of becoming a writer—a newspaper reporter like the trailblazing Nellie Bly.
Wild aspirations aside, Jo's life seems perfect until tragedy strikes: her father is found dead. Charles Montfort accidentally shot himself while cleaning his revolver. One of New York City's wealthiest men, he owned a newspaper and was partner in a massive shipping firm, and Jo knows he was far too smart to clean a loaded gun.
The more Jo uncovers about her father's death, the more her suspicions grow. There are too many secrets. And they all seem to be buried in plain sight. Then she meets Eddie—a young, brash, infuriatingly handsome reporter at her father's newspaper—and it becomes all too clear how much she stands to lose if she keeps searching for the truth. Only now it might be too late to stop.
The past never stays buried forever. Life is dirtier than Jo Montfort could ever have imagined, and the truth is the dirtiest part of all.
The Rivalry by John Feinstein (series)
The Black Knights of Army and the Midshipmen of Navy have met on the football field since 1890, and it's a rivalry like no other, filled with tradition.
Teen sports reporters Stevie and Susan Carol have been busy at West Point and Annapolis, getting to know the players and coaches—and the Secret Service agents. Since the president will be attending the game, security will be tighter than tight. Weeks and months have been spent on training and planning and reporting to get them all to this moment. But when game day arrives, the refs aren't the only ones crying foul. . .
Diplomatic Immunity by Brodi Ashton (September 6)
Aspiring reporter Piper Baird decides to write a scathing exposé on the overprivileged students at an elite Washington, DC, school, only for her life to change when she begins to fall for the story's main subject, in this new realistic contemporary romance from Brodi Ashton, the author of the Everneath trilogy.
Raucous parties, privileged attitudes, underage drinking, and diplomatic immunity…it's all part of student life on Embassy Row.
Piper Baird has always dreamed of becoming a journalist. So when she scores a scholarship to exclusive Chiswick Academy in Washington, DC, she knows it's her big opportunity. Chiswick offers the country's most competitive prize for teen journalists—the Bennington scholarship—and winning will ensure her acceptance to one of the best schools in the country.
Piper isn't at Chiswick for two days before she witnesses the intense competition in the journalism program—and the extreme privilege of the young and wealthy elite who attend her school. And Piper knows access to these untouchable students just might give her the edge she'll need to blow the lid off life at the school in a scathing and unforgettable exposé worthy of the Bennington.
The key to the whole story lies with Rafael Amador, the son of the Spanish ambassador—and the boy at the center of the most explosive secrets and scandals on Embassy Row. Rafael is big trouble—and when he drops into her bedroom window one night, asking for help, it's Piper's chance to get the full scoop. But as they spend time together, Piper discovers that despite his dark streak, Rafael is smart, kind, funny, and gorgeous—and she might have real feelings for him. How can she break the story of a lifetime if it could destroy the boy she just might love?
Throwing Stones by Kristi Collier
When Andy Soaring's older brother, Pete, died in World War I, Andy's life changed forever. Now, five years later, Andy is fourteen and beginning to feel the weight of his brother's legacy, especially when he holds Pete's basketball in his hands. Andy dreams of leading his high-school team to the Indiana state tournament, as his brother did before him. If only Andy could be a basketball star, maybe he could ease his parents' sadness, and, more important, feel like he truly belongs to his family. But when Andy lets pride get in the way–over a girl, no less–all bets are off.
Sophomore Year is Greek to Me by Meredith Zeitlin
High school sophomore Zona Lowell has lived in New York City her whole life, and plans to follow in the footsteps of her renowned-journalist father. But when he announces they're moving to Athens for six months so he can work on an important new story, she's devastated— he must have an ulterior motive. See, when Zona's mother married an American, her huge Greek family cut off contact. But Zona never knew her mom, and now she's supposed to uproot her entire life and meet possibly hostile relatives on their turf? Thanks… but no thanks.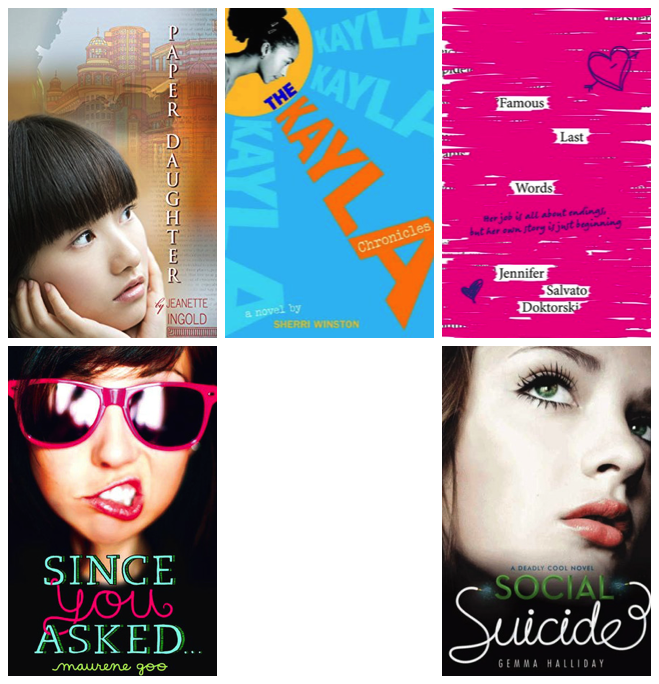 Paper Daughter by Jeanette Ingold
Maggie Chen was born with ink in her blood. Her journalist father has fired her imagination with the thrill of the newsroom, and when her father is killed, she is determined to keep his dreams alive by interning at the local newspaper.
While assisting on her first story, Maggie learns that her father is suspected of illegal activity, and she knows she must clear his name. Drawn to Seattle's Chinatown, she discovers things that are far from what she expected: secrets, lies, and a connection to the Chinese Exclusion Era. Using all of her newspaper instincts and resources, Maggie is forced to confront her ethnicity—and a family she never knew.
The Kayla Chronicles by Sherri Winston
Kayla Dean, junior feminist and future journalist, is about the break the story of a lifetime. She is auditioning for the Lady Lions dance team to prove they discriminate against the not-so-well endowed. But when she makes the team, her best friend and fellow feminist, Rosalie, is not happy.
Now a Lady Lion, Kayla is transformed from bushy-haired fashion victim to glammed-up dance diva. But does looking good and having fun mean turning her back on the cause? Can you be a strong woman and still wear really cute shoes? Soon Kayla is forced to challenge her views, coming to terms with who she is and what girl power really means.
Famous Last Words by Jennifer Salvato Doktorski
In Famous Last Words by Jennifer Salvato Doktorski, sixteen-year-old Samantha D'Angelo has death on the brain. Her summer internship at the local newspaper has her writing obituaries instead of soaking up the sun at the beach. Between Shelby, Sam's boy-crazy best friend; her boss Harry, a true-blue newspaper man; and AJ, her fellow "intern scum" (aka the cute drummer for a band called Love Gas), Sam has her hands full. But once she figures out what—or who—is the best part of her summer, will she mess it all up?
As Sam learns her way around both the news room and the real world, she starts to make some momentous realizations about politics, ethics, her family, romance, and most important—herself.
Since You Asked by Maurene Goo
No, no one asked, but Holly Kim will tell you what she thinks anyway.
Fifteen-year-old Holly Kim is the copyeditor for her high school's newspaper. When she accidentally submits an article that rips everyone to shreds, she gets her own column and rants her way through the school year. Can she survive homecoming, mean-girl cliques, jocks, secret admirers, Valentine's Day, and other high school embarrassments, all while struggling to balance her family's traditional Korean values?
Social Suicide by Gemma Halliday (series)
Twittercide: the killing of one human being by another while the victim is in the act of tweeting.
Call me crazy, but I figured writing for the Herbert Hoover High Homepage would be a pretty sweet gig. Pad the resume for college applications, get a first look at the gossip column, spend some time ogling the paper's brooding bad-boy editor, Chase Erikson. But on my first big story, things went . . . a little south. What should have been a normal interview with Sydney Sanders turned into me discovering the homecoming queen–hopeful dead in her pool. Electrocuted while Tweeting. Now, in addition to developing a reputation as HHH's resident body finder, I'm stuck trying to prove that Sydney's death wasn't suicide.
I'm starting to long for the days when my biggest worry was whether the cafeteria was serving pizza sticks or Tuesday Tacos. . . .