As I've gently suggested in the title of this post, there are a lot of hardcover YA titles getting new looks — and new titles — in their paperback editions. A handful of these are available now, but most will be hitting shelves in the near future. This isn't even a comprehensive look at the ones I've noticed lately; I picked the ones that seemed like they had a lot to talk about or think about in regards to design and the changes made on the covers.
Some are winning looks and some are far less so. As always, I'd love your takes on these redesigns. Which ones are working for you? Which do you think appeals more to a teen readership? Which nails the content better? Tell me your thoughts and if you've seen any recent cover makeovers that are worth looking at, leave me those titles, too.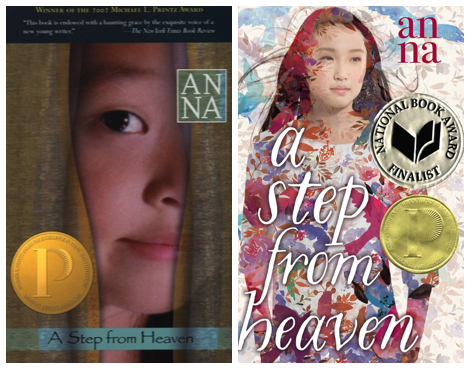 A Step From Heaven won the Printz award in 2002 — one of the first books to receive the honor. It's been in publication since then, but it's had the same cover. It's not at all a bad cover; it's pretty straightforward and clearly a girl of East Asian descent. There is a real timelessness about the whole package, in that it doesn't use a fancy font-driven style nor use illustration or a full stock image of a girl in clothes that could date it. It seems pretty clear there's a reason this book's cover has been around as long as it has.
This month, a reprint of the book is coming and it's getting a makeover. Much as I think the original is a real solid cover, the redesign is beautiful. There's a celebratory feel to it, and in many ways, the teen rendered in this image looks much older than the girl in the original image. The font selected for the title is really pretty and dreamy, which, along with the floral design surrounding the model, does give the book a contemporary, moody feel. I have a feeling this new package will absolutely introduce the book to a new generation of teen readers, and I think it's the kind of repackage that might make librarians and teachers look at the conditions of their current copies and consider replacing.
I'm also a big fan of the lack of blurbs or praise on the new cover, aside from the obvious medal honors. That makes it feel timeless, too.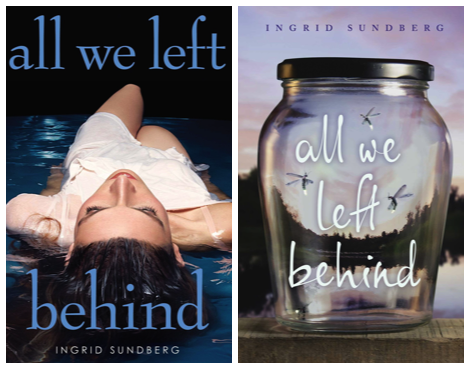 I remember reading the description of Sundberg's debut All We Left Behind last year. It was compared to Courtney Summers and Ellen Hopkins, suggesting it's a gritty and raw contemporary YA. I never got around to picking it up, since it was a big read — if I'm remembering, it was 400 or so pages, which is a big investment for a contemporary YA novel (I'm really picky about that, as anyone who has been around here a while will know). So imagine the surprise with that image of the book in my mind when I saw the redesigned cover.
The paperback is so light and airy. It reminds me of a summer-y, light read, even with the title — or maybe even because of that title. It's an entirely different feel than the original cover which, while pretty generic, has some of those gritty elements going for it. Look, for example, at the fact we actually see an exposed bra strap on the hardcover. It skirts the line of sensual and sad in a way that doesn't feel gross but instead really gives a sense of the content inside.
That paperback, though, might be the most generic thing I've seen in a while. It's not bad, but it certainly tells me nothing of the book, and in a lot of ways, it looks like a cover that could be swapped onto any number of other books with the same forgettable effect. If this book really is raw and gritty, imagine the surprise readers, especially teenagers, will find picking up this cover and expecting a lighter book. I'll take the hard pass on this one.
All We Left Behind will be available in paperback December 6. The original, if you're interested, published in December of last year, which may be why it sort of fell off the radars of many readers.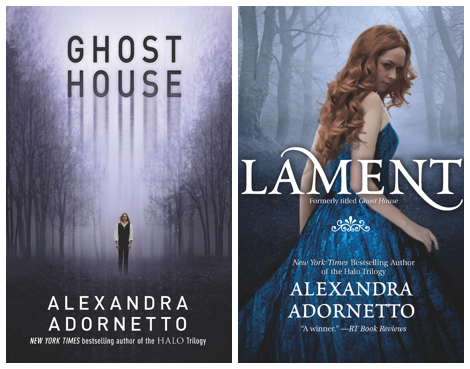 Now for the first book in this list that's not just getting a cover makeover, but a title makeover as well: Alexandra Adornetto's Ghost House, aka Lament in paperback.
First, the hardcover: it's not bad, but it's also not especially remarkable. There is a nice eerie feeling to it, conveying the fact this is a horror novel. The guy in the center of the image is dressed a little bit like he's a member of an elite class, perhaps maybe even of a slightly different time period than the present (though the long hair may be what keeps that from reading 100% that way for me). The font for the title and author's name are pretty standard, though the purple hues of the cover are nice. There's definitely a spooky tone set by this cover. And of course, the title Ghost House helps that along.
The paperback goes for ye-old paranormal romance standards. In fact, I initially thought this was a new Lauren Kate book, since it takes the same white girl in a dress with a one word title with some swirly styling motif. No longer does this book read horror; it reads as straight-up paranormal romance. Good on the designer to note clearly that the book has been retitled, but the thing I cannot get over is the girl's face. It's a weird "come hither" look to it, which doesn't showcase any fear or trepidation, despite the fact she's alone in the woods in a fancy ballgown. Not to mention the fact she certainly doesn't look like she's lamenting anything. I don't get it — there's a big disconnect going on.
But if the goal is to get it into the hands of Lauren Kate fans, well, then that paperback is a big winner. Otherwise, it's absolutely forgettable.
Lament will be available in paperback on August 30.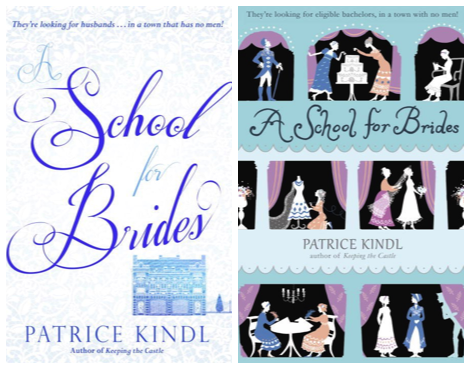 The most interesting thing to me about the paperback redesign of Patrice Kindl's A School for Brides is the tagline modification. The hardcover on the left originally notes that these are girls looking for husbands in a town without any men. The paperback? No longer are they looking for husbands, but rather, they're looking for eligible bachelors in a town with no men.
I have no idea which of those I think is "better," per se, especially to a YA audience, but I think the change is noteworthy nonetheless.
And I think the reason I'm uncertain is because this book is the right book for the right reader, meaning that the readers picking this up know exactly what they want in a historical fantasy novel, and whether it notes these are girls looking for husbands or eligible bachelors (which sure makes it more contemporary than historical) doesn't matter a bit.
From a design standpoint, both books deliver what you'd expect tone and topic wise. I love the use of white space and the various different blue and purple-y hues. There's a nice moodiness with that sort of minimalism. The paperback might fall more on the fun side, though — I love the various images of the girls at this particular institution wearing different dresses, enjoying tea, writing letters, and so forth. If I had to pick one as more along my taste preferences, it might be the paperback, but because this is a book with a clear sense of readership and audience in design, I don't think one is better than the other.
You can pick up the paperback edition of A School for Brides right now.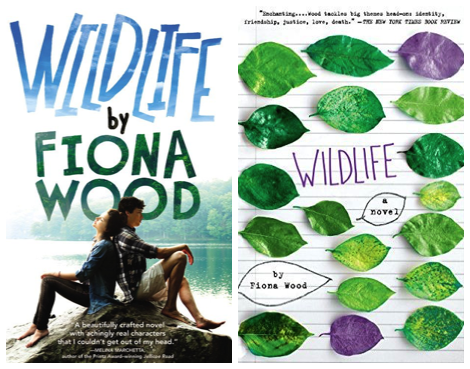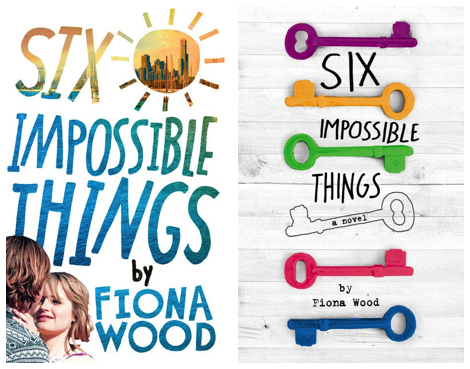 This is a two-for-one makeover, and if I could say that both of these redesigned covers are among some of my favorite YA covers currently on the market, I will. Wildlife and Six Impossible Things by Fiona Wood were originally published in Australia and they were brought to the US in the last two years. Overseas, they were published in this order: Six Impossible Things, followed by Wildlife. In the US, they flipped the publications, since these are companion novels that can be read either way without losing anything. Rather, it's one of those situations where you read one and when you see the recurring characters, you get excited, rather than feel you need more backstory.
The hardcover editions of both books feature couples. They're stock images, and in both sets, the models look like actual teenagers (which is surprisingly refreshing). It was a little disappointing to see the stock image choice for Six Impossible Things focus on the girl, since this book is 100% from a male point of view, something that could be easily missed with a cursory glance of the image. The font stylization for both the hardcovers, though, are fabulous — there's a nice ombre effect with natural settings being the background to them.
But those paperbacks!
I love the use of real images on them, as well, and I love how they give such a unique feel to each of the books. Wildlife has a lushness and a crispness to it, and it really captures the nature setting of the book (it's set in a school outdoors trip). Using the same leaf shape to include the title and author's name was a smart way to break up the repetition and make them stand out. The use of different colored keys for Six Impossible Things also makes it stand out, in addition to being a way that doesn't put a girl at the center of the book's cover. The use of one key as a drawing to mimic the same idea from the title/author styling of Wildlife is smart. But perhaps the smartest part of these two redesigns is how neatly they're connected without screaming "series" to readers, since this isn't, in fact, a hard series — both books make use of that textured white background. The top one being a piece of notebook paper (think trees, school) and the second being a piece of wood (which does have a tie in to the attic scenes in that book).
Both of these books are great contemporary YA, and without doubt, I'll be adding both of the paperback editions to the hardcovers on my shelf — and I don't feel like it's being repetitive, since my hardcovers are the Australian originals. Wildlife is available now in paperback, while Six Impossible Things will be available September 6.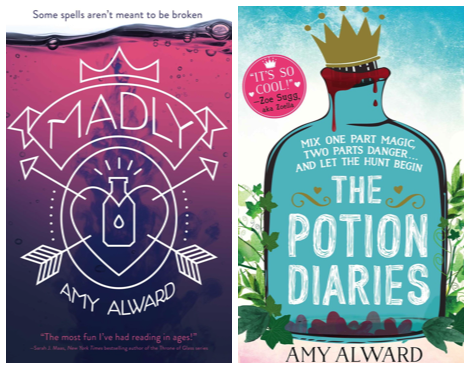 Here is the second book on this round-up that features not just a cover redesign, but a title makeover as well. Amy Alward's Madly was a debut last fall, and it featured a cover that, while eye-catching, really didn't offer anything about the book at all. Is it magic? Is it contemporary? The look of the title and author, with the drawing, paired with the blurb declaring this a fun read and the tagline noting that it contains spells gives no real great indication of the genre. It's confused, even if it's a nice looking image.
The paperback of Madly will be retitled as The Potion Diaries and has an entirely different look. Aside from the unflattering pink circle blurb from Zoella (and the obnoxious proclamation inside it that the book is "so cool!"), the redesign is a winner. This cover knows what it's doing — this is a bit of magic and fantasy. The reason, I think, that the quote feels so out of place and obnoxious is that the cover itself says the book is fun and cool. The fonts are winning here, as is the use of a crown to cap off that potion bottle.
This redesign will follow into the second book of this series, too: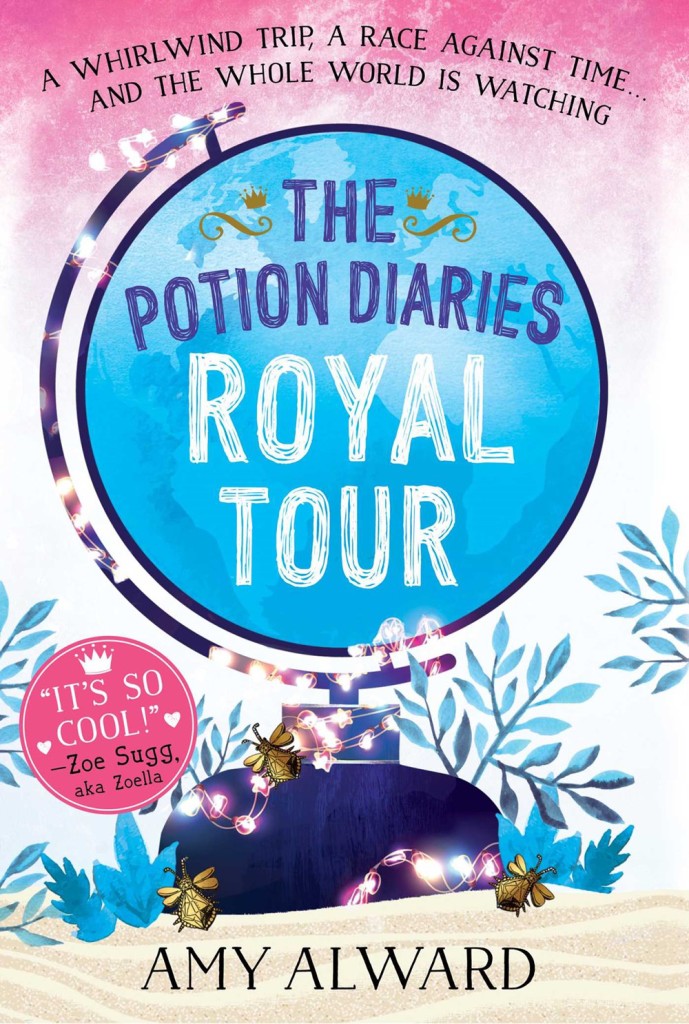 The other thing that's interesting about this redesign is what it suggests about the book's audience. The original hardcover looks really mature, like it's aimed at an older teen readership. Perhaps it's the bottle and the illustration and sort of the symbolism behind how they're presented. It might also be the use of rich colors.
The redesigns, both of the first book and of the sequel, certainly aim at a much younger YA readers, and perhaps they're even aiming for those middle grade readers who are ready for YA. Not having read the book, I can't suggest which one might be more fitting in terms of readership.
Paperback, hands down. You can pick up The Potion Diaries in paperback October 18 — the same day as the sequel will hit in hardcover.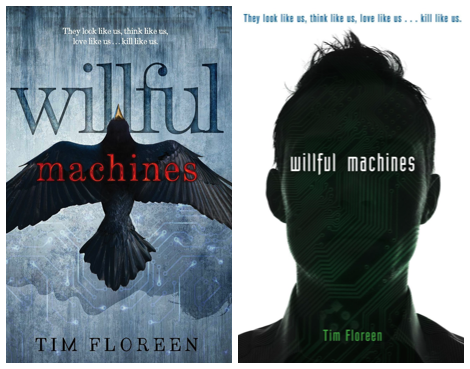 Last but not least, Tim Floreen's technology-themed YA title Willful Machines is also getting a makeover. This one is interesting to me for a number of reasons, but in particular, the original hardcover of the book reminds me a lot of so many other YA titles. It has hints of Leigh Bardugo's Six of Crows, as well as hints of Leah Bobet's An Inheritance of Ashes, even though all three of the books came out around the same time. So it was likely unintentional and perhaps made it challenging to make this book stand out since it's not like either of those.
The redesign in paperback, though also not stunningly original, does stand out a lot more, in part because of the nice interplay between the white cover and dark, mysterious face, as well as because of the use of circuitry on the face. More, it appears to be a male face on the cover, and with the mystery behind it, has a real appealing quality. Who is this guy? What's his story? Why's he being compared to a machine?
I'd go with the paperback here, if for no other reason than it stands out a little bit more and the mystery surrounding the image on it would offer up mega reader appeal. It'll also help the book not be unfairly compared to others which feature a similar hardcover design.
You can pick up the paperback edition of Willful Machines on October 18.