I don't think there will ever be a time when we are not fascinated as a culture by Sherlock Holmes. There's something about him that grabs onto our imaginations and won't let go.  Today's writers are endlessly reimagining him and his associates in myriad ways – as a child, set in modern times, as a girl or woman, with children or descendants who solve their own mysteries, with paranormal powers, and on and on. After reading Brittany Cavallaro's excellent A Study in Charlotte, I thought it would be useful to do a round-up of the more recent retellings and reimaginings of Sherlock for tweens and teens. With the BBC's Sherlock still hugely popular (new season in 2017) and several new books out within the past two years, this is a good time to highlight these titles. These books would make a great display and are natural readalikes for each other.
Young Adult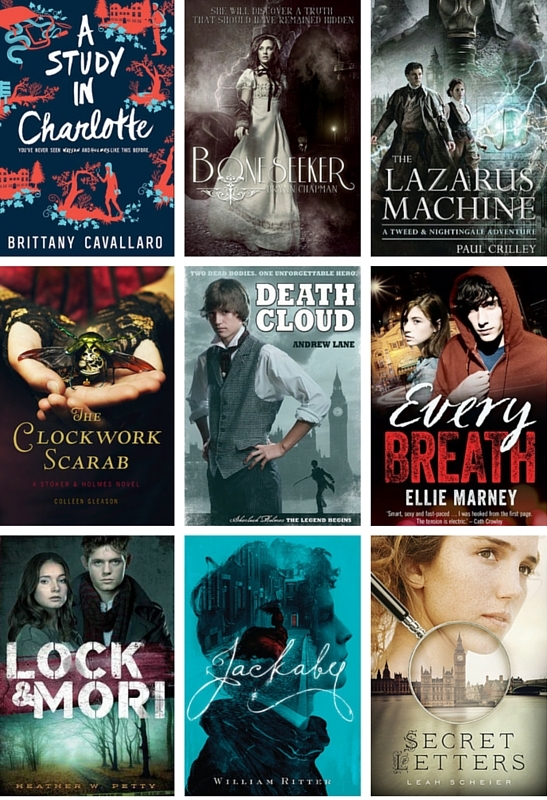 A Study in Charlotte by Brittany Cavallaro
The last thing Jamie Watson wants is a rugby scholarship to Sherringford, a Connecticut prep school just an hour away from his estranged father. But that's not the only complication: Sherringford is also home to Charlotte Holmes, the famous detective's great-great-great-granddaughter, who has inherited not only Sherlock's genius but also his volatile temperament. From everything Jamie has heard about Charlotte, it seems safer to admire her from afar. From the moment they meet, there's a tense energy between them, and they seem more destined to be rivals than anything else. But when a Sherringford student dies under suspicious circumstances, ripped straight from the most terrifying of the Sherlock Holmes stories, Jamie can no longer afford to keep his distance. Jamie and Charlotte are being framed for murder, and only Charlotte can clear their names. But danger is mounting and nowhere is safe — and the only people they can trust are each other.
Boneseeker by Brynn Chapman
Arabella Holmes is different than other girls her age: She doesn't fit the role of a 1900's lady. So her father, Sherlock, called in some lingering favors, and landed her a position at the Mutter Museum. The museum was Arabella's dream; she was to become a purveyor of abnormal science, or what her uncle called a Boneseeker. Henry Watson arrives at the Mutter Museum with a double assignment–to become a finder of abnormal antiquities and to watch over and keep Arabella Holmes. The two teens are assigned to a most secret exploration, when the hand of a Nephilim is unearthed in upstate New York. Soon, Arabella and Henry are caught in a fight for their lives as scientific debate swirls around them. Are the bones from a Neanderthal … or are they living proof of fallen angels, who supposedly mated with humans according to ancient scrolls? Sent to recover the skeleton, they discover they are the second team to have been deployed and the entire first team is dead. And now they must trust their instincts and rely on one another in order to survive and uncover the truth.
The Lazarus Machine by Paul Crilley
In an alternate 1899 London, seventeen-year-old Sebastian Tweed searches for his kidnapped father, uncovering both a horrific technological secret and a political conspiracy that could destroy the British Empire. | Sequel: The Osiris Curse
The Clockwork Scarab by Colleen Gleason
In 1889 London young women are turning up dead, and Evaline Stoker, relative of Bram, and Mina Holmes, niece of Sherlock, are summoned to investigate the clue of the not-so-ancient Egyptian scarabs–but where does a time traveler fit in? | Sequels: The Spiritglass Charade, The Chess Queen Enigma
Death Cloud by Andy Lane
In 1868, with his army officer father suddenly posted to India, and his mother mysteriously "unwell," fourteen-year-old Sherlock Holmes is sent to stay with his eccentric uncle and aunt in their vast house in Farnham, where he uncovers his first murder and a diabolical villain. | Sequels: Seven of them!
Every Breath by Ellie Marney
Rachel Watts is an unwilling new arrival to Melbourne from the country. James Mycroft is her neighbour, an intriguingly troubled seventeen-year-old genius with a passion for forensics. Despite her misgivings, Rachel finds herself unable to resist Mycroft when he wants her help investigating a murder. And when Watts and Mycroft follow a trail to the cold-blooded killer, they find themselves in the lion's den – literally. A night at the zoo will never have quite the same meaning again. | Sequels: Every Word, Every Move

Lock and Mori by Heather W. Petty
In modern-day London, sixteen-year-old Miss James "Mori" Moriarty is looking for an escape from her recent past and spiraling home life when she takes classmate Sherlock Holmes up on his challenge to solve a murder mystery. | Sequel: Mind Games, out September 13
Jackaby by William Ritter
Newly arrived in 1892 New England, Abigail Rook becomes assistant to R.F. Jackaby, an investigator of the unexplained with the ability to see supernatural beings, and she helps him delve into a case of serial murder which, Jackaby is convinced, is due to a nonhuman creature. | Sequels: Beastly Bones, Ghostly Echoes, out August 23
Secret Letters by Leah Scheier
Sixteen-year-old Dora travels to London to meet Sherlock Holmes, who might be her biological father, and ask his help for her cousin who is being blackmailed over some stolen letters, but although Holmes dies before she arrives, a handsome young detective comes to Dora's aid.
Middle Grade

The Dark Lady by Irene Adler
While on summer vacation at the seaside, twelve-year-old Irene Adler meets the young Sherlock Holmes, and his friend Arsène Lupin–and when a dead body floats ashore the three young friends set out to solve the mystery.
The 100-Year-Old Secret by Tracy Barrett
Xena and Xander Holmes, an American brother and sister living in London for a year, discover that Sherlock Holmes was their great-great-great grandfather when they are inducted into the Society for the Preservation of Famous Detectives and given his unsolved casebook, from which they attempt to solve the case of a famous missing painting. | Sequels: The Beast of Backslope, The Case That Time Forgot, The Missing Heir
Eye of the Crow by Shane Peacock
Sherlock Holmes, just 13, is a misfit. His highborn mother is the daughter of an aristocratic family, his father a poor Jew. Their marriage flouts tradition, makes them social pariahs in the London of the 1860s; and son Sherlock bears the burden of their rebellion. Friendless, bullied at school, he belongs nowhere and has only his wits to help him make his way. But what wits he has! His keen powers of observation are already apparent, though he is still a boy. He loves to amuse himself by constructing histories from the smallest detail for everyone he meets. Partly for fun, he focuses his attention on a sensational murder to see if he can solve it. But his game turns deadly serious when he finds himself the accused, and in London, they hang boys of thirteen. | Sequels: Five of them!

The Case of the Missing Marquess by Nancy Springer
Enola Holmes, much younger sister of detective Sherlock Holmes, must travel to London in disguise to unravel the disappearance of her mother. | Sequels: Five of them!