Two books about conjoined twins in two years isn't a trend, but it does make me take notice. In 2015, Sarah Crossan's One was published, and this year at TLA, I spotted Sonya Mukherjee's Gemini. Both books are about teenage conjoined twin girls, and both are about the sisters contemplating surgery to separate them. I wondered how many other books for teens have been written about conjoined twins, so I went looking. Answer: not many. There are a few other novels from the past 10 years, but all nonfiction written for teens (I expanded my search to include tweens as well) that touch specifically on conjoined twins are over 10 years old and out of print. I even looked for books on twins in general, hoping I'd find something that addressed conjoined twins in a chapter or a few paragraphs, but I found nothing in print. It's possible your library may still have some of the titles. It's a shame there aren't more recent and in print titles, though, since I expect both of these novels will lead teens to seek out factual information on the topic. There are a few adult nonfiction titles that may suffice, but it's always much nicer to direct teen patrons to books written for their own age group.
If your teens want to read more about conjoined twins, here's a brief list of books that feature them in some way or another. I can't speak to the way each author treats the conjoined characters since I haven't read any of them yet, though all have received good critical reviews and Kelly reviewed One positively. Synopses are from Worldcat unless indicated otherwise.
Fiction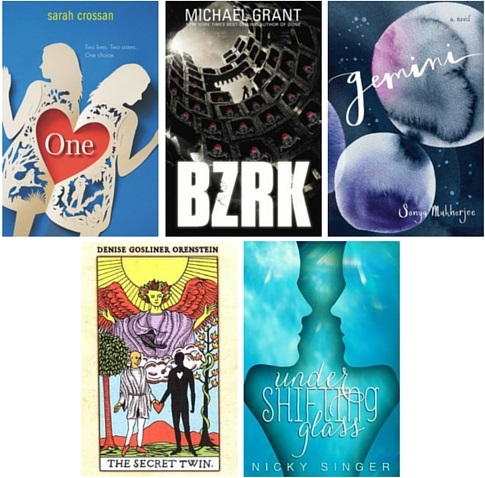 One by Sarah Crossan (2015)
Despite problems at home, sixteen-year-old conjoined twins Tippi and Grace are loving going to school for the first time and making real friends when they learn that a cardiac problem will force them to have separation surgery, which they have never before considered.
BZRK by Michael Grant (2012)
Set in the near future, BZRK is the story of a war for control of the human mind. Charles and Benjamin Armstrong, conjoined twins and owners of the Armstrong Fancy Gifts Corporation, have a goal: to turn the world into their vision of utopia. No wars, no conflict, no hunger. And no free will. Opposing them is a guerrilla group of teens, code name BZRK, who are fighting to protect the right to be messed up, to be human. This is no ordinary war, though. Weapons are deployed on the nano-level. The battleground is the human brain. And there are no stalemates here: It's victory… or madness.
Gemini by Sonya Mukherjee (July 26)
In a small town, as high school graduation approaches, two conjoined sisters must weigh the importance of their dreams as individuals against the risk inherent in the surgery that has the potential to separate them forever.
The Secret Twin by Denise Orenstein (2007)
Born a conjoined twin, thirteen-year-old Noah bears the secret guilt of being the only survivor, and now finds himself in the care of a stranger with a secret of her own.
Under Shifting Glass by Nicky Singer (2013)
Jess is grieving for her beloved aunt, and when she finds a mysterious flask hidden in a antique bureau that belonged to Aunt Edie on the same day that her conjoined twin brothers are born, she begins to believe that the flask is magic and that their survival depends on it.
Nonfiction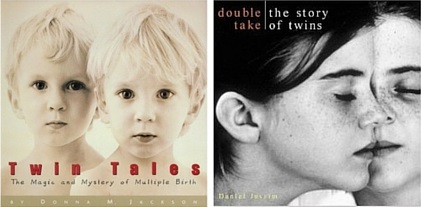 Eng and Chang: The Original Siamese Twins by David R. Collins (1994, out of print)
Born near Bangkok but ethnically Chinese, Siamese twins Eng and Chang acquired U.S. citizenship in 1839 and assumed the surname Bunker. They not only survived for 63 years attached by a five-inch long ligament, but also led versatile and fulfilling lives. Collins presents a lively portrait of these unique brothers who traveled throughout the world, met heads of state, settled down as farmers in North Carolina, married sisters, fathered a total of 21 children, and even worked for P.T. Barnum. – School Library Journal
Twin Tales: The Magic and Mystery of Multiple Births by Donna Jackson (2001, out of print)
Twins: they're miracles of nature, sharing the most intimate of bonds. Scientists have captured them on sonograms hugging, kissing, and reaching out to each other in the womb. What makes twins so fascinating? Find out as you read about real-life twins such as: Kyrie Jackson, the preemie who saved her twin sister's life soon after birth; Eng and Chang Bunker, the world's most famous conjoined twins; and Eva and Miriam Mozes, twin sisters whose special bond saved their lives at Auschwitz. – Goodreads
Double Take: The Story of Twins by Daniel Jussim (2001, out of print)
An in-depth introduction to the lives of twins, multiples, and conjoined twins. Readers will learn why twinning takes place and meet five sets of twins. They will read amazing stories about twins who were separated at birth only to meet years later, stories about twins who marry twins, and profiles of families with bigger broods, including the famous McCaughey Septuplets and the Dionne Quintuplets. Readers also have the special opportunity to meet a set of conjoined twins, Brittany and Abigail Hensel, who, despite a rare and challenging condition, have developed into down-to-earth and very happy young ladies. – Goodreads